.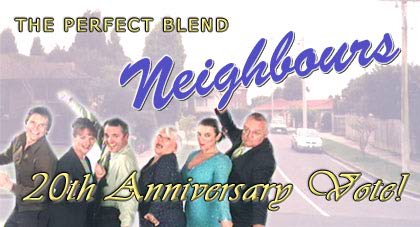 Interactive > The Perfect Blend 20th Anniversary Vote Results: Favourite Opening Titles
1. 1986-1992: Not quite the original, but apparently the best – 21% of you voted the titles which featured the map of Erinsborough and the characters around the pool to be your favourite. They debuted on the second episode of the 1986 season and continued, in various forms, until the show received a dramatic revamp in 1992.
2. 2004: The credits which, until recently, were the current ones, received 20% of the vote. Using elements from the 2003 credits, the 2004 style saw bright colours and overlapping boxes combine to create the new look. Read more about these credits from their creators, DMax Design.
3. 2000-2002: Midway through 2000, Neighbours began broadcasting in widescreen format, and these were the new titles that accompanied the change, which received 12% of the vote. They last for 18 months, until the beginning of the 2002 season saw a new look, which wasn't well received. Because of this, they returned to the old look, with a few modifications, and it survived until the end of that year. Read more about these credits from their creator, Ryan Renshaw.
4. 2003: The 2003 season brought about yet another new set of credits, designed by Animal Logic Play, which got just over 10% of your votes. These were considered some of the best credits the show had seen in recent years, and even inspired the look of The Perfect Blend website.
5. 1997-1998: With 8% of the votes, the credits which last two years and saw the debut of character names ended up in fifth place. As well as adding character names, these credits also took the new step of dividing the characters up by the houses in which they lived. Although this worked well to begin with, it became difficult to keep updated and by mid-1998, all the new characters were simply shoved into the number 30 shot.