.
Magic Moments > 1985 > The 1985 Season Finale Episode 170

Written by Reg Watson, Directed by Max Varnel
Jim explains to Lucy and Scott that he loaned a great deal of money to Helen for her cottage with Douglas Blake, and now he's gone, and the family don't have any money anymore. Max is talking to Kate, and Danny is listening in. Max tells Kate that he isn't Danny's real father, and Danny looks extremely shocked…
At number 28, Daphne arrives home to find Des cooking, and she tells him he's going to make someone a great husband one day. He says that he's been there once. Daphne says that Shane's asked her to move in with him. Des is surprised to hear that she'll be living with Max and Danny, but she explains that they'll be getting a place of their own. He tells her that he's just glad that she's happy, and tells her to sit down while he finishes dinner. The phone then rings, and Daphne answers. It's Shane, and he says he's going to come over, but Daphne tells him not to, as she wants some time alone to discuss things with Des. Shane says that it won't make any difference to Des whether she moves out. She tells him that she'll call him later.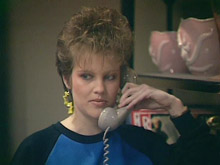 . . .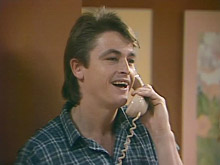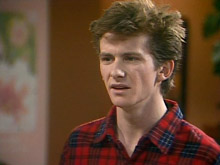 . . .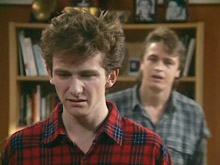 At number 24, Danny arrives home, and asks Shane if he knew about Max not being his real father. Shane wants to know who told Danny, and he explains that he overheard Max and Kate talking at the Coffee Shop. He demands to know who his real family are, and Shane tells him that they're his real family. Danny asks who his real father is, but Shane doesn't know. Danny then asks if he's adopted, and says that he feels like he doesn't belong to anybody anymore. He says he feels stupid now, because he should have known why Max was always shouting at him. He picks up a photo of Maria and asks if she's his real mother. Shane says that she is, and he's his real brother. Shane explains that he only found out when Max and Maria split up, and Scott and Danny had run away. They decided not to tell him as he had enough to deal with. Shane explains that he wanted to tell him, but he was just started to settle down again. Danny tells Shane that he'll never accept Max as a father and he walks out.
At number 28, Des and Daphne are solemnly drinking coffee after dinner. He tells her to cheer up, and she says that she hasn't agreed to move in with Shane yet. She asks what he'll do, and he says he'll look around for a new housemate, but he'll never find someone like her. He goes to get them some more coffee, and she follows him. She asks him to kiss her, properly, and he wants to know why. She tells him that he kissed her once before and she often thinks about it. He reminds her that she's Shane's girl, but she says that she's nobody's girl and so he leans in to kiss her.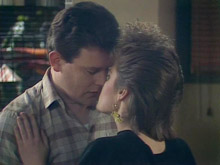 . . .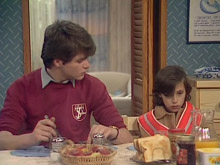 The next morning, at number 26, Lucy is telling the family that Terry was all over the front page of the newspaper. Scott asks to see it, but Lucy says that she didn't bring them one. Jim tells her that if people want to gossip, then they can, but she says that the kids at school will start on her again. Max then bursts in and asks if anyone's seen Danny, as he hasn't been home all night. Nobody knows where he is, so Max leaves, telling them they've got enough to worry about as it is.
Danny arrives home, and Shane sits him down and tells him they were worried. He says that the three of them should all sit down and discuss this, but Danny doesn't want to. Just then, Max gets back and tells Danny he has better things to do than chase him around all night. Danny agrees, saying that Max is too busy telling the whole street that he isn't his son. Shane suggests that they all sit down and discuss it, and Max agrees. Danny says that he has to get ready for work, and they can forget discussing it, because he'll only be back long enough to pack his things, then he's moving out. Shane tells Max that he'll try to speak to Danny later. Max tells him to remind Danny that they're his family, then he begins to cry and quickly leaves too.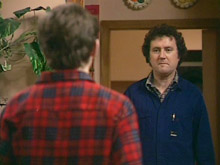 . . .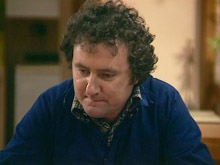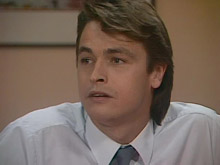 . . .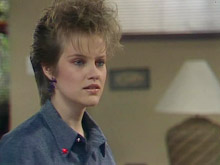 At number 28, Daphne gets up to find Des writing her a note. They both agree that they didn't sleep very well. He asks why she wanted him to kiss her, and she explains that when Shane asked her to move in, all she could think about was Des. He tells her that he's the last person she needs to consider in all of this, and that she should move out. She tells him that she wants to stay, but he won't have it, and he leaves. She goes over and opens the note from her grandfather, which reads 'Marry Des, no matter what he has to say, love Grandpa'. She says that it's easier said than done.
Jim arrives at the hospital to see Paul. Paul has had a rough night, and he explains to his father that he keeps seeing Terry with the gun in her hands. He doesn't know if she was trying to kill him, or just stop him from going to the police. Jim tells him not to think about it too much. Paul asks about Helen, and Jim explains that she's ok, but feels terrible about what's happened. Jim says that he thought Douglas was perfect for her, but the family will survive. Jim says that they'll always have disagreements, but together, they can take on the world.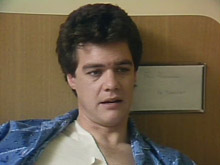 . . .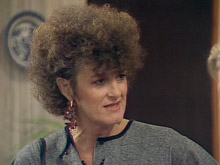 At number 26, a Mrs McKinley arrives to see Helen about her paintings. She explains that they're selling very well, and Helen is shocked to hear that Douglas actually managed to sell some of her paintings. Mrs McKinley says that her work is in great demand.
Shane arrives at the Coffee Shop to see Daphne, and tells her that he's got the keys to their new place. She tells him not to rush, and then he realises that she's not going to move in with him. She apologises, saying that he means a lot to her, but she's realised this week that she wants to get married, but to someone she truly loves. Shane is hurt, and Daphne explains that they have a warm, loving friendship that nobody can ever take away. He leaves, saying he hopes she finds someone, but she mutters that she already has.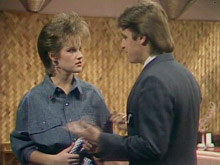 . . .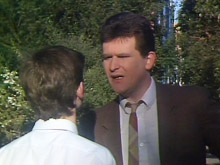 Outside the bank, Des is arriving when Danny approaches him for a chat, saying that he has a problem. He asks if he can leave a bit early today. Des says that it's only 3.30, but he agrees, telling Danny not to make a habit of it.
At number 26, Helen is sorting her paintings, while Lucy chats on the phone. She hangs up and explains that it was her best friend, Christine, who understands the problems with Paul and Terry as her father was arrested six months ago for fraud. Helen looks slightly confused, but they are interrupted by Scott, who brings in some more paintings from the garage. Helen says that Mrs McKinley wanted everything, so she's going to give it to her. Danny then calls in and asks if he can chat to Scott in private. They leave, and Lucy remarks that Danny Ramsay gets grumpier and grumpier everyday.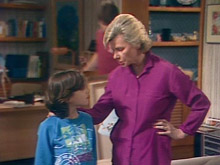 . . .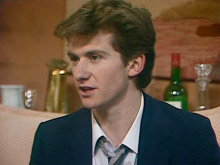 At number 24, Danny explains that he's leaving and asks Scott if he wants to go too. Scott asks why, and Danny says that they're mates. Scott says that he doesn't want to move out, and the family have problems of their own, not to mention Danny and his father. Danny then says that Max isn't his father.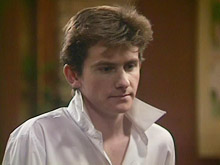 . . .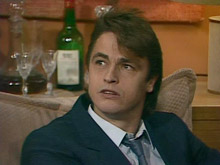 That evening, Shane arrives home to find Danny packing his stuff. Shane sits down and asks Danny if he'd like to move in with him. Danny asks about Daphne, and Shane explains that things didn't work out. He tells Danny that before they go, he should says thanks to Max. Danny wants to know why, and Shane explains that he gave him a home and an education, and he was really cut up when he found out that he wasn't Danny's real father, but he still took him in when Maria left with Richard Morrison. Shane storms out, saying that the least Danny owes Max is some thanks.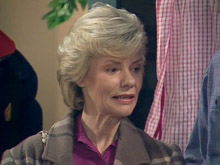 . . .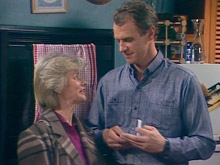 Scott and Helen arrive home to find Lucy doing the housework, so Helen has more time to paint. Meanwhile, Helen presents Jim with a cheque, explaining that lots of her paintings have been selling and she didn't even know about it. She tells Jim that the money can start to pay off some of their problems. She says that she's going to sell off Douglas Blake's rings aswell, and it may take a while, but they'll get there.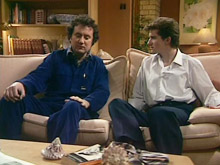 . . .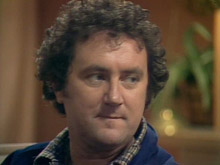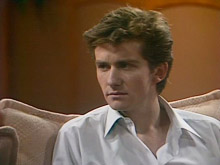 . . .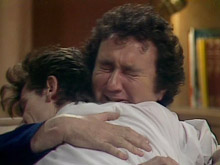 Max arrives home to find Danny sitting on the couch. Danny asks Max why he kept him, even when he knew that he wasn't his natural father, and Max explains that he's thought about this a lot. He tells Danny that no matter where he goes, he'll always be just as much his son as Shane is.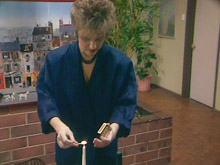 . . .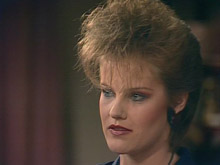 . . .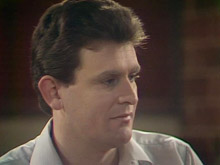 At number 28, Des finds that Daphne's cooked them a candlelit meal but can't understand what the big occasion is. She says that it's a celebration, and then, out of the blue, asks Des to marry her, leaving him lost for words...
Notes: This could very well have been Neighbours' final ever episode, and it does a good job of tying up the loose ends. Featuring all of the main characters at the time, the episode concludes the major storylines for each of the families and gives a good starting point for the show's resurrection the following year.
To read the next episode in this sequence, click here.
Summary by Steve