.
Magic Moments > 1996 > Cody's Death: Part One Episode 2579

Written by Jeff Truman, Directed by Tony Osicka
Sam is telling Cody about his modelling gig when she suddenly has a pain in her chest, but insists she's fine. Marlene is arrested for her unpaid parking tickets...
Karl comes in to see Cody and asks whether Pam's around. Cody says she's gone to get coffee and Karl says that the specialist is very pleased with her progress. She tells him she won't be able to come back as his receptionist for a while and tells him that it's been useful for her to experience being a patient. He tells her that she'll make a fine doctor with thinking like that.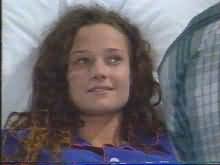 . . .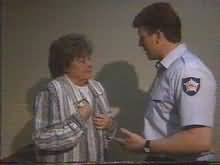 Marlene is taken into a cell and keeps on protesting and asks to speak to Sam. Sam and Jo are there to talk to Marlene, who says it's a travesty of justice and that she's not exactly a hardened criminal. Sam tells her it's her own fault and Jo tells him to stop yelling. Marlene says that she won't take this lying down and Sam storms off, with Jo going after him. Marlene is then taken back to her cell.
Back at the hospital, Karl invites Pam to come and look at number 28. She mentions a case of home brew that Doug left behind and they agree to have a look for it later on. Karl leaves and Cody tells her mother that she doesn't have to hang around. Pam says it feels strange being back at Erinsborough Hospital and she feels like she should have been more compassionate with parents when she worked there. Cody says she can't remember anything since the shooting and how lucky she feels, but that she didn't have any spiritual moments, like in the magazines. She says it would have been nice to know if there was something else out there and asks Pam if she believes in life after death. Pam says she'd like to, but heaven just sounds a bit boring if she's honest. Just then, the phone rings and it's Doug, to speak to Cody. Pam warns him not to make her laugh.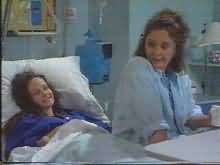 . . .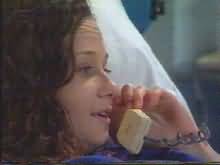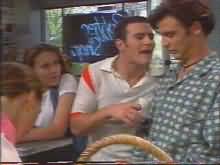 . . .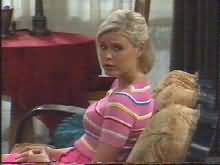 At the Coffee Shop, Stonie, Libby and Mal come in talking about the dangerous wildlife in the outback where he's visiting his dad. They then talk about Stonie's drama piece and he admits he's worried that it's going to bomb. Libby offers to video what he's got so far, and then they can work on it from there.
Jo and Sam arrive back at number 24, and Sam says that all Marlene has to do is to pay the fines. Jo is worried about how terrible it must be for Marlene in the jail.
Meanwhile, Marlene is discussing betting tips with the police officer and he arranges some roast beef for her. Just then, Marlene's cat, Colonel Parker, appears at the door and the officer says that he's the station cat too. Lou and Cheryl arrive to visit and Cheryl says she's brought some food and stuff to read. Marlene says the people and the food are lovely, and Lou and Cheryl are shocked about how well she's settling in.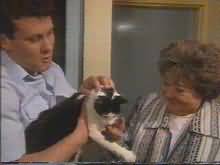 . . .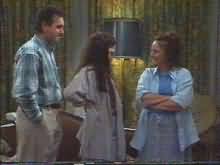 Pam is complimenting Karl and Susan about what they've done with number 28, then Susan and Pam go off to find the home brew. Meanwhile, Karl is chatting to Dahl about Brett and how he now has a new home where they'll look after him. He bites Karl's finger in response to this. Pam appears with the home brew from up in the roof and tells Karl to try some home brew to make him feel better.
Sam and Jo are ordering takeaway, and Jo asks Sam how he can think about food at a time like this. She suggests ordering some extra food to take to Marlene. He insists that the cops will feed her, then Cheryl comes in and asks them both over to dinner, explaining that Lou is off to visit Lauren tomorrow, so it's a farewell meal. She then tells them about how much Marlene is enjoying her time in prison and Sam isn't impressed that Marlene isn't learning her lesson.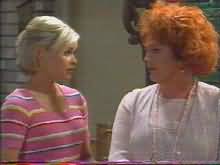 . . .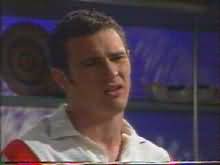 At the Coffee Shop, Mal and Libby realise it's too dark to film his drama piece outside. Stonie gets off the phone and says Angie has a headache so he has to look after the shop anyway. Mal suggests doing the piece in there instead, but Stonie isn't sure, until they convince him it's for his art.
Karl accidentally burps, much to everyone's amusement, and Pam offers to leave him the home brew since he enjoys it so much. Pam mentions Doug and becomes very subdued, but Karl tells her not to worry, as Cody will be better in no time.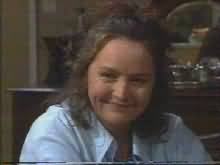 . . .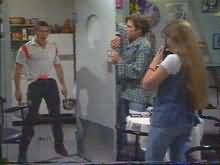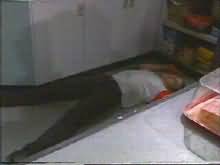 . . .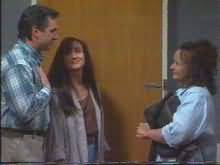 At the Coffee Shop, Mal introduces Stonie's act and he appears screaming from the kitchen, carring pots and pans and screaming in the faces of the customers, before throwing the pans on the ground and pointing a water pistol at everyone. He then collapses behind the counter and, after some prompting from Mal, everyone claps.
Pam is still very quiet and Susan tells her to stay for dinner. She thanks them, but says she wants to see Cody. She gets upset and tells them that things have been difficult. Karl tells her to thank Doug and says he wishes he could have been here. She tells them that Doug could never have left his building job, since they really need to money. Susan assures her that everything will be fine.
The next morning, Susan suggests inviting Pam for dinner that night. Karl tells Libby that Cody should be out of hospital by the end of the week. Stonie then arrives and says he didn't tell Angie about his show last night. Libby and Susan leave, and the others sit down to watch Stonie's performance video. Karl is completed stunned.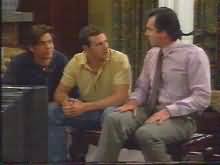 . . .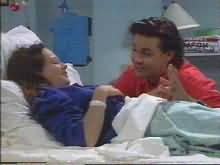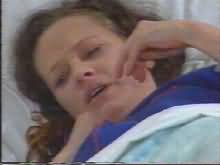 . . .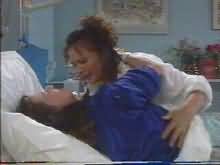 At the hospital, Sam and Cody are joking about her future career as a stuntperson or Olympic gymnast, and she says she'll have to stick to medicine. He jokes that the shooting was arranged to delay her trip to Newcastle. Sam goes to get food and Pam arrives and tells Cody that as soon as she's better, they'll have a family reunion. Cody is thrilled and Pam goes to get some photos of Zac. Cody suddenly goes into cardiac arrest and Pam screams out for help.
The boys finish watching the video and Stonie asks for opinions. Mal says it has energy, while Karl is shocked that his taxes are paying for Stonie to do these things. Karl then advises that it needs more humour as you should always leave your audience laughing. Karl's bleeper goes off and he worriedly rushes out.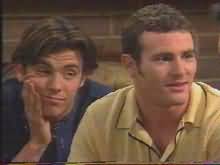 . . .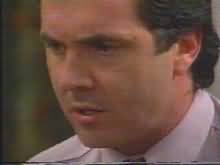 Sam is sitting in the corridor and Pam appears in tears. Karl comes in and assures Pam that everything will be ok. He goes off to find out more information but then the surgeon appears and tells Pam that they did everything they could. Pam breaks down in tears.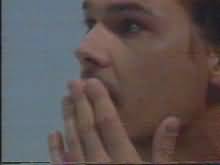 . . .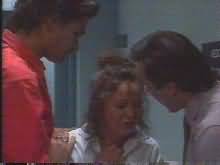 . . .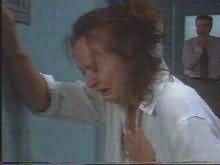 To read the next episode in this sequence, click here.
Comment: Despite the obvious build-up to her death throughout the episode, what with everyone commenting on Cody's future every five minutes, it was still a shocking event to watch. After firstly tricking the viewers into thinking she was simply going to move away to Newcastle, then making it look like she'd survived the shooting, it made the scenes all the more tragic.
Summary by Steve