.
Magic Moments > 2001 > Stuart and Elly's Arrivals Episode 3919

Written by Bert Deling, Directed by Robert Meillon
Drew tells Libby that his dad's put a big bet on him winning the rodeo. Steph answers the door and is shocked to find Woody standing there...
Steph is speechless and Woody asks if she's going to invite him in. He explains that he thought she'd be happy to see him and that it wasn't safe for him to contact her. He tries to touch her, but she stops him. Just then, Mitch comes out of the bathroom and asks what the hell is going on…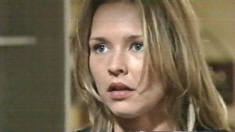 ..
Karl, Libby and Drew arrive at the rodeo and are greeted by Ron. He asks Drew if he's ready for the ride, then he finds a coin with his metal detector and gives it to Libby for the baby.
Woody explains to Steph what happened at the servo. Mitch has a go at Woody, telling him he should have contacted Steph to let her know and she wants to know what's suddenly changed. Woody explains that Kev Kelly is dead and Mitch asks him how long it took him to dream up that story. Steph asks Mitch to leave and Woody holds Steph's hand and tells her he used to lie awake dreaming of their reunion.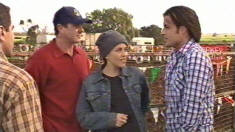 ..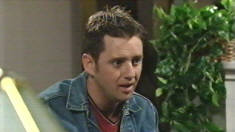 Emily is at the Kennedys, playing with Dahl and Audrey and tells Susan that Evan said she could look after Audrey. Susan puts Audrey's lead on and gives it to Emily, who then leaves, watched across the street by Darcy. Meanwhile, Liz phones from Prague and Susan is shocked to find out that Elly is on her way to Erinsborough.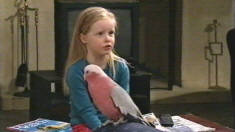 ..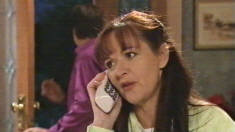 Steph asks Woody if he has any idea what she's been through, organising a memorial service and crying for weeks. She tells him that one phone call could have saved all that pain. She tells him to leave while she works out what she's feeling. He tells her she's in shock and that he'll call her tomorrow.
Susan tells Liz that this is typical of her and that Elly isn't going to stay. She says it's not that she doesn't care, but it's not her mess to clean up, then Liz hangs up. Susan tells Darcy that Elly will be arriving in the morning and they'll just have to accept it.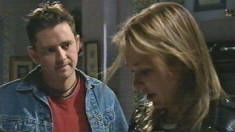 ..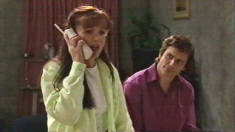 Back at the rodeo, the following day, Drew meets Scotty and asks him when he's going to get his money back. Scotty explains that he's a bit short of cash right now, but Drew says that's not good enough. Scotty explains that he has some, but he's going to put it on a bet against Drew winning, so all Drew has to do is throw the rodeo and he'll get his money.
Ron bumps into Karl and asks if the baby's going to be a boy or a girl, but Karl says that they didn't want to know. Drew goes off to prepare for his turn and Ron is shouting advice after him. Libby asks Drew if he's going to throw the contest, but Drew isn't sure.
Steph and Mitch are at the kitchen table, and he wants to know what's going to happen, but she isn't sure. She explains that she wonders what she would do if she were in Woody's situation and Mitch says he's been awake all night and he gets up to leave. She goes after him and asks what's wrong – he tells her he's in love with her.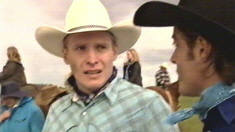 ..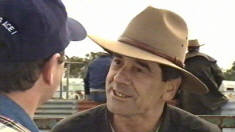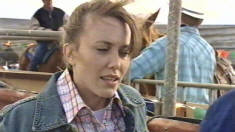 ..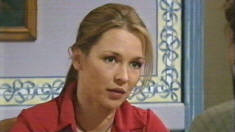 Drew, Karl and Ron are discussing the finer points of the rodeo, when Libby announces she's going to find somewhere to rest as she's feeling a bit rough.
Susan is worried as Elly hasn't arrived yet, and Darcy tried to calm her down. Just as Susan opens the door, Elly appears with two policemen behind her and says "Hey Auntie Susie, what's up?"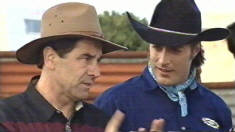 ..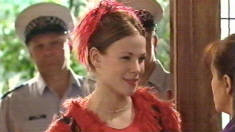 Ron is giving Drew tips, when Scotty comes up and tells Drew that he knows exactly what he needs to do.
Steph tells Mitch that she needs some thinking space and he tells her that he can't be this close to her without making a fool of himself. He goes to leave and tells her to contact him if there's anything she needs. Just then, Woody arrives and Mitch tells him to keep his distance, but Woody says it's got nothing to do with him.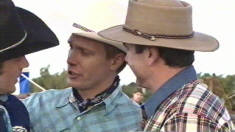 ..
Libby is walking around the fair. Meanwhile, Drew bumps into Stuart Parker, the little brother of an old mate. Stu starts telling him about when he once saw a guy die during a rodeo and Drew tells him to shut up. Stu carried on dropping hints until Drew works out who he is. They watch a guy take a nasty fall from a horse and Stuart tells Drew that he's got fifty bucks riding on him. Elsewhere, Libby finds an old stable and goes inside to rest.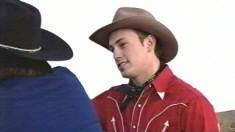 ..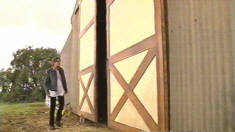 Drew prepares to ride, while Libby hears the announcement from the stable. Drew is doing well and completes his ride, which Scotty sees. He isn't impressed. Libby doesn't notice someone locking the stable door until it's too late and she's trapped inside. She starts banging on the door and calling out.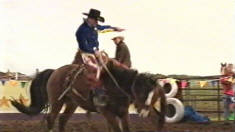 ..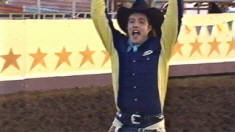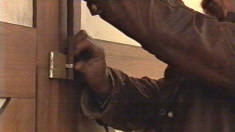 ..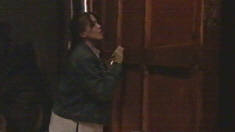 Everyone congratulates Drew on his ride and Ron and Karl go to collect their winnings. Scotty comes up to Drew and tells him he won't be getting his money, but Drew says what happened was an accident and that he signed the contract, so he'll be paying the money.
Back at number 26, Woody tells Steph that they were meant to be together and tells her about the hints he was dropping with the money in her bank account.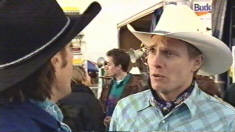 ..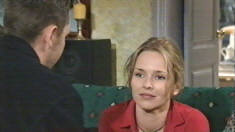 Libby is trying to use a crowbar to get out of the bar when she suddenly doubles up in pain.
Susan tells Elly that things will have to change – she won't be breaking the law any more. Elly says it seems a bit extreme, and Susan says she's been looking forward to having her stay. Elly gets up and asks Darcy to show her the sights of Erinsborough. Darcy says she might be a bit disappointed and Elly says it's only for two weeks. Susan seems surprised by this.
Libby is trapped in the barn, and realises she is going into labour and nobody knows where she is…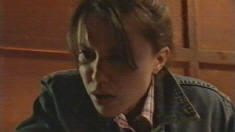 ..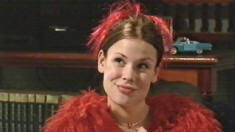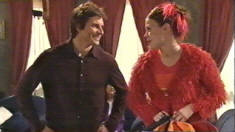 ..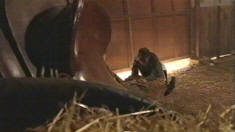 To read the next episode in this sequence, click here.
Summary by Steve