.
Magic Moments > 2002 > Marc and Stephanie's Wedding: Part 1 Episode 4007

Written by Philippa Burne, Directed by Richard Sarell
Lyn explains to Flick that she knows Flick has a crush on Marc, but she is 18 years old and needs to put those feelings behind her. Joe 'asks' Lyn to read his wedding speech, but Lyn refuses and tells him that he'll just have to get his voice back as there's no way she'll do it...
It's early morning at the Scully house, and Michelle, Steph and Flick are all awake. Steph toasts them as the best sisters she could ever have. Michelle asks how it feels to be Mrs Marc Lambert, but Steph reminds her that she isn't married yet. She thanks them for all the help she's had from them over the past 6 months, and that she couldn't have made it without them. Just then, she gets up and presents the two with a pair of stud earrings each for them to wear. Flick tells Steph she has something for her, and presents Steph with a jewel-studded hairpiece for something blue. Lyn witnesses this from the hall, smiling, as Flick tells Steph to be happy.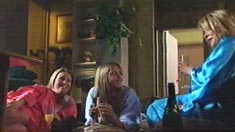 ..
Libby arrives at Number 28 to find Susan ironing her outfit, and comments that she thought being bridesmaid would be easier than being bride. Libby says she knows Susan can't wait to 'sink her teeth into all the chaos' over at the Scully house.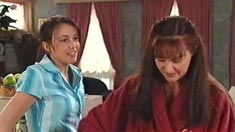 ..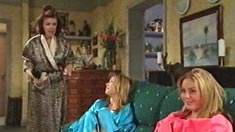 Lyn is fretting in the lounge room as Steph and the two girls sit around. In the kitchen, she reminds Connor about the seating plans but he has it all on a bit of paper. Joe and the two Kennedy girls arrive, and Libby goes into the kitchen to talk to Steph. She gives Steph the wedding garter she used as something borrowed.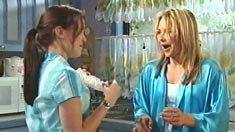 ..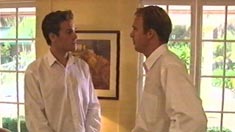 At Lassiter's, Tim Collins, who is revealed to be Marc's cousin, is telling Marc they should have a visit to the pub before 'the axe falls'. Marc tells him that Steph isn't the nagging type, but Tim informs him that once they're married they always change. He then goes on to ask about the bridesmaids, but Marc just walks off.
Flick, Libby and Michelle are dressed in their bridesmaid dresses and are in the lounge room. Flick gets some champagne and Dee arrives with the wedding flowers, saying she was late because her two flatmates didn't help her get ready. Lyn explains the flowers for the wedding - red amaryllis mean 'unforgettable' and white amaryllis means 'liberty and individuality', and are also Steph's favourites.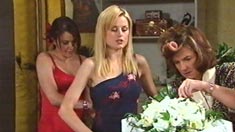 ..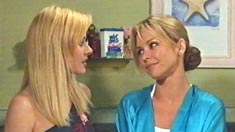 Dee goes to see Steph, in the bathroom, who has just finished speaking on the telephone. She tells Dee that the test was negative - she isn't pregnant.
Back in the lounge, Lyn is still very nervous but is told to relax and get dressed. Connor gets Michelle to take him to the laundry to test him out on the seating arrangements, although he isn't very good and Michelle wonders whether he's even looked at it.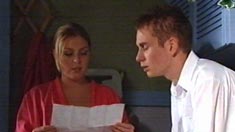 ..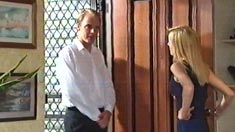 In the lounge, Dee asks what the best man is like - since with Marc's genes he 'should be a stunner'. Steph tells her she doesn't know but they'll see soon because he's coming to pick up the flowers. Just then there's a knock on the door and Dee rushes over to answer it, shocked to see that it's Tim. She asks what he's doing there, he explains that she has a very good ability to say exactly what she's thinking, but he's here to pick up the flowers and get back to Marc who's outside in the car. Steph hears this and rushes out.
Outside, Steph rushes down to Marc and tells him that she isn't pregnant. Marc assures her that it's fine, and that wasn't the reason he was marrying her. Flick then comes out, and tells Steph that Jack is on the phone from London. They both go back inside, and Tim comes out with the flowers.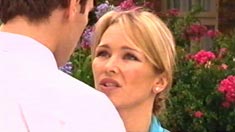 ..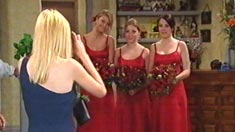 Inside, the bridesmaids are having their photo taken. Lyn explains to Dee that she doesn't want anything to go wrong, just as Flick accidentally tears her dress. Lyn is extremely fretful, and Flick very apologetic, but Susan explains that it'll be all right and she'll be able to easily fix it at her place. Once they've gone, Steph asks if she can talk to her mum alone.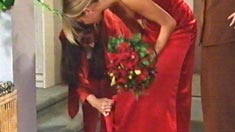 ..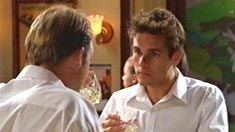 At the pub, Marc and Tim are having a drink. Tim continues to talk about Felicity, but Marc thinks she's out of his league. Tim bets that he can have her eating out of his hands by the end of the day.
Susan has taken Flick over to her place, and is fixing the dress. Susan asks how Flick feels, and she says she's just getting used to Steph being married. Susan tells her about how when her sister got married she turned into mum and dad, but at least she got a new brother, which leads Susan to ask Flick if she likes Marc. Embarrassed, Flick says he's OK but a bit of a tyrant as a boss. Once finished, Susan tells Flick that although she's had trouble with relationships in the past, she promises that she will find the right person for her.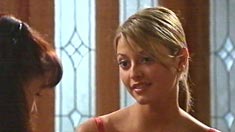 ..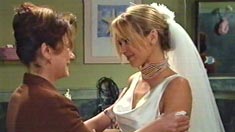 Steph has just told Lyn that she isn't pregnant, but that she thinks couples need time to spend together before starting a family. Lyn begins to cry, but is told to stop by Steph who says that she's the one meant to be crying. Lyn explains that she's so happy, proud and sad all at the same time. She worries about Flick's dress, but Steph tells her that Susan is a wedding veteran, and Lyn will be too once Steph and Michelle get married. Lyn doesn't like the idea and says that she wants Flick to elope and Michelle to join a nunnery. She then tells Steph that it's time to go out. Steph checks herself in the mirror, and then walks out. Out in the lounge, the bride is presented.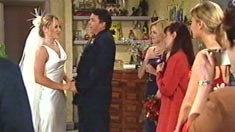 ..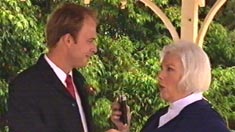 At the wedding ground, which is Lassiter's Lake, Marc is standing alone by the water. Rosie asks Tim if he's OK and Tim assures that he is as wedding nerves are just normal. Rosie agrees saying she gets nervous before big events, so Tim offers her some whiskey. She first refuses, but then asks if it is single malt. When Tim tells her it is, she decides to have some and calls it terrific tonic. Connor shows various guests, including Mr and Mrs Lambert, to their seats. Dee arrives, only to have her seat wiped down by Tim. He apologises for getting off on the wrong foot, but Dee says that it'd help if he could keep his foot out of his mouth for five minutes. She tells him that her friend Toadie is arriving in a minute, so he should probably make his way to the back, because with a head his size he'd probably just block the view. Lyn and Susan then also arrive and sit in front of Dee, who tells them they look stunning. Susan wonders where Karl and Drew are hoping they aren't late, but Dee reminds them it takes a long time to get babies ready, referring to Drew and Karl.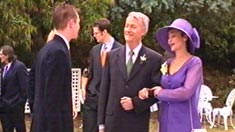 ..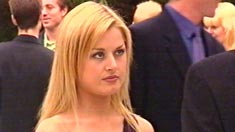 Steph, the bridesmaids and Joe then arrive at the back of the wedding area. The bridal march plays as the bridesmaids begin to walk down, but Steph stops before she does and tells Joe she hopes she can be as good a partner and parent as he's been, and then continues.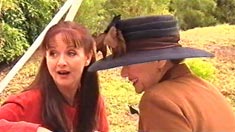 ..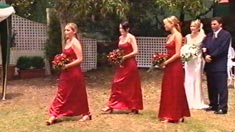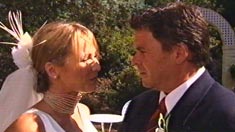 ..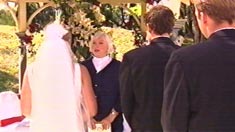 At the altar, Rosie asks if anyone thinks the two should not be joined in holy matrimony, then they should speak now. Flick has tears in her eyes but does not say anything. No one speaks, so Rosie continues. Steph begins her vows to Marc, as Flick looks on. Marc then begins his, but stutters and pauses, with a nervous glance at Flick who looks up. He then apologises to Steph, telling her he can't marry her. Joe calls out 'No', as Steph, and the rest of the wedding party, sit in shock.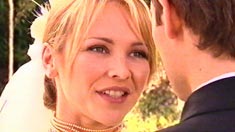 ..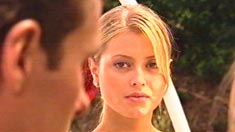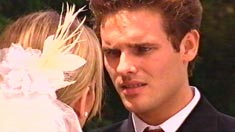 ..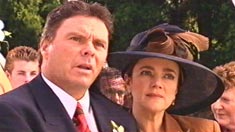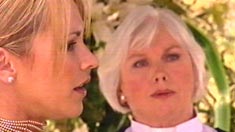 ..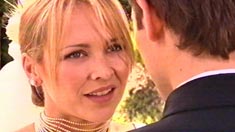 Notes: Joe's father, Pat Scully, is mentioned on the guest list, but is not seen at the wedding.
To read the next episode in this sequence, click here.
Summary by Joe. Captures by Karl