.
Magic Moments > 2004 > Karl and Izzy's Wedding Episode 4629

Written by Sarah Mayberry, Directed by Tony Osicka

Episode Title: The Face in the Mirror

Izzy says that Darcy still frightens her. Lyn tells Susan she has heard that Izzy doesn't really love Karl. Susan finds Karl and is about to tell him the truth...

Susan asks Karl if he is happy and if marrying Izzy is what he really wants. Karl says it is, so Susan refrains from telling him the truth - she says she hopes it's everything he wants it to be. Karl then receives a call from a frantic Izzy, who tells him their wedding venue has been cancelled. He rushes out to her rescue, leaving Susan to contemplate what just happened.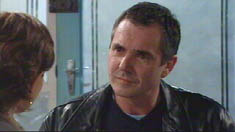 ..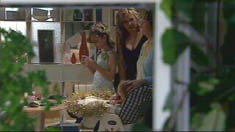 At number 26, Lyn is with the Hoylands as they get ready for the wedding, as an unknown person watches from outside the kitchen window. Summer doesn't understand why Lyn isn't coming to the wedding, but Lyn makes the excuse that she wants to stay home and look after Charlie. Izzy suddenly bursts in the front door in a panic about the reception centre being cancelled, and Max tries to calm her down by looking through the phone book for a new venue. Meanwhile Harvey barks at the mysterious person looking in through the window, but nobody notices who it is.
David is complaining to Lil about the word "Peace" being spraypainted on their front door, as Harold comes in wondering what to write in the wedding card. Lil suggests "Good luck with the divorce", but Harold is not impressed and makes it clear he thinks Izzy deserves some happiness. David receives a call from Lee, the mayor of Erinstown in Idaho, and says she will be arriving in the country the following week. Although unimpressed with the whole video diary project, Lil suggests Lee should stay at their house. David looks worried because he hasn't yet told Lil that Lee is in fact an attractive woman.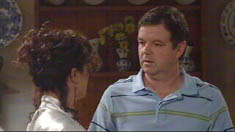 ..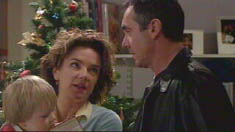 Karl arrives at number 26 and Izzy won't look at him because it's bad luck to do so on their wedding day. They talk in separate rooms, Karl telling her that he's tried lots of places but they're all booked solid. Izzy suggests Lassiter's and while Karl is reluctant, he finally gives them a call. Lyn sidles up to him and mutters "Maybe you'll get a bulk discount since your last wedding was there too".
David is trying to talk Lil out of the idea of letting Lee stay at their house. Lil doesn't understand why, until Harold cunningly opens the picture of her on the computer and Lil finally realises that Lee is a woman. David says he can explain but Lil thinks there's only one explanation for it.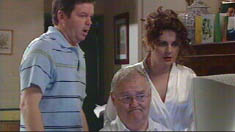 ..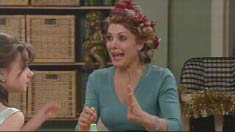 Karl has booked Lassiter's for the day and Izzy is ecstatic. The Hoylands leave to get organised, and Lyn sarcastically tells Karl that she supposes the important thing is that Izzy's happy.
At Lassiter's, Karl finally admits to Izzy his reservations about getting married there. It's the same venue where he and Susan renewed their vows a couple of years ago. Karl suggests they postpone the wedding but Izzy suddenly snaps and says she can't believe he's doing this after everything that's happened. Meanwhile, the unknown person watches from behind a half-closed door - and it's revealed to be Gus Cleary.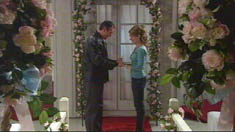 ..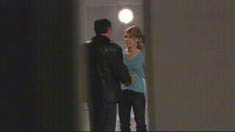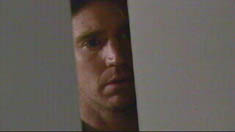 ..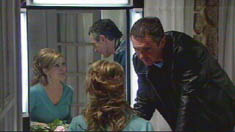 Later, in Izzy's dressing room at Lassiter's, Karl is trying to explain his feelings about the venue. Izzy says she's always in Susan's shadow and she always comes out looking second best. She lists everything that's wrong with her life including that she's still having nightmares about Darcy coming out of his coma. As Max and the kids arrive, Karl finally concedes defeat and says they can have the wedding at Lassiter's. Izzy thanks him, smiling.
At number 28, Lyn arrives with some chocolates for Susan to cheer her up. Lyn says Susan's handling the wedding very well, but Susan says she almost warned Karl off this morning. Lyn replies that if she wasn't a little bit jealous she wouldn't be human.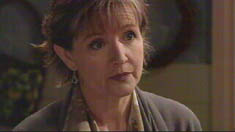 ..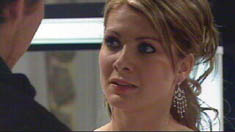 In Izzy's dressing room, Steph and Summer are helping Izzy put the final touches on her wedding dress. She turns around and looks at herself in the mirror as Steph and Summer leave to get flowers. Izzy sits at the mirror and starts rummaging through her makeup bag, before Gus steps behind her. In a monotone he says "I always knew you'd make a beautiful bride". Izzy jumps with fright after glancing into the mirror and seeing him standing very close to her. He says he can't believe Izzy and Karl are getting married, and that he's been following them all day. He wants to get back with Izzy and look after the baby, but Izzy tells him that the baby died. Gus wants to start a new life with her and grabs her as she struggles to get away from him. He says "You're mine Izzy, no matter what. Remember that." He violently kisses her on the lips and leaves as Izzy screams for security.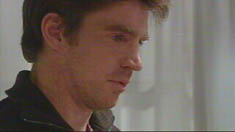 ..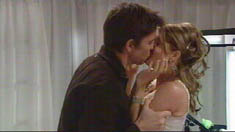 Susan and Lyn sit on the sofa, discussing Karl. Susan says she's not jealous of Karl and Izzy and she doesn't love Karl anymore. She says she's going to take Lyn to Lassiter's and buy her a fancy cocktail, but Lyn brushes her off. Lyn tells Susan that the wedding is now taking place at Lassiter's - to Susan's utter disbelief.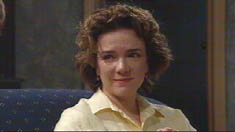 ..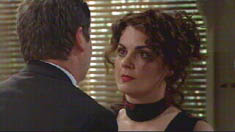 David and Lil are now dressed for the wedding but David is rushing after Lil trying to explain away the lies about Lee, as Harold and Lou watch on amused. Lil strings David along, pretending she's going to divorce him because of it, before laughing and telling him that she was joking. She says Lee will still stay with them when she comes.
On the street, Susan is leaving to visit Libby to get away from all the fuss of the wedding. Lil comes over and starts trying to gossip about how the marriage won't work - despite Susan's attempts not to talk about it. Susan's finally saved when David calls Lil over and says they'll be late for the wedding.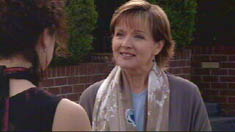 ..
At Lassiter's, Karl is wound up over Gus's return. Max attemps to calm him down. Meanwhile, Boyd wants to go look for Gus but Max makes it clear that he has to stay inside.
Susan sits in her car looking frustrated, and she rings Libby to say she's going to be a bit later than planned. She drives off.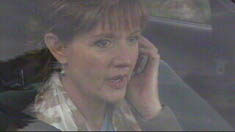 ..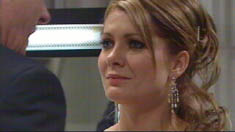 In Izzy's dressing room, Karl tells Izzy that Gus has gone now and she's safe. But Izzy is completely distraught, so Karl tries to reassure her by telling her that he's not going to let anything stop them getting married. Karl says he can't wait to be married so he can spend the rest of his life giving her all the happiness she deserves. He kisses her on the hand and leaves. Izzy doesn't look like she's feeling any better.
Karl tells Max, Steph and Summer that he's ready and Max says he'll go and get Izzy. In the dressing room, Max finds Izzy looking very nervous and despondent but doesn't suspect anything's wrong with her. She grabs her bouquet as the wedding march begins to play. Max says it's their cue, but Izzy says she wants to go out the back and make a proper entrance.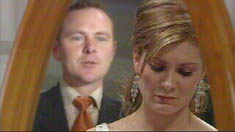 ..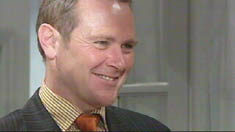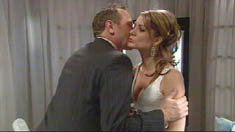 ..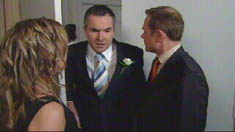 Karl waits nervously at the altar, and finally decides to ask Max where Izzy is. Max says Izzy should have come right out and Steph says she'll go check on her. Karl is worried that Gus has done something to her.
Susan drives in her car looking annoyed at the whole situation. In another car, Izzy is speeind away from Lassiter's, still in her wedding dress. The two cars suddenly speed towards each other and narrowly miss colliding. Susan gets out of her car and is shocked to see Izzy sitting there looking dazed and confused. She asks Izzy if she's okay before it suddenly dawns on her that she's leaving Karl at the altar. She can't believe Izzy's gotten Karl all the way to the altar and is just going to leave him there waiting. Izzy says she was just thinking of Karl but Susan knows she was only thinking of herself. Susan flips and tells Izzy to "keep on driving, and don't ever, ever come back!" Izzy tells herself that Karl deserves better before driving away...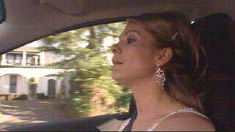 ..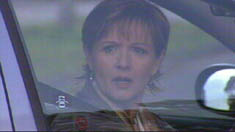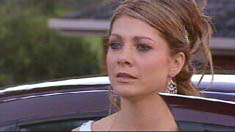 ..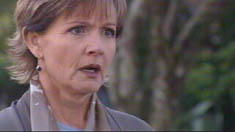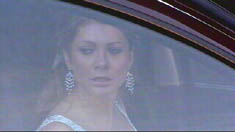 ..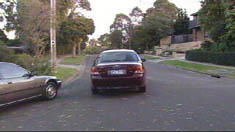 Read the next episode in this sequence, Episode 4630
Summary by Aaron