.
Magic Moments > 2006 > Kim and Janelle's Wedding: Part One Episode 4978

Written by Jeff Truman, Directed by Tony Osicka

Episode Title: Every Which Way But Bruce

Robert tells Katya that their relationship is over. Janelle warns Kim not to let his problems with Dylan ruin their wedding day. Robert insists that Connor stay with him for a beer.

Outside number 30, Robert gets into Connor's ute and checks that nobody is looking, before reversing out of the driveway and driving out of Ramsay Street.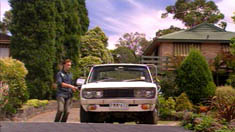 ..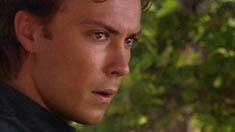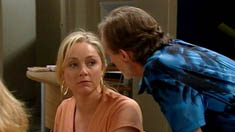 ..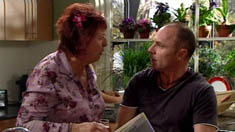 At number 26, the Timmins girls are painting their nails and comparing colours, as Lyn completes Izzy's final fitting for her bridesmaid dress. Izzy accuses Lyn of deliberately pricking her with a pin, but Lyn says that she would never do that, as she has a voodoo doll in the kitchen for such purposes. Susan is amused as she listens in, whilst, in the kitchen, Katya hands around the wine and snacks. Kev and Angie then make their grand entrance, and she complains that it all seems very quiet for a hens' night. Kev greets his little sister and tells her she looks great, while Angie spots Kim in the kitchen and tells him that he shouldn't be there on the night before the wedding. Kev drags Kim off to number 30, as Angie tells the girls that now, the party can get started.
At number 30, Kev brings Kim into the kitchen, where Toadie, Stingray, Dylan and some of Kim's mates from the surf club are waiting. Kim insists that he just wants a few quiet drinks, because he needs the next day to be the best day of Janelle's life. He says that he doesn't want it to be a repeat of the last wedding, and Toadie and Kev then reminisce about Janelle turning up hungover to her wedding with a half-full bucket – which was full by the end. Kev then hands Kim a beer and says that they can still have a good time.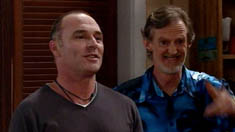 ..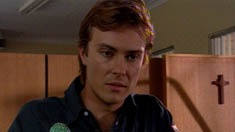 At St Luke's Hospice, Robert is talking to his comatose brother about all of the problems he's been having, first with Katya and then with Connor interfering. His ranting is interrupted by a nun, Sister Josephine, who apologises but Robert tells her to carry on. He asks her about the transfer for his brother to Mildura Hospital, as he's received a job transfer there. Sister Josephine explains that transfers take time to arrange, so Robert suggests that he donate some money to the hospice, to make things progress a little faster. He then asks about that Italian nun – Carmella, and Sister Josephine explains that she's spending some time at a bush hospital.
At number 26, Izzy checks out her dress in the mirror, but isn't happy with the alterations Lyn has made, as she still looks like a frump. Lyn explains that she isn't a surgeon, and Izzy retorts that she isn't a comedienne either. Izzy then complains about the elegant dress that Susan gets to wear, and goes to confront Janelle, who says that she can't change anything now, as nobody is allowed to upstage the bride. Izzy storms off once more, and Bree says that her mum was just using Izzy for the entertainment factor, and never expected her to actually attend the wedding. Lyn is in the process of asking Susan about her date with Karl, when Janae interrupts them, while, Katya offers wine top-ups. Angie mentions to Katya that it's a shame things didn't work out with Cameron and Susan is surprised, as she had no idea that they'd broken up.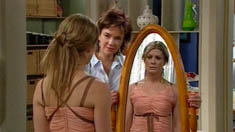 ..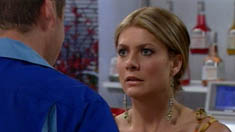 At the bar, Kev presents Max with a huge list of alcohol requirements, then goes to play darts with Toadie, who tells him to go easy on Kim as tomorrow is a really important day for Janelle. Big Kev says that, although he thinks Kim is a loser, he's still here for his bucks' night and is going to have a good time. Toadie reminds him that, if anything goes wrong, he'll be the one who's the target for the Timmins revenge, as he has to live in the same street as them. Izzy then comes over to Toadie and tells him that she suspects Cameron of editing together a conversation she had with him, using him MP3 player, but can't find the evidence. Toadie isn't so sure, as Cameron seems really nice, but Izzy says that he isn't, it's all an act. She asks him how she can get the conversation from the MP3 player, as she needs evidence, and Toadie tells her to look in the phone book and find a computer expert in the phone book. He walks back over to his dad and says that it looks like Izzy has finally cracked up.
At number 30, Dylan makes a speech about how proud he and Stingray are of their dad and him making a go of things with the family. Kim says that he's proud of them too and they celebrate with a drink, though Stingray is just having water. Kim encourages him to have something stronger, but Stingray turns down the offer and changes the subject to a very positive newspaper review of Dylan's new menu at the bar. Kim is delighted and the boys go off outside to show it off, as Kev, Toadie and Max return from the bar, along with Harold. Kev wants to eat before the entertainment begins, and Harold asks what exactly that means. Max tells him that it means a stripper. Toadie is beginning to get concerned, but Kev reminds him that it's all just harmless fun.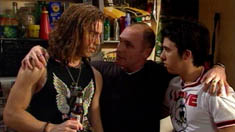 ..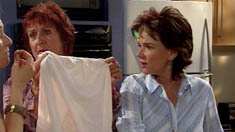 At number 26, Angie wants to know when the stripper will be arriving, but Lyn explains that there won't be one, as there are children present. Janae and Bree don't seem to mind, and Angie asks Lyn why she was in the bedroom for so long – accusing her of having a secret stash. Lyn says that she was just putting Oscar to bed, and Janelle says that this is as exciting as it's going to get, since Susan was in charge of organising entertainment. Angie complains that she brought a spare pair of undies for nothing, explaining that they were to be thrown at the stripper, as Lyn looks horrified.
At number 30, Toadie is wondering why he always ends up in the kitchen at parties, and Kev reminds him that's where the beer and food is. Stingray turns down another beer, while Harold complains that nobody touched his salad. Kev joins Stingray, Dylan and Kim at the table and starts talking about their love lives, to which Kim tells him to go easy. Dylan excuses himself to go outside to the barbie as Stingray attempts to change the subject. Kim and Stingray then start mocking Kev's 'party shirt' and on the other side of the kitchen, Harold asks Toadie if he's heard from Connor yet. Toadie says that he hasn't and they make a toast to him. Max then returns to the kitchen and tells Kim that there's a Miss Nova to see him. The stripper comes in as all the blokes, except Harold, start cheering and she drags Kim away with her.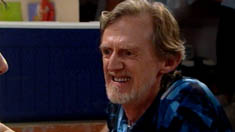 ..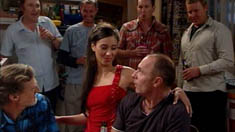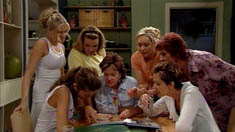 ..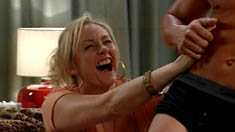 At number 26, the women are complaining that every stripper in the city is booked. Some of the girls are at the table, looking at photos from Kim and Janelle's first wedding and Katya spots something on the floor in the photo next to Janelle. Janelle quickly grabs the album before anyone can get a closer look. Bree and Janae decide that the next wedding will be the start of a whole new life for all of them. Janelle then goes to answer a knock at the door as 'she's closest' and it's Grant, the stripper, arranged by Susan. Everyone starts screaming, particularly Janelle, as he, dressed as a cop, tells her he's charging her with being an unlicensed hottie.
In the bar office, Izzy springs Robert looking for his MP3 player. He accuses her of stealing it from number 22 and she wonders why she would want to do something like that. He thinks it might be part of her grand plan to seduce him, as Izzy wonders if Katya saw through him too, and that's why they split up. He gets annoyed at this and goes to grab her but she runs out into the bar. He says that he knows what she did, but she says that she also knows what he did. He smirks, claiming that she doesn't know everything, before walking off, leaving Izzy worried.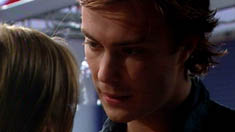 ..
At number 30, the men start piling back into the kitchen, the stripper now gone. Kim says that he just wants to have a clear conscience on his wedding day, and says that she was a very talented dancer. Kev asks Kim if he enjoyed it, before pointing out that Miss Nova wasn't her real name – it was Bruce. Kim looks shocked and all the blokes start to laugh, before Kim says that he was certainly very flexible for a young bloke. Everyone starts cheering and Kev looks put out. Again.
At number 22, Robert is telling Paul that Izzy's behaviour is becoming concerning and she's starting to think that he and Elle are out to get her. Paul says that Izzy is just craving attention – like most people crave air – and to ignore her. Robert says that he hopes she won't get to Paul, but he insists he'll never trust her again.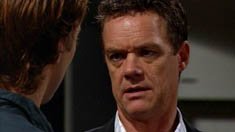 ..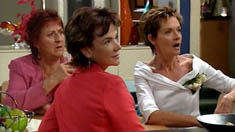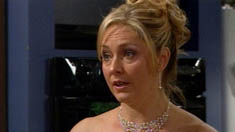 ..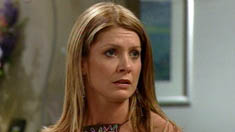 At number 26, the next morning, a very hungover Susan joins a similarly hungover Lyn at the breakfast table, as Janelle comes in fresh as a daisy. She says that her secret was that she only drank water the night before – nothing was about to ruin her big day. Angie is impressed, just as Izzy bursts in and says that she won't be at the wedding, as she has more important things to deal with. Janelle says that it doesn't matter, as she'd never expected her to last this long anyway. Izzy is shocked and storms out, as Bree runs off to help with the flowers at Lassiter's. Janae then comes in and tells Angie that there's a problem… outside…
Outside, Angie is shocked to find Kim, naked, tied to his surfboard, and she immediately blames Kev. She and Janae start trying to untie him, as Harold comes over and says that he knew something like this would happen. Katya also joins them and asks if she can help, but Angie says that they'd prefer to keep it within the family. Across the street, Paul and Robert watch and Paul laughs, remembering Des' bucks' night, when he staggered home in a nappy and baby's bonnet. Robert, however, is more interested in watching Katya as she walks home.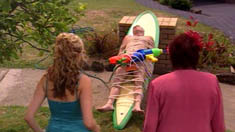 ..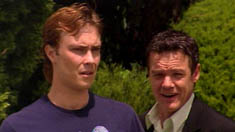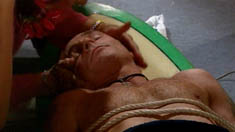 ..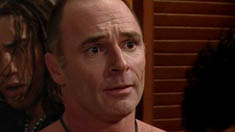 Inside number 30, Kev is passed out on the kitchen table, and Angie comes in, saying that she needs some help. Dylan and Toadie appear, looking the worse for wear, and Dylan goes to get a knife to cut the ropes. Kim then starts to wake up and screams as he finds Angie leaning over him, shouting, then screams again as Dylan appears with knife in hand. Toadie asks his mum to stop shouting, but she starts shouting louder, before pulling Kev up off the table.
Kim suddenly bursts into the kitchen, having realised that the ring is missing. Angie and Toadie are both stunned.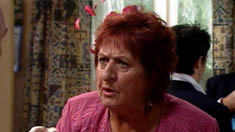 ..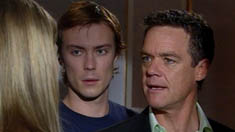 Everyone is frantically searching for the ring, as Angie comes in and finds Kev asleep on the floor and is furious. Toadie explains that he went to get some orange juice but didn't quite make it. Angie tells Kim that he has to find the ring and get down to Lassiter's, or his life is not going to be worth living.
At number 22, Paul opens the door to a desperate Izzy and tries to shut it but she stops him. She says that he has to listen to her, as he's in danger. Paul won't listen to her, so she starts yelling that Cameron isn't in his right mind, just as Robert appears behind his father. Paul says that he's going to get a restraining order if she doesn't stop this, and slams the door on her as she says that she loves him and he has to be careful.
To read the next episode in this sequence, click here...
Summary by Steve