.
Magic Moments > 2006 > Lyn and Paul's Wedding Episode 5116

Written by Sacha Hamilton, Directed by Tony Osicka

Episode Title: People Who Need Steeple

Paul and Rosie, locked in the wine cellar together, give in to temptation and kiss. Steph reminds Boyd that his fling with Glenn was normal for a 19-year-old, but Boyd's married and therefore isn't a typical teenager. Frazer tells Rosie that he cares for her a lot and she needs to talk about what happened with Paul…

At number 30, Rosie can't stop thinking about what happened between her and Paul in the cellar. Frazer tries to reassure her that it isn't entirely her fault, as Paul must have been giving out signals for her to respond to, but she says that she instigated the kiss and has probably blown her chances of keeping the business internship too, having now grown a little too close to her boss.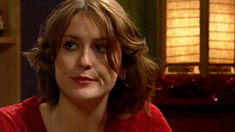 ..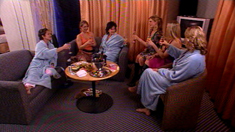 In a hotel suite, Lyn is holding her hen's night, with Janelle, Janae, Elle, Steph and Susan in attendance. Lyn tells the girls about the honeymoon in the Maldives, as Janae looks jealous and Janelle reminds her that she could have had a big wedding if she'd wanted one. Janelle then shocks everyone by asking Lyn if Paul has a special leg for the occasion, and Steph and Elle quickly demand a change in the topic of conversation. Janelle can't resist one more comment, asking if Paul takes the leg off before he goes to bed, so Elle quickly makes a toast to Lyn, and announces that she hopes that she can tame her father.
Back at number 30, Frazer tries to find out where he stands with Rosie, and whether she's in love with Paul, but she doesn't answer the question, as she isn't sure of her own feelings.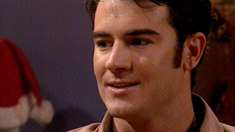 ..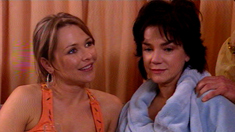 Back at the hen's night, Susan reminds them all to go easy on the alcohol, as Lyn doesn't want a hangover on her wedding day. As Susan tries to calm everyone down, there's a knock at the door and Janelle smiles. Susan reminds her that this is meant to be a classy evening and asks if Janelle has done her usual trick of hiring a stripper. Janelle immediately denies this and runs to answer the door, telling the stripper that he has to pretend to be a Swedish masseur, before slipping some money into his trousers. She then leads him in to meet the other girls and introduces him as Sven, who doesn't speak any English but is an excellent masseur. As 'Sven' massages Lyn's shoulders, Susan sarcastically says that clearly she had Janelle pegged all wrong. Janelle takes offence at this and Susan is stunned when Janelle announces that Susan clearly can't handle seeing her with money to burn, just as Karl has become a dole bludger.
At number 30, Frazer is still questioning Rosetta about why she fell for Paul in the first place – he asks again if she's in love with him. She asks him to define love for her and she'll give him an answer, and he gets annoyed, pointing out how old Paul is and what a terrible reputation he has. She accuses him of being a hypocrite, pointing out that he was messing around with Pepper's emotions for weeks, but he says that it's not the same and he would never cheat on a woman he loved. Rosie simply laughs and says that she's had enough of men as she can't trust any of them.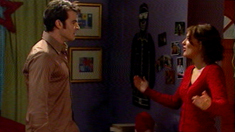 ..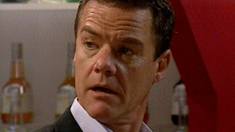 At the bar, Paul is having his buck's night… with Oscar. Boyd is serving and complains that Paul is stuffing the child full of junk food. Paul tells Boyd to back off and follows him back to the bar, asking for a fresh start between the pair of them, since he'll practically be his grandson after the wedding. Boyd says that he'd rather eat dirt and reminds Paul of all the threats he made, but Paul jokingly says that he threatens everyone. Boyd asks Paul not to refer to him as his grandson before walking off, just as Frazer turns up. Frazer accuses Paul of being scum for the way he's treated Rosie and allowed her to believe that she made the first move. Paul says that she did, and that he's marrying Lyn tomorrow and will do nothing to jeopardise that, but now, he needs to go home and give his son a bath.
At number 30, Rosie knocks on Frazer's bedroom door and apologises for her behaviour earlier, telling him that she can't sleep now. She asks Frazer whether she should tell Lyn about the kiss, but Frazer quickly tells her not to, as it wasn't Paul who instigated the kiss. Rosie wonders why he's suddenly changed his tune but he says that she shouldn't ruin Lyn's life just so she can clear her conscience. Rosie weakly agrees, and Frazer asks her if she'd rather break up Paul and Lyn, so that she can have him to herself. She insists that this isn't the case – she doesn't want Paul anymore.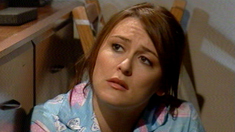 ..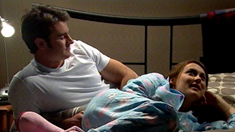 Later, Rosie and Frazer are both lying on the bed, chatting about their worst Christmas presents, then Rosie lays her head down to listen as Frazer starts telling her about his family. As he tells her that his dad's a Rolling Stones fan and his mum prefers the Beatles, he suddenly blurts out that Rosie already knows his brother – Johnny, she was engaged to him. He says that when he heard about her and Johnny splitting up, he decided to track her down, as he wanted a chance at her family's wealth and status. He admits that it was a low act, but now he's started to fall for her for real. He asks her to say something, but when he looks down, she's fallen asleep.
The next morning, the girls are anxiously waiting for Lyn to emerge from the bathroom so they can see her dress, but when she finally appears, she's still in her dressing gown and says that she doesn't want to be ready too early. Steph then gives her mum a gift – a pearl tiara – from her and Jack, Flick and Michelle. She loves it and says that she's very lucky to have such wonderful children, and the man of her dreams. Lyn's phone rings and she refuses to answer when she sees that it's Paul, believing it to be bad luck. Susan points out that they can't see each other but can still talk, so Lyn answers and Paul frantically tells her that he can't control Oscar, who is running across the room with Paul's leg! He begs Lyn to come home and sort the child out and Lyn agrees, but the others won't hear of it, so Susan offers to go, and take Janelle with her.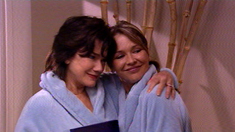 ..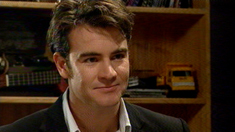 At number 30, Rosie is pleasantly surprised to find that Frazer has prepared a lavish breakfast for the two of them. She says that she can remember chatting with him last night, then the next thing she woke up on his bed. Frazer acts surprised, and says that surely she hasn't forgotten – he was amazing, after all – before admitting that he's joking. They sit down to eat and she admits that he's quickly becoming one of her favourite people. He says that he's got a great day out planned for them too.
At number 22, Oscar is still running around like a lunatic and Susan tries to grab him. Janelle, meanwhile, has found Paul's leg and he reattaches it and starts to worry that he won't make it to the church on time. Janelle points out that it's his 4th wedding and he should be used to this sort of thing, as he goes upstairs to prepare. Susan then asks Oscar if he's going to put his suit on and get ready, but he shakes his head. Paul then calls down that he can't find his tie, so Susan goes to help, as Janelle tries her own brand of Oscar persuasion – doughnuts.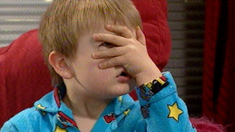 ..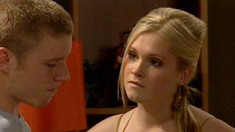 At number 32, Boyd is reading a Christmas card from Glenn in Tasmania, when Janae comes in and he quickly hides it from her. She tells Boyd that he needs to cheer up as it's meant to be a happy day, but Boyd is convinced that Paul is just going to break Lyn's heart by cheating, if he hasn't already. She says that some people can resist temptation, and Boyd realises that this is a dig at him and wonders when they're going to put that behind them. She admits that she's trying, but when she sees him daydreaming, she wonders if he's thinking about 'her'. He assures her that he isn't, and that he's nothing like Paul. They share a hug, though Janae doesn't look entirely convinced.
At number 22, Susan is furious with Janelle, as the pair of them wipe Oscar's vomit from their dresses and wonders what possessed her to give him a whole bag of doughnuts. Janelle decides that they're going to have to get changed before spotting the Christmas tree and deciding that they could just cover the stains with some festive cheer. Susan isn't at all convinced, but an uneasy truce forms between them as they share a laugh over the awful jumper that Lyn made Paul wear the previous week. Susan then decides to go along with Janelle's plan, as long as she uses something dignified – like tinsel!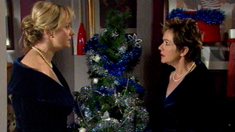 ..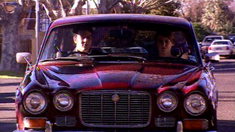 Frazer and Rosie are on their way to the races when his car, Bessie, starts spluttering and breaking down. He pulls into the side of the road and suggests going back to Ramsay Street to get Rosie's car, but she won't hear of it, worried that they'll run into the wedding party, but, realising that they have little other choice, she agrees to go back.
At the church, Reverend Keith Illingworth is talking to Paul about what he's about to do and what the ceremony means. He assures a nervous Paul not to worry and that brides like to be late and make a grand entrance, but Paul is busy daydreaming about Rosie walking in wearing a wedding dress. As he snaps out of it, he tells himself that it'll all be over when he marries Lyn, which surprises Reverend Illingworth. He decides to go outside and see if there's any sign of Lyn and tells the Reverend that he wants things to start immediately when she arrives.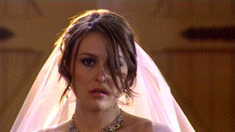 ..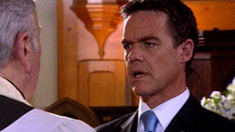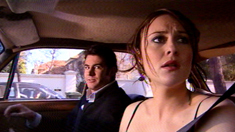 ..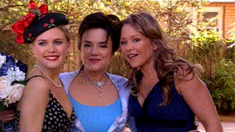 As Frazer and Rosie continue… slowly… on their journey back to Ramsay Street, they happen to pass the church, where Paul is waiting outside. He and Rosie look stunned to see each other and she begs Frazer to turn the car around. He tells her that might take longer than just carrying on and Paul is completely distracted as the bride and her entourage arrive. Elle shouts at her dad to get inside the church and so he does, as Lyn, Steph and Elle prepare themselves to go inside. Lyn hugs them both and says that they're one big happy family now. Susan and Janelle then turn up, apologising for being late and saying that Oscar is coming with Janae and Boyd. Lyn is surprised to see the addition of tinsel to their dresses, and they promise that they'll explain later. Reverend Illingworth asks if they're ready to begin and Lyn follows Steph and Elle into the church.
Reverend Illingworth begins the wedding, announcing to the gathered friends and family why they are all there…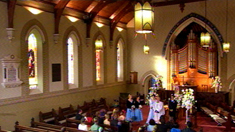 ..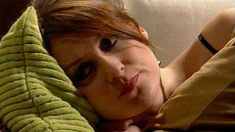 At number 30, Frazer and Rosie get back, but as he goes to get her car keys and head off to the races, she lies down on the couch, hugging a cushion…
Back at the church, Lyn says her vows and puts the ring on Paul's finger, as her assembled friends and family watch on, smiling. Reverend Illingworth then turns to Paul and asks him to begin his vows. Paul is completely distracted, as Lyn looks slightly worried and the Reverend asks Paul again if he takes Lyn to be his wife…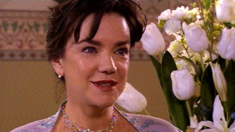 ..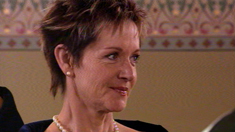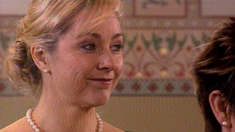 ..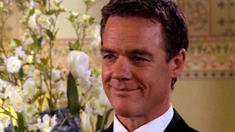 At number 30, Frazer finds Rosie's keys and comes into the room announcing that they can leave for the races now. All Rosie can say is that Paul is probably saying 'I do' right about now…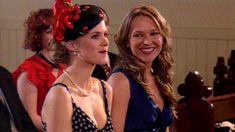 ..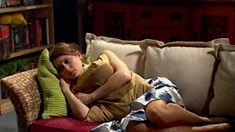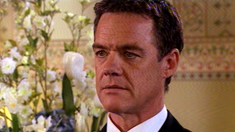 ..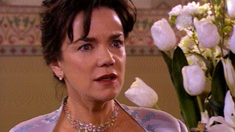 Back at the church, Paul is still deep in thought and Reverend Illingworth tries a couple of times to get his attention, which finally works. He asks again if Paul takes Lyn to be his lawfully wedded wife, but Paul doesn't speak and a stunned Lyn blurts out "Paul?"…
To read the next episode in this sequence, click here...
Summary by Steve