Channel Ten: 23/05/08, Five: 13/08/08
Carmella confesses to Sienna that she took the money from The General Store. Bridget witnesses Riley and Nicola kissing in his van. Paul insists that Rebecca isn't the blackmailer, but Elle isn't sure. Elle confronts Lyn about the blackmail and much to Steph's surprise, she admits it was her. Steve wrongly confesses to attacking Chris Knight.
At number 26, Steve, Miranda and Bridget head to the police station and Miranda asks Riley and Nicola to stay behind. She promises to call them when everything has been sorted out. As they leave, Riley angrily removes Nicola's hand from his shoulder.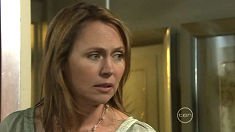 ..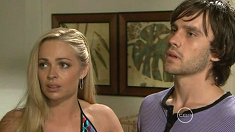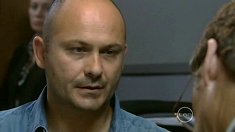 ..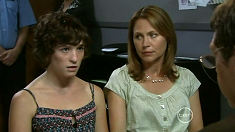 At the police station, Steve tells Alec Skinner that he saw Chris all over Bridget, he pushed him and he slipped. Separately, Didge tells her side of the story, saying that her dad wasn't there and she pushed Chris Knight. Steve believes that she has been through a traumatic experience, is in shock and her memory is blurred. Didge tells Skinner that she didn't call an ambulance because she didn't know that he was hurt and she just wanted to get away. Steve argues that he didn't come forward earlier because his daughter was his first priority. Skinner knows that one of them is lying, but both protest that they are telling the truth.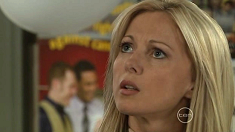 ..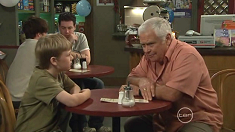 At The General Store, Mickey tries to convince Ned and Kirsten to go out with him tomorrow and they try to work something out. Lou interrupts, telling them that Steve and Bridget are being questioned by the police, but since they both confessed, the police don't know who to believe. Ned wants to go down there and Lou offers to look after Mickey. On his way out, Ned asks Sam to be Steve's lawyer and they go to the station. Mickey is annoyed that his mum and dad are always busy and that they never have fun anymore.
At number 32, Lyn explains the blackmail to Steph and Elle. Yasmin Murphy contacted her, telling her and Kirsten and Paul were having an affair, in the hope that it would make Lyn feel better. However when Paul promoted Kirsten over Yasmin, she decided to get her own back by sending pictures from the security tape to drive Paul nuts. Lyn says that she felt so sorry for Rebecca that she deserved compensation, so planned to put the money into Rebecca's bank account. The amount - $12,400, is what Lyn paid for her wedding day. Yet she could never put a value on the amount Paul cost her - her happiness, her self-esteem, her home. Paul enters and is furious. Steph tries to get him to leave, but he refuses to listen, saying that no one does this to him and gets away with it. Elle reminds him that he isn't innocent in all this as he cheated on Rebecca and Lyn says that old habits die hard. Steph angrily confronts Paul, telling him that Lyn is obviously not well and Elle offers a compromise - they won't take the note to the police as long as Lyn doesn't tell Rebecca.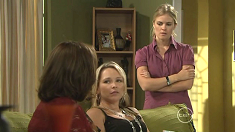 ..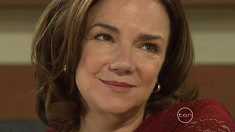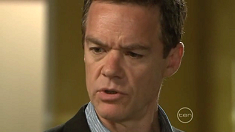 ..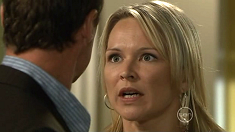 At The General Store, Carmella tries to convince Marco to give Sienna another chance, but he refuses. Carmella defends her by saying that she only borrowed the money and that she was going to return it. Marco says he'll think about it.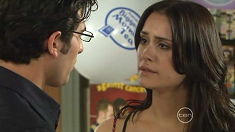 ..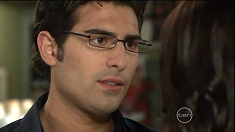 Back at number 26, the Parkers return and they haven't been charged. Miranda is unconvinced, saying that he could still go to jail. Steve argues back, saying that under normal circumstances, telling the truth is the best option, but this was the way to go. They continue arguing and Didge runs off in tears. Miranda breaks down and Steve tries to console her, promising her that it'll be alright.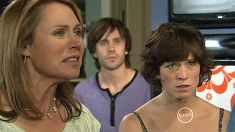 ..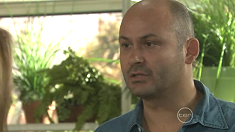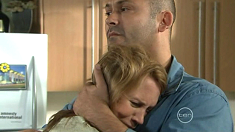 ..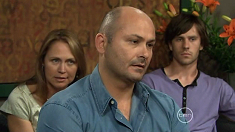 At Rebecchi Cammeniti, the Parkers discuss the case with Sam. Steve insists that his version of events is true and Sam warns him that if his statement is false, he could be charged with perverting the course of justice. He asks her if Chris' bad reputation will be admissible if it goes to court, and she says that it may not. Because of this, along with the fact that they didn't come forward immediately, Steve would like his statement to stand.
At number 22, Paul is angry that Lyn got away with what she did and thinks that she nearly ruined the family. Angry, Elle tells him that he nearly ruined the family by sleeping with Kirsten, no affair, no blackmail. She says that it is his fault and that Lyn is on the verge of a nervous breakdown, so he'll just have to deal with it.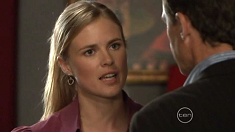 ..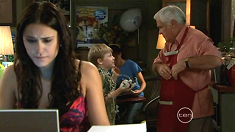 At The General Store, Mickey comes in, wrapped in Christmas lights and asks for Lou's help to make a special night for Ned and Kirsten. Oliver asks Carmella if she was able to get Sienna's job back, and everything is sorted. He realises that she hasn't told the truth to Marco and reminds her that she could lose him if she doesn't.
Back at number 26, Miranda tells Steve that she loves him, even though he drives her crazy. Riley tells Didge about his opportunity to work in the Middle East, but she knows that it's just a way for him to get away from Nicola. Didge insists that they just find a way to get rid of her and thinks it'll solve everything, but he tells her that he has to do it. Miranda and Steve come in and Didge begs them not to let him go. Miranda thinks that he wants to run away from them again and the thought of him leaving makes her sick. Steve says that if Riley is really passionate about this, they won't be able to change his mind, but makes him promise to take care and be safe. Didge tells him if he goes, she'll never speak to him again.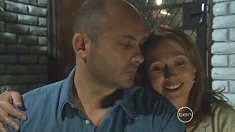 ..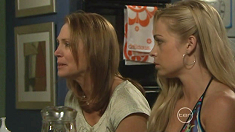 At The General Store, Kirsten comes in to find the place empty and a table laid out for her. Ned arrives and they realise that they have been set up. mickey comes from the kitchen with their food and explains that since they work so hard, Lou suggested a romantic meal for two. They sit down and open the wine as Mickey spies on them from the kitchen.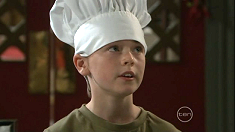 ..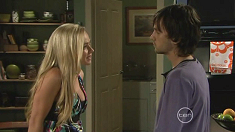 Back at number 26, Nicola tells Riley that what he's planning is crazy. He tells her that she isn't the only reason he's going, but if he stayed, everyone would find out and Miranda would never get over it.
At Charlie's, Sienna thanks Marco for giving her job back. He leaves and Sienna asks Carmella if she told him everything, but she lies and changes the subject. She invites Carmella along on her night out, but noticing Oliver coming to give Chloe back, she goes over to her friends. Carmella looks longingly at Sienna and her friends leaving.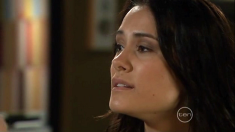 ..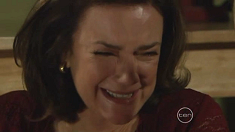 At number 32, Lyn and Steph talk about Paul and Lyn bursts into tears, admitting that the salon is going under ever since Valda lost the money and the fact that Oscar's daycare is very expensive. She feels scared and lonely and Steph tries to comfort her.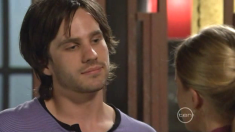 ..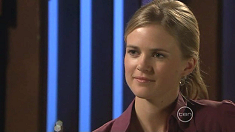 At Charlie's, Riley offers to buy a drink for Elle, just as she did for him when he arrived in Ramsay Street. Elle jokes that it has taken him a very long time to return the favour. Sensing that something is wrong, she asks him if he is alright and he says that he is. She says that she'll have to turn down the drink, but hopes that she won't have to wait so long for the next offer. He kisses her on the cheek, saying "See you later" and leaves the bar.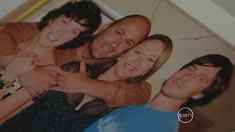 ..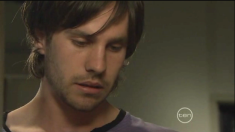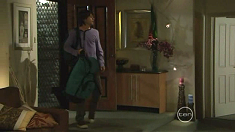 ..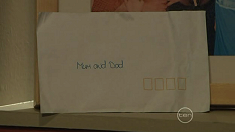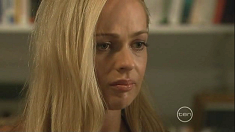 ..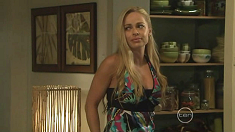 At number 26, he finishes packing his bags and looks at a photograph of his family, placing a letter addressed to his parents beside it. He leaves the house without saying goodbye. Upset, Nicola emerges from the kitchen and finds the letter, taking it with her into her bedroom.
Cast: Tom Oliver as Lou Carpenter, David Hoflin as Oliver Barnes, Stefan Dennis as Paul Robinson, Pippa Black as Elle Robinson, Steve Bastoni as Steve Parker, Nikki Coghill as Miranda Parker, Sweeney Young as Riley Parker, Eloise Mignon as Bridget 'Didge' Parker, Dan O'Connor as Ned Parker, Fletcher O'Leary as Mickey Gannon, Carla Bonner as Stephanie Scully, Natalie Blair as Carmella Cammeniti, Sarah May as Chloe Cammeniti, Jesse Rosenfeld as Marco Silvani
Guest Cast: Janet Andrewartha as Lyn Scully, Imogen Bailey as Nicola West, Nikola Dubois as Kirsten Gannon, Kevin Summers as Detective Alec Skinner, Simone Buchanan as Samantha Fitzgerald, Erin McNaught as Sienna Cammeniti
Trivia Notes
• Final appearance of Sweeney Young as Riley Parker
• Lyn spent $12,400 on her wedding to Paul
• The song featured in the final scene is 'Sorry' by Youth Group
Summary by Conor