Channel Ten: 07/10/08, Five: 13/01/09
Ty injures his wrist at the football match. Donna arrives at Paul's doorstep with her belongings. Steve tries to eat the leftovers, but is in pain. Miranda wrestles the medication from Nicola and threatens her, promising to send her to jail. Nicola kisses Steve in his room, and he wakes up. Steve's heart stops beating and Miranda is ushered out of the room.
Nicola leaves the hospital, upset and in a daze. Doctor Newton desperately tries to resuscitate Steve. Toadie tries to comfort Miranda.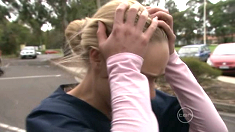 ..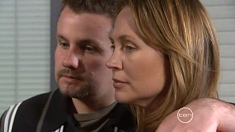 Nicola bumps into Declan and Didge. In tears, she tells him that Steve has gone. Didge rushes inside and tells Declan to call the police. He tries to restrain Nicola.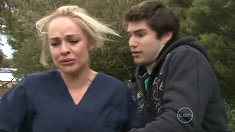 ..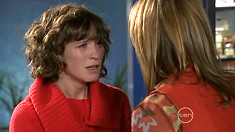 Didge rushes to her mother, but is confused when Miranda says that they have to give the doctors every chance to save his life. Doctor Newton emerges from the room and informs them that they managed to save Steve.
Outside, Declan struggles to hold onto Nicola and call the police. A passerby hears Nicola's screams and forces him to let Nicola go, allowing her to run away.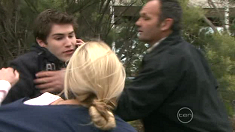 ..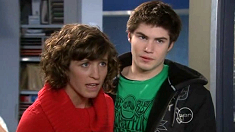 Doctor Newton tells Miranda and Didge that Steve is in a stable condition, but she doesn't know what caused the cardiac arrest yet. Didge tells her mum that Nicola was at the hospital. Declan comes in, telling them that Nicola escaped. Didge is annoyed, but Miranda points out that the police may not have enough evidence to charge her with. Toadie confirms that actual proof would be better. Thinking she can prove it, Didge and Declan head off.
Rachel arrives at number 32, to cheer Ty up with comfort food. She notices that Ty is in pain, but he hasn't taken anything for it, insisting that he's fine. They start talking about things that Ty can still do with one hand and Rachel wants to know if he has tried to play the guitar. He hasn't, and quickly changes the subject, trying to kiss her. However, she persists with wanting to play the guitar and he eventually tells her to drop the subject - he's not in the mood for music.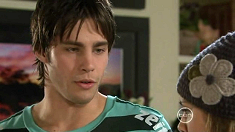 ..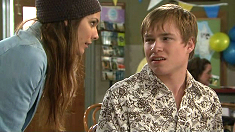 At The General Store, Zeke and Ringo are upset after returning from seeing Steve at the hospital. Donna is more concerned with plans for Elle's party. Realising that she has been rude, she immediately claims the party will be a distraction for everyone. She also tells them that they can't come, it's only for Elle's friends. Zeke notes that Elle has very few friends. Ringo asks her why she is friends with Elle all of a sudden and she tells him that Elle is really nice once you get to know her. Rachel enters and asks Ringo to visit Ty to talk to him about the injury, pointing out that he hasn't even apologised yet. Ringo doesn't really want to 'let Ty know that he cares' like Rachel suggests, but she drags him away.
Ty tries to play the guitar but can't. Ringo comes over with some with a DVD to watch, but Ty isn't interested. Ringo tries to convince him that he'll be able to play football again in no time. Ty reminds Ringo that football isn't his world and that action movies and clichés won't make his wrist better.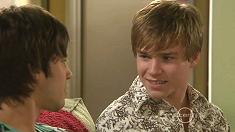 ..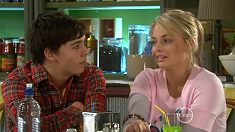 Back at The General Store, Rachel believes that Ringo didn't even try to apologise to Ty, but he defends himself, saying that he felt like a tool. Donna mentions that that's never stopped her before and if it's for a friend, feeling like a tool is worth it. She excitedly returns to planning party games for Elle.
Didge searches the changing rooms at the gym for the leftover lasagne and the container is found on the floor by Declan.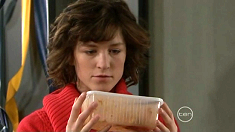 ..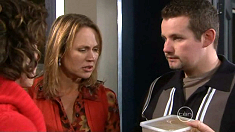 Arriving at the hospital with the container, Didge and Declan tell Toadie and Miranda that Steve had eaten from it recently. Toadie wants to call the police, but Miranda stops him. She takes the container and decides to confront Nicola alone.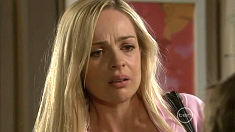 ..
Nicola sneaks into number 30 to get Bronte, but notices Toadie's briefcase. As she steals his wallet, Callum notices her. She asks him if he has seen Bronte and he realises that she's lying. He reminds her that she said she didn't know who Bronte was. After an awkward pause, she tells him that she's leaving and he asks why, saying the cops were looking for her earlier. She tells him that she'll miss him and he replies that his mother said the same thing when she was stealing money from his piggybank. He tells her to go and she does, leaving him upset.
Nicola goes to number 26 to find Bronte. Hearing her bark, Nicola runs to the kitchen and finds Miranda, with Bronte and the lasagne. She threatens to feed it to Bronte and shouts at her sister to confess. Shocked to hear that Steve is still alive, Nicola eventually crumbles and admits that she poisoned him. She begs Miranda not to hurt Bronte. Miranda hands her over to Nicola, saying that she would never hurt her - not everyone is like Nicola.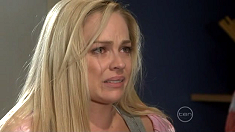 ..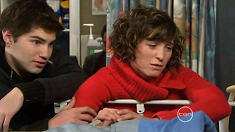 Nurse Jodie suggests that Didge and Declan talk to Steve as it may help his condition. At first. Didge isn't sure what to say, but she and Declan begin to sing the Dingoes team song to him.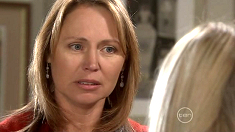 ..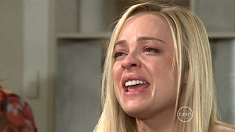 Miranda finishes calling the police and walks over to her sister. Nicola believes that Miranda never cared about her and that she loved showing off her 'perfect life' - her family and kids. Miranda says that she had leukaemia and couldn't have children, but Nicola gets angry, asking Miranda how she survived. Nicola says that she was only a child, but extracting the bone marrow still hurt. She thinks she was just 'spare parts' for 'Princess Miranda.' Miranda furiously replies that their past doesn't excuse Nicola's behaviour regarding Riley and Steve. Nicola attempts to leave and Miranda tries in vain to stop her. Nicola throws Miranda to the ground, hitting her head on the way down. She lays motionless on the floor and Nicola leaves. Moments later, Miranda regains consciousness and hears police sirens outside.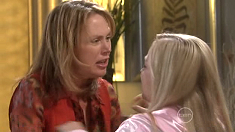 ..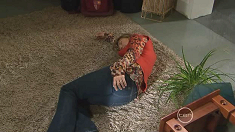 Miranda runs outside and sees Nicola scream and shout as she is restrained by the police. Callum comes outside to watch and the teens stop and stare on their way to visit Ty. Fighting back tears, Miranda confirms her sister's identity to the police before turning her back on her. Toadie stands by Callum's side and Nicola calls to him, but he doesn't reply. She cries as she is dragged into the police car and looks back as she is driven out of Ramsay Street.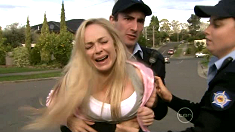 ..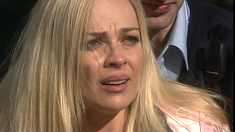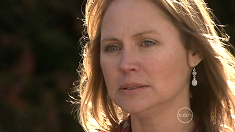 ..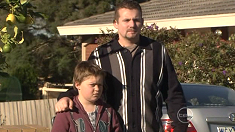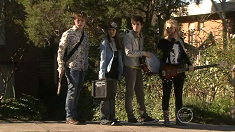 ..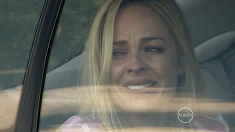 Later, Rachel brings Ty outside to see Donna, Zeke and Ringo perform a song for Ty, very badly. He isn't impressed and storms inside.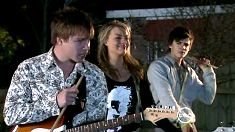 ..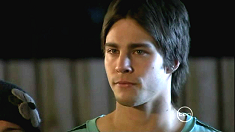 Miranda tells Didge and Declan about the situation with Nicola. Miranda talks to Steve, begging him to wake up. He squeezes her hand and they know that he can hear them.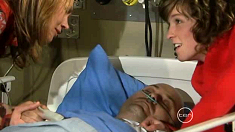 ..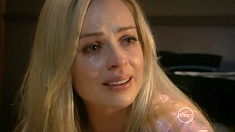 Nicola sits at the police station, looking sad and distant. A police officer tries to get her to speak and wants to know if she is okay. She asks why he keeps calling her 'Nicola' because that is her sister's name. She says her name is Miranda Parker and she would like to speak to her husband, Steve.
Featured Regular Characters: Steve Parker, Miranda Parker, Bridget 'Didge' Parker, Declan Napier, Rachel Kinski, Zeke Kinski, Jarrod 'Toadie' Rebecchi, Ringo Brown
Guest Cast: Imogen Bailey as Nicola West, Morgan Baker as Callum Jones, Dean Geyer as Ty Harper, Margot Robbie as Donna Freedman, Mary Annegeline as Nurse Jodie Smith, Carolyn Bock as Dr Peggy Newton, Patrick Flynn as Constable Mike Watt, Rowan Francis as Protective Man
Trivia Notes
• Donna wants to play games at Elle's party, mentioning Twister, Celebrity Heads and Spin The Bottle
• Ringo brings over a 'Fast and the Furious' DVD to watch with Ty

Summary by Conor