.
Magic Moments > 2009 > Simon and Tegan's Departure Episode 5660

Written by Perri Cummings, Directed by Catherine Roden, Produced by Neal Kingston
Channel Ten: 03/04/09, Five: 05/06/09
Cass goes to any lengths to plot revenge on Rebecca. Simon and Tegan leave Erinsborough behind to live with their Nan. Cass accuses Rebecca of serving alcohol to Tegan underage. Libby and Dan finally discover the reason behind Zeke's mysterious behaviour, and come across the home of the much-hyped pirate radio station. Cass tries to frame Paul, as part of her revenge plan.
At Harold's, Elle and Rebecca are moaning about Cass' presence on the street, and Rebecca suggests Andrew resort to desperate measures, and cart Cass off in an army truck for good! Cass is sitting just behind them, with Simon and Tegan, and demands that they shop Rebecca to the police, after she allegedly served Tegan alcohol at Charlie's, underage. Simon and Tegan kick up a stink, but fail to sway her, and they storm off to school, leaving Cass to drink her coffee, but she complains about the rather unsatisfactory crockery she has to put up with.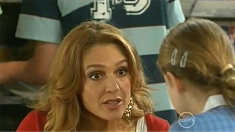 ..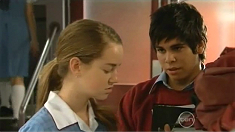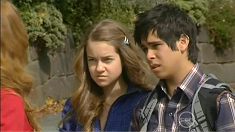 ..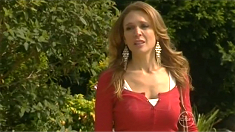 Simon and Tegan arrive at school, discussing what they can do to get their mum off their back. Simon suggests something "pretty major" to match Rebecca being arrested, and they head off to lessons. Coming down the stairs dancing, Donna has hacked into the school's PA system, and is playing the new pirate radio craze 'Lost Boy'. Dan bumps into her, who would rather have some peace and quiet, and goes to turn it off. Zeke soon comes over, and Donna praises 'Lost Boy's' efforts, clearly unaware that Zeke is his alter-ego, and it leaves him with a smile on his face!
On the street, Ty, Miranda and Libby are walking the dogs, talking about Rebecca, as Cass comes up behind, niggling about too much pathway being taken up. She catches Simon and Tegan with bags, with the obvious intention of running away from it all. Cass whines about their immature act, but they carry on, and head off down the street.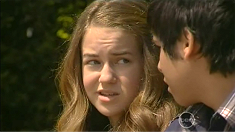 ..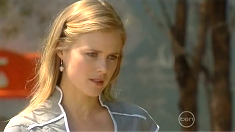 At a bus shelter, Simon and Tegan dump their bags down, waiting for their ride away, when Elle catches sight of them as she's driving by. Tegan tells Elle they are off on a school excursion, but Miranda has already told Elle the truth. Saying they're going to stay with their Nan, Elle urges them to tell Donna the truth, but offers them a lift if they still decide to go.
Back at school, Libby gives Dan his lunch, and they chat about Zeke's strange disappearances, and Libby suggests they follow him!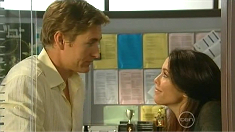 ..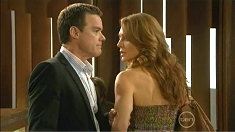 Over at Charlie's, Paul tells Rebecca that Toadie can put in some hard work, to try and stop Rebecca losing her license, when Cass comes over, and Rebecca walks off! Cass tries to find a friend in Paul, as she tells him the kids have left, but Paul sees red and realises Cass is out to play tricks again. Angered by this, Cass threatens to cause havoc, and Paul warns her off, holding her by the arm. Cass then plays innocent and shouts out, claiming Paul is hurting her. Realising it's another one of her games, Paul just walks off, as Steph comes over to comfort Cass.
Meanwhile, Libby and Dan are busy trying to follow Zeke, to get to the bottom of his recent strange behaviour, and arrive at a rather industrial wasteground, full of metal buildings. They see Zeke walk through a door, and wonder how they can get in. Yet, they see some people come up behind, and, in pure spontaneity, Libby kisses Dan's face off, pretending to be a random loved-up couple, as a distraction. As the other people walk in, they leave the door ajar, giving Libby and Dan free entry!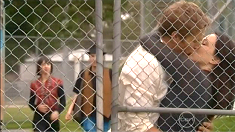 ..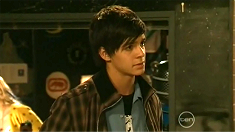 They enter a graffiti-laden radio station, which makes Libby reminisce about her days at UniFM. The station manager sees them, and asks what their business is, and they hastily offer to volunteer for "Pirate Not" as Libby calls it! Zeke discovers they have followed him, and beg them not to reveal his secret job, or he will lose it.
At Harold's, Simon and Tegan are back, and with Donna, who apologies to them about disappearing to Tasmania to track down their dad. Elle offers to let everyone live together again as a family, but, less than pleased about having to be around Cass again, Simon objects. Tegan suggests they all move away to live with their Nan. Although, Elle is desperate to keep Donna around, and tells her how much she'd be leaving behind. Worried at the thought of losing friendships, Donna agrees to stay, and makes the difficult decision to let her siblings move away without her.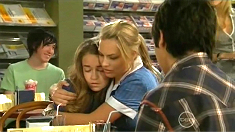 ..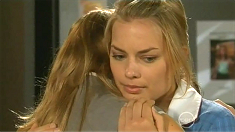 At the Dingoes gym, Cass is sitting at a table looking very glum, fixated on a piece of paper, when Steph and Miranda arrive, pondering over whether to take up netball. Steph sees Cass, and, having witnessed Cass and Paul's confrontation earlier at Charlie's, Steph goes over to lend an ear. Miranda is far less keen, and sees Cass as pure trouble. At the table, Cass confides in Steph about Paul's recent devilish deeds, and hands her a copy of a menacing email that Paul sent. Steph asks to speak to Paul, and at first, Cass thinks it will stir up more trouble, but Steph believes Paul needs to get a taste of his own medicine.
Later at Charlie's, Steph questions Paul over the email, but he completely denies any responsibility. Steph is convinced he is lying, but Rebecca has her doubts. Steph chases after him as he leaves.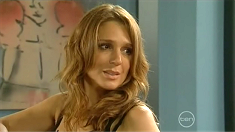 ..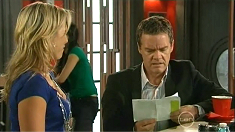 Back at Harold's, Donna bids farewell to Simon and Tegan, and Elle takes them off to say their goodbyes to the others.
At PirateNet's studio, Dan and Libby are impressed with Zeke's natural DJing talent, but advise Zeke to let Susan know the reality behind his weird ways.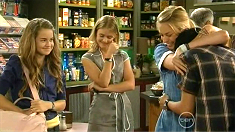 ..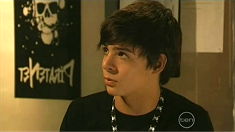 On the street, whilst Cass is sorting through her mail, Paul rushes over to interrogate her about the email, as Steph and Ty watch from afar. Cass cries out, ordering Paul to stay away from her, and, as others gather round to see what all the fuss is about, Cass takes on the role of victim, and blames Paul for stealing her possessions. An infuriated Paul insists that everyone search his house for these "possessions" that have been taken. Dan thinks it is unnecessary, but, adamant that he isn't in the wrong, and with Steph obviously taking Cass' side, they go to rummage around number 22. Paul threatens Cass, saying that she will only regret it in time, but, with a growing smile on her face, it's obvious that Paul has been set up.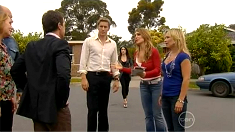 ..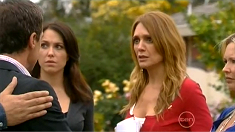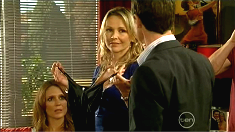 ..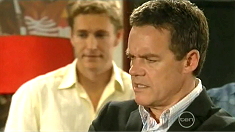 Inside number 22, some of the residents are rummaging through Paul's belongings, and, before they give up, Steve thinks that the bedrooms should be searched. Although, before they all climb the stairs, Steph discovers a briefcase by the sofa, and inside is one of Cass' dresses. Cass appears shocked and upset, and runs out. The others look on in agreement with Steph, that Paul hasn't changed, and Steph informs Paul that the she'll be calling the police.
Featured Regular Characters: Donna Freedman, Zeke Kinski, Daniel Fitzgerald, Libby Kennedy-Fitzgerald, Elle Robinson, Paul Robinson, Steve Parker, Miranda Parker, Jarrod 'Toadfish' Rebecchi, Rebecca Napier, Stephanie Scully
Guest Cast: Tottie Goldsmith as Cassandra Freedman, Mauricio Merino Jr as Simon Freedman, Chelsea Jones as Tegan Freedman, Kaela Hilton as Melissa Evans
Trivia Notes
• Final appearance of Mauricio Merino Jr and Chelsea Jones as Simon and Tegan Freedman
• Reference is made to the old university radio station, UniFM, where several characters worked as DJs
Summary by Matt