.
Magic Moments > 2009 > Cassandra's Departure Episode 5678

Written by Jeff Truman, Directed by Chris Adshead, Produced by Neal Kingston
Channel Ten: 29/04/09, Five: 01/07/09
Libby and Dan find out that Zeke is Lost Boy. Elle tells Paul that Declan is under number 24 and is hurt. Paramedics race to help Declan. Didge is annoyed with Donna for the whole situation. Declan wakes up. Donna tells Cass to get out of town. Elle promises Donna that Cass won't be bothering her for much longer. Cass tells Donna that Matt isn't her real father.
At PirateNet, 'Lost Boy' is giving his listeners a lesson in true love, saying how the death of his father Alex caused him to fend for himself. Donna is listening at number 22, feeling betrayed by the news that Matt isn't her biological father. 'Lost Boy' says that although his current family aren't blod-related, the relationship between them has stayed strong, based on trust and respect. At the hospital, Declan is also listening, when Bridget and Ringo come in to visit. Realising what 'Lost Boy' is talking about, with Declan's family also a mismatch, he stops Bridget and Ringo from speaking, as he is engrossed in the DJ's speech.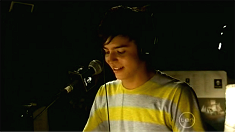 ..
Just then, 'Lost Boy' receives a call from Donna, who confesses her family troubles, and expresses her anger at him, explaining that she has never had contact with her real father. At number 28, Sunny is listening to the station, when Karl arrives back from London, having visited Izzy and daughter Holly. Sunny presumes he is "Dr. Kennedy", but Karl urges her to be more personal! Sunny asks if she can go back to listening to 'Lost Boy', desperate to find out more.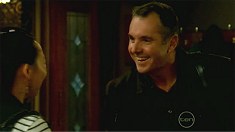 ..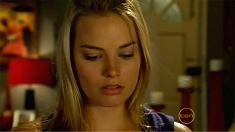 Back at number 22, Donna continues to pour her heart out to 'Lost Boy' as Elle comes in. Standing back, hearing Donna's hatred for her mother, Elle decides to let Donna continue, and goes out again.
In the hospital, Declan, Bridget and Ringo are listening to 'Lost Boy' who know it is Donna on the line. 'Lost Boy' encourages Donna to speak up about her mother's ill-treatment of her, but Donna is overcome with emotion and hangs up. 'Lost Boy' tries to stop her, but is unsuccessful, and then turns to another topic of discussion, whether Dan FItzgerald is the victim of bullying by the school council over the school play fiasco.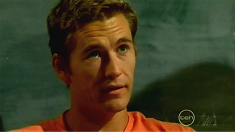 ..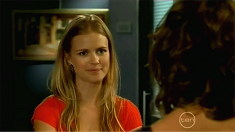 Dan is in the classroom, awaiting 'Lost Boy' and his wise words, and Libby comes in to hand him some play scripts. He tells Libby about his mention on the station, who thinks Dan should contact 'Lost Boy' and stop him. Toadie and Steve are passing through the corridor to see Dan, joking about some embarrasing wardrobe malfunctions. They learn about Dan being the hot topic of the day on the radio, who then gets a call from the council president. They have been listening to the radio, and Dan anxiously picks up the phone.
Over at the hospital, Bridget and Ringo bump into Elle. Persuading her to see him, Bridget apologises for her outburst in the morning, blaming it on baby stress! They turn the conversation to Donna, and Elle suggests they concoct a plan to rid Ramsay Street of Cass for good, and says she needs the help of all its residents, if it is going to be a success.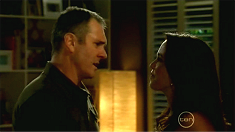 ..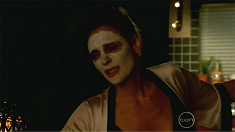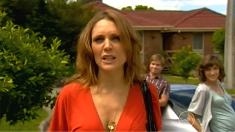 ..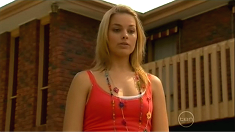 At number 22, Elle and Ringo are badgering Karl about the 'plan'. Though, having been thousands of miles away from the action for some time, Karl is rather hesitant to cause a scene, since he hasn't even met Cass yet! Sunny is lending an ear as she makes a cuppa, curious about Elle's upcoming masterpiece. Dan and Libby come in to greet Karl and welcome him home, and Ringo hands them some earplugs, as part of Cass' Ramsay Street eviction.
Later on, as loud music fills the street, Cass, smothered in a face mask, shouts out the door for there to be some quiet, but is unheard. Irritated, she has no choice but to put up with some heavy beats all night.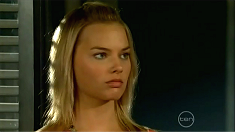 ..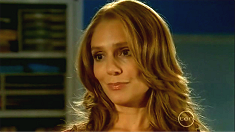 The next morning, Cass comes down her driveway to find Declan's car stereo on full blast, and tries to turn it off. Ringo appears with Declan's keys and turns it off, delghted at Cass' foul mood. As Ringo shows her the earplugs he used, Cass clicks and reckons Elle is responsible for the late night bass, but as she goes to walk off, Bridget is in her face, 'apologising' for her phone call about her indigestion in the night. Impressed with the result, they laugh behind Cass' back, as Cass turns round to confront Donna instead. Donna puts on a front, saying she has no idea what all the fuss is about. Growing increasingly short-tempered, Cass storms off, angered that she is late for work, again! Ringo and Bridget lend Donna some friendly words, letting her know she isn't alone. Donna calls her Nan, as one of the only people she can truthfully rely on.
Meanwhile, at the hospital, Cass arrives late for her shift, and nurse Jodie patronises her over her incompentency as a receptionist, and gives her her work orders. Donna comes round the corner, but Cass is less than bothered to exchange words. Donna however doesn't care, and demands to know the truth about her real father, and Matt's place in her life. Cass tells Donna her biological father is 'Nick', who abandoned Cass as soon as she she fell pregnant, frightened of such a commitment. Cass says that Matt also didn't stick around, for more or less the same reasons. By this time, Donna has heard enough, and hands Cass the intervention order she sought from Toadie, and walks off.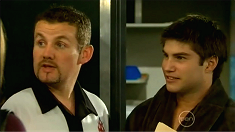 ..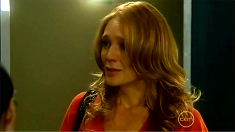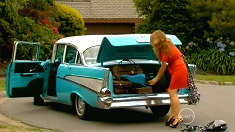 ..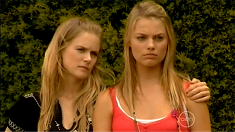 A while later at the hospital, Declan and Toadie are walking by, and they meet Miranda and Steve, who ask why Toadie is there so early, and what he is holding - the play. Preferring to keep the details a secret, Toadie innocently says it's nothing! Declan suddenly comes over disorientated - an after-effect of the electric shock, and Steve takes him off to his room to rest. Miranda asks after Cass, as she rushes by, but Cass isn't interested, and lays into Elle at the desk, about her 'plan'. Revealing she has just been fired, Cass cries out as to why everyone is so against her. Explaining she is barred from Charlie's, Elle adds that Cass is expecting a call from The Salvation Army about anti-social behaviour, and Cass leaves, feeling defeated.
On the street, as Cass packs her things, she pleads with Donna to try again, but doesn't get a second chance. Adamant she is getting nowhere, Cass gets in her car, and speeds off past the houses, knocking the bins over, as she hurtles down the road. Steph, Rebecca and Elle look on with delight at Cass' spectacular exit, as Donna glares, very serious. She is pleased her mother has finally gone, but upset that her family is in such a mess.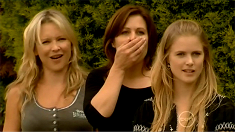 ..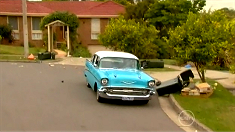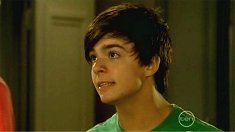 ..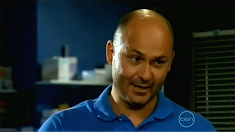 Zeke comes out of number 28, to litter scattered everywhere, but hears Dan shouting out, aware he was heard on the radio, and runs back inside. Yet, Dan comes in through the back door and startles Zeke, and lays into him about 'Lost Boy' and the lack of responsibilty for his on-air ranting. Zeke panics and tries to stop Dan from taking it any further, and revealing the DJ's true identity.
Back at the hospital, Declan asks for a toasted sandwich, but when Steve offers, he asks if Bridget can go instead, as well as Miranda. However, suspicious of the need for an army of people to carry a sandwich, Miranda laughs it off. Declan eventually gets everyone to leave, bar Steve, as he asks for permission to marry Bridget.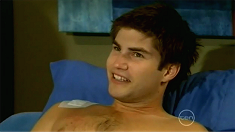 ..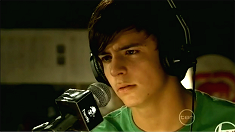 Stunned by the news, Steve peers through the window, and confesses to Declan how he imagined his daughter to grow up. Declan looks at him, worried whether Steve will accept his wish. Steve comes over and talks about Bridget's fear of monsters when she was young, and his lifelong need to protect her from all things bad! Declan insists he is no monster, and Steve knows Declan's intentions - he only has Brdiget's best interests at heart. Steve agrees to his daughter becoming a Napier and the two shake on it, just as Miranda, Rebecca and Bridget walk in. Steve suggests Declan and Bridget should be alone for a while. Throwing to Declan his toasted sandwich, Bridget is all ears.
Libby and Steph are at Harold's with a very spaced-out Toadie. Glad about Cass' departure, the girls agree the street is better off without her. They look at Toadie, who is amazed by the earplugs, as he can finally get some proper sleep! Dan comes in to see Libby, but is put off by PirateNet's loud presence. Sunny and Ringo are waiting for the 'special broadcast' 'Lost Boy' is about to give, and grin with excitement!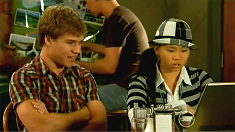 ..
As the music stops, 'Lost Boy' comes on, telling his audience it is his last show. Sensing the pressure from Dan and others, that 'Lost Boy' has gone too far, Zeke feels he has no choice but to give up his new found passion. Before he goes off air for good, Donna calls through, still rampant with anger, and takes out her frustration on 'Lost Boy'. When he calls out her name, Donna is miffed as to how he can know of her. Zeke consoles Donna, explaining that people genuinely care for her, despite her mother's shambolic attempts, and lists her friends' names as those people. Everyone listening cannot work out how 'Lost Boy' knows them. In the end, Zeke turns of the voice scrambler in the studio; Steph, Sunny and Donna cotton on and are amazed that 'Lost Boy' is actually Zeke.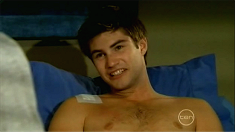 ..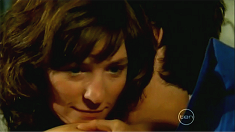 Back at the hospital, Bridget is eager to hear Declan's news. To Declan's amusement, it crosses Bridget's mind that Declan may be dying. Then, as she realises all is well, Declan gets Bridget to sit beside him, as he puts her engagement ring on her finger. Completely taken aback by his proposal, actions speak louder than words as a speechless Bridget leans over and hugs Declan, agreeing to become a Napier.
Featured Regular Characters: Zeke Kinski, Donna Freedman, Declan Napier, Bridget Parker, Rebecca Napier, Steve Parker, Miranda Parker, Libby Kennedy-Fitzgerald, Karl Kennedy, Daniel Fitzgerald, Elle Robinson, Ringo Brown, Toadfish Rebecchi, Stephanie Scully
Guest Cast: Hany Lee as Sunny Lee, Tottie Goldsmith as Cassandra Freedman, Mary Annegeline as Jodie Smith
Trivia Notes
• Tottie Goldsmith makes her final appearance following a three-month guest stint as Cassandra Freedman
• Alan Fletcher returns as Karl Kennedy after a five-week break appearing in panto in Aberdeen, Scotland

Summary by Matt