.
Magic Moments > 2009 > Ty's Departure Episode 5679

Written by Jason Herbison, Directed by Chris Adshead, Produced by Neal Kingston
Channel Ten: 30/04/09, Five: 02/07/09
Dan trying to persuade Toadie to let the school use Toadie's play. Dec proposing to Didge. Rachel inviting Ty to London. Cass telling Donna her father isn't her father. Cass leaving the street. Donna admitting to Lost Boy that her whole life has been a lie.
Zeke is trying to get through to Donna on the phone and Karl is following him around asking if Zeke was ever planning to tell them about his secret job as Lost Boy. Karl is looking for answers but Zeke ignores him by asking Libby and Dan if they know Elle's number thinking Donna may be with her. Of course they don't. Libby though manages to get Lucas' number from Dan. Sunny walks in announcing that Zeke has been lying to everyone for weeks. Zeke isn't interested in talking though only wants to find Donna. Sunny says that Donna probably won't be able to show her face around here ever again because of what Zeke said as Lost Boy. Just at that point Donna walks in says "wow, thanks" and walks out. Zeke wants to follow her but Ringo thinks he's done enough damage. Zeke ignores him and goes after Donna.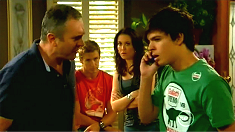 ..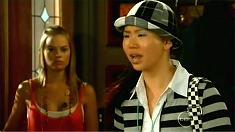 Donna enters the house closely followed by Zeke. Zeke apologises for everything that's happened but says that he couldn't reveal Lost Boy's true identity. Zeke says he wanted to help Donna though and meant everything he said. Donna says could he not have thought of anything more original than Lost Boy, at which stage Zeke admits he thought Lost Boy was a rather good name. That makes Donna laugh and she asks him if it helped him get over the recent tragedies in his life, Zeke admits it did. Donna says she's pretty "messed up" and jokes that she needs her own radio show. The two of them go to sit down on the couch and Donna asks if Zeke is going to stay on there now but under his own identity not Lost Boy's. Zeke says he doesn't know but what he said still stands. He puts his arm around Donna to comfort her.
..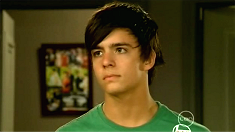 The Kennedys and Ringo are discussing Lost Boy, Dan points out that Lost Boy was Zeke's way of coping after the accident. Karl says that they should've been told and Libby is quick to point out that he wasn't here and she didn't want to take awayZeke's way of expressing himself. Just then Zeke re-enters the house and Ringo asks how Donna is. Before Zeke gets the chance to reply, Ringo accuses him of using Donna. Zeke tells him he's jealous because Donna would rather talk to an anonymous DJ instead of her. Karl again asks for an explanation but Zeke just walks off.
Donna and Didge enter the house and sit down on the couch, Didge can't believe the news that Cass delivered Donna about her father. Didge says that it must be weird her life being aired on the radio like that. Donna says she feels like she can really talk to Zeke but Didge feels that she shouldn't blow her feelings for Zeke out of proportion. Donna asks how Dec is, Didge says no news and hides her engagement ring from Donna. Donna says you have to be in the right place to make big decisions and we then see Didge slip off her engagement ring.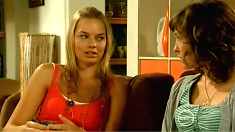 ..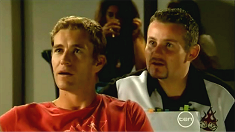 Dan and Toadie are discussing the play, Dan says that he needs to keep the play on schedule. Steph and Lucas offer to help but Toadie declines this. Dan says he would like Ty's help with the music, Steph point out he better be quick as Ty is off to London soon - tomorrow in fact!
Zeke finds Sunny has eaten the ice cream, she tries to deny this until Zeke tastes her food! Sunny makes it obvious she is still angry about Lost Boy. She is angry that Zeke got her to reveal everything yet he didn't even reveal Lost Boy's identity - Zeke admits that was kind of the point. Sunny is clearly upset when she walks off.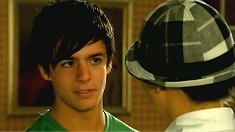 ..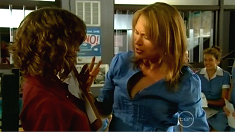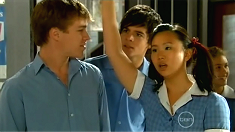 ..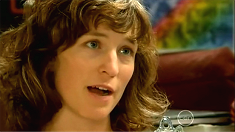 Ringo, Sunny, Didge and Donna are all in the classroom rehearsing the play, Ringo and Sunny get their lines confused. Zeke enters and a few classmates ask him for his autograph. Didge is surprised she showed up as some of the kids that called Lost Boy aren't happy. Dan enters the room announcing that he's re-written some of the pages of the script and wants the originals back. Donna tells Zeke she is not going to look for her dad. Miranda enters with the costumes and notices that Didge has taken her ring off. Didge tells her that her and Dec are going to announce their engagement together. Toadie enters, asks Dan how the changes to the script are going, Dan admits they're good, Toadie says Steph had better not find out this is a play about him and her! Sunny does not like the changes and refuses to kiss saying it's "un-Korean" and she quits and walks out.
Dan announces that he's looking for someone else now to fill the role of Stella. Donna immediately volunteers and points to another female student saying she can take her part. Toadie explains the changes and the part about being too young to get hitched upsets Didge who then walks out the classroom. Miranda follows her.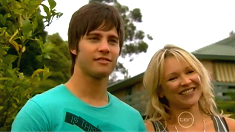 ..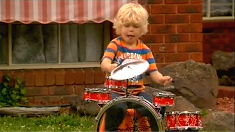 Miranda wants to find out why Didge is not herself. Didge admits she's having seconds thoughts about marriage. Didge says she and Dec want to be together forever. Miranda says she and Dec need to talk. Didge goes back into the classroom.
Charlie, Ben, Mickey and Callum are all playing their various instruments out on the street for Steph and Ty. Steph admits she'll miss Ty. Just then Ty's phone goes and he walks off. Steph leaves to go inside the house. The kids then decide that they don't want Ty to go so Callum pulls them together to come up with a little plan...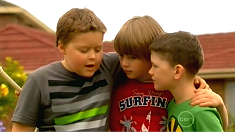 ..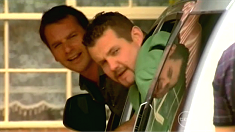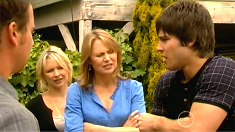 ..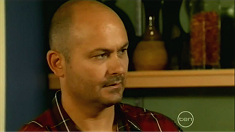 Steph and Ty are carrying his bags to the car. Steph makes sure he wants a low-key departure at which stage Toadie and Lucas jump out of the car. Miranda approaches to say goodbye to Ty. Ty wanders off to his bags and realises his passport's missing.
Steve is worried that Didge is having second thoughts but he thinks that Didge and Dec could make a go of things. Just then the front door bursts open and Callum, Mickey and Ben run in shortly followed by Steph and Toadie who think that the kids have Ty's passport. Callum then pushes past Steph and Toadie again running out the house followed by Toadie.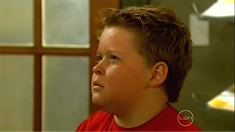 ..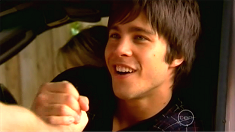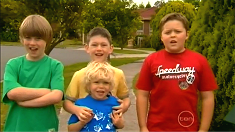 ..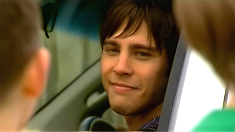 Toadie enters and asks Lucas if he's seen Callum. Lucas points to a table where he thought Callum was but he's now gone. Toadie tells Lucas that the kids have hidden Ty's passport and at that moment a table strangely moves by itself. Toadie approaches the mysterious moving table and funnily enough out pops Callum. Callum admits he doesn't want Ty to go. After speaking to Toadie Callum hands over his passport.
Steph and Ty are leaving, as Steph backs the car out Charlie, Callum, Ben and Mickey start singing "You're Unforgettable". Ty says he will never forget their performance and high fives them before the car leaves.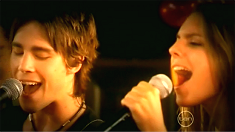 ..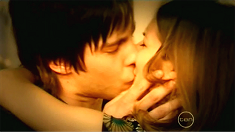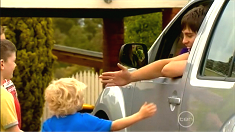 ..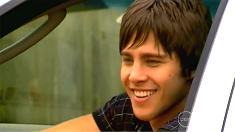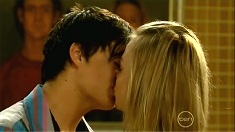 ..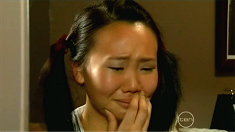 Donna and Zeke are in the kitchen chatting away and discussing their relationship whilst Sunny is doing up her hair in one of the bedrooms. Donna suggests that she and Zeke should practice their kissing technique for the play. They start to rehearse the play and start kissing just as Sunny comes out. Sunny walks back into the bedroom upset. Sunny starts insulting herself, her braces and bad hair, in Korean, obviously upset.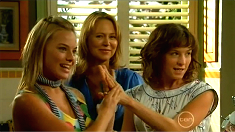 ..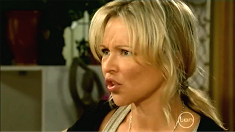 Karl enters and finds a party in his house which Toadie explains is in honour of Ty. Donna notices Didge's engagement ring and announces to everyone that Didge and Dec are engaged. Everyone congratulates Didge, Didge says that she and Dec were waiting until he was out of hospital before they were making it official. Steph walks in she has been servicing Dan's car and has found a copy of the play in the car - the original. She has worked out that Toadie wrote the play about her and is not at all pleased that her life has now been turned into a school play.
Featured Regular Characters: Susan Kennedy, Karl Kennedy, Zeke Kinski, Ringo Brown, Libby Kennedy-Fitzgerald, Ben Kirk, Stephanie Scully, Charlie Hoyland, Ty Harper, Daniel Fitzgerald, Lucas Fitzgerald, Toadfish Rebecchi, Callum Jones, Mickey Gannon, Miranda Parker, Steve Parker, Bridget Parker, Donna Freedman
Guest Cast: Hany Lee as Sunny Lee, Laura Speedy as Female Student
Trivia Notes
• Dean Geyer makes his final appearance, having appeared as Ty since March 2008
• This is Jason Herbison's first episode as scriptwriter in almost seven years, having last written episode 4080, shown in September 2002

Summary by Louise