.
Magic Moments > 2011 > The 2011 Season Premiere Episode 6071

Written by Emma J Steele, Directed by Tony Osicka, Produced by Neal Kingston
Channel Eleven: 11/01/11, Five: 07/02/11
Steph is sentenced to six years in prison... Libby decides to go away for a while, after lying in court... Sonya tells Toadie that he did everything he could for Steph... Paul tells Lyn to let it go... Lucas accepts that Steph doesn't want to see him... Lyn decides to appeal Steph's sentence... Lyn hires Tim Collins but can't afford to pay him... Lyn decides against using faulty lights to burn down the house and get the insurance money... Summer puts the faulty lights on the tree... Tash asks Andrew if he wants to be with Summer... Summer and Andrew kiss in her bedroom... The Christmas tree goes up in flames... Tash goes into the burning house... Michael runs around the back of the house... Lyn, Lucas and Karl look on in horror as there's a huge crash from the back of the house...
A fire engine is despatched to Ramsay Street. Meanwhile, Lyn is hysterical as Lucas runs out of the house, saying that he can't see any sign of Michael, Summer or Tash. Lucas and Karl go to move the cars so that the fire brigade can get closer access.
Inside, the smoke finally wakes Summer and Andrew, and he notices the flames under the door and tells her to get dressed. He opens the door but realises that they won't be able to get out that way. Meanwhile, Tash is crawling across the floor in the lounge, as Michael calls out to her. In the bedroom, Summer tries to open the window but can't find the key, whilst Andrew calls the fire brigade.
..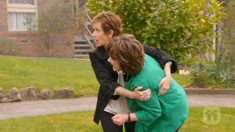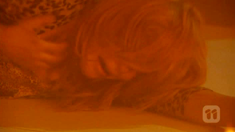 ..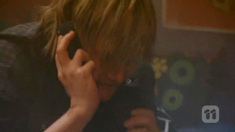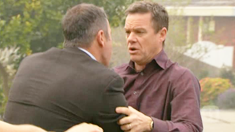 ..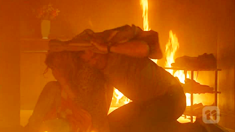 Outside, Paul is trying to call Andrew but can't get through, so he leaves him a message telling him about the fire and asking him to come home. He talks to Karl and Lucas, and is more concerned about the fire spreading to his own home, until he gets call from Andrew and realises that he's inside. He tries to go in, but is stopped by Lucas and Karl. Meanwhile, the ambulance and fire engine are on their way.
In the bedroom, Andrew tries to keep Summer low to the ground as they wait for help. Michael finds Tash lying on the ground. Andrew uses a chair to break the bedroom window, and Michael picks up his daughter.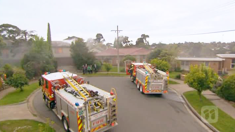 ..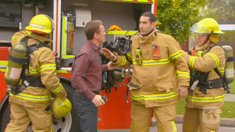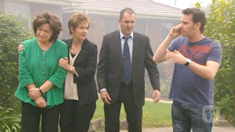 ..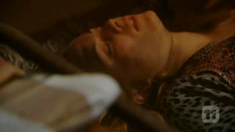 Out on the street, the fire engines and ambulances finally arrive, with Paul running over to a fireman and telling him to do something, explaining who's inside. As the firemen go in, Karl goes over to Christian, one of the paramedics, and gives him the details on what's happened. Lyn is becoming increasingly frantic.
In the house, Michael carries Tash into the bedroom and puts her on the ground. The firemen then manage to get the window open, and Andrew helps Michael to pass Tash out to them, with Michael telling them that she's been burnt.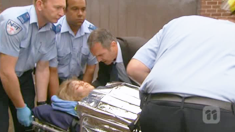 ..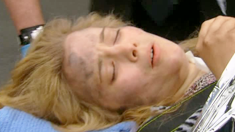 Outside, everyone is still waiting for news, as Tash is brought out and placed onto a stretcher. Christian tells Karl that everyone's been located and they should have them out soon. Karl checks Tash and tells the paramedics that she has second degree burns. Tash is worried about her dad, but Karl gives her some oxygen and tells her that Michael is going to be fine.
Back inside, Michael and Andrew pass a hysterical Summer out through the window, with Summer begging Andrew to come with her. After she's gone, Michael hears a loud creaking noise, and Andrew then passes out.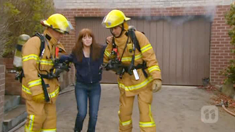 ..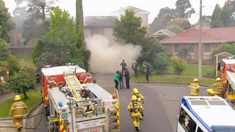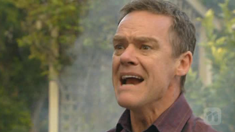 ..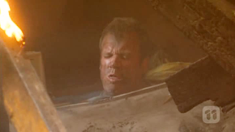 Summer is helped out by the firemen, and reunited with Lyn, but just wants to go back for Andrew. There's a sudden crash as part of the roof collapses, and Paul shouts that his son is still inside.
Inside, Michael is now lying under a lot of debris, calling out to Andrew. Andrew briefly asks what happened to Summer and Tash, then falls unconscious again.
Outside, Paul waits for news, as the firemen climb in through the window, and Andrew lies unconscious on the floor.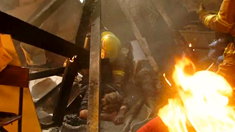 ..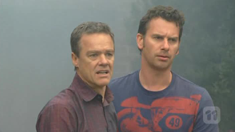 The firemen have to work quickly, worried that the rest of the roof could collapse at any minute. They find that both Michael and Andrew have a pulse, and manage to get them outside to stretchers. Paul is frantic as he sees his son, but is asked to move to one side so that they can get Andrew to the ambulance. Susan, Lou and Lucas watch as the two men are taken away, and Lucas offers to go with Paul to the hospital.
At the hospital, Summer is told by Dr Harris that she'll need to stay in overnight for observation. Just then, Andrew and Michael are wheeled by on stretchers, with Paul desperate to be with his son and becoming angry when he's told to wait in reception. Lucas tries to calm Paul down, and tells Lyn that both Michael and Andrew seemed to be in a bad way. Nurse Jodie and Lyn take Summer away to get some rest, and Paul sits down to wait for news.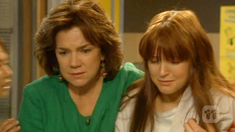 ..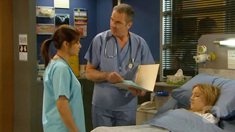 In Tash's hospital room, Karl explains to Jodie that Tash has been heavily sedated. Summer appears in the doorway and asks if she's ok - Karl says that she's sustained some burns but she's sedated now.
Later, Karl tells Susan and Lucas that Summer has smoke inhalation and Tash has burns, and that Michael is still being assessed. Paul then appears, wanting to know about Andrew, and Karl explains that Andrew had some internal bleeding and is in theatre now. Susan sits down with a tearful Lyn, who's worried about who's minding the store and the washing she left out on the line. Susan assures Lyn that everyone is going to be ok, but Lyn isn't convinced.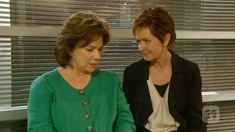 ..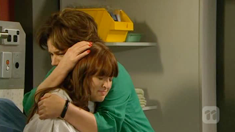 In her hospital room, Summer sits in shock, thinking back over her relationship with Andrew.
Summer is frantically searching for the zombie badge that Andrew gave her for Christmas. Lyn and Susan come in, as she finds the badge, and send her back to bed. Lucas then arrives with the news that Michael is stable, but Tash is still under sedation. Summer bursts into tears, and says that she just remembers Andrew waking her up when the room was full of smoke - she doesn't remember hearing the smoke alarm. As Summer talks about putting the spare lights on the Christmas tree, it starts to dawn on Lyn what's happened.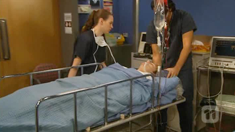 ..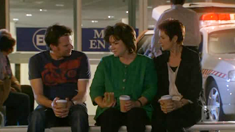 Lyn is sitting outside the hospital, as inside, Summer watches the nurses working on Tash, and an unconscious Andrew is wheeled into a hospital room. Susan and Lucas sit with Lyn, giving her a coffee and a sandwich. Lucas tells Lyn that the fire's out now, and the only damage was to number 26. The house will be sealed off, as the back of it has collapsed. Lyn tries to play it all down, saying that she's glad that everyone's alright. Lyn looks worried as Lucas mentions that they'll soon have the results of the fire investigation.
Michael is lying on his hospital bed, trying to block out the memories of the fire. He sits up, but Jodie stops him from going to see Tash, telling him that he has to rest. She then agrees to take him, and goes to get a wheelchair.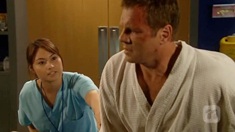 ..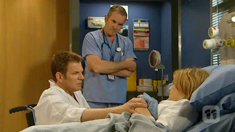 Jodie wheels Michael into Tash's hospital room, where Karl is examining her neck for burns. He's surprised to see Michael and tells him that they won't know much about the extent of the scarring for a while. As Michael sits by Tash's side, she wakes up, coughing, and he explains where she is and what happened. She wants to know where Andrew is. Michael tells her that she can only have one visitor at a time, and she goes back to sleep.
Michael finds Lyn in the waiting room, and she thanks him for saving Summer's life. Michael tells her just to ask if there's anything that she or Summer needs. As Michael is taken away, Paul comes in, on the phone, asking for a specialist to be flown in to look at Andrew. Jodie tells Paul that Andrew is still in recovery and there's no other news. Lyn goes over to Paul and starts talking about how bad she feels about the whole accident, and Paul is slightly confused, but is distracted when he hears that Dr Harris will shortly be along to talk to him.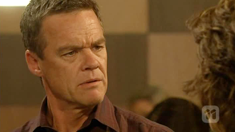 ..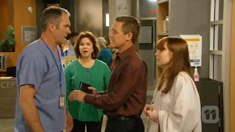 Later, Paul and Summer are both waiting for news on Andrew, with Summer refusing Jodie's request to go back to bed. Paul reminds Summer that Andrew always thinks first and acts later - and wonders why he didn't just call 000. Summer explains that he did, but by then the room was too full of smoke, as the smoke alarm didn't go off. Paul comforts Summer, just as Andrew is wheeled away again, back to theatre, as the bleeding has started again.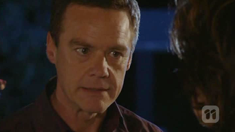 ..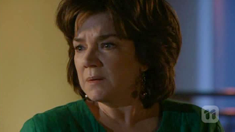 Paul finds Lyn outside the hospital. She tries to walk away, as he asks her what she did. He reminds her how desperate she is to get Steph out of prison, and wonders if she would burn down her own house. She says that Summer was in there, but Paul says that so was Andrew - and if he finds out that Lyn started that fire on purpose, he will make her pay...
Featured Regular Characters: Lou Carpenter, Karl Kennedy, Susan Kennedy, Lucas Fitzgerald, Lyn Scully, Summer Hoyland, Andrew Robinson, Paul Robinson, Natasha Williams, Michael Williams,
Guest Cast: Mahesh Jadu as Dr Doug Harris, Mary Annegeline as Nurse Jodie Smith, Adrian Woolcock as Christian Doran, Salim Fayad as Matt Pasesque
Trivia Notes
• First episode to be broadcast in Australia on Channel Eleven

Summary by Steve