.
Magic Moments > 2012 > The 2012 Season Premiere Episode 6311

Written by Mal Tolhurst, Directed by Jean-Pierre Mignon, Produced by Richard Jasek
Channel Eleven: 09/01/12, Five: 06/02/12
Toadie faces conflict over working for the shopping centre developers... Sophie finds out about Kate and Noah, and moves in with Paul... Paul gives Kate her trust fund money... Tash finds out that her mum drowned whilst trying to save her... Emilia says that she and Michael were together when Helena died... Karl and Susan take off their wedding rings, and Toadie asks Susan to move in with him... Chris gets beaten up by a mystery assailant and later collapses in the garage from his injuries... Lucas realises that the attacker was working for Peter Noonan...
Rhys arrives at the garage and finds Chris slumped on the floor. He failed to wake him and then calls for an ambulance, saying that he has an 18-year-old with a suspected pneumothorax and to hurry, and he's shutting down. Rhys then begins to operate using the tools around him.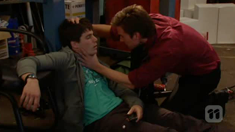 ..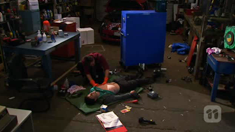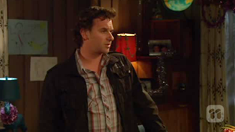 ..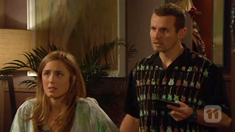 At number 30, Lucas is presenting, to Toadie and Sonya, the evidence that Peter Noonan is behind Chris' attack. Toadie is surprised to hear that Chris was attacked, and struggles to believe that his boss has anything to do with it. Lucas says that the CCTV footage proves it, and he saw the guy at the law practice. Toadie is yet to be convinced, but Lucas is adamant that he knows what he saw. He gives Toadie the DVD, and says that he's already been to the police and they're searching the offices. Toadie is stunned, and Lucas wonders how much he really knew, but says that Noonan is scum and they're just lucky that Chris wasn't more seriously hurt.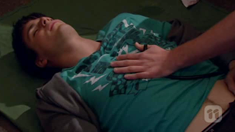 ..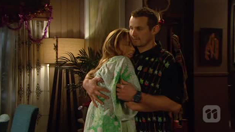 Back at the garage, Rhys is still struggling to get Chris to breathe, but it seems to be working when Summer and Andrew arrive. They're shocked to see the state their friend is in, and equally shocked to hear about the attack. The ambulance then arrives, and Rhys is non-committal when Summer asks if he'll be alright.
At number 30, Toadie is worried that Noonan's phone is switched off, and is unconvinced that his boss would OK the bashing of a teenager. Sonya thinks that Noonan has been pushing him a lot over the development, and there's no smoke without fire. She insists that, whatever happens, they're going to be fine.
At number 24, Kate is getting ready for a night out, and Jade texts and cancels on her, when Emilia arrives. She's looking for Lucas, but when Kate asks her to join her, as they should get to know each other properly, she agrees to go.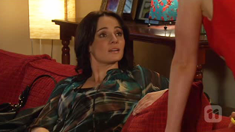 ..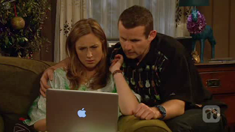 Back at number 30, Sonya and Toadie are watching the DVD footage of Chris' attack, but Toadie doesn't recognise Lewis Walton. Susan then arrives back with some of her stuff, and is shocked to hear what happened to Chris. He explains that they're trying to get to the bottom of it all, and Lucas thinks it's connected to the development and Peter Noonan. Susan thinks it's ridiculous, but Toadie admits that he's beginning to have his doubts. Susan wonders if she should leave, but Toadie insists that it's fine. Superintendent Hayes then arrives to speak to Toadie, who at first thinks it's just routine questions, but then realises he's being taken in for questioning about some allegations that have been made against him.
At the police station, Toadie is being asked about his involvement in the shopping centre development and what he stood to gain from it. He insists that his job wasn't dependent on him convincing Lucas to sell, but then admits that it was at the beginning, but he has a permanent job now. Meanwhile, Chris is rushed in for surgery, and at number 30, Susan insists to Sonya that Toadie will be fine. Hayes shows Toadie a picture of Lewis Walton, but Toadie has never seen him before. Summer and Andrew, and then Lucas, arrive at the hospital, and Rhys explains that Chris has been taken into surgery and they hope to stabilise his lung. Toadie says that he knows Chris and would never attack him - he says that Lucas has been making accusations about sabotage and he told Noonan about it. At the mention of Noonan, Hayes says that they need to start again, from the top. At the hospital, they all wait for news, and Rhys has flashbacks to saving Chris' life.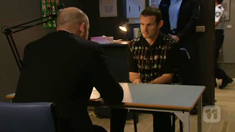 ..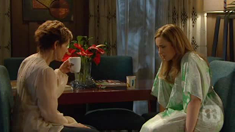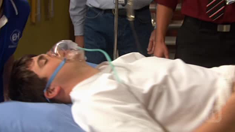 ..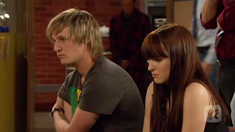 At Charlie's, Kate has bought cocktails for herself and Emilia. Kate says that Sophie is with her uncle - she's living with him now. Emilia says that it can't be easy to look after a teenager, and Kate explains that she feels like she's been looking after other people for years, so now she's going to live her life. Emilia spots a hot guy across the bar and says that he's checking out Kate. She isn't really into guys at the moment, telling Emilia that it's a long story, but Emilia thinks that, if she's learnt from her mistakes, then it's time to move on. The guy then comes over to their table.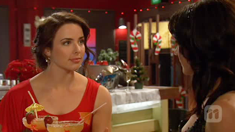 ..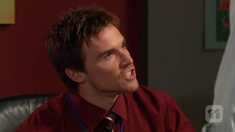 Back at the hospital, Karl appears, and tells Summer that Chris is still in surgery, but they'll know more soon. He then goes over to Rhys and says that it was a huge risk to attempt a decompression like that, but Rhys says that he has to make an on-the-spot decision. Karl points out that anything could have gone wrong, but Rhys angrily replies that he couldn't let Chris die, and he struggles as he continues to think back to the incident.
The next morning, at number 24, Kate walks into the kitchen, as Lucas is calling the hospital for an update on Chris. Kate then gets a text from Josh, asking to see her again, and then calls Margie to cover her shift. Emilia arrives at the door and says that it was worth the late night, and Kate was very popular with the guys. Kate says that she can't go to work like this, and Emilia has brought her a herbal remedy. Lucas gets off the phone and says hello to Emilia. Kate goes into the bedroom, and Lucas tells Emilia that this behaviour really isn't like Kate at all.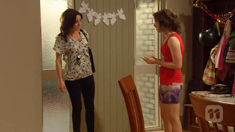 ..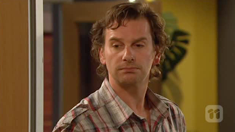 At the hospital, Summer can't believe that they didn't ask Chris is he was alright, after seeing the cut on his face. Lucas goes to Rhys' office and tells him that Chris' dad is on his way, and Rhys is still shaking. Karl then tells everyone that the surgery seems to have been a success, and that Chris is heavily sedated so can't have visitors yet. Summer goes to call Tash, and Lucas goes outside to wait for Chris' parents. Karl then goes to tell Rhys that he'll get a locum to cover his shift, but Rhys insists on working. Karl shakes his hand and congratulates him for what he did.
A rattled Toadie walks out of the police station. Meanwhile, Sonya wakes up in an armchair, and Susan tells her that Toadie hasn't come home yet - Sonya decides that she's going to the police station, as Toadie hasn't done anything wrong. Susan says that it might not be a bad sign that Toadie isn't back yet, and tells her to phone him instead. She leaves a voicemail for him, as he begins to walk home.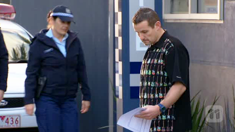 ..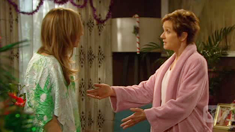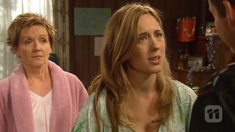 ..
At number 30, Toadie arrives home and explains to Sonya and Susan that he thinks Noonan is trying to frame him for the attack on Chris - it seems that Lucas was right all along. He shows Sonya that he's been charged with fraud and conspiring to commit assault. Toadie realises that he's in some trouble.
Featured Regular Characters: Lucas Fitzgerald, Rhys Lawson, Summer Hoyland, Andrew Robinson, Sonya Mitchell, Toadfish Rebecchi, Susan Kennedy, Karl Kennedy, Kate Ramsay, Chris Pappas
Guest Cast: Freya Stafford as Emilia Jovanovic, Andy McPhee as Lewis Walton, Paul Ireland as Supt. Duncan Hayes, Jack Matthews as Josh Gould
Summary by Steve