.
Magic Moments > 2013 > Priya's Death Episode 6604

Written by Chris Phillips, Directed by Laurence Wilson, Produced by Alan Hardy
Channel Eleven: 21/03/13, Five: 18/04/13
Robbo agrees to leave once he has the money from the Lassiter's robbery... Sonya witnesses the robbery... The wedding marquee explodes... Sonya is left in a coma... Priya is badly injured... Karl tells Ajay and Rani that her condition is still serious... Rhys insists that he's fine... Rhys collapses in the car park and Karl tries to save him...
At the hospital, Kyle is sitting in silence. Georgia comes and sits with him, equally shocked by what's happened. She says that Rhys had a massive blood clot, it was like a time bomb. Kyle worries about how he'll tell Elaine - Georgia says that the hospital can do it, but Kyle wants it to come from someone who knows her. He realises that he'll need to tell Vanessa too, and he gets up to leave.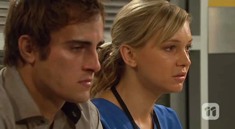 ..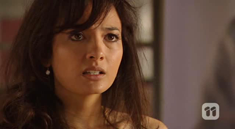 Outside Lassiter's, Matt is questioning Vanessa about the robbery. She explains that she was just standing there, heard some shouting and then Sonya came back and explained, but Vanessa didn't see anything at all. Kyle then comes over to them and asks if he can have a private word with Vanessa.
Kyle and Vanessa go and sit by the lake, and he explains what has happened to Rhys. Vanessa listens and goes into shock.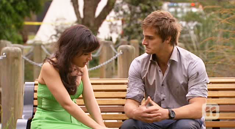 ..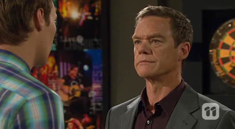 At Charlie's, Kyle is explaining to his gran that he didn't know what to say or how to help Vanessa. Sheila says that it was good of him to tell her. Andrew brings them some drinks, offering his condolences about Rhys, and they also discuss Priya and how she's still in a serious condition in hospital. Mason is sitting at the bar and comes over to ask about Sonya, but nobody has any news. Paul comes in and tells them all off for sitting around doing no work, but Sheila suspects that it's just his way of showing his grief. Andrew follows his dad across the bar and reminds him of the terrible events of the day, but Paul says that he's dealing with the fallout too. Andrew accuses his dad of avoiding thinking about Priya, and suggests that he should go down to the hospital.
An exhausted Karl walks into Sonya's hospital room to find Susan sitting by the bed. She explains that she sent Toadie home for a break, and asks about Sonya's condition - Karl says that her vital signs are good, but they need to wait for the brain swelling to go down before she'll regain consciousness. Susan and Karl both talk to Sonya, telling her she'll be fine and to get lots of rest.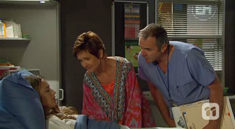 ..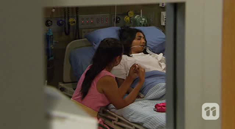 Paul also arrives at the hospital, and sees Rani sitting by Priya's bed. Ajay then appears, asking Paul why he's there, and is told that it's family only. Paul explains that he just wanted to see how she was doing, but Ajay simply says that, if he ever cared about Priya at all, he'd let her be alone with her family now.
Susan is offering Karl her condolences over Rhys and says that she's sure he did everything he could - though that doesn't make it any better for Karl. She suggests that he should go home and get some rest, but he insists on staying as he's needed. He then breaks the news to Susan that Priya is in a very bad way as her brain was deprived of oxygen for quite a long time - they're still running tests and have yet to tell Ajay. Susan is stunned as Karl explains that there's a strong chance that Priya won't wake up.
..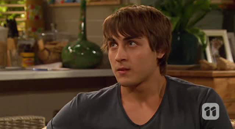 At number 32, Mason runs in, attempting to hide his clothes from the robbery, but is interrupted by Amber arriving home. She wants to know where Robbo is as she hasn't heard from him since yesterday. She wonders why Mason is acting so strangely, and he blurts out that Robbo's left town. Amber thinks that Mason is just trying to put her off Robbo again, but Mason tells her that Robbo is a liar - and he's going to prove it to her.
Mason takes Amber to Robbo's panel van, which has been abandoned. He shows her the Queensland number plates in the back, which prove that he stole it up north and brought it down to Melbourne with new plates. Amber finds a photo of her and Robbo inside, which gives her hope, and she storms off, refusing to believe what Mason is telling her.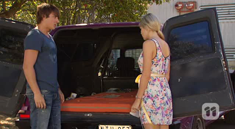 ..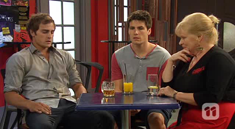 At Charlie's, Chris has joined Kyle and Sheila, and they're chatting about Rhys and how strange it will be without him. Meanwhile, Tash is annoyed that Paul's got her and Andrew doing a stocktake, though Andrew explains that it's just Paul's way of keeping his mind off Priya. Tash is still annoyed and says that they shouldn't have to pretend that it's 'business as usual' just for Paul's sake, when someone is dead and two other people are seriously ill in hospital. Kyle and Chris then decide to go home, and Sheila is about to start clearing glasses, but Tash tells her to go home too.
At number 32, Mason is making another attempt to hide evidence, and is just taking the rubbish out when Matt walks in. He's impressed to see his son doing housework and tries to get Mason to talk about the wedding and the explosion, then mentioning the robbery. Mason starts to get defensive - Matt insists that he's not accusing him of anything and that he's impressed with how hard his son's been trying since he got out of juvenile detention. Matt then tries to help Mason with the rubbish, but Mason quickly leaves, insisting that he can manage on his own.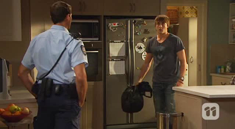 ..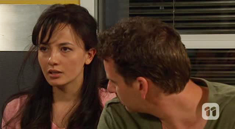 Back at the hospital, Vanessa tells Lucas that she just keeps thinking about Elaine and is wondering if she should go and see her. Lucas tells her to go, and as Vanessa leaves, Georgia comes in. Lucas asks how Sonya is, and Georgia admits that it's hard to tell - the longer she's unconscious for, the more chance of complications. Mason has also arrived with flowers, and as Lucas leaves, Mason gives them to Georgia. He asks if they have any idea when Sonya will wake up, but Georgia can't tell him.
Susan finds Rani sitting by Priya's bed. Susan tries to get Rani to go and get some food, but Rani refuses to leave. She asks if Susan thinks that Priya will be ok, but Susan doesn't know what to say. An upset Rani says that her mum has to wake up.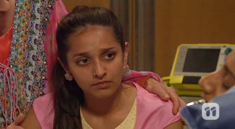 ..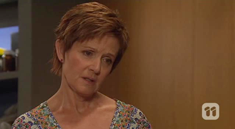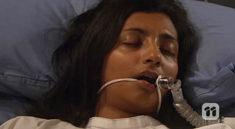 ..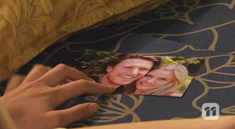 At number 32, Amber is looking at the photo of her with Robbo, when Matt walks in. She tells him that she's been walking around all afternoon, thinking about everything that's happened. She says that it's been difficult, even though they haven't been living there for long. Matt decides that they should have a family dinner tonight to cheer everyone up, and gets Amber to come and help with peeling the potatoes. She hides the photograph under a couch cushion.
Vanessa arrives back at the hospital and tells Lucas that Elaine was completely shattered, but it was the right decision to go and see her. She explains that she offered to help with the funeral arrangements, and Lucas is understanding. Vanessa tells him how amazing he's been, and how difficult it must be for him to see Sonya like that. She tells him that she loves him - for the first time - and apologises for taking so long to say it.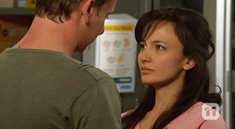 ..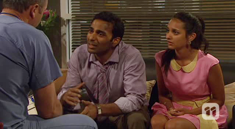 Karl takes Ajay and Rani into his office and tells them that the test results have come back. He says that her injuries were extensive and the surgeons did everything they could, but there were some complications. Ajay is confused, as he thought they'd stopped the bleeding - Karl tells him that they did, but she suffered cerebral hypoxia - her brain was starved of oxygen for too long. Rani and Ajay are shocked as he tells them that Priya isn't going to wake up. Rani can't believe it, as she's seen her mum breathing, but Karl explains that the machines are doing all of the work for her. Ajay slowly comes to terms with it and comforts Rani, who breaks down in tears on his shoulder.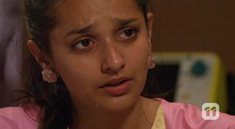 ..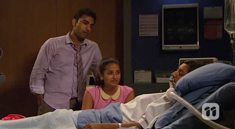 ..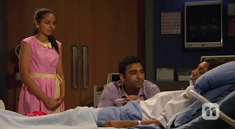 In Priya's hospital room, Ajay and Rani go to say their final goodbyes. A tearful Rani apologises for how she's treated her mum in the last few months. She wishes for her mum to wake up, so everything can go back to normal - she tells her that she loves her and will miss her so, so much. She stands up and hugs her dad, who then sits by Priya's side. He says that he's sorry he couldn't protect her, and he doesn't want to say goodbye, but he's grateful for their final few days together. He begs her to open her eyes, then kisses her, telling her that he loves her and promising to take care of Rani. He then says a final goodbye.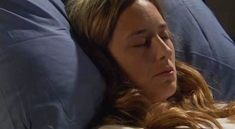 ..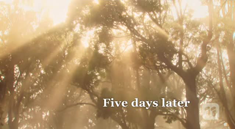 Five days then pass, as Sonya lies in a coma.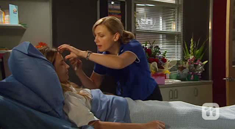 ..
Georgia walks into Sonya's hospital room, chatting away to her, and then realises that she's beginning to wake up. She checks her over, then Karl rushes in. They both tell Sonya where she is, and that Toadie is on his way. As they start to explain what happened to her, it becomes clear that she can't remember the wedding...
Featured Regular Characters: Sonya Rebecchi, Karl Kennedy, Susan Kennedy, Sheila Canning, Kyle Canning, Rani Kapoor, Priya Kapoor, Ajay Kapoor, Natasha Williams, Chris Pappas, Andrew Robinson, Paul Robinson, Matt Turner, Amber Turner, Mason Turner, Georgia Brooks, Lucas Fitzgerald, Vanessa Villante
Guest Cast: None
Trivia Notes
• Although this episode marked Priya's death, it was not the final appearance of Menik Gooneratne, as she featured in a few more episodes as Priya's ghost, who Rani spoke to as a way of dealing with her feelings of grief and guilt

Summary by Steve