.
Magic Moments > 2014 > Mason's Departure Episode 6830

Written by Zokov Nyste, Directed by Fiona Banks, Produced by Jason Herbison
Channel Eleven: 28/02/14, Five: 14/03/14
As Josh struggles with his recovery, he contacts drug-pusher Kirk for some stronger medication... Sonya sticks her beak into mutual dishonesty between Chris and his gambling-addict mum Patricia... Mason accepts the offer of a promotion at Lassiter's Darwin, much to Lauren's dismay
In number 32's back garden, Lauren is still sulking that Mason is leaving, and can hardly bear to look at him. Matt asks Mason what has he got planned for his last day, Mason tells Matt that he has got some last-minute packing and he has to go into the hotel and do some paper work - Matt then enquires about Mason's good behaviour bond, and Mason explains that it won't be a problem, he just have to inform them of his change of address. Mason mentions to Lauren that he heard from Gaby Willis yesterday, and she said to say hi. Lauren coldly says that's nice. Mason also announces that he's decided to give Amber an early birthday present, in case he can't get time off on her actual birthday to come back and visit. Mason asks for Lauren's input on his present ideas, but she tells him that she's sure whatever he decides will be lovely. Everyone looks awkward.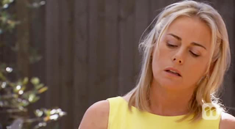 ..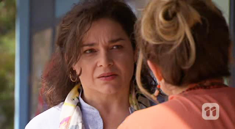 At Fitzgerald Motors, Chris is signing Mason's leaving card, which Kate has arranged – but the moment Brennan shows up for work, Kate decides to make a quick exit. Brennan follows Kate outside to make small talk, but she's too busy with the leaving card, and barely stops to speak to him. Kate heads next door, hoping to find Kyle so he can sign it too. Sonya is just coming out of Dial-A-Kyle when she spots Patricia Pappas across the road, lingering outside the bric-a-brac shop. Sonya goes over, demanding to be told why Patricia didn't come to the support meeting the other day. Patricia's decided she can handle her addiction alone, despite Sonya's attempts to talk her into returning to the meetings. Spying a large bag Patricia has with her, Sonya immediately concludes that she is pawning all her worldly goods in the bric-a-brac shop to feed her addiction, and asks to see what's inside. In fact, Patricia has made Chris a spanakopita. Sonya immediately apologises and lets Patricia go off to the garage, but still looks worried. Patricia crosses the road and drops off her spanakopita for Chris, and asks when he and Hudson are coming around for dinner. When Chris says they can't, she expresses concern that he keeps cancelling on her, and demands to know what's wrong. Chris claims that they're both just busy, but Patricia can tell she's being fobbed off, and thinks it's because Chris is embarrassed by her. She lets the matter rest – telling him to let her know when things have freed up. Patricia leaves, looking sad, and Chris looks guilty.
Josh is in the changing room at the gym when he gets a text from Kirk. He rushes out to meet him, but is stopped in his tracks when Amber and Imogen walk in. They are about to go shopping for Mason's farewell gift, and suggest that Josh join them. Josh tells them to wish Mason well from him but that he's too busy training to get involved. Imogen criticises Josh for not being there for Amber on the day her brother's leaving town, but Josh is indifferent to this appeal, and Amber walks off, saying she knew it was a bad idea to ask him. Imogen asks her brother why he has to be such a jerk, and he looks pained as Imogen leaves.
..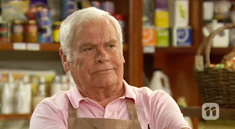 At Harold's Store, Brad tells Lauren that Gaby is really looking forward to having Mason in Darwin, and that his parents will look out for him while he's there too. Lauren thanks him, but doesn't say any more. Lou joins Brennan at a table for a chat, and learns that Danni is now staying with Brennan at number 24. Lou asks how Kate feels about it, and comments that things seemed frosty at Mason's party the other day. Lou asks Brennan when he and Kate are going to sort themselves out - Brennan informs Lou that Kate's made it pretty clear she wants nothing to do with him. Lou tells Brennan that he's got to be patient, as Kate's been through so much. Brennan tells Lou he knows, but it's starting to feel like he's banging his head against a brick wall. Lou says to Brennan "Well, you know what they say. Good things don't come easy. But you've got to keep trying – even if you do end up with a sore head".
Brennan leaves Harold's and sees Kate walking into Charlie's, so he follows her.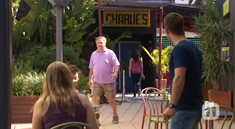 ..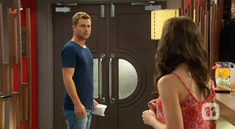 In Charlie's, Brennan approaches Kate, who is ordering a coffee. Brennan tells Kate that he's not here to pressure her but he can't keep avoiding her either. Brennan continues to tell Kate that they belong together and he believes that she thinks so too. Kate tries to stop, however Brennan proceeds to ask Kate one more time if there is any hope for them. Kate doesn't answer Brennan, Brennan tells Kate that he takes that as a no and promises he'll stay out of her way from now on. Kate tries to apologise but Brennan leaves.
Outside the community centre, Sonya apologises to Patricia for her presumptions earlier. However, Patricia's in more of a mood to talk now, explaining how Chris pushed her away earlier, and how her first thought was to gamble to numb the pain. As a result, Patricia's decided that she's going to go to the support meeting now. Sonya's pleased to hear this, and walks with her up to the centre. However, at that moment, Chris turns up en route from saying goodbye to Mason, and asks what they're doing. Sonya says she's going to the gamblers' meeting, but Patricia lies and says she has a salsa class. Unaware this was a pastime of his mum's, Chris agrees not to tell his dad! Patricia decides to skip the salsa class and walk Chris back to work, despite Sonya's protestations.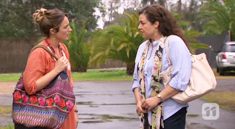 ..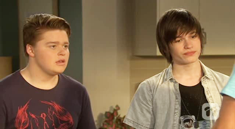 At number 32, Bailey and Callum enter, and Bailey begins to question Mason about all his possessions that he isn't taking to Darwin. Callum explains that Bailey wants to store them all under the house so he has more space in his room; Mason says it's fine, as long as he can still find things when he comes back. Bailey tells Mason that he's going to miss him and Mason says the same. Callum bids Mason farewell, telling him to watch out for the crocodiles, and he and Bailey go to get some boxes. Once they're gone, Mason looks unhappy, and Lou pipes up telling Mason that he should be excited as Darwin's a wonderful town. Lou starts to tell Mason about a cocktail waitress 'Dixie' at the casino when he was staying there. However, he decides to not finish the story and asks Mason what's going on. Mason explains to Lou that he is worried about his mum - she's hardly spoken to him since he decided to move, and he's starting to feel guilty. He wonders out loud if he should even be leaving. Lou asks Mason if he wants to stay and Mason replies that he doesn't, but he just hates seeing his Mum upset. Lou resolves to have a word with Lauren on Mason's behalf.
In Harold's Store, Lou has a chat with Lauren. He tells her that young men and women need to venture out into the world, like she did. Lou asks Lauren why she is being so stubborn about it all and she can't keep Mason at home forever. Lauren explains to Lou that Mason has made a snap decision, he hasn't thought it through and she's still trying to make up for lost time after Mason's stint in juvie. Lou tells her she's done a wonderful job – but that now Mason needs to find himself, and needs her support.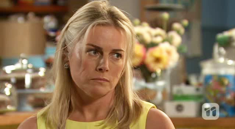 ..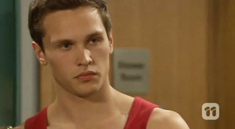 At the gym, Josh continues to look vaguely troubled as he exercises his shoulder muscles, and again starts to wince in pain. Josh heads into the changing room and goes to his locker, where he takes out a bottle of pills and prepares to take them.
Later, Josh is exercising again, when Brad comes in. He sees Josh working on his arm muscles without any apparent pain and says that maybe he is ready for arm-work after all, but then suggests he should have a break now as he's been at it all day. Brad suggests Josh go to support Amber, since Mason's leaving, but Josh again rejects this idea, mentioning that the Commonwealth Games are his main priority and if Amber cares enough she'll understand. Brad slopes off, and Josh continues to work out.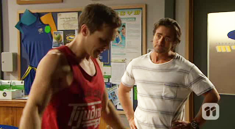 ..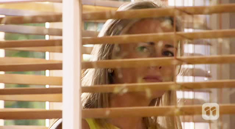 Lauren slinks about miserably in the sun room, and watches Mason and Imogen talking outside in the back garden. Imogen's bought Mason a travel guide to Darwin. Mason mentions that he's got Imogen something also; Mason passes Imogen their Valentine's Day padlock, which he removed from the bridge. He tells her that he wants her to have it, because he knows one day she's going to share it with someone really special. Imogen thanks Mason and tells him that she's glad that there aren't any hard feelings between them; she would hate to think he was leaving because of her. Imogen concludes that she's going to miss him a bit. Mason tells Imogen that he might actually miss her a bit too. They hug, and Lauren continues to watch sadly.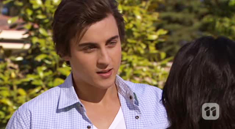 ..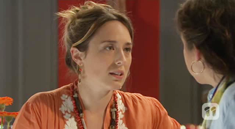 Sonya enters Charlie's and spots Patricia at the bar, and rushes over to tell her off for not coming to the Gamblers Anonymous meeting earlier. Patricia said she wanted to grab the chance to spend more time with Chris, but Sonya thinks it's also because she didn't want Chris to know why she was really at the Community Centre. Patricia tells Sonya that she doesn't want to burden Chris with her problems. Sonya says that she understands, but if she opened up to Chris, he would feel more comfortable doing the same with her. Sonya quickly realises she's said too much, and Patricia demands to know what's up with Chris. Sonya keeps quiet, saying it's not her place to get involved. but does mention that Chris needs her right now, just like she needs him. Patricia asks why Chris tries to get out of seeing her all the time - Sonya says that she needs to discuss this with Chris. Patricia decides that she will, and mentions that she won't be coming to the meeting. Patricia then leaves Charlie's. Toadie comes in as Patricia rushes out, and asks Sonya what's going on. Sonya tells Toadie that she's just made a huge mistake.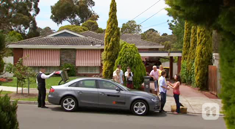 ..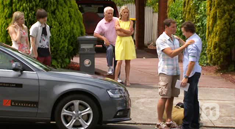 On Ramsay Street, Mason is preparing to depart for the airport. Kate has come to see him off, she hands him the leaving card and bids Mason goodbye; they each wish each other well and share a hug. Before Kate leaves, Mason mentions to Kate that Brennan's 'a good guy', and Kate smiles thinly. Matt then gives Mason a hug and a kiss goodbye, telling him to be good in Darwin. Then it's Bailey's turn - Mason tells his little brother that if he ever needs advice about girls to ask gramps what to do and then do the opposite. Lou laughs and says "Oi! I heard that!" Next it's Amber's turn to say goodbye, and Mason's got the early birthday present he was talking about – the keys to Hermione the car! Mason tells Amber that the other half of the car is hers, and to drive safely. Amber hugs him delightedly; Mason then gets a hug from Lou, who tells Mason to have a ball in Darwin. Lou tells an emotional Lauren that it's her turn to say goodbye now, and she eventually does. Lauren tells Mason to look after himself and make sure he calls her every night. She tells him that she loves him so much, and they share an emotional hug and kiss, and Mason gets into the car. He waves and is driven out of Ramsay Street. The family waves goodbye, as does Kate – who turns around to see Brennan looking at her sadly. Kate looks miserable too.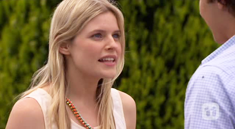 ..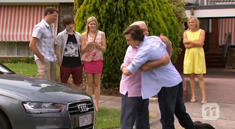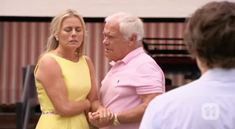 ..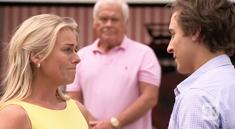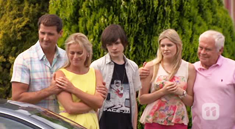 ..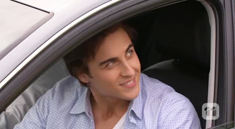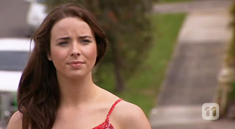 ..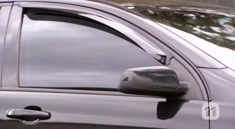 Brennan arrives back at work. Mentioning to Chris that he saw Kate on Ramsay Street, he tells him that he's given up on their relationship – and that he thinks she has, too. Chris says she'll have her reasons, but Brennan doesn't want to spend forever figuring them out. Meanwhile, a black car pulls up nearby, and its occupant watches Chris and Brennan from afar.
Featured Regular Characters: Lou Carpenter, Matt Turner, Lauren Turner, Mason Turner, Amber Turner, Bailey Turner, Brad Willis, Joshua Willis, Imogen Willis, Kate Ramsay, Chris Pappas, Sonya Rebecchi, Toadfish Rebecchi, Callum Rebecchi
Guest Cast: Scott McGregor as Mark Brennan, Katerina Kotsonis as Patricia Pappas
Trivia Notes
• Final regular appearance of Taylor Glockner as Mason Turner
• Mason's final words are "Take it easy."
• Past character Gaby Willis is mentioned. Pam and Doug Willis are also mentioned (though not by name)

Summary by Kyle