.
Magic Moments > 2015 > Matt's Death: Part One Episode 7087

Written by Kate Bradley, Directed by Chris Adshead, Produced by Jason Herbison
Channel Eleven: 24/03/15, Five: 07/04/15
Tyler continuing to undertake jobs for Dimato... Matt warning Tyler to stay away from Dimato... Josh checking up on Amber following her disappointment at her wedding... Terese catching Matt kissing Sharon Canning and then ordering him out of the hotel... Josh and Kyle diverting the lake water down the well, not realising Imogen and Daniel are trapped inside...
At the well, work is continuing on diverting the lake water. Daniel and Imogen are frantically calling for help, but the noise of the machinery is drowning out their cries. Mark, who is close by, calls Tom Ramsay, wondering if he can ask some questions about Imogen, who Tom had met during his time back in Erinsborough. Meanwhile, Imogen and Daniel are still calling for help, Daniel insisting that Imogen just focus on her breathing due to her earlier asthma attack. Just then, the water pump is turned off by Kyle, who is still trying to open a valve in the mechanism. When it eventually turns, he switches the pump back on and water begins flowing back into the well, this time faster than before.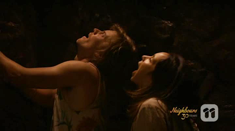 ..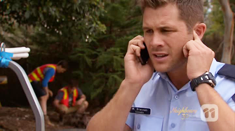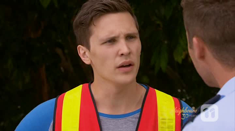 ..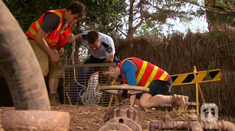 Mark finishes his call with Tom Ramsay and heads over to Josh, explaining that Tom was the last person to speak to Imogen and that he had spoken to Imogen about Agnes' wedding ring. Josh doesn't know anything about it, except that Amber was obsessed, but is horrified when Mark mentions the ring was thrown down a well and sprints over to Kyle, yelling at him to turn off the water pump. Josh, Kyle and Mark open the grate at the top of the well and call down. Daniel and Imogen shout back up, although Kyle isn't sure that there was a reply, thinking that it was an echo. However, Mark grabs a rope from the truck and feeds it into the well, ordering whoever is at the bottom to tug it. And relieved Daniel and Imogen promptly pull on the rope.
A little later, Terese is telling Imogen that she can't believe that she had thought Imogen could have run off, and adds that Imogen could have died in the well with no one knowing. Josh stops Terese, who apologises, just as Amber turns up. Josh walks over to Amber, who asks how long Imogen and Daniel were in the well. Josh replies that it was since the day of the wedding and so therefore Daniel didn't run out on Amber. Amber is relieved as Daniel is recovered from the well, and rushes over to hug him, completely ignoring Imogen who is sitting on the floor in front of the well.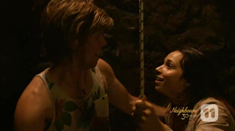 ..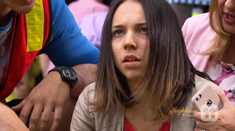 Elsewhere, Paige is out jogging as she sees Tyler looking suspiciously into windows of a row of parked cars. As she watches, she receives a call from Josh, explaining what happened to Imogen and Daniel. At first, she doesn't believe Josh but eventually agrees to meet him at the hospital when she realises he is being serious. Paige looks back towards where Tyler was, but during the call he has disappeared.
As Imogen is being loaded into an ambulance on a trolley, she incredulously asks if everyone except Josh really thought that she had run off with Daniel. Brad replies that it was reasonable under the circumstances and Terese adds that they didn't think it was like Imogen, but had no idea what was going on. Imogen tells Brad and Terese that she wants to speak to Amber as she will think that she is a cow, and Brad replies that Amber is on the way to the hospital already, and that he is sure Daniel will tell her everything.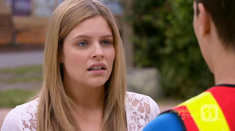 ..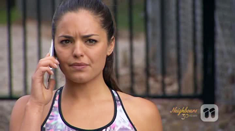 In the crowd, Matt spots Sharon, who is angry with him for having been stood up twice and points out that it would have been nice to have received a phone call or even a text. Matt replies that he didn't have Sharon's number, but Sharon doesn't believe it would have been hard to track her down, especially as Matt is a cop. As Sharon wonders who it was that dragged Matt away from her hotel room, Brad and Terese notice the commotion and Brad asks who the woman having a go at Matt is. Terese feigns ignorance and gets in the ambulance with Imogen as Brad watches Matt and Sharon suspiciously.
At Erinsborough hospital, Amber is with Daniel and asks if she should call Paul to explain what is happening. Daniel says that Amber is all he needs and adds that he can't imagine what Amber must have been going through since the wedding day. He is surprised that Amber thought he had run off with Imogen and tells her to have a look in the front pocket of his jeans. Amber is thrilled to discover Agnes' ring but gets upset at what she had thought about Daniel when he had made the effort to go to such a grand gesture. Daniel tells Amber not to get upset and reminds her that she is the only one for him. Smiling, he places the ring onto her finger.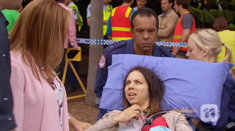 ..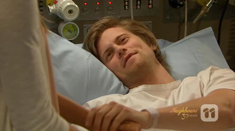 In Harold's, Tyler is reading a note, which he quickly hides when Paige approaches him telling him that she needs a lift to the hospital. Tyler asks why and Paige explains about Imogen and Daniel being in an accident. Tyler replies that he is busy and has things to do and Paige says that she saw the way Tyler was looking into the cars earlier and thinks he was working out a way to steal them. Tyler retorts that he was simply admiring the cars and that it is none of Paige's business, urging her to hurry if she is going to make it to the hospital. Paige is left standing there as Tyler walks off.
At the hospital, Imogen is asking Terese, Brad and Paige how much the Turner family hate her. Paige replies that they don't, as they know that she didn't deliberately stop Amber and Daniel walking down the aisle. Brad points out that everyone realises the whole thing was a misunderstanding and Paige jokingly says that it least it detracts from Imogen's confession of being in love with her best friend's fiancÚ. Imogen isn't sure that it makes her feel any better, but Paige tells her that in Matt's eyes, Daniel would have been the villain as he had made a promise to Amber and Matt has strong morals. Brad notices Terese shift uncomfortably and asks what the matter is. Terese lies that she was wondering how Josh was doing with the coffees and leaves the room to give him a hand. Brad follows and demands to know why Terese is being so funny about Matt Turner. Terese insists that she isn't, but Brad asks who the woman was that was talking to Matt. Terese still evades the question, but is left with little choice but to answer when Brad keeps asking. She tells Brad that he mustn't say anything to Lauren about it.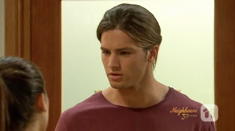 ..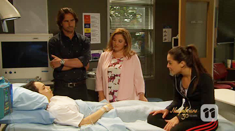 In Harold's, Sharon is comforting Kyle, saying that he can't blame himself for what happened, even though Kyle thinks that he should have undertaken more checks. Sharon reminds Kyle that not only are Daniel and Imogen safe, he was trying to make the area liveable and as such, he did well and that she is proud of him. Just then, Sheila arrives and hands a packet of dog food to Sharon, pointing out that if Sharon wants to spend time with Kyle she will need them as Kyle is on dog watch, looking after the Labrador from the well until the animal rescue people arrive. Kyle replies that he has to go to the train station to drop Sharon off, but Sheila is insistent, saying that she has to go and make sure The Waterhole is up to scratch as Lucy is flying in later on. Kyle reluctantly agrees and takes the dog biscuits from Sheila, all three of them heading out.
As they leave, Matt walks in and over to Lauren, who wonders if he has any requests for dinner. She goes on to say that she will be surprised if Amber ever lets Daniel out of her sights again and is convinced they will get through everything. Matt suggests he and Lauren just get pizza for dinner and they both go for a bike ride. Lauren is happy, and says that they haven't done that for ages. Matt offers to pump the tyres up and Lauren agrees, kissing Matt as she gets back to work.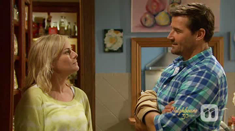 ..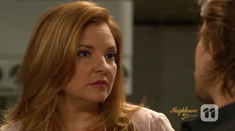 Meanwhile, in the hospital, Brad is insisting he and Terese tell Lauren about Matt and Sharon. Terese says that she promised Matt that she wouldn't say anything; Brad wonders if Terese is happy to sit by whilst Matt cheats on Lauren. Terese retorts that Matt had a moment of madness and isn't having an affair and that she can't see Matt taking things any further. She reminds a disbelieving Brad that he expected her to believe he and Lauren were not having an affair a short while back, although Brad thinks Matt's behaviour is much worse. Terese reminds Brad that the Turner's marriage is none of their business and urges Brad to stay out of it: Brad reluctantly agrees.
In the corridor, Amber bumps into Josh, who tells Amber where Imogen is when she asks. Amber also asks why Josh didn't say that he was the one who found Daniel and Imogen. Josh replies that he didn't think it was important. Amber says that Josh is a hero as he asks how things went with Daniel. Amber explains that things went well and reveals that Daniel wants the wedding to go ahead as soon as possible, although it won't be a ceremony this time, just a small registry office wedding. Josh says that he is glad things went well and Amber hugs him, thanking him for being there for her. She hugs him, although they both become uncomfortable and break apart, Amber heading off.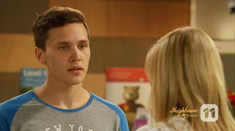 ..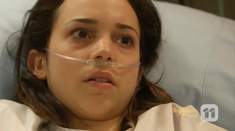 Imogen sits up in bed as Amber comes in, asking how she is. Imogen hurriedly apologises, saying that she never meant for anything to happen but Amber stops her, reminding her that it is not her fault. Imogen tells Amber that Daniel loves her and that while they were in the well Daniel only wanted to get out so that he could see Amber. Amber says that she knows and that Daniel told her the whole story, including Imogen going down the well first, despite knowing how dangerous it would have been. She goes on to say that she has had time to think about how Imogen helped plan the wedding, despite how hard it must have been. Amber confirms she and Imogen are ok and says she wants to ask a favour.
In Harold's, Lauren is telling Brad she is so glad that Imogen is alright. Brad asks Lauren how she is holding up, what with the wedding and the recent stresses with Matt. Lauren replies that it has been fairly rough, but that everything is starting to look up. Lauren continues that Matt knows he did the wrong thing with Dimato but things can move forward now there are no more secrets between them. Brad tells Lauren that he is glad things are finally starting to get better for her.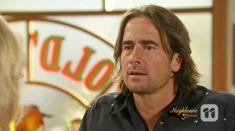 ..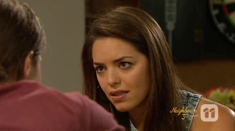 Paige confronts Daniel at The Waterhole, wondering what he was doing earlier. Tyler again explains that he was just admiring some cars, although Paige points out that she doesn't believe him, adding that she is going to go to Mark to tell him that Tyler was mysteriously lurking around some cars. As she goes to leave, Tyler stops her and confesses that he is doing a job as a favour. Paige sits down and asks why Tyler would get himself involved in something so shady. Tyler replies that it is how he got Imogen's car back and says that he is paying back the debt. Paige wonders if there is another way to pay back the debt that isn't as illegal but Tyler says saying no isn't an option. Paige concedes that it is Tyler's choice, but tells Tyler if he gets caught he will end up going down for it.
Back in the hospital, Daniel visits Imogen, sits down on her bed and tries to talk about how she feels. Imogen stops Daniel and tells him to concentrate on getting married to Amber as she didn't get the wedding ring from the well for nothing. Daniel doesn't think he will get far on his crutches: Imogen thinks they should find a wheelchair and plan a great escape. Daniel wonders if Imogen will be at the wedding and Imogen confirms that she will as Amber has asked her to be maid of honour once more. Daniel asks Imogen if she will be ok: Imogen replies that Daniel and Amber are her best friends and that all she wants is for them to be happy together and that if she can be a part of that, it would be awesome. Daniel thanks Imogen for being amazing and says that he wouldn't have got through things without her.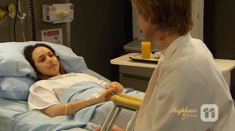 ..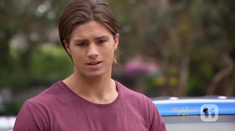 Tyler approaches the row of cars he was looking at earlier and walks over to the red car which Paige had noticed him looking into. He stands close to the car and puts on a pair of gloves.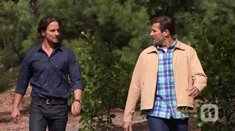 ..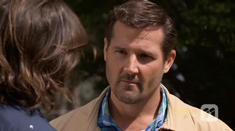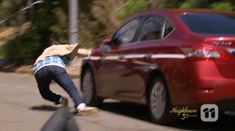 ..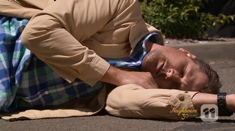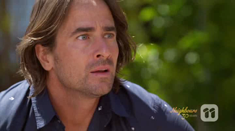 ..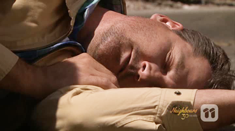 Meanwhile, Matt is walking along the street as Brad calls him, catching up with him. Brad asks Matt what is wrong with him. Matt wonders what Brad is talking about and Brad explains that Terese told him about what happened between Matt and Sharon. A furious Matt tells Brad that it is none of his business but Brad points out that Matt is not supposed to be keeping any more secrets from Lauren. Matt rounds on Brad, saying that he doesn't appreciate Brad sticking his nose in and tries to walk off. Brad wonders why Matt didn't learn anything from the kiss he shared with Lauren that almost ruined the Willis' marriage and tells Matt that Lauren doesn't deserve it, asking if it is a twisted form of revenge. Matt orders Brad to give him a break as Brad yells that Matt has no right to still be angry about him and Lauren. As they continue to argue, a red car drives around the corner: Matt notices and shout out to Brad, pushing him out of the way. Matt is hit by the car head on: the car drives off and a horrified Brad races over to kneel down beside Matt, who is lying unconscious on the floor.
Featured Regular Characters: Brad Willis, Terese Willis, Josh Willis, Imogen Willis, Lauren Turner, Amber Turner, Matt Turner, Paige Smith, Daniel Robinson, Sheila Canning, Kyle Canning, Mark Brennan, Tyler Brennan
Guest Cast: Natasha Herbert as Sharon Canning, Rian Goodge as Matt Stunt Double, Chris Weir as Stunt Driver
Summary by Alex