.
Neighbourhood > Places > Erinsborough Care Facility

Erinsborough Care Facility 2008
Employees: Sarah Dawson [nurse], Andrew [security guard]

Suffering from renal failure, Richard Aaronow underwent a kidney transplant, receiving an organ from his son, Oliver Barnes. The pair shared a complex history, with Oliver being given up for adoption by his mum, Rebecca Napier, who later met up with Richard again and he raped her, resulting in the conception of a second son, Declan. After learning of Richardís illness, Oliver had donated the kidney in the hope that it would keep Richard alive long enough to face justice for what heíd done to Rebecca, but, following the operation, Richardís health declined and he went to the Erinsborough Care Facility to recuperate. When Oliverís daughter, Chloe, was born a few months later, he visited the care facility to tell Richard the news, only to find out from nurse Sarah Dawson that he had checked out, with strict instructions not to tell anyone where heíd gone. Worried that Richard was on the loose, Oliver returned, with Declan, and begged for answers, explaining the whole story to Sarah, who apologised, but later caught up with them and told them not to worry, as Richard was in the final stages of his illness at the hospital and could no longer harm any of them.

Key moments (with episode links where available)

Oliver and Declan learn that Richard has been transferred to Erinsborough Hospital


Gallery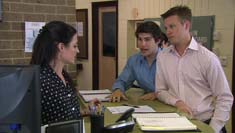 ..