.
Neighbourhood > Places > Simmons and Colbert
Simmons and Colbert 2011-
Address: Level 9 Acacia Ridge Towers, Melbourne, Victoria, 3000

Partners: Peter Noonan (2011-2012)
Associates: Toadfish Rebecchi (2011-)

When Lucas Fitzgerald's father, Patrick, passed away, solicitor Peter Noonan arrange to meet him at his Melbourne office to discuss the will, with Lucas' lawyer friend Toadfish Rebecchi attending also, convincing Lucas to listen to what Peter had to say and assisting with his father's bequest to have his ashes scattered at a local football ground.
Impressed with the way that Toadie handled Lucas's case, Peter called him back for a chat, explaining that whilst Simmons and Colbert usually deals with big cases, but some of their staff lack the personal touch, unlike Toadie, explaining that he had made some enquiries, referencing Steph Scully's case as an example of his character, having taken it on despite it being difficult. Flattered, Toadie turned down the offer, explaining that he liked being his own boss and wasn't sure if he was cut out to be part of such a big law firm, however Peter handed him a business card with a tempting figure on the back, giving Toadie food for thought.
After initially deciding against taking the job, a change in personal circumstances led to Toadie reconsidering, needing the larger income to take out a loan with partner, Sonya Mitchell to help her buy the local community gardens for use as a nursery and so Toadie called Peter to accept the offer.
Toadie's first day went poorly as he made a bad impression, turning up late for a staff meeting having been stuck in traffic. Apologising for being late, he caused further disruption whilst he made his way to a seat then his phone rang with an embarrassing ringtone of a mooing cow that his son, Callum Jones had set for him. A few weeks later, having impressed Peter by inviting him for a meal at his house and by doing extra hours at the weekend, Peter asked him to do some work on a major development case in Erinsborough, needing Toadie to use his contacts at the local council to get the approval for the re-zoning signed that day. Toadie tracked down Councillor Ajay Kapoor at his anniversary lunch and left the forms with him, however Toadie was disheartened when despite his efforts he returned to the office without the signed forms, but was pleasantly surprised when Peter explained that he had received a fax from Ajay with the forms. Impressed further with his work, Peter asked Toadie to head up the project, explaining that it was overseeing the development of a large shopping centre in the Erinsborough area, explain that his contacts at the council, plus his knowledge of the area and it's residents made him the perfect choice for the job.
Despite taking on the case as his partner and local business owner, Sonya, plus their friends and neighbours voiced opposition, Toadie told Peter that he didn't feel comfortable leading the project anymore, however when Peter made it clear that his job would be at risk if he pulled out, Toadie was forced to continue.
Trivia Notes
• The telephone number for the office is (03) 5550 3428

Key moments (with episode links where available)
Lucas attends the reading of his father's will Toadie starts work at the firm
Gallery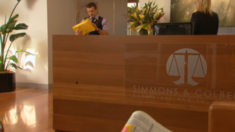 ..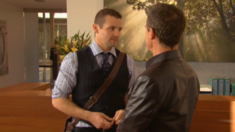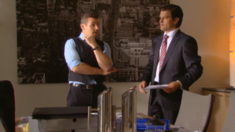 ..