.
Neighbourhood > Places > Warrinor Prison

Warrinor Prison 2001-
Officers: Steve Bates (2001), Adam Buxton (2003), Steven Lee (2005)
Prisoners: Larry Woodhouse (????-2001), Mitch Foster (????-2001), Kev Kelly (????-2002), Lou Carpenter (2004), Darcy Tyler (2003-2004), Rocco Cammeniti (2004-present), Roo Hausman (2005-present), Glen Richards (2004-present), Dylan Timmins (2005), Stingray Timmins (2005), Stuart Parker (2005; undercover cop), Cameron Robinson (2006), Angus Henderson (2008), Steve Parker (2008)

The men's prison, close to Erinsborough, has seen numerous Ramsay Street men pass through its gates since it was first seen in 2001, when Steph was visiting her ex-boyfriend Woody. Woody's inmates included Mitch Foster, who was released not long after him and befriended Steph in the wake of Woody's 'death' and Kev Kelly, a jewel thief who Libby interviewed for the newspaper. In 2003, Dr Darcy Tyler was imprisoned for theft, while in 2004, Lou Carpenter joined him behind bars after becoming involved in an illegal betting scandal. Darcy was given day release to work at the hospital, where he fell down some stairs and ended up in a coma, while Lou was released on appeal. In 2004, Glen Richards was sent to Warrinor after attempting to rob Pacific Bank and holding Sindi, Toadie and Stuart hostage.

In late 2005, Dylan and Stingray Timmins were sentenced to ten and four years, respectively, at Warrinor, after being set up by Dylan's old enemy Roo Hausman. When escapee Roo was caught and sent to serve on the same wing, police officer Stuart Parker went in undercover and, with the help of the Timmins brothers, managed to expose the set-up, leading to Stingray and Dylan's release. In 2004, Rocco Cammeniti was jailed for several crimes, after kidnapping Toadie Rebecchi and leaving him in a coma. He is still in Warrinor, but was given day release in 2007 in order to attend daughter Rosie's wedding.

In 2008, former teacher Angus Henderson was sent to Warrinor for six months after having an affair with one of his students, Rachel Kinski and, soon after, Steve Parker was imprisoned after taking the blame for an accident that had left Chris Knight dead, though he was released on appeal.

Key moments (with episode links where available)

Libby spots Steph visiting Woody whilst at the prison to interview Kev Kelly
Woody is released
Lou finds out that his new cellmate is Darcy Tyler
Dylan manages to secret record Roo confessing to setting up the service station robbery
Rosie and Frazer visit Rocco, who convinces her to get him day release for her wedding


Gallery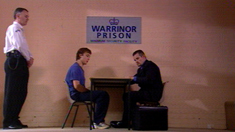 ..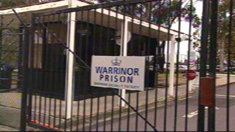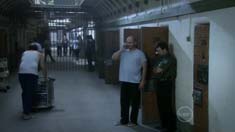 ..