.
Neighbourhood > Ramsay Street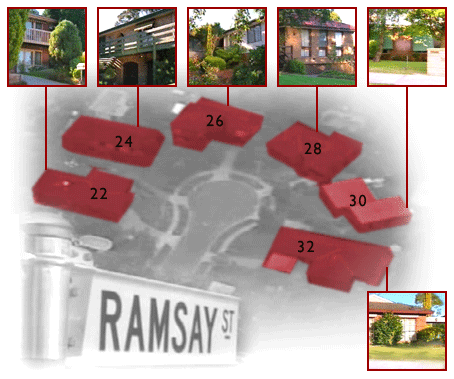 Situated in the Melbourne suburb of Erinsborough, the quiet cul-de-sac of Ramsay Street is a spur off the busier road Wentworth Avenue. The street was built on the site of the Ramsay Orchards, once owned by the notorious 'Black' Jack Ramsay, from whom the street name derives. Prior to the Ramsays, the land was known to be farmed by the McKeller family during the late 19th century. Both the Ramsay and Robinson families have an ancestral presence in the street, marked with many feuds over the years; often stemming from the legitimacy of a card game which decided the name of the street.
In 1986, the Daniels Corporation planned to buy up and then demolish the street to build a supermarket access road, but the scheme was cancelled when Paul Robinson had a change of heart.
In 2001, the street was renamed Ramsbottom Street after Percival Ramsbottom, but was swiftly changed back after local protestations.
2004 saw the residents entering "The Best Street" competition, but they failed to win due to the Bishop family having a very public argument in front of the committee judge.
In 2005 the street came under threat again, this time from the American company Affirmacon who wanted to build a shopping mall; but phoney environmental reports weren't enough to convince locals to sell up, and that plan also failed.
Trivia Notes
• The road running behind Numbers 26 and 28 is named Mirabooka Drive