.
Neighbourhood > Neighbouring Suburbs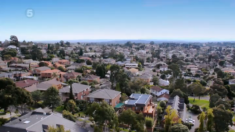 Erinsborough
Victoria, 9571
Located in suburban Melbourne, Erinsborough, a diverse district, was founded on the Erinsfield River (Erinsfield being the original name of the area), where nowadays, leafy residential bliss and Australia's corporate elite mingle seamlessly. At the heart of the suburb are Ramsay Street, which is named after one of Erinsborough's pioneers and twice mayor - "Black" Jack Ramsay, and Sutherland Street's popular hotel and shopping area The Lassiter's Complex which is named after Jack Lassiter but has predominantly been owned and run by the Robinson/Daniels family who have strong roots in the area. Other than Jack Ramsay, mayors of the district have included Mayor Radley, Khan Ozturk, Lou Carpenter, Dick Goss and Jackie Jones. Surrounding Ramsay Street are many other Erinsborough addresses, including: Wentworth Avenue; which is the busy road running across the bottom of Ramsay Street, Power Road; which is home to several small businesses, Eden Drive; address of Erinsborough High School, High Street; location of Sonya's Nursery, Due Street; which was the location of local paper Erinsborough News for over two decades, Burrow Street; has Erinsborough Police Station, and Broad Street; which has a clinic where Bridget Parker nearly had an abortion. Other local amenities include Erinsborough & District Hospital, Erinsborough Primary School, Erinsborough Care Facility, Erinsborough Plaza and Tattoo Connection. Many of the streets of Erinsborough were put under threat in 2005 when dodgy company Affirmacon tried to build a shopping mall using dishonest methods. These included creating a fake environmental report which said rising water levels in Erinsborough West would put many of Erinsborough's houses at risk of flooding in ten years time. Fortunately the company was exposed as corrupt and the suburb was saved. Erinsborough is just one of several (fictional) Melbourne suburbs that have been frequented by the people of Ramsay Street...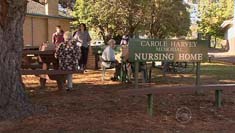 Eden Hills
One of the wealthier suburbs in the area is Eden Hills, home to a girls' school, Eden Hills Grammar, and Eden Hills University (where local radio station UniFM is based), providing the education needs for many of the district's school leavers and older residents. The Lim and Bishop families were both having houses built in this affluent area when they first arrived, while mansions belonging to Chloe Lambert and Dame Margaret Woolstead are also located here. The Carole Harvey Memorial Nursing Home, where Tom Kennedy is a resident, is also situated here.
Anson's Corner
The often-mentioned Anson's Corner, which lies to the south-west of Erinsborough West, was briefly the home of the Parker family in 2007, Sindi and Penny Watts' mother lived there, and in 1993, the Gottlieb family moved there to open their own record store. Anson's Corner is also where Libby and Susan regularly visit their favourite patisserie, is home to Anson's Corner Motors, the Anson's Corner Bull Ants football team, a tattoo parlour Helen Daniels once jokingly suggested to Jim Robinson that his son Scott may have gone to, a park where Joe Mangel met up with John Worthington, and a children's playground where Mary Casey lured Pepper Steiger in 2007.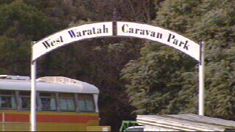 Waratah
Also nearby are Waratah, West Waratah, and the rarely mentioned Waratah Park and East Waratah. Waratah was the scene of a council battle over property development, which proposed draining the Waratah Creek, a fragile ecosystem which housed many rare species, while West Waratah has housed two schools, West Waratah Tech and West Waratah High, both of which were merged with Erinsborough High, in 1994 and 2005 respectively. West Waratah also has its own newspaper, the West Waratah Star, a rival to the Erinsborough News, a caravan park where Lou Carpenter and the Timmins family have lived, and the suburb was the home of the rowdy Rebecchi clan before they moved to Ramsay Street in 1995.
Warrinor
Local district Warrinor is possibly one of the least affluent, housing a men's prison, amongst other things.






Goodwood
Goodwood, where the local women's prison is located.







Elliot Park
South of Erinsborough West is Elliot Park, where, Charlene Robinson worked at Grainger's Garage and Zeke Kinski once trespassed at Elliot Park Testing Facility.
Eden Vale West
Eden Vale West was where young Anne Baxter claimed to live.
West Caro
Victoria, 9852
20 Larman Street in West Caro was home to Rebecca and Declan Napier before their move to Ramsay Street.






Patterson Hills
This suburb was the area where Callum Jones was left by his mother Sonya and then raised by his Gran. They lived at 12 Elizabeth Road.






To take a look at the real life locations used to portray many of the places in Neighbours, click here.