.
News Headlines

| | |
| --- | --- |
| Watchdog Investigates... | January 31 2004 |

The BBC's consumer programme, Watchdog have been investigating the reason why a large number of people didn't receive a refund from last year's ill-fated Oz Soap Convention. The UK's first convention for Australian soaps was supposed to take place last December, but was cancelled due to lack of funding when key sponsors pulled out.
The company behind the event, Firefly Glass Entertainment promised customers that they would receive a full refund within three weeks of the event being cancelled, but this didn't happen. Since then, telephone numbers, e-mail and postal addresses for the event's producer, Stephen Gibbons have been leaked on the internet. None of the people that we've heard from have had any luck in getting hold of Gibbons or their money.
The Watchdog team have been looking into the case for just over a month, after a high volume of telephone calls and e-mails came in from people. On this week's programme you will see their findings in a full report. The report includes frank interviews with the victims of the whole fiasco, with insight from Prisoner star, Val Lehman (Bea Smith), on how it has affected her and other actors who were to attend the event.
The programme will be screened on Tuesday night at 7pm on BBC One.
| | |
| --- | --- |
| Another ex-Neighbour in Sun Hill? | January 30 2004 |

Last year saw Stefan Dennis (Paul Robinson) guest star in The Bill, while Daniel MacPherson (Joel Samuels) joined the show in the regular role of PC Cameron Tait. With news that Daniel will be quitting the show in a few months time, there are strong rumours that another former Neighbour might be joining the show to keep up the Aussie quota.
Peter O'Brien, who played Shane Ramsay in Neighbours, has been mentioned as joining The Bill in the coming months. While there has been no confirmation of this, the fact that he and his actress wife, Miranda Otto, are relocating to London soon, has done nothing to quash the rumours.
| | |
| --- | --- |
| Another Scully Scarpers | January 30 2004 |

It's been confirmed that Jay Bunyan (Jack Scully) will be leaving the show in July when his contract runs out. Jay made it clear from the start that he would only do a couple of years on the show and is now apparently set to bring his one-man show, The Packer to the Edinburgh Festival after filming finishes.
Australian viewers will be able to catch Jay's final scenes as Jack Scully in November.
| | |
| --- | --- |
| Stranded with Jesse | January 30 2004 |
The 2001 adventure movie, Stranded staring ex-Neighbours actor Jesse Spencer (Bill Kennedy) will get its first UK television airing on the Hallmark Channel this weekend. The first part will be screened on Saturday at 8am and repeated 3pm, concluding on Sunday at the same times.
| | |
| --- | --- |
| Farewell Trixie | January 27 2004 |

It's been rumoured for a while, but this week's Inside Soap magazine confirms that Wendy Stapleton (Trixie Tucker) has filmed her final scenes on the show after 5 months. However, she does reveal that she may be back later on in the year.
| | |
| --- | --- |
| UK Schedule Change | January 27 2004 |
Due to BBC One's coverage of the Hutton report, the BBC have cancelled the 1.40pm edition of Neighbours tomorrow. This means that there will be only one screening of the show at 5.35pm.
| | |
| --- | --- |
| News In Brief | January 25 2004 |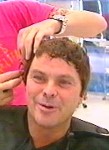 Former Neighbour Daniel MacPherson (Joel Samuels) has announced plans to quit his role as PC Cameron Tait in The Bill. He will leave the show in May before returning to Australia.
Fired actor Shane Connor (Joe Scully) can be seen on the UK's Channel 4 reality show The Salon during the highlights shows, screened weeknights at 6pm. During his visit to the salon today, he explained to the staff that his character is being killed off, though whether he, or anyone else, knows this for sure, is up for debate. Also in the salon today was Lucinda Cowden (Melanie Pearson). Their appearances were no coincidence, as they will be screened on Australia Day (Monday 26th) on the show.
With Noah Sutherland having vacated the role of Ben Kirk, the part will now be played by Sean Berends when Libby and Ben return from Adelaide later this year.
| | |
| --- | --- |
| A Boozy Bishop? | January 20 2004 |

The latest issue of Inside Soap reveals that we may be seeing a whole new side to one of the street's most popular residents in coming months. It was already rumoured that Harold wouldn't be quite the same after his upcoming stroke, but it seems that things are going to be decidedly different.
Ian Smith is quoted as saying of his alter ego, "Think about everything you know about him, then think the opposite."
The same issue also contains interviews with Wendy Stapleton (Trixie Tucker) and Ryan Moloney (Toadfish Rebecchi).
| | |
| --- | --- |
| Another Credit Change | January 19 2004 |

Today saw the return of Neighbours to Australian screens for its 2004 season and along came yet another new look. The majority of shots are those from the credits which were screening towards the end of last year, but they are now part of an unusual arrangement of various shapes and colours.
The end credits have also adopted this style, though still using shots from the episode.

| | |
| --- | --- |
| Kennedy Crisis? | January 14 2004 |

An interview with Alan Fletcher (Karl Kennedy) in this week's issue of Inside Soap magazine reveals that rumours of the demise of the Kennedy marriage may not be unfounded.
He is quoted as saying "The alcohol storyline is interesting... essentially Karl will become a different man. He loses his friends, and things change on the home front." Later in the interview, an even bigger hint is dropped when he mentions that he was "fearful" of filming fewer scenes with Jackie Woodburne (Susan Kennedy) in the future.
It looks like we may have to get used to a divided Kennedy family in 2004.
| | |
| --- | --- |
| Jason on Terry and Gaby | January 14 2004 |

Jason Donovan (Scott Robinson) is currently making a number of TV appearences in the UK to promote his stage performances in Chitty Chitty Bang Bang at the London Palladium. Jason's latest TV appearence will be on Channel Five's Terry and Gaby Show this Friday at 11am.
| | |
| --- | --- |
| Another Logie For Delta? | January 13 2004 |

Voting opens today for this year's TV Week Logie Awards and already Delta Goodrem (Nina Tucker) is being hotly tipped to win the prestigious Gold Logie award for Most Popular Personality.
Kylie Minogue (Charlene Robinson) won the award herself in 1988, but if Delta were to win this year, she would also take the record for youngest ever recipient, being five months younger than Kylie was when she took the statue home.
Australian viewers can vote for Delta and their other favourite Australian personalities by purchasing a copy of TV Week.
Source: Herald Sun
| | |
| --- | --- |
| New Closing Credit Sequence | January 13 2004 |
It has been confirmed by a Neighbours spokesperson for some weeks now that the launch of Neighbours' 2004 season on January 19th in Australia will herald a new style of closing credits sequence. Whether or not the style or content of the opening titles design, first launched last year to a positive reception, will be altered remains unclear. It has been suggested that the new closing format may be to aid the BBC and Network Ten's screenings of End Credit Promotions.
| | |
| --- | --- |
| We'd Like To Thank Our Manager... | January 07 2004 |
Here at PerfectBlend.net, we were thrilled to learn recently that we'd won the award for 'Best Site About A Particular Programme' at the 2003 TellyWeb Awards. Since this award is voted for by the public, we'd like to thank everyone who voted for us.
A full list of this year's winners can be viewed at http://www.uktvsites.org.uk/
| | |
| --- | --- |
| New Role for Craig | January 07 2004 |

Craig McLachlan (Henry Ramsay) has joined the cast of Aussie outback drama McLeod's Daughters, which is about to screen its forth season. He will play a character named Kane Morgan when the show returns in February on Australian's Network Nine. Viewers in the UK and Ireland will also be able to see Craig in his new role when the new series broadcasts on satellite and cable channel, Hallmark in May.

| | |
| --- | --- |
| Congratulations... | January 07 2004 |

Congratulations to Natalie Imbruglia (Beth Brennan) who married Silverchair's Daniel Johns at Thala Beach Resort, QLD on New Year's Eve. Also congratulations to Madeleine West (Dione Bliss) who came second in FHM.com's Sexiest Soap Star of 2003, to Jodi Albert of UK's Hollyoaks.
Also at Natalie's wedding was Kylie Minogue (Charlene Mitchell) who caught the bouquet, and more remarkably, took Olivier Martinez on a trip to Pin Oak Court while she was at home in Melbourne for Christmas to show him where she used to film Neighbours!
| | |
| --- | --- |
| Darren Stark returns to Ramsay Street | January 05 2004 |

Australia's Sunday Herald confirms rumours that Todd MacDonald will be returning to Neighbours as Darren Stark later this year. Also, Marisa Warrington will return to the show full time as Sindi Watts.
To view our archive of past news stories click here