.
News Headlines Edited by Aaron and Karl
| | |
| --- | --- |
| Neighbours Needs You! | February 28 2003 |
The 2003 annual TV Week Logie Awards will be held at Melbourne's Crown Entertainment Complex on May 11 and will be broadcast the same night on Australia's Nine Network. Voting for your favourite programme Neighbours is easy - simply pick up a copy of TV Week from newsagents across Australia and use your unique voting code located on page 2 of the magazine. Here is a list of opportunities to support the show. This year, it is nominated in the following categories: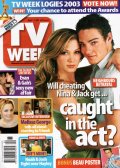 Silver Logie: Most Popular Australian Programme
Neighbours
Silver Logie: Most Popular Actor
Blair McDonough (Stuart), Dan Paris (Drew)
Silver Logie: Most Popular Actress
Delta Goodrem (Nina), Holly Valance (Flick), Kym Valentine (Libby)
Most Popular New Male Talent
Jay Bunyan (Jack), Patrick Harvey (Connor), Jaime Robbie Reyne (Taj)
Most Popular New Female Talent
Michelle Ang (Lori), Delta Goodrem (Nina)
| | |
| --- | --- |
| Romance and Heartbreak | February 28 2003 |
It seems like just a few weeks ago that we watched the apparently shy, innocent Nina finally get together with her secret admirer from school, Taj. And although the couple appeared to be getting along well, Nina is about to break more than one heart! Meanwhile, Steph has found a fun romance with Lou's Place bartender, Alex, but we all know Max will be constantly on her mind. Highlight the blank spaces below to find out what happens in the coming weeks on Australian screens:
Nina, Taj, Jack and Lori
Nina and Jack both have lead roles in the community play, but that's not where their relationship ends - they have also discovered that they have very strong feelings for one another. Taj and Lori assume the reason they are acting strangely is because they are feeling the strain of the play and to ease this, they organise a double date. Immediately after the date, Nina and Jack are left alone for more rehearsals and share a kiss. Unfortunately, Lori walks in just as their lips begin to lock...
Max and Stephanie
Steph, fed up with the disastrous relationships in her life, decides to ask the next man she meets on a date. This man is Alex Argenzio, a bartender at Lou's Place pub. They seem to have a lot in common and have a lot of fun with each other, but an awkward situation ensues when Max accidentally walks in on them alone at the pub. Steph must admit to herself that she is only using Alex to take her mind off Max.
Source: TV Week
| | |
| --- | --- |
| Two Pints for Jonathon | February 27 2003 |

Jonathon Dutton (Tad Reeves) returns to UK screens this month in the third series of the BBC sitcom Two Pints of Lager and a Packet of Crisps. He joins the regular cast as a new character, David. The show airs on Sundays at 9.00pm on the new digital channel BBC Three, with repeats throughout the week. The series will be screened on BBC Two later in the year. More information can be found on the show's official website, by clicking here.
| | |
| --- | --- |
| Valentine's Day Massacre... Sorta | February 27 2003 |
On February 14th, for the first time in the show's history, Channel Ten broadcast the wrong episode of Neighbours. Instead of the scheduled episode, 4175, episode 4176 aired instead. To avoid further confusion for viewers, the network opted not to broadcast the lost installment. This decision does not alter the upcoming BBC screening, which will be the first time an episode of the show has premiered in a foreign territory.
| | |
| --- | --- |
| Madeleine West to Leave | February 22 2003 |
Madeleine West is to leave her role of Dee Bliss after nearly three-and-a-half years on the street. Dee's send-off will be recorded in April, for broadcast later in the year, and will apparently see the character killed off in spectacular fashion.
| | |
| --- | --- |
| Tough Times for Lyn | February 22 2003 |
As was first revealed on our Message Board, an upcoming storyline adds to a very trying year for Lyn Scully (Janet Andrewartha). Hot on the heels of her recent pregnancy comes a devastating new development for the character. Highlight the blank space below to find out what's in store:
Following the death of Lyn's mother, Connie, Aunt Valda returns with the shock revelation that she is really Lyn's mother. But will her daughter be glad to see her?
| | |
| --- | --- |
| Jesse Strikes a Pose | February 22 2003 |

Jesse Spencer (Billy Kennedy) is featured on the cover of the February issue of Australia's Inside Film magazine. The actor is profiled, along with an interview of life after Neighbours, discussing his new feature film, Swimming Upstream, which also stars Geoffrey Rush.
Elsewhere in the same issue, Jason Donovan (Scott Robinson) talks about his own return to the big screen in the upcoming Australian films Horseplay and Ned.
The magazine is available now in newsagents across Australia.
| | |
| --- | --- |
| UK Gold Screenings Reduced | February 22 2003 |

UK Gold, the UK satelite and cable station, are to cut back their vintage Neighbours broadcasts to just one screening per day from April 7th, losing the current repeat screenings paced throughout each weekday. Episodes will air only at 7.55am. The move casts further doubt over the show's future on the channel, as it prepares to reduce the number of imported programmes in its schedules.
| | |
| --- | --- |
| BBC Website is Launched | February 20 2003 |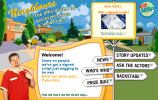 Following the effective closure of Neighbours.com, BBCi will now be providing the primary official website for Neighbours. The new site is run by the BBCi Pure Soap team and can be found at www.bbc.co.uk/neighbours. It promises up-to-date information on all aspects of the show, including regular webchats, competitions and events. The new project will be promoted extensively in specially-shot split-screen trailers featuring the show's cast, which will air at the end of UK broadcasts.
| | |
| --- | --- |
| Neighbours CD Update | February 18 2003 |
The much antipicated Neighbours music album, Neighbours: The Music, is now due for release on April 7 in Australia, featuring two discs of music from the show. It can be pre-ordered via HMV.com.au, with worldwide shipping offered. Here's a track listing:
1. Neighbours Theme
2. Lie
3. Way Love's Supposed to Be (album version)
4. One Good Reason
5. Stop Calling Me (album version)
6. Flowers
7. Three Dimensions
8. What Now My Friend
9. He Don't Love You (album version)
10. Won't You Be
11. Takin' Back What's Mine (album version)
12. 4 Your Love
13. Afterwords (You're So Right)
14. Miracle
15. Hard
16. Sea of Love
17. Locomotion (video version)
18. Especially for You (video version)
19. Mona (video version)
20. Don't it Make You Feel Good (video version)
21. He Don't Love You (video version, with Holly Valance)
| | |
| --- | --- |
| Into 2003 | January 14 2003 |
With the 2002 series finale soon to be shown on UK screens and the 2003 season beginning next week in Australia, Neighbours fans around the world are looking forward to a fresh start in the New Year. A shock for the Scully family, romance for Steph, possible heartbreak for Toadie and Dee, and more tragedy on the horizon... just some of the storylines set to make Neighbours' 19th year start with a bang. Highlight the blank spaces below with your mouse to read the spoilers:
Joe and Lyn
On the day before Karl and Susan's second wedding, Joe finds a positive pregnancy test in the rubbish bin. Furious that his youngest daughter Michelle is pregnant, he confronts her on the day of the wedding - only to find that the pregnancy test actually belongs to Lyn! In a well-deserved plot for actress Janet Andrewartha, who plays Lyn, Joe goes into shock and begins distancing himself from his wife. Lyn is horrified and demands to know if he wants the baby or not.
Max and Stephanie
Meanwhile, also at Karl and Susan's wedding, Stephanie and Max finally admit to each other that their friends and family are trying to make them an item. Giving in to his daughter Summer's numerous suggestions, Max asks Stephanie on a date. He attempts to be sophisticated, but the fancy restaurant does not suit either him or Stephanie, and the date is a disaster. Viewers will have to wait and see whether this pair become inseparable, of it it's just another one of Stephanie's disasters in love.
Karl and Susan...
In the first episode of the season, Karl and Susan sneak back to Number 28 after the wedding, only to receive a call from Sarah, the woman Karl had an affair with years ago. Although Susan's memory seems to have returned, they will have to deal with this new problem.
Toadie, Dee and Darcy...
Late in the 2002 season, Darcy proves to be Dee's saviour when he overhears the evil Dr Cook making a pass at Dee. As regular viewers will remember, Darcy was once romantically involved with Dee, but it turned sour when he had an affair with Dee's best friend Tess. These days, Dee has moved on, but Darcy admits to Susan in the season finale that he still has strong feelings for Dee. The trouble is, Dee is now very much in love with her housemate Toadie, but it appears Darcy is going back to his unscrupulous ways when he vows to get his ex-girlfriend back!
And More...
Further into the year, in scenes that will keep viewers on the edges of their seats, we'll see one of the characters involved in gambling addiction and another breaking the law. Boyd's school friend will become a victim of domestic violence. Harold will come to Lou's rescue by saving him from his life-threatening illness, whilst at the same time easing the rift that has separated the two friends over recent months. There will be a love triangle between three of the younger cast, and one of them will be a victim of a horrible accident. The Scullys' exuberant Aunt Valda makes a return, and two of Ramsay Street's residents will eventually be getting married!
BBC One, Weekdays, 1.45pm and 5.35pm
Network Ten, Weekdays, 6.30pm
Source: TV Week; ten.com.au. Special thanks to Sarah