.
News Headlines

| | |
| --- | --- |
| Holly's New Deal | February 26 2004 |

The Sun reports that ex-Neighbours star turned singer turned media personality, Holly Valance (Felicity Scully) is to lead Schwarzkopf's advertising campaign. The hair giant's Live range will be endorsed by the Australian lads' favourite for a reported six figure sum.
| | |
| --- | --- |
| Delta's Success | February 20 2004 |

Delta Goodrem (Nina Tucker) has scored herself the lead role in upcoming movie, Hating Alison Ashley, based on the novel of the same name. The film, about life as a teenager, will go into production later this year in Melbourne.
Meanwhile, Delta's music career continues to break records, as her album recently went over the one million sales mark.
| | |
| --- | --- |
| Kym Valentine Webchat | February 18 2004 |

There's just time to get your questions in for a BBCi live chat with Kym Valentine (Libby Kennedy). It'll be taking place at 2.10pm tomorrow, after the afternoon screening of Neighbours and you can leave a question by visiting http://www.bbc.co.uk/neighbours/askactors/chat.shtml!
| | |
| --- | --- |
| Jamie Clarke Is Back! | February 17 2004 |
Today's episode sees the return of a character not seen in Ramsay Street in over 13 years. Jamie Clarke, son of original number 28 residents Des and Daphne, is back in Erinsborough. As a baby, Jamie was played by four different children, but now Angus McClaren takes over the role. Although Jamie's story only sees him hanging around for a couple of weeks, it's rumoured that he may be back in town later this year.
| | |
| --- | --- |
| Jan Russ Website Launches | February 17 2004 |
Today sees the launch of The Official Jan Russ Website at http://www.janruss.com. Jan has been casting director on Neighbours since the very beginning and the most loved and cherished actors to have hit our screens since 1985 are down to her eye for talent. The site includes contributions from people who have worked with Jan, exclusive photos and new material to be added soon.
| | |
| --- | --- |
| BBC Taking Care Season | February 17 2004 |
The BBC's Taking Care season, highlighting the issues surrounding children in care homes, launches this week. Storylines revolving around this will be featured this week in EastEnders, Doctors and Casualty. Meanwhile, Neighbours will also get in on the act with the return of Jamie Clarke, whose circumstances have changed a great deal since we last saw him back in 1990.
For more information on the Taking Care season of programmes, visit http://www.bbc.co.uk/parenting/takingcare
| | |
| --- | --- |
| Neighbours in Print | February 06 2004 |

This month's copy of the UK's All About Soap magazine reveals that Natalie Bassingthwaighte (Izzy Hoyland) has landed a minor role in an upcoming mini-series about the life of 1950s Hollywood actress Natalie Wood, who mysteriously drowned in 1981.
The magazine also reveals that Todd MacDonald (Darren Stark) has signed a long-term contract with the show and that Madeleine West (Dee Bliss) has recently returned from some time spent songwriting in the USA and is now filming a movie entitled You and Your Stupid Mate! with another ex-neighbour, Nathan Phillips (Teabag Teasdale).
The same issue contains features and interviews with Ryan Moloney (Toadfish Rebecchi), Blair McDonough (Stuart Parker), Lara Sacher (Serena Bishop) and Natalie Bassingthwaighte.
| | |
| --- | --- |
| More Defining Moments | February 01 2004 |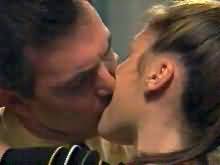 Over a year after the release of Neighbours: Defining Moments, a DVD and video release containing some of the best births, deaths and marriages from Neighbours, there is no sign of a sequel. Having contacted Rajon, who made the first DVD, we have learnt that there are currently no plans for a second release, but we feel that there would be a market for it. So, we have decided to begin a campaign to get Neighbours: More Defining Moments released.
The first step in our campaign is to find out which episodes the fans would like to see on this DVD, so that we can offer some idea to those making it. Therefore, during the month of February, we would appreciate it if all of you readers could email us a list of the episodes - be they weddings, births, deaths, arrivals, departures or any other milestones - that you would like to see included. You can do this by emailing us at: dvd@perfectblend.net
The campaign will then continue at the beginning of March when the 30 most popular episodes will be cut down to 15 in another vote. This will form our 'ideal' episode line-up and we will then begin the campaign in earnest.
To view our archive of past news stories click here