.
News Headlines
| | |
| --- | --- |
| Perfect Blend is Six! | Feb 27 2009 |
Today marks the sixth birthday of Perfect Blend. We're marking the occasion with our Six Years Later feature, looking at how Neighbours has changed since the website launched. We've also set ourselves the challenge of trying to catalogue the various, and frequently changing, birthdays and ages given for each of the characters on our Character Birth Dates & Ages page. And there's plenty more to look forward to in the coming weeks, with new interviews, reference pages and galleries coming up.
Thanks to everyone who's read Perfect Blend, and contributed to it, over the past six years, and we hope to continue bringing you all the Neighbours news for a long time to come!
| | |
| --- | --- |
| Soap Bubble Awards | Feb 26 2009 |
The UK's All About Soap magazine has revealed the nominees for their Soap Bubble Awards 2009. Neighbours has received just one nomination, and oddly it's for nice guy Lucas Fitzgerald (Scott Major) in the Bad Boy category. To vote, pick up the latest issue of the magazine, or visit allaboutsoap.co.uk.
Five has announced that Ladbrokesbingo.com will become the new sponsor of Neighbours, taking over from WeightWatchers, who have been the show's sponsor since it changed channels a year ago. It is believed that Five secured between £1million and £2 million for the deal, which will begin on Monday 2nd March and continue until the end of the year.
Below is the first photo of the four newcomers set to hit Australian screens in the next few months. On the right is Hany Lee, playing Sunny Lee, she'll make her first appearance in episode 5663 on Wednesday 8th April. The other three, from left to right, are Will Moore (Harry Ramsay), Ashleigh Brewer (Kate Ramsay) and Kaiya Jones (Sophie Ramsay). The Ramsay siblings will first appear in episode 5690 on Friday 15th May.
Please provide a link to this page when sourcing this news on other websites.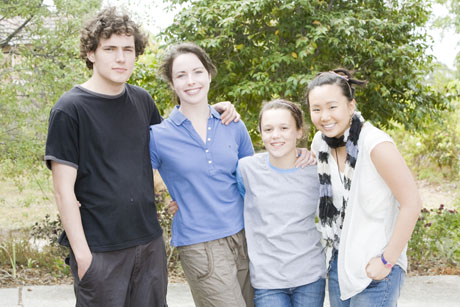 ..
| | |
| --- | --- |
| New Guest Characters | Feb 17 2009 |
Two new guest characters have been announced. First is Clint Bizzell, who will be playing Adam Clarke, a professional football player who leads Ringo astray as he begins his AFL career. Clint, a retired AFL player himself, will be filming with Neighbours for five weeks. And TV Week reports that Peter Bensley is returning to Ramsay Street. Peter, well-known for his roles in The Young Doctors and Water Rats previously appeared as Tony Chapman back in 1986, and he'll be appearing in two episodes in 2009 as Professor Dean Naughton, the man Miranda almost chose over Steve back when she was at university.
| | |
| --- | --- |
| Neighbours Bushfire Appeal Fundraiser | Feb 12 2009 |
Neighbours stars are rallying to the cause in support of Victoria's bushfire victims. The regular Neighbours Night, held on Monday's, will be turned into a gala event, with all proceeds donated to the Red Cross Bushfire Appeal.
It will feature the largest gathering of Neighbours actors seen together for a public event (apart from the Logies), fantastic entertainment and an auction, giving fans the chance to score rare Neighbours memorabilia and holidays.
The Elephant and Wheelbarrow hotel in St Kilda is the home of the Official Neighbours Trivia Night. For more than ten years, Neighbours fans from around the world have enjoyed mingling with the show's stars on a weekly basis.
On Monday, February 16th, the Neighbours Night will be dedicated solely to raising funds for the Red Cross bushfire Appeal. Bunyip Tours, Backpacker King, the Elephant and Wheelbarrow, Fremantle Media and Neighbours cast members past and present, will join forces to make this unique evening possible. Like so many Australians, the actors are keen to do whatever they can to help bushfire victims and are promising fans they'll be giving the performance of their lives to ensure an unforgettable evening.
Providing the musical entertainment will be Sam Clark (Ringo) and The Keepers, resident Neighbours Night band Waiting Room, fronted by Alan Fletcher (Karl), and Patrick Harvey (Connor) and band. There'll also be guest appearances from other musically talented Neighbours stars.
Margot Robbie (Donna), Brett Tucker (Daniel), Steve Bastoni (Steve), Scott Major (Lucas), Stephanie McIntosh (Sky), Pippa Black (Elle), Benji McNair (Mal), Stephen Lovatt (Max), Blair McDonough (Stuart) and Nell Feeney (Janelle) are among the big names to pledge their support, with more to be announced.
The charity auction will include items such as a Greyhound Bus tour pass around Australia valued at $2,500, a VIP Accomodation pass valued at $1,000 and unique Neighbours memorabilia.
All money raised on the night will be donated to the Red Cross Bushfire Appeal along with a generous cash donation from the Elephant and Wheelbarrow.
| | |
| --- | --- |
| Parker Mass Exodus | Feb 11 2009 |
It seems that stories of Steve Bastoni's exit are true, and Steve won't be the only Parker heading out of town. Nikki Coghill (Miranda) and Eloise Mignon (Bridget) will also be filming their final scenes. The Herald Sun reports that the decision to write out the Parkers came about when Eloise quit her role as Didge to return to her university studies. All three will film their final scenes in April, and last appear on Australian screens in July. It's not known what this will mean for the future of the other two residents of 26 Ramsay Street, Fletcher O'Leary (Mickey) and Tom Oliver (Lou).
| | |
| --- | --- |
| Steve To Leave? | Feb 10 2009 |
TV Week is also reporting that Steve Bastoni has quit his role as vet Steve Parker after two years in the role. No further information on this, or the future of the remaining Parkers, is available at present, but we'll let you know just as soon as we know anything.
| | |
| --- | --- |
| More Ramsay News | Feb 10 2009 |
TV Week has provided more details of the upcoming Ramsay plot, and it seems that the three newcomers will have strong ties to Ramsay Street, beyond just their surname. Kate, Harry and Sophie will be children of Jill Ramsay, set to be played by Perri Cummings, who is the product of an affair many years ago between original character Max Ramsay, and Anne Daniels, the mother of Paul Robinson, who had died almost a decade before Neighbours began. And if rumours of Jill's death in a car crash are true, it looks like Paul could have a new set of nieces and a nephew to look after!
| | |
| --- | --- |
| We Heart Harold! | Feb 10 2009 |
We need Neighbours fans! After over 20 years on Ramsay Street as the lovable Harold Bishop, Channel Ten in Australia are teary over the departure of a favourite Australian Neighbour. To herald the end of Harold - we want Ian Smith to win the GOLD LOGIE at this year's Australian TV Week Logie awards. We think his dedication to Aussie icon Neighbours, over two decades, is more than worthy of recognition. We're calling on Neighbours fans everywhere to join our Facebook page (click through and search 'WE HEART HAROLD!') for details on how you can get involved!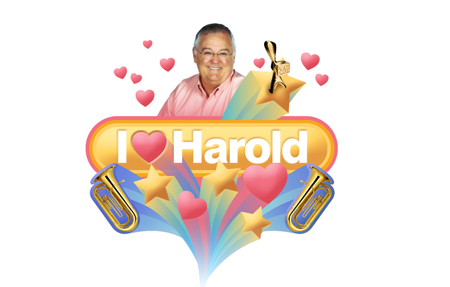 ..
| | |
| --- | --- |
| Ramsay Siblings Cast | Feb 05 2009 |

We can exclusively reveal the names of the characters and actors who will make up the new generation of Ramsays on Ramsay Street. Ashleigh Brewer, who has previously appeared in H20 Just Add Water and The Sleepover Club has been cast as eldest sibling, 18-year-old Kate Ramsay, Will Moore will play 16-year-old Harry Ramsay, while Kaiya Jones (pictured), who previously appeared in The Saddle Club will play 12-year-old Sophie Ramsay.
No details of contracts or plots are currently available, but we can expect the Ramsays to hit Australian screens in June.
| | |
| --- | --- |
| 2009 Logies Voting | Feb 04 2009 |

Voting for this year's 51st TV Week Logie Awards is now open. Hopes for Neighbours this year include Dean Geyer and Margot Robbie as Most Popular Newcomers and Ian Smith for the coveted Gold Logie. Click here to cast your votes.
From these initial votes, shortlists will be produced and announced in the coming weeks, when a second round of voting will begin. The ceremony will take place in May.
To view our archive of past news stories click here