.
News Headlines
| | |
| --- | --- |
| Tumble At Teatime For Neighbours | Mar. 31 2006 |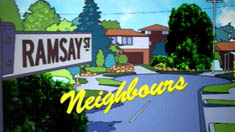 The much publicised return of Paul O'Grady took a huge chunk of the teatime Neighbours audience on Monday. Media Guardian reports that The New Paul O'Grady Show on Channel 4 received 3.4 million viewers, while Neighbours on BBC One was seen by only 2.7 million. This marks the first time the chat show has beaten Neighbours in the slot.
| | |
| --- | --- |
| Easter Break | Mar. 31 2006 |

BBC One and RTE will take their annual break from Neighbours for Easter in two weeks time. The show will not broadcast on either Good Friday, 14th April or Easter Monday, 17th April 2006.
| | |
| --- | --- |
| Carla Stays Put | Mar. 30 2006 |

Despite recent rumours to the contrary, a show insider has assured us that Carla Bonner (Stephanie Hoyland) isn't going anywhere. Reports had her filming her final scenes in July, but we have been told that "Carla is not leaving. We value her very, very highly here, and know for a fact that she passionately loves her work on Neighbours. We're currently in the middle of planning some very emotional and dramatic storylines for Steph that will flow well into 2007. She's got some some testing times ahead of her - but she wouldn't be Steph if she wasn't fighting her way through a crisis, now would she?"
| | |
| --- | --- |
| Celebrity Shoe Auction | Mar. 29 2006 |

The charity MAG (Mines Advisory Group) are currently raising funds for their important research through a 'Give Landmines The Boot' campaign. This involves online shoe auctions by celebrities across the globe and one of those celebrities is former Neighbours actress, Maggie Millar (Rosie Hoyland). She's auctioning a pair of sandals worn in character as Rosie - you can place a bid here.
| | |
| --- | --- |
| Neighbours Comes Of Age | Mar. 18 2006 |

Today sees Neighbours turn 21! After debuting on the Seven Network on March 18th, 1985, the show was axed before its first birthday, before moving to TEN in 1986. The rest, as they say, is history. To get an idea of how Neighbours has matured during its impressive run, take a look at our celebratory article, All Grown Up.
| | |
| --- | --- |
| Krista's Oscars Experience | Mar. 18 2006 |

The Herald Sun reports that Krista Vendy (Teresa Bell) found herself getting a surprise invitation to this years Oscar ceremony. After working with former Oscar winner William Hurt on the telemovie Dreamscapes and Nightmares last year, he jokingly invited her, before calling her and asking her again a few weeks before this year's awards. Krista, who left Neighbours in 2001, walked up the red carpet and is now staying in Los Angeles in the hope of getting her big break into American television.
To view our archive of past news stories click here