.
News Headlines
| | |
| --- | --- |
| The Soap Show Interviews Kym Valentine | Mar 31 2009 |

The Soap Show will be conducting a special audio interview with Kym Valentine (Libby Kennedy) as she arrives on British shores. The interview will be taking place next Monday, 6th April, and the show is inviting fans to send in their questions. If you have a burning question you'd like to put to Kym, you can email neighbours@thesoapshow.com, including your name and location, by Friday 3rd April.
| | |
| --- | --- |
| More March Actor Updates | Mar 31 2009 |

Daniel MacPherson (Joel Samuels) is reportedly quitting Australia to try his luck in Hollywood. The Sunday Herald Sun reports that he plans to move to Los Angeles in September, when his contract with Channel 7 expires, though he hopes to continue his presenting role with Dancing With The Stars. Daniel is currently in preparations for an Ironman contest due to take place in Haikou, China, next month.
Delta Goodrem (Nina Tucker) reportedly pulled out, at the last minute, from singing the Australian national anthem at last weekend's Melbourne Grand Prix. The Herald Sun reports that Goodrem pulled out due to ill health, and was, according to her manager, distraught, as it was the first time she'd had to pull out of a gig, though she later caused controversy by apparently leaving her sick bed to go out partying that evening. Goodrem recently announced that she and fiance Brian McFadden are planning a Christmas wedding in Australia later this year.

The Sunday Telegraph reports that Shane Connor (Joe Scully) has struggled to move on from the court case, which saw him sue Neighbours for unfair dismissal back in 2005. He admits that he was forced into the court case, which saw details of his problems with an amphetamine addiction become public knowledge, but wanted to show his children that they needed to stand up for themselves, by setting an example. Shane's next TV role will be in the ABC's Dirt Game, a six-part drama about the mining industry.
Along with her Gold Logie nomination, Natalie Bassingthwaighte (Izzy Hoyland) is also preparing for the release of feature film Prey, as well as publicising her number 1 album, 1000 Stars and hosting So You Think You Can Dance? Australia, and has admitted that she may go overseas later this year to avoid further overexposure in her home country. According to the Sunday Telegraph, Bassingthwaighte is planning a move to either America or Europe, admitting "I am sick of seeing my face everywhere."
| | |
| --- | --- |
| Ian Smith Shortlisted | Mar 31 2009 |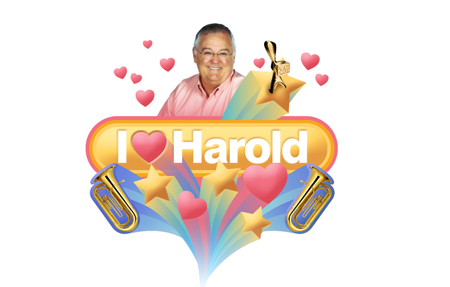 The recent 'I Heart Harold!' campaign, designed to push Ian Smith forward as a candidate for the 2009 Gold Logie has been successful. Smith has become one of the eight shortlisted stars, along with another former Neighbour, Natalie Bassingthwaighte, who played Izzy Hoyland between 2003 and 2007, and currently hosts So You Think You Can Dance? Australia. Voting for the Gold Logie is open until Sunday 3rd May, the day of the awards ceremony, and more information on how to vote can be found here.
Also shortlisted for awards this year as Margot Robbie (Donna Freedman) and Dean Geyer (Ty Harper) in the Most Popular New Talent categories, Ian Smith is also up for the Silver Logie for Most Popular Actor, while Neighbours itself is shortlisted for Most Popular Australian Drama.
| | |
| --- | --- |
| No Easter Break | Mar 31 2009 |
Neighbours will not be taking a break from UK screens this Easter. New episodes will be aired on both Good Friday and Easter Monday, though times are still to be confirmed by Five.
| | |
| --- | --- |
| James Is An Eligible Bachelor | Mar 31 2009 |
James Sorensen (Declan Napier) has been named one of Australian magazine, Cleo's 50 Most Eligible Bachelors for 2009, following in the footsteps of 2008 nominees, David Hoflin (Oliver Barnes) & Dean Geyer (Ty Harper). The judging panel included former Neighbours star, Erin McNaught (Sienna Cammeniti), but the decision as to who is named the Most Eligible Bachelor is open to the public. To see James' profile and vote for him, click here. Also nominated is one time Neighbours guest-star, Angus McClaren (Jamie Clarke). Voting is open until Sunday April 5th and the winner will be announced at an exclusive awards event on April 22nd.
| | |
| --- | --- |
| Neighbours Soap Awards | Mar 22 2009 |
Since Neighbours isn't eligable to be nominated in the British Soap Awards, we thought we'd run our own, using the same categories and concentrating on the 2008 season. The categories are as follows:
Sexiest Male
Sexiest Female
Villain Of The Year
Best Comedy Performance
Best Newcomer
Best On-screen Partnership
Spectacular Scene Of The Year
Best Single Episode
Best Exit
Soap Bitch Of The Year
Best Dramatic Performance
Best Dramatic Performance From A Young Actor Or Actress
Best Storyline
Best Actor
Best Actress
Lifetime Achievement Award (as previous winners, Tom Oliver, Jackie Woodburne and Ian Smith are not eligible)

Voting is now closed. The results will be available soon.
| | |
| --- | --- |
| Happy Birthday Neighbours! | Mar 18 2009 |
It's hard to believe, but today marks 24 years since the first episode of Neighbours aired in Australia. In those 24 years, our favourite Aussie soap has survived hundreds of cast changes, more than a few revamps and channel changes both in the UK and Australia, but it's always come back fighting, and in just twelve more months will celebrate a quarter of a century on Australian television!
Happy Birthday Neighbours!
| | |
| --- | --- |
| TEN HD Closes | Mar 18 2009 |
Though the show will continue to be filmed in High Definition, Neighbours will no longer be broadcast in the format in Australia with the closure of Channel Ten's digital service, TEN HD. From Thursday March 26th, TEN HD will be replaced with ONE HD, a channel concentrating on sports broadcasts.
| | |
| --- | --- |
| Dave Batista To Cameo | Mar 11 2009 |
Wrestler Dave Batista of World Wrestling Entertainment has this week filmed a Neighbours cameo whilst in Australia to promote July's WWE tour. Dave will appear in scenes with wrestling fans Toadie (Ryan Moloney) and Callum (Morgan Baker) in an episode set to go to air in June in Australia.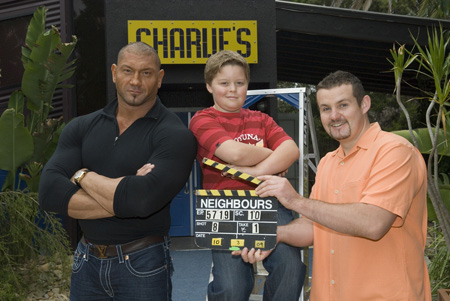 ..
Meanwhile, Chris Martin of Coldplay was recently forced to turn down the chance to make a Neighbours cameo when dates couldn't be agreed on. Chris, a huge Neighbours fan, was given a choice of three dates by producers but was unable to fit it into his Australian schedule.
| | |
| --- | --- |
| Greatest Couples Vote | Mar 11 2009 |
If you haven't voted yet, there are still a few more days left to have your say in our Neighbours' Greatest Couples poll. It closes at midnight, this Saturday, the 14th March.
Thanks to everyone who's voted so far. The results will be revealed in early April.
| | |
| --- | --- |
| Neighbours' Bushfire Fundraiser A Success | Mar 11 2009 |
The special Neighbours Night held on 16th February to raise money for the Victorian bushfire tragedy has been a huge success. The event was attended by over twenty cast members past and present, and $31,105.50 (£14,059.35) went to the Red Cross Victorian Bushfire Appeal Fund as a result.
Sam Clarke (Ringo Brown), Stefan Dennis (Paul Robinson), Blair McDonough (Stuart Parker), Ben Nicholas (Stingray Timmins), Steve Bastoni (Steve Parker), Patrick Harvey (Connor O'Neill) and Alan Fletcher (Karl Kennedy) all sang at the fundraiser held in St Kilda's Elephant & Wheelbarrow pub.
The fires are the worst natural disaster in Australian history. They have claimed 210 lives and left an estimated 7,500 people homeless.
| | |
| --- | --- |
| Harold's Famous Fans | Mar 11 2009 |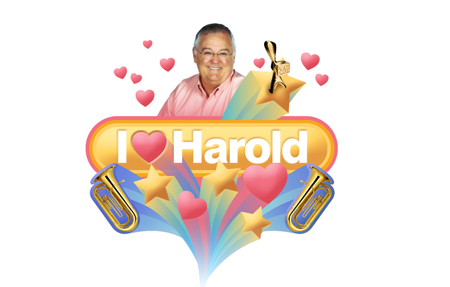 The I Heart Harold gold Logie campaign to reward Ian Smith for his work has gained huge momentum over the last month. The facebook group now has hundreds of fans willing Ian on, and more column inches have been made with the help of various familiar faces lending their support. Welsh singing legend Tom Jones gave this message "Harold, good luck in the future from me, Tom Jones - we're gonna miss you.", while '80s popstar Rick Astley, Australian Idol judge Dicko, punk rock band The Living End and children's entertainers The Wiggles have also given their patronage.
Voting has now closed and the final list of nominees will be announced on 30th March. The polls will then open again and the winners will be announced at the 51st TV Week Logie Awards ceremony on Sunday the 3rd May 2009.
| | |
| --- | --- |
| Filming Day Gone With The Wind | Mar 11 2009 |
Neighbours producers were given an unusual headache last week when outside filming was scuppered by blustery weather. Rather than shuffling scenes and moving the shoot to the studios, the entire day's recording was scrapped. This left cast and crew with an unscheduled day off; though due to the soap's heavy workload, they may need to make up the time later.
| | |
| --- | --- |
| March Actor Updates | Mar 11 2009 |
Alan Dale (Jim Robinson) has recently spoken out about his departure from Neighbours back in 1993. The New Zealand born actor revealed in a frank interview with the Daily Mirror that he was fired from the soap by a producer who also fired him from The Young Doctors back in the early '80s. Dale described the producer as a "complete a***hole" and said he had "a big smile on his smug face" while doing the sacking. While reflecting on the rejuvenation of his career in Hollywood, the actor remarked; "so who's laughing now?"

Another 1980s legend, Annie Jones, who played Jane Harris, has also been discussing her post Neighbours life by making public the bittersweet story of her mother's fight with Alzheimer's. While her co-stars Kylie Minogue (Charlene Robinson), Jason Donovan (Scott Robinson) and Guy Pearce (Mike Young) all went on to international fame and fortune, Jones put her career aside for the sake of her family and said she'd do the same again. To read the full story on the Herald Sun website, click here.
Nicky Whelan (Pepper Steiger) seems to be making in-roads in California. Having filmed a starring role in the soon-to-be released comedy movie Hollywood & Wine, alongside her then boyfriend David Spade, Whelan has now been short-listed for a part on the hit series Entourage.

Another former Neighbours blonde, Peter O'Brien (Shane Ramsay) has also been having a busy year. Having featured in Melbourne set Underbelly, he's also been in period piece Rogue Nation on Australia's ABC channel and will be filming a new Foxtel project called 30 Seconds in April. Currently he's working on yet another of his many British TV appearances in a role that will gain him notoriety around the world. O'Brien is set to play the villain in a Mars set episode of the BBC's hugely popular Doctor Who. It'll draw particular attention as it'll be David Tennant's last appearance; could Peter end up "killing" the Doctor? Who knows... we'll have to wait and see.
Jonathan Dutton (Tad Reeves) has moved from one side of the camera to the other. He's won a government sponsored attachment to train as director on his old soap Neighbours.
Coldplay frontman Chris Martin recently celebrated his 32nd birthday with a party that would make any Neighbours fan green with envy. As a big fan of the soap, Martin invited a select number of long term cast members to his Melbourne gig and after-show party. Jackie Woodburne, Alan Fletcher, Ryan Moloney, Kym Valentine, Stefan Dennis and Carla Bonner were all in attendance at the musician's Aussie style barbecue. Alan Fletcher later commented in his myspace blog: "Fremantle Media and the cast members gave Chris some birthday presents including Neighbour's memorabilia and he and the band gave us a night to remember."
Benjamin Hart (Adam Rhodes) has said he'll be settling "semi-permanently" in Australia as his daughter Isabella and her mother both want to be there. Hart enthused "there is nowhere else I would want to raise my daughter". Friend Dannii Minogue's role as godmother - or "fairy disco mother" as she refers to herself - also played a part in the family's decision, and Hart has work lined up modelling at the Melbourne Fashion Festival.
To view our archive of past news stories click here