.
News Headlines Edited by Aaron, Jamie and Karl
| | |
| --- | --- |
| UK Gold News | April 30 2003 |

Following recent speculation on the future of Neighbours repeats on UK Gold, the channel has assured fans that the show will continue to have a place in their schedules. Speaking on behalf of UK Gold, Alison Cowlishaw comments: "Neighbours has seen higher ratings since the loss of the afternoon slots. We have no plans to axe the show on UK Gold but similarly have no plans to show it at a late night slot on UK Gold 2."
| | |
| --- | --- |
| New Arrival for the Hoylands | April 29 2003 |
The extended Hoyland family is to receive a new member later this year, when Izzy Hoyland joins Neighbours, played by experienced stage actress Natalie Bassingthwaighte. The Sunday Herald Sun reports that the new character will be "a blonde vamp... set to cause trouble". Natalie's previous roles include acclaimed turns in the musicals Chicago, Grease and Rent. The same article also suggests that the actress has signed a three year contract, a subject on which her agent has declined to comment.
| | |
| --- | --- |
| Delta at the Logies | April 29 2003 |
TV Week magazine have confirmed that Delta Goodrem (Nina Tucker) is to sing at May 11th's Logie Television Awards. Delta is currently hotly tipped to win her nominated award for Most Popular New Female Talent.
| | |
| --- | --- |
| May Day Breaks | April 29 2003 |
The May Day public holiday on May 5th will see a number of pre-emptions for Neighbours broadcasts; UK Gold, BBC One and Ireland's Network 2 will not air an episode on that day. From Tuesday May 6th, UK Gold's screenings move to the new time of 7.20am.
| | |
| --- | --- |
| Madeleine Takes to the Stage | April 27 2003 |

The Sunday Herald Sun reports that the recently departed Madeleine West (Dee Bliss) is to appear in a new stage production of And the Big Men Fly, a classic play from the pen of sometime Neighbours scribe Alan Hopgood. In her first role since leaving the show, she essays the part of "football widow Lil". The same article also noted Madeleine's desire to branch into film roles. And the Big Men Fly opens on July 1st at St Kilda's National Theatre.
| | |
| --- | --- |
| X-Man in Ramsay Street? | April 26 2003 |
Australian movie star Hugh Jackman, currently riding the crest of the X-Men sequel, had a narrow brush with Ramsay Street earlier in his career. Speaking on April 26th's edition of Parkinson, he revealed that his first television role was to have been a stint on Neighbours. Hugh declined the role, feeling he lacked the confidence and experience at the time. Clearly he made the wrong decision!
| | |
| --- | --- |
| Jesse Goes Uptown | April 26 2003 |
Jesse Spencer (Billy Kennedy) has recently completed work on Uptown Girls, a US feature film starring Brittany Murphy and Heather Locklear. It is currently slated for release in August. Jesse will also be seen as Raphael in BBC One's upcoming production of PD James' Death in Holy Orders, which will be screened later in the year.
| | |
| --- | --- |
| Ratings Sweep Continues | April 22 2003 |
Neighbours' migration to BBC Two due to war coverage has seen the show maintain its recent healthy audiences. Wednesday 9th April's episode, which aired on BBC Two, scooped the number one spot for the channel with 3.6 million, beating Match of the Day Live: Celtic vs Boavista, which pulled in 3.5 million. The Weakest Link scored 3.2 million viewers during the same week.
| | |
| --- | --- |
| Credits Updated | April 21 2003 |
The 2003 credits have seen their first change following the departure of Rosie Hoyland (Maggie Millar). The existing shot of her with Harold and Lou has been replaced with an alternative shot of the pair without her, recorded on the same day.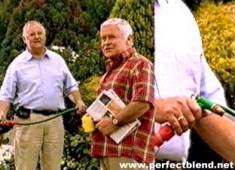 .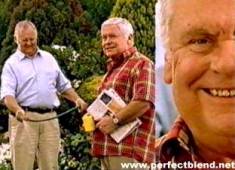 Multimedia: 2003 Opening Credits Version 2 Realvideo 725kb
Screen captures and video encoding by Colin Angelino
| | |
| --- | --- |
| Lost Without Delta | April 20 2003 |
Delta Goodrem's (Nina Tucker) second single Lost Without You is due to be released in the UK on June 2nd. You can now vote to see the video for the song on satellite and cable channel the Box by calling 09067 533 400, and quoting the code "541". Delta's debut album Innocent Eyes is currently scheduled to be released in the UK on June 16th.
| | |
| --- | --- |
| CD on Track | April 20 2003 |
After numerous delays, Neighbours: The Music 2002 seems finally set for release on May 12th. BBCi reports that the Australian release will contain a bonus DVD, and that the cover design features actors Carla Bonner (Stephanie Scully), Patrick Harvey (Connor O'Neill), Kate Keltie (Michelle Scully), Ryan Moloney (Toadfish Rebecchi) and Kym Valentine (Libby Kennedy). The featured actors are expected to make in-store signing appearances to promote the album. A UK release is planned for the latter half of this year.

| | |
| --- | --- |
| Neighbours in Print | April 20 2003 |
• The new edition of Inside Soap magazine features the first full-size publication of the new Neighbours 2003 cast photograph, uniting all the show's current players. Spoiler-sensitive readers beware, however; The issue's story synopses unwittingly reveal a major plot twist previously announced by this site.
• It's Huge magazine is currently running a competition to win a signed Neighbours script from April 2002, to celebrate their first year of publication. The same issue contains a brief interview with Jaime Robbie Reyne (Taj Coppin).
| | |
| --- | --- |
| Jim Robinson for Office? | April 15 2003 |
Alan Dale (Jim Robinson) is to appear in a recurring guest role as the Vice-President of the United States in the hit US drama 24. The former Robinson patriarch has been seen in a number of US-based roles in recent years, including appearances on E.R. and the last Star Trek movie.
| | |
| --- | --- |
| Stefan Bound for River City | April 15 2003 |

Stefan Dennis (Paul Robinson) is to join the cast of the BBC Scotland soap River City, in a bid to boost its ratings. The latest figures show it is watched by an average of 350,000 viewers.
The Times Online reported "Executives at BBC Scotland have said repeatedly they will give the drama at least a year in its primetime slot to find an established audience. Now they hope that a new character who is a familiar face to soap fans will attract viewers." It is not known as yet when Stefan will be seen on screen.
| | |
| --- | --- |
| People News | April 15 2003 |
• Craig McLachlan (Henry Ramsay) has recently completed a new film, The Great Raid, alongside Joseph Fiennes. Unfortunately, the movie's war themes have caused it to be shelved, with no release date in sight.
• Eliza Szonert (Danni Stark) is pregnant with her third child, and is shortly due to make an appearance on Channel Nine's Stingers.
• Rhada Mitchell (Catherine O'Brien) can be seen in Colin Farrell's new movie Phone Booth, which reaches UK cinemas on April 18th. It is currently the number one film across the United States.
• Congratulations to Ryan Moloney (Toadfish Rebecchi) who recently became engaged to his girlfriend Alison Hayward. On a similar note, Sneak magazine reports that Natalie Imbruglia (Beth Brennan) intends to marry boyfriend Daniel Johns in January 2004.
• Jaime Robbie Reyne (Taj Coppin) has recently taken to the recording studios to lay down some self-composed music tracks, apparently in preparation for a future album.
| | |
| --- | --- |
| The Hunt for Baby Scully | April 14 2003 |

As recording approaches for the arrival of the newest member of the Scully clan, the Neighbours production office have issued an open invitation to Melbourne-based parents in their search for a suitable baby for Lyn (Janet Andrewartha).
The April 13th edition of the Sunday Herald Sun quoted assistant producer Jan Russ as saying: "We need a baby by Monday, April 21, so there is not long to go. Ideally, the mum would be having the baby this week, although with our last baby we used a premature bub, who was small for his age. Although the baby would only be required for short periods of time, it is an ongoing thing. The role could last six months or longer."
Parents wishing to submit their child for the auditions can do so by emailing: lynsbaby@grundytv.com.
| | |
| --- | --- |
| Logie Nominations Announced | April 14 2003 |
Four members of the Neighbours cast have scooped the final nominations for Australia's 2003 TV Week Logie awards. Jay Bunyan (Jack Scully) and Patrick Harvey (Connor O'Neill) have been shortlisted for the Most Popular New Male Talent Award, while the recently departed Michelle Ang (Lori Lee) and Delta Goodrem (Nina Tucker) are nominated for Most Popular New Female Talent. Sunday May 11th will see the winners announced at the annual televised ceremony.
| | |
| --- | --- |
| Kym's Baby Boom | April 13 2003 |
Congratulations to Kym Valentine (Libby Kennedy) and her husband Fabio Tolli, who have announced that they are expecting their first child. Kym currently intends to remain on Neighbours after the birth, though it is not known if her pregnancy will be incorporated into Libby's storylines.
| | |
| --- | --- |
| Fire Destroys Jacinta's Home | April 13 2003 |

News.com.au reports that Jacinta Stapleton (Amy Greenwood) had a narrow escape when a fire swept through her Melbourne home early this morning. Jacinta and her housemate were woken by neighbours knocking at her front door and escaped unharmed, though were treated for smoke inhalation. Fire crews on the scene claim the pair are lucky to be alive. Jacinta can currently be seen in Channel Nine's police series Stingers.
| | |
| --- | --- |
| Reg Grundy Awarded | April 9 2003 |
Congratulations to Grundy Television founder Reg Grundy, who is to be honoured at the upcoming Monte Carlo Television Festival on July 5. Grundy is to receive a gong for his pioneering work in the field of international television production and distribution, of which Neighbours remains an outstanding example.
| | |
| --- | --- |
| Neighbours Tops BBC Two | April 9 2003 |

The recent raft of war-related schedule swops to BBC Two has seen Neighbours topping the channel's chart, with a figure of 3.5 million viewers for Thursday March 27th's installment. Significantly, the figures show a marked improvement from comparable figures last year. On BBC One in April 2002, Neighbours averaged 2.9 million in its evening timeslot. With decreased competition from ITV1 in particular, it seems that the show has finally reversed the consistent decline in audience figures seen in recent years.
April 20 2003: Final BARB audience figures issued by Broadcast magazine placed the top-rating March 27th installment's audience at 3.74 million viewers. Neighbours' evening migration to BBC Two for that week saw it scoop the channel's top five places in the viewing figures.
| | |
| --- | --- |
| Easter Broadcast Changes | April 8 2003 |

Easter is just a fortnight away and brings Neighbours viewers the now traditional crop of schedule pre-emptions. BBC One and their Irish counterparts will not broadcast the show on either Good Friday nor Easter Monday (April 18 and 21). Australia's Channel Ten skips Good Friday, and Iceland's Channel 2 ends its Neighbours broadcasts on Wednesday April 16, until Tuesday April 22. Their usual omnibus edition will not air on Easter Sunday either.
Elsewhere, as conflict in the Gulf intensifies, it is likely that further unscheduled changes will be made to BBC One Neighbours broadcasts, following an unscheduled move to BBC Two on Monday April 7. In most cases, these will comprise the afternoon screening being delayed until 1.50pm on BBC One, with the 5.35pm repeat moved to BBC Two.
| | |
| --- | --- |
| Maggie Millar at Large | April 8 2003 |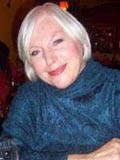 Maggie Millar (Rosie Hoyland) has devised a new reader's theatre production, Fairy Tales for Grown-Ups, which will debut in a limited run from April 17-20: "Told to adults by adults, the stories that came to be called 'fairy tales' explored the darker aspects of the human psyche, before they were relegated to the nursery and sanitised. Incest, cannibalism and self-mutilation – and that's just the beginning!" The show will be performed at Melbourne's Chapel Off Chapel Theatre, and tickets cost $20.00. The box office can be contacted on: 8290 7000.
Maggie will also be hosting a regular Neighbours theme night at Melbourne's Stork Hotel, every Tuesday evening over April from 9.00pm. The hotel is located on Elizabeth Street and can be contacted on: 9663 8895. Tickets cost $10 each. For more information on Maggie's current projects, visit maggiemillar.net
April 17 2003: Maggie has regrettably had to cancel these engagements due to ill health. Her previously announced trip to the United Kingdom in May remains unchanged.
| | |
| --- | --- |
| News in Brief | April 8 2003 |
• Natalie Imbruglia (Beth Brennan) plans to release a new album in September. Speaking about her upcoming role in Johnny English on the Capital Radio Network, she commented that this does not mark a return to acting, rather she "wanted to dip her toe back in" after nine years away from the screen.
• Stefan Dennis (Paul Robinson) will be appearing on ITV1's The Bill, ironically as a nemesis for a fellow ex-Neighbours actor, Daniel MacPherson (Joel Samuels).
| | |
| --- | --- |
| Dramatic Turns for 2003 | April 6 2003 |
The BBCi Neighbours Site has reported some ambitious recording that has taken place for "what has been described by cast and crew as the biggest storyline ever," adding that the "shooting schedule was changed dramatically to accommodate a shoot of motion picture proportions."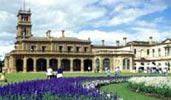 The recording included days of exterior work at the Werribee Mansion in Melbourne's western suburbs, including two night shoots, with a further two days at a "secret location". The Werribee Mansion, seen right, is an impressive 18th Century structure, now used as a luxury hotel and conference centre.
While story details are being kept under wraps, it seems unlikely that such an involved story has no link with the concurrent departure of Madeleine West (Dee Bliss), who completed her final scenes on April 3.

| | |
| --- | --- |
| Meet Your Neighbours | April 4 2003 |
Neighbours stars Patrick Harvey (Connor O'Neill) and Blair McDonough (Stuart Parker) will appear at the Gold Coast's Wet n' Wild Water World on Saturday April 12 for the opening of its new Whirpool Hot Springs attraction. Australian fans can win the chance to meet them by listening to SeaFM.
| | |
| --- | --- |
| Sky's the Limit | April 3 2003 |
As many fans on our message board have speculated in recent weeks, incoming actress Stephanie McIntosh will be playing Sky Bishop, Harold's grandchild. Sky's done some growing up since we last saw her, so expect a rebellious teen wild-child and plenty of headaches for Harold along the way.
The character was originally played by Miranda Fryer from 1989-1991. The BBCi Neighbours Site claims: "Sky is with her father in Scotland now. She's nearly finished high school." To read about the character's past exploits on the show, click here.
| | |
| --- | --- |
| Edinburgh Beckons for Madeleine | April 2 2003 |
BBCi reports that Madeleine West (Dee Bliss) will be appearing at the Edinburgh Festival in August with a special stand-up comedy act based on her experiences of working on Neighbours. "This new show is called Madeleine West Drops the Soap and... combines stand-up with character work and maybe a bit of music," promises Madeleine.