.
News Headlines
| | |
| --- | --- |
| Colac Controversy | June 17 2005 |

The Herald Sun reports today that the Timmins family have brought more controversy to Neighbours. Not content with dividing fans of the show with their antics, it seems that the residents of Colac, where Janelle and co. supposedly hail from, are appalled by the way the bogan family are portraying the town. Although script producer Ben Michael mentioned that it was "ridiculous" to think that viewers of the show would believe all Colac locals to be like the Timminses, he has agreed to add a few positive references into future episodes.
Thanks to news.com.au
| | |
| --- | --- |
| The Neighbours Rock On | June 14 2005 |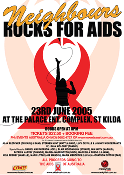 Fans in Melbourne will be pleased to hear that there's an opportunity to see another side to many of the current and former Neighbours cast members next week, when they perform in a concert to raise money for the Australian AIDS trust.
Bands appearing include - Stephen Hunt (Matthew Hancock) and Daniel MacPherson (Joel Samuels) with their band, Alan Fletcher (Karl Kennedy) and Waiting Room. Bernard Curry's (Luke Handley) band Johnny Wonderpants. Marcella Russo (Liljana Bishop) and Marisa Warrington (Sindi Watts) in their band Lucy De Ville. As well as that, guest singers Ian Smith (Harold Bishop), Blair McDonough (Stuart Parker), Maria Mercedes (Lucia Cammeniti), Nell Feeney (Janelle Timmins), Natalie Blair (Carmella Cammeniti) and Jonathon Dutton (Tad Reeves) will be performing, with Ryan Moloney as M.C. and comedy from Mark Little (Joe Mangel). There'll also be a chance to meet the stars.
The event will take place at the Palace Entertainment Complex in St. Kilda on Thursday 23rd June. Tickets can be booked through Event's Australia (03) 9682 4727 (international +61 3 9682 4727) for $27.50 plus booking fee.
| | |
| --- | --- |
| BBC Edits Scene | June 14 2005 |
The BBC censors have been out in force once again, removing most of a vital scene from last night's UK episode. Dylan Timmins (Damien Bodie) was due to be seen trashing number 24 Ramsay Street in a sequence, reminscent of A Clockwork Orange, broadcast to classical music. A BBC source told us, "Our guidelines do not allow us to show material which glamorises (or condones) violent or anti-social behaviour in pre-watershed programmes."
| | |
| --- | --- |
| BBC Schedule Change | June 14 2005 |
Just a quick reminder to fans in the UK that, due to coverage of Royal Ascot on BBC One, there will only be one showing of Neighbours from today until Friday - at 5.35pm. From next Monday, the 20th, the show will be on a two-week break for Wimbledon, returning to our screens in its usual 1.40pm and 5.35pm slots from Monday 4th July.
| | |
| --- | --- |
| Madeleine West Pregnant | June 09 2005 |

News has emerged within the last few days that former Neighbours star Madeleine West (Dee Bliss) is expecting a baby. Apparently though, this shouldn't be viewed as her opportunity to wind down. Her management is quoted in today's Herald Sun as saying that she still has a TV series in London, two movies and three years study at the Lee Strasberg Institute in New York on her plate.
Everyone at Neighbours: The Perfect Blend wishes Madeleine all the best with her pregnancy.
| | |
| --- | --- |
| Official Site Revamped | June 06 2005 |
To mark the grand re-opening of Lassiter's on UK screens today, the official BBC site has undergone something of a makeover. With more video content and fan involvement, it's certainly worth a look.
| | |
| --- | --- |
| Paul The Producer | June 06 2005 |

It seems that Stefan Dennis has several strings to his bow. As well as acting and singing, he's recently finished producing a movie entitled The Truth About Love. The Daily Telegraph reports that the film, which stars Jennifer Love Hewitt and Jimi Mistry recently opened at number one in Korea. It's hoped that the film will be distributed outside of Asia once a scratch on the master negative has been cleaned up.
To view our archive of past news stories click here