.
News Headlines Edited by Aaron, Jamie and Karl
| | |
| --- | --- |
| Jan in the UK | July 31 2003 |

Neighbours' Casting Director and Assistant Producer, Jan Russ, was scheduled to fly out of Australia yesterday (Wednesday) to commence a four week visit to the UK and Ireland, taking in London; Manchester; Dublin and Belfast. Jan will be hosting drama and audition workshops for actors based over here, similar to the ones she leads all over Australia.
Jan will be taking part in a live web chat with the BBCi Neighbours website on Thursday 7th August at 6pm. Fans can go and watch Jan taking part in the chat at the BBCi studio at this address:
BBC Bush House
76 The Strand
London
Get your questions in early by clicking here

Brisbane's Courier-Mail reports that Delta Goodrem (Nina Tucker) is hoping to make her first public appearance since being diagnosed with Hodgkins Lymphoma cancer.  If she is well enough, she will attend the ARIA No.1 Chart Awards in Sydney today.
Meanwhile, Neighbours' script co-producer Luke Devenish said that Goodrem's character in the show would have a "soft" departure, leaving it open for a possible return next year.  However the newspaper speculates that Goodrem may leave the show because of high demands on her music career.
| | |
| --- | --- |
| Defining Moments Released in the UK | July 28 2003 |

The fantastic Defining Moments 2-DVD set will be released in the UK in time for Christmas 2003. Rajon Vision, the company behind the product, say it will feature the same content as the Australian release that is currently available to buy through hmv.com.au.
Apparently a second DVD is in the pipeline, so let's all keep our fingers and toes crossed that it sees the light of day.
| | |
| --- | --- |
| Jesse Interview | July 24 2003 |
Jesse Spencer (Billy Kennedy) appeared on Channel 4 today on the UK's RI:SE programme. The 24 year-old was promoting Death in Holy Orders (to be screened next month) and also chatted about his roles in Uptown Girls, in which he plays Brittany Murphy's love interest, and Swimming Upstream with fellow Australian Geoffrey Rush.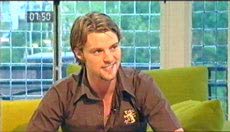 .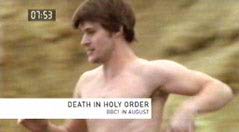 Spencer revealed that he has homes in both London and Australia, something which his accent reflected. More base revelations included that his nude scene in Death in Holy Orders was his own and not that of a body double. He said he also frequently returns to the Neighbours sets for end-of-season parties.
| | |
| --- | --- |
| Jesse hits Hollywood | July 21 2003 |

Teletext reports that Jesse Spencer (Billy Kennedy) is set for a bright future as he jets to Hollywood for the premiere of his new film, Uptown Girls. He stars alongside Brittany Murphy and Heather Locklear in the comedy.
Jesse also recently starred in the Australian film Swimming Upstream with Geoffrey Rush and will be seen next month on the BBC drama Death In Holy Orders.
| | |
| --- | --- |
| Neighbours Instore in Sydney | July 18 2003 |

Patrick Harvey (Connor O'Neill), Jay Bunyan (Jack Scully) and Kate Keltie (Michelle Scully) will be appearing this Saturday, 19th July at Westfield Parramatta in Sydney to promote the release of Neighbours: The Music. They will be signing copies of the CD from 12.30pm - 2.00pm.
| | |
| --- | --- |
| Anouska in Neighbours? | July 15 2003 |

Newspaper The Sun revealed today that Anouska from Big Brother 4 wants a part in Neighbours. Anouska says it's her "favourite show" and is apparently meeting with the soap's bosses on Thursday to discuss this with them. Should she win a part, she will be the second person from the Big Brother series to be in the show, following Blair McDonough's (Stuart Parker) lead.
Delta Goodrem's (Nina Tucker) Official Website reported this morning that she has been diagnosed with Hodgkins Lymphoma, a cancer of the lymph glands. While the disease is serious, it has been caught relatively early and Delta has said in a written statement that "I will be fine and I will be back just as soon as my treatment is completed."
The site gives an address to which all Get Well Soon cards and gifts should be sent:
Sony Music
Get Well Delta
PO Box 88
Darlinghurst
NSW Australia
2010
We will be sending Delta a card with some gifts to wish her well in the next two weeks. If you would like to have a personal message printed on our card, send it to delta@perfectblend.net with your name and e-mail address (if you wish for it to be printed). Alternatively you can send her messages through the BBC Neighbours Website which will also be forwarded onto her.
The team here at perfectblend.net and neighboursboard.co.uk send our love and support to Delta and her family during this difficult time.
| | |
| --- | --- |
| Holly's New Image | July 10 2003 |

Holly Valance (Flick Scully) has announced plans to move away from the, in her own words "overtly sexual and tacky", image conveyed on songs such as Down Boy on her first album, Footprints. She says her next album will have a more mature feel.
from news.com.au
| | |
| --- | --- |
| Future Projects | July 10 2003 |

Mark Rafferty (Darcy Tyler), freshly departed from Neighbours, will make a guest appearance next week on Australian undercover police drama Stingers. He will apparently play a conman in the episode screening on Tuesday night at 9.30pm.
Former Neighbours guest star Russell Crowe is to star in Cinderella Man, the true story of a working class boy's rise to boxing fame. He will play Depression-era fighter and folk hero Jim Braddock, in the Ron Howard film due out in 2004.
| | |
| --- | --- |
| Actors On Strike | July 9 2003 |

In a telephone link-up yesterday, all Australian television performers voted unanimously for a one day walk-out, and to refuse weekend work.
The strike will probably take place next week, according to the Media, Entertainment and Arts Alliance. The Alliance's equity director said that many performers were earning "less or the same as ten years ago". Issues include the right to be compensated when a production is highly successful overseas, as well as rates for actors kept on hold.
The strike will apparently be most disruptive to daily series and soaps - Home and Away and Neighbours being the most obviously affected - due to their quick shooting schedule and hasty turnaround.
In an interview with Network Ten's Late News, Neighbours' Alan Fletcher (Karl Kennedy) said that industrial action within the Australian film and television industry was very rare.  "We would only do this if it was a major concern to all performers," he said.
The strike will be held on the busiest day of filming next week in order to cause the most disruption.
| | |
| --- | --- |
| Mark Little Lands Presenting Job | July 8 2003 |

Mark Little (Joe Mangel) will be appearing in future episodes of this series of Wish You Were Here?, Sunday evenings at 7pm on ITV1.
He appeared in last week's show reporting from Wales and has been afforded a recurring guest spot.
| | |
| --- | --- |
| Delta's Dazzling Debut | July 6 2003 |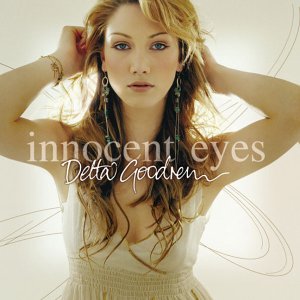 Delta Goodrem's (Nina Tucker) debut album has stormed the UK charts - entering at Number 2 as Beyonce Knowles' Dangerously In Love holds onto the top spot for the second week running. Delta's album, Innocent Eyes, contains her smash hit singles Born to Try and Lost Without You, and has been receiving rave reviews from the critics.
After a recent performance on Queen Street Mall, Brisbane, Delta found herself breaking a musical record in Australia. The appearance caused a huge surge in sales of her album and singles and she had to postpone her flight back to Sydney by an hour to allow her to complete signings for all the fans waiting in the five-hour queue.
| | |
| --- | --- |
| Dr. Picks Delta | July 3 2003 |

DJ Neil "Dr." Fox has picked Delta Goodrem's (Nina Tucker) new album as this week's top new release on his website www.hit40uk.com. He says Innocent Eyes has the quality lyrics of Natalie Imbruglia and the vocal talents of Celine Dion (a compliment, we assume). The site also has a competition to win a lunch date with the singer and actress.
This week's Heat magazine has also named Delta as a star to watch in their review of her album.
| | |
| --- | --- |
| Vote for Neighbours! | July 1 2003 |

Neighbours is once again nominated in the National Television Awards, but due to abolition of the "Daytime" category it is up against the giants of soap such as EastEnders and Coronation St. in "Most Popular Serial Drama". Fans of the show can vote by phone (0906 680 6000) or by using the special voting forms in Heat, The Sun or from the Post Office. Finally, you can vote for Neighbours to win by texting "ITV SDR9" to 80128. Former Neighbours star Daniel MacPherson (Joel Samuels) has been nominated for Most Popular Newcomer for his character PC Cameron Tait in The Bill.
The ceremony will take place in October, and will be broadcast on ITV. Full details can be found at www.itv.com/nta.
To view our archive of past news stories click here