.
News Headlines
| | |
| --- | --- |
| Kimberley Leaves The Jungle | Nov. 29 2005 |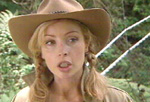 Kimberley Davies (Annalise Hartman) has become the fourth celebrity to leave the jungle in this year's fifth series of I'm A Celebrity Get Me Out Of Here!, following the forced departure of EastEnders' Elaine Lordan, and the evictions of comedian Tommy Cannon and wine buff Jilly Goolden. Her first week as a contestant was decidedly uneventful, voted by the public to take part in one of the early bush tucker trials, The Ant (and Dec) Farm, in which she showed resilience, then gave up. Other than that, Kimberley was pushed into the background by the more domineering personalities of others, including Carol Thatcher and David Dickinson. As the second week began, Kimberley, along with Emmerdale star Sheree Murphy, took part in a second trial, Hell-O-Drop. An awkward landing led to her spending Monday night in hospital with a suspected cracked rib. Today, she returned to camp for a few hours before deciding to leave for good.
| | |
| --- | --- |
| Kimberley Injured | Nov. 29 2005 |

I'm A Celebrity Get Me Out Of Here! contestant Kimberley Davies (Annalise Hartman) has spent an evening out of camp after injuring herself during the bush tucker trial, Hell-O-Drop. The trial involved jumping from a helicopter into a marked area of a lake, but during her second jump, an awkward landing by Kimberley led to her being taken to hospital with a suspected cracked rib. Her time in hospital meant that she was absent during the second eviction from camp and her phone line was closed, but it currently looks like she will rejoin the group later today.
| | |
| --- | --- |
| Natalie's Health Scare | Nov. 29 2005 |

Australia's Daily Telegraph reports that Natalie Bassingthwaighte (Izzy Hoyland) collapsed on set in the middle of last week. Although she was taken to hospital after her collapse on Wednesday, she was given a clean bill of health and after taking Thursday off work (her first sick day in the past two years) she was back filming by Friday. Not only has Natalie been completing a hectic schedule as Izzy, she's also been performing gigs with her band, Rogue Traders and today will front Network Ten's summer launch.
| | |
| --- | --- |
| A New Robinson | Nov. 20 2005 |

Sunday's Herald Sun reports the arrival of a new Robinson in Ramsay Street. Adam Hunter, who guest-starred earlier this year as Kayla Thomas' boyfriend Anthony Johnson, has joined the cast as another of Paul's triplets, Robert Robinson. Robert will reportedly be seen on Australian screens from next March.
| | |
| --- | --- |
| Holly's Prison Break | Nov. 20 2005 |

Holly Valance (Felicity Scully) has scored herself another Hollywood role, with a part in television series, Prison Break. Valance has had guest roles in series including CSI: Miami and Entourage over the past year and is quoted in the Sunday Telegraph as saying that "this show could really work as the big break I've been looking for."
| | |
| --- | --- |
| Jungle Drums | Nov. 18 2005 |

ITV2 are looking for fans of Kimberley Davies to appear on their I'm A Celebrity... Get Me Out Of Here! spin-off discussion show Jungle Drums. If you're a big fan of Kimberley, over the age of 15 and would like to appear in the live studio audience, send an email to: jungledrums@itv.com.
| | |
| --- | --- |
| Kimberley In The Jungle | Nov. 16 2005 |

Last year, it was rumoured that Anne Charleston (Madge Bishop) would be in the jungle, but it never came to anything. This year, however, another former Neighbours star has made the final line-up, with Kimberley Davies (Annalise Hartman) announced as one of the 10 contestants on this year's series of the UK's I'm A Celebrity... Get Me Out Of Here!. Kimberley recently made a two-week return to Erinsborough for the 20th Anniversary celebrations and has recently moved to Sydney, so she won't have as far to travel as the rest of the, mainly British, contestants. The series kicks off on ITV1 on Sunday 20th November at 9pm.
| | |
| --- | --- |
| BBC Christmas Break | Nov. 16 2005 |
Fans in the UK will be pleased to hear that, rather than the traditional two-week Christmas break this year, the BBC will only be taking Neighbours out of the schedule for two days. Only Monday 26th December and Monday 2nd January will see Neighbours replaced, with the programme currently planned to be shown as normal from Tuesday 27th to Friday 30th December. Meanwhile, Australian fans can see this year's season finale, and the beginning of their summer break, on Friday December 16th.
Thanks to Marc Harris.
| | |
| --- | --- |
| Connor Trial Update | Nov. 11 2005 |

Shane Connor's (Joe Scully) unfair dismissal trial has continued with former screen wife Janet Andrewartha (Lyn Scully) giving evidence. She told the court that she was forced to take time off work, suffering from a stress-related facial tic, following a gruelling few days working alongside Shane. Young Neighbours actress Marisa Siketa (Summer Hoyland) was also mentioned in proceedings when wardrobe stand-by Yolande Robertson testified that Shane had yelled at her when he felt that she should have been prompting other actors, rather than waiting off-set. Shane was described by her as being "very aggressive".
The hearing has now been adjourned and a verdict is expected within the next few weeks.
To view our archive of past news stories click here