.
Reference > Erinsborough Exits > 1987
Susan and Sam Cole
After becoming engaged to Clive, then having a brief affair with Paul, Susan Cole realised that she didn't want to cause any further heartache for any of them. She quickly disappeared with baby Sam, only telling good friend, and Sam's half sister, Charlene, of her plans. After a few nights at a hostel nearby, she called Charlene to let her know that she'd be heading back to her home in Coffs Harbour, but needed her to collect one of Sam's teddys from Clive's place. When Clive caught Charlene, he talked her into arranging one final meeting with Susan at Lassiter's. Clive got to say his goodbyes, whilst Susan also took the opportunity to tell Paul that she was leaving because she didn't want to subject Clive to any more pain.
Final Episode: 413
Final Words: (after handing Clive's engagement ring back to him) "I'm sorry. Goodbye."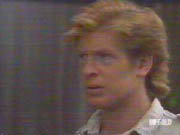 Clive Gibbons
After having his heart broken by Susan, Clive struggled to cope for a while, but his friends did their best to pull him out of his depression. A few weeks later, after rattling around on his own at number 22, he decided on a fresh start by moving into the flat behind his surgery. A couple of years later, Clive returned to town unexpectedly. His return was intended to lead into a spin-off series called City Hospital, but this never came to fruition and, after cheering everyone up for a few weeks, Clive left for the country to help out his brother, Graham.
Final Episode: 435 (returned 1043-1076)
Final Words: "Well, my saucepans may be packed, but I do have some coffee in the percolator, if Mike and Eileen would like to join me." (Clive and Mike then accompany Eileen out as she complains about her nerves after the bank robbery) "After you, madam."
Behind-the-scenes: In this 1986 TV Week article, it is explained that Geoff left the series after only a year to avoid being typecast.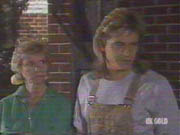 Shane Ramsay
Following the departures of both his parents and his brother, Danny, Shane found that his home was slowly being taken over by various relatives. His aunt Madge and cousin Charlene soon made themselves at home, but when Madge's son, Henry, was released from prison and came to stay, it was the final straw for Shane, who didn't trust his new room-mate. After wrongly accusing Henry of stealing some money from him, Shane decided that he had to move out, and went to stay in Jack Lassiter's caravan. Although that marked Shane's final appearance, it was later mentioned that he had moved into a flat with a friend, and, later still, he left the area to be with his family in Brisbane.
Final Episode: 437
Final Words: (after Mrs Mangel suggests that Shane is leaving because of his criminal cousin Henry) "Nah Mrs Mangel, Henry's a great bloke – I'm moving out because of the neighbours. See ya later."
Behind-the-scenes: Peter O'Brien quit after two years to take on the role of Sam Patterson in The Flying Doctors.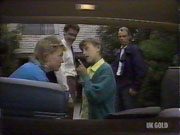 Lucy Robinson
Original Lucy Kylie Flinker bowed out of the role after just over two years. After finding young love with Bradley Townsend the year before, Lucy was upset when he left with his mum to tour Europe with Jack Lassiter. When the opportunity came up for Lucy to join Bradley in France, she jumped at the chance and, before long, she set off on an extended trip around Europe, allowing the producers plenty of time to find a new actress to take over the role. 10 weeks later, Lucy was back and had undergone quite a growth spurt, now being played by Sasha Close.
Final Episode: 439
Final Words: (Scott suggests to Jim that they throw out all of Lucy's stuff while she's gone) "You do and I'll pulverise you."
Behind-the-scenes: In this 1986 TV Week article, it is explained that Kylie quit to concentrate on her studies. In an interview with this site in 2003, Kylie Flinker said "it had been my decision to leave the series and whilst I enjoyed working on the show, it is not a decision I regret."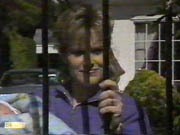 Daphne Clarke
When Daphne learnt that her father, Allen, was dying, she decided to take the opportunity to spend his final months looking after him and, hopefully, repair some of the damage to their relationship. Only months after the birth of their son, Jamie, Daphne decided that she would move in with Allen and Des could join them at the weekends. Although that marked the end of Daphne's three years as a regular character, she would return the following year for a short guest stint which provided a more permanent farewell. Following Allen's death, Daphne was making her way back to Erinsborough when she was involved in a car accident which left her in a coma and, ultimately, caused her death.
Final Episode: 605 (returned 680-690)
Final Words: (Des tells her that he loves her) "I love you too Clarkey. I'll give you a call tomorrow, ok?" Coincidentally, or possibly not, when Daphne returned in 1988 and was killed off, her final words were also "I love you too, Clarkey."
Behind-the-scenes: In this 1988 TV Week article, it is explained that Elaine left in September 1987 to travel in Europe, before making a brief return in February 1988 to give the character closure.