.
Reference > Erinsborough Exits > 2002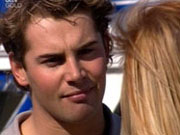 Joel Samuels
Having completed his marine biology course, Joel was determined to score a job with renowned diver and biologist Vernon Wells. This meant that he ended up agreeing to a deep-sea dive without having taken his certificate and his on-off girlfriend Dee was forced to step in and lie that he had an ear infection. This allowed Joel time to get his certificate and take part in another dive, this time helping to find a valuable tea-set on a shipwreck and leading to a job offer that would take him up to Queensland. Although Dee agreed to go with him, she was stunned to find out that he'd told her ex-boyfriend Darcy Tyler that she'd been pregnant, and had miscarried, his baby. The trust between Joel and Dee was destroyed and, although she visited him at the marina, it was just to say a final goodbye as he left.
Final Episode: 3927
Final Words: (to Dee) "Goodbye. I love you."
Behind-the-scenes: Daniel MacPherson explained in this 2002 Inside Soap article that he just felt that it was time to move on.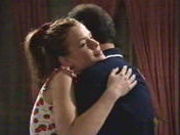 Elly Conway
After an eventful six months staying with her aunt and uncle, Karl and Susan Kennedy, Elly Conway had come to see them as wonderful parents, but realised that she had to try and build some kind of relationship with her mother, Liz. When Liz made an unexpected return from Stockholm, pregnant to her new boyfriend, Lars, Elly started to wonder if she really wanted anything to do with her, and decided to stay in Erinsborough. Eventually, though, mother and daughter patched things up and Elly decided to fly back to Sweden with Liz, but not before telling Karl that she wished he could have been her real dad.
Final Episode: 3998
Final Words: (to Karl) "I love you."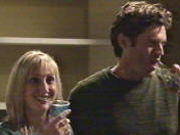 The Hancock family
When eldest Hancock son, Matt, was involved in an illegal drag race which hospitalised not only him, but the other driver, Glen Bushby, and Matt's neighbour, Harold Bishop, the family faced some difficult times and an expensive QC in order to keep him out of prison. Although this seemed to increase Matt's chances of staying out of prison, it meant that they had to sell the house to pay for the bill. Having sold to Mal Kennedy, they packed up their belongings and left to stay with Maggie's parents in Albury.
Final Episode: 3999 (Matt returned 4773)
Final Words: (Leo) "Hey dad, will you let mum? (he asks what he means) Let her stay?" (Emily) "I just wish things were like they used to be, before mum and dad started yelling at each other." (Matt) "I guess I have been given a second chance." (Maggie) "We just want to say thank you to everybody for coming today – and that our stay on Ramsay Street has been short and sweet but we know that the friends we've made over the past twelve months will be with us for a long time to come." (Evan) "On a personal note, as you all know things have been pretty tough for us lately, so I'd just like to publicly thank Maggie for being a great mother, a sensational mother and the best wife a man could have – I love you and I always will. So a toast – to Maggie, to our family and to new beginnings."
Behind-the-scenes: The entire Hancock family was axed after only a year in Ramsay Street, having failed to ignite viewers' interest.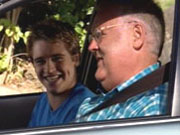 Tad Reeves
After a short taster of life as a DJ with the Extreme Sports tour, Tad was delighted to be offered the chance to join them on a permanent basis, only to find that his passport was missing. After then finding his belongings being repossessed by bailiffs, he realised that he'd been the victim of identity theft. After a few weeks trying to track down the person who was making his life hell, Tad realised that it was the work of Doula Tsobanopoulos, the club manager who he'd managed to get sacked the year before, and her accomplice Richard. A showdown ensued, during which Richard ran out onto the street and was knocked down and killed, still with Tad's ID on him and leading to a tense few hours at the hospital, when Harold and Susan thought Tad was dead. When the truth finally emerged, Tad was quick to take up the DJing offer and depart for America, leaving behind his favourite record so that Harold could be sure he would one day return.
Final Episode: 4027
Final Words: "Well, here I go then."
Behind-the-scenes: Jonathon Dutton explained in this 2002 Inside Soap article that "I want to do my own thing for a while."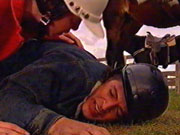 Drew Kirk
During a visit to Drew's father and his farm in Oakey, Ron explained that he'd had a few health problems, and wanted Drew, his wife Libby and their baby son, Ben, to move there and help him to open and run a new stud farm. After talking things through, Libby agreed that, if it was what Drew wanted to do, then she would support him one hundred percent. The decision made, the couple went out the next morning for a horse ride, but Libby was horrified as she looked back and saw Drew's horse rear up and throw him off. As she rushed over to her husband, she realised that he was badly hurt and stayed with him as the ambulance took him to hospital. After an anxious wait, Libby was told that Drew had died during surgery.
Final Episode: 4090
Final Words: "Tell Ben that I'll be home soon… Libby… (passes out)"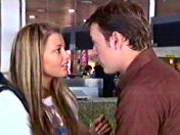 Felicity Scully
After a few months working at Lassiter's in Erinsborough, Flick Scully was offered a job at their New York branch. But, having just found love with neighbour Stuart Parker, Flick was torn between taking up the opportunity to travel and advance her career, or losing the man of her dreams. She eventually decided to stay in Erinsborough, but, during a weekend away with Stu in which their campervan crashed and they were both almost killed, Stu told her that she had to take the job as he could never forgive himself if she always resented him. The day before Flick left, Stuart proposed and Flick accepted but, arriving at the airport with her family the next day, she realised that she'd forgotten the ring. Stuart raced home to get it and Flick almost missed her flight as she waited for him to come back. Sadly though, the long-distance relationship didn't quite work out and Flick ended up selling the ring and staying in New York, where she opened a bar with sister, Michelle.
Final Episode: 4144
Final Words: (to Stuart) "I'm gonna miss you."