Channel Seven: 26/04/85 BBC One: 05/12/86 UK Gold: 11/12/92
Recap
• Carol admits to Paul she never had her purse stolen
• Danny reveals he is running away. Scott wants to go with him

No 26 - Lounge: Jim promises Helen he'll speak to Scott in the morning as he realises he was a little hard on him earlier. Helen reminds Jim how lucky he has been with Scott's behaviour as he has grown up. Jim explains he hates the feeling of not being able to trust his son. Paul bursts into the house and reveals to Jim & Helen how Carol has admitted to the police that her purse wasn't stolen and that Scott & Danny have had the charges against them dropped. Jim is thrilled but Paul makes it clear he believes Jim has let Scott down by not trusting him. Paul goes to wake Scott to tell him the good news.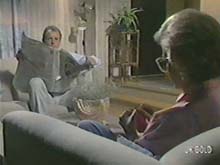 . . .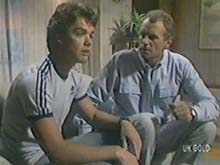 No 26 - Scott and Paul's bedroom: Paul goes to wake Scott, only to find he has used his pillows to make it look like he is in bed. Paul realises Scott has run away and calls out to Jim & Helen. Paul finds a note Scott has left for Helen and hands it to her as she & Jim arrive. Helen reads the note out loud and Jim fears how Max is going to react.
No 24 - Danny's bedroom: After hearing the news, Max is furious with Danny, calling him a fool. Jim admits they were both hard on the boys but Max blames Danny for forcing Scott to run away with him. Max seems more upset at Danny taking Shane's sleeping bag rather than him running away.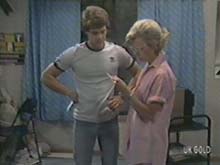 . . .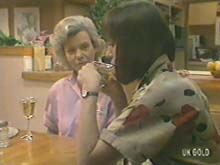 No 24 - Kitchen: Maria and Helen have a glass of wine as Helen assures her she believes the boys will be okay and Scott has promised to call. Max with Jim return from Danny's room and Max makes a reference to Danny taking Shane's sleeping bag. Maria reminds him there are more worrying issues at stake for them and feels Max was too hard on him over Carol's accusations. Jim & Helen excuse themselves as they feel the Ramsay's have more to say to each other. Max feels that he should just give up on Danny after all the trouble he causes the family and Maria is devastated by Max's point of view, telling him no wonder Danny ran away. Shane arrives and learns about his brother and wants to know more. Max snipes that he should talk to his mother, as she believes she is the only one with feelings.
Country road: Danny & Scott start to relax as they cycle through the country. Danny asks Scott if he ran away because he has but Scott assures him he left for his own reasons. Scott decides to race Danny up the hill ahead.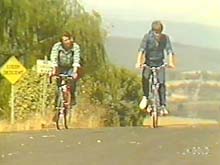 . . .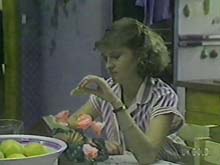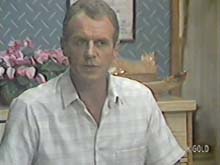 . . .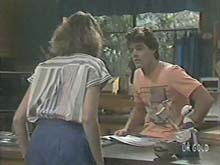 No 26 - Kitchen: Julie reflects on her brother's actions over breakfast, over dramatising things, and annoying Jim. Paul however is giving his father the silent treatment, blaming him for Scott's actions. Julie defends her father to Paul, causing him to storm out of the house. Julie's sympathy is a little misguided and annoys both Jim & Helen.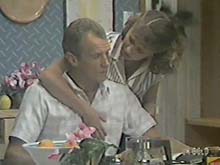 . . .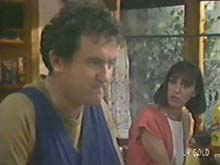 No 24 - Kitchen: Max prepares to go to work and Maria asks if she can call him later at work if Danny calls home. Max cannot see the point of her calling and remarks he is missing a wrench that he thinks Danny may have taken. Maria shouts back that he always blames Danny for everything and upset tells Max all she wants is her son back but believes Max truly couldn't care if Danny came home or not.
Country road: Scott & Danny's race comes to an end when Danny gets a puncture in his front wheel and falls from his bike. They decide they'll hitch a lift in a Ute to the next town so Danny can get his puncture mended.
. . .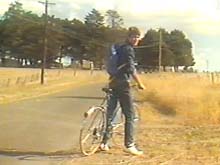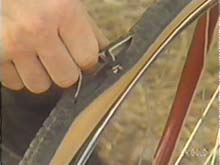 . . .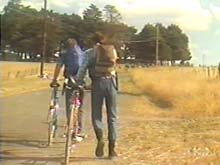 Country road: Late on and no one is stopping to help them out but their frustration ends when a guy in a red Ute pulls over to offer them a lift. The driver Mick and his passenger Geoff lift the bikes onto a roof rack on top of the Ute and tell the boys they'll help them out.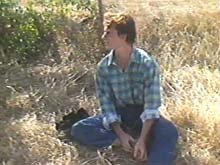 . . .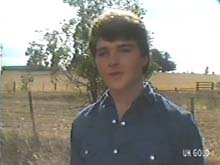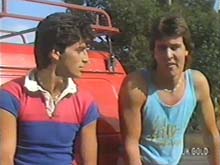 . . .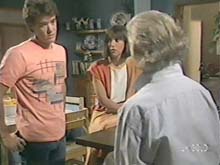 No 26 - Kitchen: Helen tries to reason with Maria that Max's reactions are just his way of dealing with things but Maria tells her they both know Max doesn't like Danny. Helen asks if Maria suspects Max knows the truth about Danny and Maria admits, deep down she thinks he has doubts. Paul interrupts to tell them he is going out with Shane to search for the boys, even if it proves as fruitless as Helen fears. Maria asks Paul to tell Danny she & Max love him if he does find them. After Paul leaves, Maria tells Helen even she doesn't believe what she has told Paul about Max anymore. Maria decides she should get home and to keep busy decides to bake Danny's favourite, ginger cake. Helen tells her all they can do is wait for the boys to return home now.
Inside the Ute: The Ute speeds along the road as Danny & Scott enjoy their ride and the loud music playing. Danny explains how he and Scott have run away and brags about them being on the run from the police. The driver gets Danny to confirm their families are unaware of where they are.
No 24 - Lounge/kitchen: Shane tells Max he has cancelled his coaching class to go with Paul to try and find Danny & Scott. Max is angry that Shane is wasting his time but Shane tells his father that Danny is not a waste of time. Shane & Paul leave the house with Max still shouting after him. Max decides to continue the argument with Maria but his temper is cooled when he finds Julie with Maria in the kitchen. Maria finishes handing over her fresh baking to Julie but Julie continues to listen on as Max and Maria disagree over Shane spending time looking for Danny. Julie offers Max her support that Danny will return home soon before leaving and Max comments he cannot see why everyone is so keen to talk about Danny all the time. Maria tells Max she believes he only wants Danny back to start shouting at him again.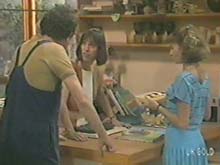 . . .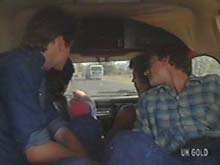 Inside the Ute: The driver agrees to pull over at the garage coming up and Scott thanks him for helping him & Danny out as the passenger checks the boys will be okay to remove their bikes from the roof when they stop.
Garage - forecourt: Danny & Scott climb out of the Ute but as Danny goes to thank the driver again, the Ute pulls off, leaving the boys with no bikes and no possessions.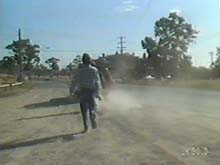 . . .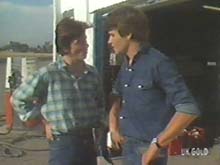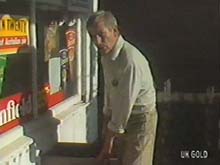 . . .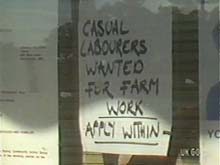 Garage - Shop: Scott blames Danny for talking about them being on the run and the news that Danny only has $A15 on him doesn't help. Danny spots an advert for labourers at a local farm in the garage shop window and they decide to enquire about the job. The shopkeeper warns them that the job means working for one of the toughest farmers in town but the boys realise they have little experience and little choice but to try and get the job.
No 26 - Kitchen: Helen has a belief the boys will soon tire of being away when their money runs out. Jim blames himself for Scott going but Julie tries to make him feel better with news of how bad Max was to Maria about Danny earlier. Helen tries to play it down but is clearly concerned about Maria.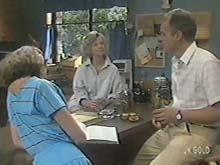 . . .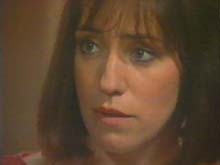 No 24 - Kitchen: Maria demands to know from Max why he doesn't love Danny as much as Shane. After some prompting, Max admits he never could, even when Danny was a baby as he was never sure Danny was his son. Max is surprised that Maria seems so shocked by his admission and reminds her Danny was born so close to the nine months after she came back when they separated. Maria tells him she always knew that was the reason. Max demands to know if Danny is his son but is stunned when Maria admits his greatest fear is true. Danny isn't his son.
Featured Regular Characters: Max Ramsay, Maria Ramsay, Shane Ramsay, Danny Ramsay, Jim Robinson, Julie Robinson, Paul Robinson, Scott Robinson, Helen Daniels
Guest Cast: Nick Bufalo as Mick, Bobby Driessen as Geoff, Ron Pinnell as shopkeeper
Trivia Notes
• Scott's letter to Helen reads: 'Dear Grandma, Danny & I have cleared out because we didn't do anything to Mrs. Brown and no one was going to believe us. Please don't worry about me I'll be alright. I'll call you soon. Love Scott'
• Max mentions he is working on installing central heating for a client
• Danny & Scott have their bikes & possessions stolen while hitchhiking
• Danny's favourite cake baked by Maria is ginger cake
Summary by Paul