.
Comment > Continuity Watch: Episodes 5676-5695

Soap operas are often infamous for forgetting important details or, with one sentence, completely changing the course of history, and Neighbours is no exception. But it's also capable of dropping in subtle references to past characters and storylines to give us a better idea of a character's motivations, or simply to bring back memories for long-term viewers. Our monthly column, Continuity Watch, looks at the continuity issues, both good and bad, episode by episode. We've also incorporated Lou Watch, our monthly look at the antics of the much underused Ramsay Street veteran Lou Carpenter, just so we can all be sure he's actually still around.
CONTINUITY WATCH
Episode 5676
* Flashbacks to Elle trapped in the roof collapse.
* References to Steph and Toadie's relationship.
Episode 5677
* References to, and brief appearance by, Rachel Kinski.
* References to Matt Freedman.
Episode 5678
* References to Alex Kinski and Matt Freedman.
* Nurse Jodie tells Cass 'You're either late for your shift or you never show up at all' - an in-joke about the fact that Cass was never seen at the hospital at all after getting a job there?
Episode 5679
* References to the rafting accident and Ringo's lost football career.
* References to, and flashbacks of, Rachel Kinski.
Episode 5680
* More references to Steph and Toadie's relationship and doomed wedding.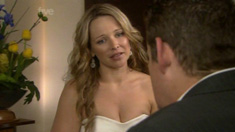 ..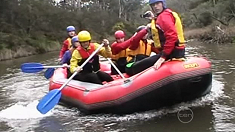 Episode 5681
* References to Harold Bishop, Jim and Anne Robinson, Max Ramsay and the street being named after the Ramsay family.
* In episode 511, Anne Robinson's grave is shown with the spelling Ann, on the box Lucas finds, it is spelt Anne.
Episode 5682
* References to Helen Daniels, Anne and Jim Robinson.
* Helen's will shows her living at 24 Ramsay Street, when she actually lived at number 26. In addition, since Lucy is not mentioned in the will, it is presumed that Jill was born between 1968 and 1973, and Helen did not move into Ramsay Street until after Anne's death giving birth to Lucy in 1973.
Episode 5683
* Elle reads Helen Daniel's will, in which she leaves her investments to her daughter, Anne and her husband Jim Robinson or in the event of Anne's death, her children, including an unfortunate child she was carrying at the time the will was written.
* References to Max Ramsay, Helen Daniels, Anne, Jim, Scott and Julie Robinson.
* Declan stays on Steph's couch following a row with Bridget, despite her having two empty bedrooms.
* Greg Michaels returns following his three months working away.
Episode 5684
* Further reference to Steph & Toadie's past relationship & ill-fated wedding.
Episode 5685
* References to Toadie's relationship with Kelly Katsis & Steph letting her think he was gay.
* Mention of Guy Sykes return and Bob's death.
* Reference to Steph's past relationships with Toadie & Jay Duncan.
* Ringo returns to the Dingoes - reference to him dobbing in Adam Clarke.
* Mention of Lennie the pig.
* Susan goes on strike when the dishwasher breaks down, telling Karl "no dishwasher, no pom poms" - a reference to episode 5565, mentioned again when the kids were away in episode 5606.
* Following Karl's agreement to buy a new dishwasher, Susan agrees to pick up her Pom Poms again, leading to Ringo walking in on them, having become somewhat of a recurring theme, having witnessed them in a car in episode 5541 and finding Pom Pom remnants on Karl in 5565.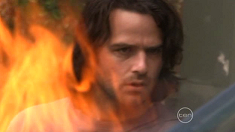 ..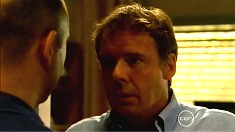 Episode 5686
* Rebecca explains that she's been asked to help on the school camp as Libby's had to go to Queensland to help her brother (Billy) with the new twins.
Episode 5687
* Greg hires Toadie's nemesis, Tim Collins to act on Steph's behalf to sue Toadie for defamation of character following his re-writes of the play.
* Reference to Cass Freedman.
Episode 5688
* References to Anne Robinson & Helen Daniels.
* Miranda mentions that she & Steve were married for 21 years, having celebrated their 20th wedding anniversary in episode 5446, just over a year earlier.
* Elle receives the birth certificate of Anne Robinson's illegitimate daughter, Jill Ramsay, who it is revealed was fathered by Max Ramsay.
* University Professor, Dean Naughton arrives in Erinsborough and sees Miranda on the desk of Lassiter's. He was previously mentioned in 2008 after Nicola revealed to Steve in that Miranda was in love with him, but she chose to marry Steve as he was the safe option.
* Miranda tells Dean Naughton that she used to be in Real Estate and then Events Management, as referenced upon her arrival in 5261.
* It is mentioned that Paul was 12 when his mum died, however it has been previously mentioned that Anne died when giving birth to Lucy, which would suggest she was born in 1975, however the character was SORASed during her time on the show to make her birth year 1973.
Episode 5689
* Reference to Helen Daniels.
* Susan worries that Paul may be cheating on Rebecca again.
* Miranda & Dean Naughton reference their past relationship and her choosing safe option, Steve, as mentioned in 2008.
* Toadie refers to Susan as "Mummy Susan" again and for the first time in quite a while, she is referred to as "Mrs K".
* Reference to Jim & Anne Robinson and them both having cheated on each other.
Episode 5690
* Further reference to Miranda's past relationship with Dean Naughton and she chooses Steve over him again.
* Susan continues to worry that Paul may be cheating on Rebecca again.
* Elle's poor cooking ability is referenced again.
* Reference to Anne Robinson's affair.
* Susan tells Lucas about the fire at Lassister's in 2004.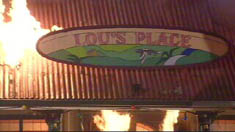 ..
Episode 5691
* Reference to Kirsten Gannon's injuries in the 2008 Bushfire & Elle's suspicions that Paul was responsible.
Episode 5692
* Reference to Elle reporting her suspicions about Paul to the police over the Bushfire.
* Susan is on the phone to Anne Wilkinson and asks if she can call her back as Elle comes to the door.
* Paul mentions that he's fired Tim Collins, as he's the lawyer you need for a dirty fight, but if you're innocent, Toadie's the man you turn to.
Episode 5693
* Reference to Toadie & Steph's past relationship.
* Mickey explains that he cut his hair after Callum bet him $2 to cut his fringe and had to go to the hairdressers to fix the mess.
* Lou puts up a photo of Harold in the Store.
* Susan visits the Ramsay kids with Harold's history of Ramsay Street, explaining to Katie that the street was named after their family and offering to show her some pictures of their grandmother.
* Susan also asks Katie if there's anything boring or practical she can do to help, suggesting giving them a lift somewhere, despite being unable to drive since her MS diagnosis and herself relying on taxis and lifts from her neighbours.
* Donna references Matt being on the run.
Episode 5694
* Elle offers the Ramsays a cheque bearing the Orpheous bank logo, which the Robinsons have used in place of Pacific Bank since Paul's return in 2004.
* Elle tries to explain to Katie that her name is short for Lucinda, but is interrupted.
* Karl & Steve argue over the best way to barbeque meat, reminiscent of Karl's previous arguments on the subject with Joe Scully, such as the Great Aussie Barbie competition in 2001.
* Zeke suspects Ringo of making a move on Sunny as payback over Zeke's feelings for Donna.
Episode 5695
* Lou tries to find a home for the picture of Harold he brought back with him.
* Reference to Cass Freedman & the Salvation Army's plans for Harold's house following her departure.
* Steve announces that he's moving back to Oakey to help Jim with his farm, the same reason for his brother, Stuart's departure in 2006.
LOU WATCH
Episode 5693
* Lou returned in a taxi from his trip up north! In doing so he managed to distract the press attention away from Paul, Rebecca and Toadie by making a fake announcement and getting a bit rough with one of the photographers.
Episode 5695
* Lou is branded a thug on the cover of the West Waratah Star for standing up to the media. It gains him some fans and more customers. Callum starts selling Lou masks. An old girlfriend of Lou's called Wilma Shay tracks him down and says he stood her up in 1988. She then puts a curse on him. Sometime later Lou finds what is thought to be a "curse stone" in his pocket and he steps in dog muck.