.
Comment > Continuity Watch: Episodes 5776-5795

Soap operas are often infamous for forgetting important details or, with one sentence, completely changing the course of history, and Neighbours is no exception. But it's also capable of dropping in subtle references to past characters and storylines to give us a better idea of a character's motivations, or simply to bring back memories for long-term viewers. Our monthly column, Continuity Watch, looks at the continuity issues, both good and bad, episode by episode. We've also incorporated Lou Watch, our monthly look at the antics of the much underused Ramsay Street veteran Lou Carpenter, just so we can all be sure he's actually still around.
CONTINUITY WATCH
Episode 5778
* Mentions of Taylah Jordan, Bree Timmins & Pepper Steiger.
* Reference to Lolly Allen.
* As Hany Lee (Sunny Lee) has her braces removed, it is mentioned on screen.
Episode 5779
* Mentions of Samantha Fitzgerald & Pepper Steiger.
Episode 5784
* Mentions of Samantha Fitzgerald & her baby.
* Reference to Izzy & Holly Hoyland.
Episode 5785
* Reference to the stories printed regarding Jill Ramsay's death.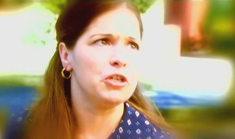 ..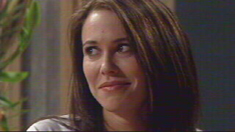 Episode 5787
* Reference to Libby previously working for the Erinsborough News.
Episode 5788
* Lyn tells Paul that she used her Advanced Hairdressing skills to break into his office.
Episode 5789
* Karl tells Libby that buying a house is a decision that should be made as a couple. Clearly his views have changed in the past 15 years as he bought Number 28 without consulting Susan.
* Mention of Sam Fitzgerald.
Episode 5790
* Mentions of Sam Fitzgerald & Jill Ramsay.
* Despite living in the house for the best part of a year, Ben has to ask Libby how many rooms Number 32 has.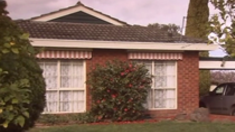 ..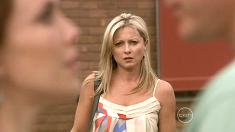 Episode 5793
* Mention of Samantha Fitzgerald and her daughter, Emma.
* Reference to Paul threatening to throw Donna out of Number 22 in episode 5731 when she discovered him sabotaging an interview that Elle had lined up for a rival newspaper.
Episode 5794
* Out of date establishing shots of Number 30 are used along with current versions.
* Mentions of Harold Bishop & Mickey Gannon.
* Lou refers to the kidney that Harold donated to him in 2003.
* Reference to Lou previously owning the store.
Episode 5795
* Mention of Grace Fitzgerald.
* Karl tells Lyn that he had his heart set on Eggs Benedict for breakfast. In 1997, when Susan was trying to convince Karl that they should have another baby, she prepared his favourite breakfast, Eggs Benedict to try & change his mind.
* Karl suggests a family meeting to Dan & Libby, which Dan referred to as a Kennedy tradition, which indeed it is, dating back to 1994.
* Mention of Grace Fitzgerald.
* An establishing shot of Number 30 is used before a scene with Karl & Susan at Number 28.
* Lou makes a reference to working in a busy bar, a nod to his time at Chez Chez & Lou's Place.
LOU WATCH
Episodes 5794
* Lou returns from New York & shocks Lyn by announcing that Steph has agreed to let him keep his room at Number 26.
* Tells Lyn that she's contractually obliged to keep him on at the store and sets about trying to save it from the embargo that Paul has arranged in exchange for being made manager. Lyn, however, isn't happy with the arrangement.
* Lou declines the offer of a job at Charlie's from Paul, saying that he owes it to Harold - he may want his kidney back if he lets his legacy go under. After Paul suggests that he buy back the store, he looks into his finances, only to be overheard by Lyn, who assumes he is in cahoots with Paul and fires him. As Lou decides to take up Paul's job offer, Lyn realises that was Paul's plan all along.
Episode 5795
* Starts work at Charlie's on it's busiest day in history due to the lack of stock at the store. Is thanked by Rebecca for all of his help & he comments that there's nothing like working in a busy bar.
* Visits Harold's Store with Rebecca and is shocked upon seeing how bad things are and learning that Lyn is being left with no choice but to sell to Apollo's.