.
Comment > Continuity Watch: Episodes 5816-5835

Soap operas are often infamous for forgetting important details or, with one sentence, completely changing the course of history, and Neighbours is no exception. But it's also capable of dropping in subtle references to past characters and storylines to give us a better idea of a character's motivations, or simply to bring back memories for long-term viewers. Our monthly column, Continuity Watch, looks at the continuity issues, both good and bad, episode by episode. We've also incorporated Lou Watch, our monthly look at the antics of the much underused Ramsay Street veteran Lou Carpenter, just so we can all be sure he's actually still around.
CONTINUITY WATCH
Episode 5817
* Mentions of Gail, Amy, Cameron, Robert, Elle & Andrew Robinson.
* Reference to Jill Ramsay.
Episode 5818
* Reference to the Kennedys past Scrabble disputes.
* Mentions of Mal & Billy Kennedy.
* Harold's old dining chairs appear at the Kennedys' holiday house.
* Lou tells Harry that he'll carry his bag out to the car, despite suffering from a bad back.
* Mention of Lou being the ex-Mayor of Erinsborough.
Episode 5819
* Mentions of Mal & Billy Kennedy.
Episode 5820
* Mention of Grace Fitzgerald.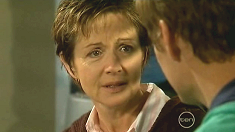 ..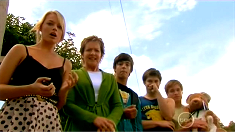 Episode 5821
* Reference to Dan's previous loss of children.
* Susan's MS symptoms worsen due to stress as they did following Zeke's disappearance.
Episode 5824
* Mention of Roz Challis joining in the Pirate party in episode 5608.
* Flashbacks of Sunny Lee's time on the street, the drama camp, school play & Deb Ball.
* Lou checks his bank balance online with Orpheus, which prior to this only the Robinsons have used, although his account shows that as well as spending $123.20 in Harold's & $76 in Charlie's, Lou withdrew $140 dollars from a Pacific Bank ATM, which was the bank of choice for all of Erinsborough's residents from 1985-2005 and continues to be for many.
* In a mirror of her first scene, the teens line up to see Sunny depart by taxi, with Ringo again holding Warny the stuffed kangaroo.
Episode 5829
* Mention of Libby & Dan's first kiss in the hallway at Number 30.
* Reference to Samantha Fitzgerald & Libby's past relationship with Lucas.
Episode 5831
* Reference to Dan's past feelings for Steph & her spilling a drink over herself to escape their date.
* Mention of Steph's feelings for Drew Kirk.
* Mention of Toadie's above average IQ.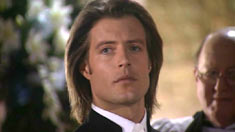 ..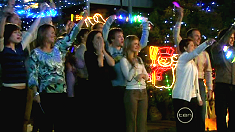 Episode 5832
* Reference to the annual Christmas lights competition.
Episode 5833
* Rebecca makes reference to Lyn's poor spelling on her signboard when she took over Harold's Store.
* Mentions of Bridget Parker & Jill Ramsay.
Episode 5834
* Mentions of Prue Brown & Drew Kirk
* Video message appearance of Elle Robinson.
* Rebecca Napier credited as Rebecca Robinson despite not yet being married.
Episode 5835
* Rebecca talks to Miranda Parker on the phone.
* Mention of Simon & Tegan Freedman.
* Rebecca's Wedding Vows references the backstory of her & Paul first meeting years ago when he was an Airline Steward.
* Paul & Rebecca dance to the Blue Danube, the piece of music that Andre Rieu was playing when they were finally reunited in episode 5662.
* Andrew Robinson returns to Erinsborough after a 17 year absence.
LOU WATCH
Episodes 5818
* Totters around stocking up at Harold's & asks Kate what she's doing there, telling her that she should be at home with Harry. Tells Kate that they screen foster parents heavily these days & gives her a hug.
* Goes to Charlie's & asks Rebecca if he can borrow some sugar for the Store and criticises Paul for not doing more for the Ramsays.
* Sees Harry off to his foster home and when discussing the situation with Toadie, Steph & Lucas comes up with the perfect guardian for the Ramsays - him, an idea Paul supports him on, leading to a surprising partnership, which thrills Kate & Sophie.
Episode 5824
* Poses for photographs with children in Harold's Store to show that he's a fit to be Harry's guardian.
* Comments that he goes way back with Roz from the DHS from the Pirate party - does a pirate impression. Is thrilled to realise that instead of transferring $10,000 into his account to aide his Guardianship application, Paul has accidentally transferred $100,000 and concocts a plan to keep hold of the extra $90,000.
* Celebrates the success of his meeting with the DHS, commenting that Roz loved him, probably due to his suave elegance.
Episode 5825
* Plans to use Paul's money to make improvements to Number 24, such as a dishwasher. new television. new kitchen & a built-in barbecue.
* Shows the article that Paul has published in the Erinsborough News to sell him as a positive role-model to the customers of the General Store, tells Harry that breakfast is on him.
* Upon finding out that Harry is being bullied in his foster home, storms in & brings Harry home to Ramsay Street.
Episode 5826
* Refuses to back down whilst Harry is in danger - comes up with a plan for Harry to hide from the Police who've come to return him to the foster home.
* Is asked to accompany Constable Page to the Police Station, but is saved by Harry's return, however still can't see why Harry has to return, but finds out that taking Harry has put his guardianship in question again.
Episode 5827
* Convinces Kate to go away for Schoolies.
Episode 5833
* Dresses as Santa for the Christmas Spirit competition and offers to help Lyn using the extra money that Paul mistakenly transferred into his account, but is left with egg on his face when Lyn gloats to Paul about his mistake & the money is swiftly transferred back.