.
Comment > Continuity Watch: Episodes 5936-5955

Soap operas are often infamous for forgetting important details or, with one sentence, completely changing the course of history, and Neighbours is no exception. But it's also capable of dropping in subtle references to past characters and storylines to give us a better idea of a character's motivations, or simply to bring back memories for long-term viewers. Our monthly column, Continuity Watch, looks at the continuity issues, both good and bad, episode by episode. We've also incorporated Lou Watch, our monthly look at the antics of the much underused Ramsay Street veteran Lou Carpenter, just so we can all be sure he's actually still around.
CONTINUITY WATCH
Episode 5936
* Reference to Oodles 'O' Noodles.
* Mentions of Joe Scully and Stonefish Rebecchi.
* Reference to Toadie & Steph's first engagement.
Episode 5939
* References to Lanzini's.
* Toadie threatens to send Lyn back to Shelley Bay.
Episode 5940
* References to Daniel Fitzgerald.
Episode 5941
* Paul's phone shows contacts for Cameron & Harry.
* Paul speaks to Elle Robinson on the phone.
Episode 5942
* Toadie speaks to Stonefish Rebecchi on the phone.
* Reference to Paul's brain tumour.
* Mention of Cass Freedman.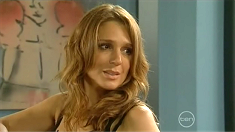 ..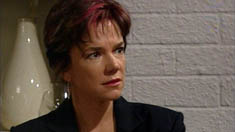 Episode 5943
* Reference to Lyn having worked for Paul.
* Donna's love of balloons is remembered.
* Paul gives Donna a basket of Brie, crackers and tomato sauce.
* Lyn brings Donna cupcakes.
Episode 5945
* Mention of Daniel Fitzgerald.
* Out of date establishing shot of Number 30.
Episode 5946
* Mention of Harry Ramsay
* Reference to Steph & Toadie's non-wedding.
* Natasha & Andrew walk across the driveway on the interior set of Number 32 and through the front door without taking into account the positioning of the steps on the exterior location.
* Old incidental music used on something Natasha is watching on the television.
* Steph has flashbacks from throughout her pregnancy.
Episode 5947
* Summer tells Kate & Sophie that Lyn likes well-groomed, classy men, neither of which describe Joe Scully or Joe Mangel.
Episode 5948
* Reference to Cass & Matt Freedman.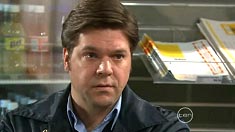 ..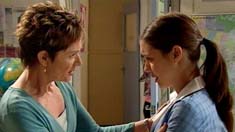 Episode 5949
* Reference to Susan's previous career as a teacher.
* Online copy of Riley Parker's article about Susan running over Bridget Parker from episode 5318 is shown. The date of the paper matches the Australian airdate of that episode, Wednesday 10th October 2007. The article incorrectly states that Susan was a teacher at Erinsborough Secondary College, rather than Erinsborough High School.
* Mentions of Bridget Parker & Elle Robinson.
* Susan's Facebook page shows her date of birth as March 13, 1956 which matches with her celebrating her 40th birthday on 13th March 1996 in episode 2568.
* Reference to Cass Freedman.
* Reference to Terry Robinson as Paul mentions that he wasn't much older than Ringo and Donna the first time he got married.
* Paul mentions that his marriage to Rebecca was his seventh wedding, presumably excluding his renewal of vows to Gail and their fake wedding in 2006.
Episode 5950
* Reference to Bridget Parker.
Episode 5951
* Declan's phone shows the date as 23/06/2010, two days ahead of the Australian airdate, whilst the time is shown as 5:08pm, despite several mentions of it being breakfast time.
* Mention of Elle Robinson.
Episode 5952
* Reference to Lyn's marriage to Paul.
* Declan gives India the ring which Rebecca gave to him for Bridget.
Episode 5954
* Reference to stress affecting Susan's MS.
Episode 5955
* Mention of Harry Ramsay.
LOU WATCH
Episode 5940
* Works at the guys shed.
Episode 5944
* Works at Harold's Store and jokes with Terry.
* The Ramsays set him up on a date with Terry in order for them to become friends.
Episode 5945
* Drives Harry to Sydney and tells Kate that he plans to play Morecambe & Wise on CD on the journey.