.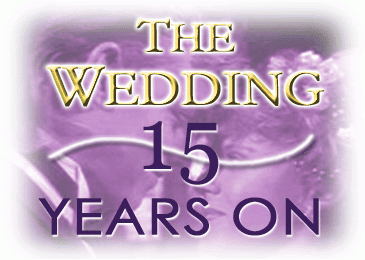 Features > The Wedding: 15 Years On By Moe
On 8 November 1988, Neighbours mania in the UK and Ireland reached fever pitch as the BBC broadcast the wedding of Scott Robinson and Charlene Mitchell, played by Jason Donovan and Kylie Minogue. 15 years on, the wedding is still held in great affection by all Neighbours viewers and is regarded by many as the quintessential Neighbours episode. We take a look back at the special occasion...

Ray Kolle, script supervisor from 1986 to 1992, reflects on what made 'The Wedding' such a special episode of Neighbours...
The wedding of Scott and Charlene is still fondly remembered by viewers, be they Neighbours addicts or even the most casual of viewers. How was it viewed by yourself and the production team back in 1987 - was there a feeling that it was a truly special episode, or just the same as every other episode? How do you regard it, looking back now?
I have very fond memories of this episode, but would you believe I have never seen it again since its original on-air showing, so my recall of detail is - to put it mildly - a little vague. I was always a Kylie Minogue fan from the moment she appeared in the show - there was something very special about her - and I remember thinking that there was a real fairy-tale feeling to the wedding. In fact, Reg Watson insisted that Charlene had to have a "Cinderella" wedding dress, and the story-liners all sat around trying to decide what a "Cinderella" wedding dress would look like. We all did sketches of our versions. Of course the costume department came up with their own dress which, as I recall, was quite beautiful, and I think Reg was well-pleased with it.
Scott and Charlene's romance was one of the great Neighbours success stories of the 1980s - when did you realise how popular the pairing was and when did you decide that Scott and Charlene should marry?
From almost their first scene together Scott and Charlene seemed to have a real chemistry between them. We gave them a lot of story time because they were so good together. Eventually, we had done so many stories of their romance being on again, off again, on again, that we decided the audience would become frustrated if we didn't finally take the step and marry them. There was some initial resistance to the idea because of a reluctance to show very young couples marrying as there was a feeling this was a little irresponsible. However, these two were so much in love and had been through so much that I and the other sentimental story-liners pushed for a wedding. The channel knew it would rate well, so finally everyone agreed.
Was there a lot of pressure on the story team to make sure everything about the episode was perfect?
Yes. Everyone knew it was a very important episode. We wanted it to be warm, sentimental and humorous. A really feel-good episode. We put a lot of thought into plotting it and Ray Harding wrote a terrific script . All in all, I believe the episode deserved to become such a high-point in the show's history.
The wedding episode is unique in Neighbours history in that it is one of the few episodes to feature the entire cast in the same episode. Because all the cast were featured in the episode, it gave it a much more realistic feel - everyone who should have been there, was there. Do you think the episode benefited from the ensemble feel?
Definitely. It was great to be able to have the whole cast together. Of course that meant that some of the other episodes in the week had to manage with small casts because the actors were limited to doing only either two or three episodes a week. I can't recall now, but we may have been given some latitude cast-wise as this was a special week.
The wedding theme - Suddenly - is a terrific rock ballad, that suited the event perfectly, and was also a chart hit as a result. Is it true that Kylie Minogue selected the tune herself? What did you think of the theme?
I honestly don't know if Kylie selected the theme. I would've thought it would more likely have been Reg Watson, Peter Pinne and Don Battye - they certainly would have had the final say even if Kylie did suggest the song. I really liked it and thought it fitted the moment very well.
The deliciously snooty and interfering Hilary Robinson made her first appearance on Neighbours at the wedding. Was she originally just to be a guest character, or did you, at the time, think she would return at a later stage, as a regular character?
She was originally only a guest, but even as we were creating the character we began to suspect she could be useful to use again. As soon as we saw Anne Pendlebury's performance, we knew we must have her back. I had worked with Anne years before in a show called Bellbird which was Australia's first really successful continuing soap opera (it ran for ten years). Anne was only a teenager in Bellbird, the romantic juvenile lead, so I was quite surprised to see her in a very different role as Aunt Hilary. She was terrific as the character. While she was so very prickly and irritating, you could also feel quite sorry for her. I think those sort of comedy characters are the best; ones with pathos under the comedy.
Given the enormous popularity of Scott and Charlene, do you think it would have been better had they left the series together, as opposed to Charlene going first, and Scott following a few months later?
Yes, I do, but I think we were probably forced to do it that way because of their contracts. I can't remember the details now. Kylie may have got some offer and wanted to be released and it would have been unfair to make Jason Donovan go at the same time when he still had some months on his contract. But certainly the two of them going out of the show together would have had a more dramatic effect.
To the delight of many long-term fans, the wedding featured heavily in Helen's final episode ten years later, as she played the tape of the wedding to settle the years old Ramsay/Robinson feud one final time. Can you tell us a little about how this idea came about?
The story-liners of that period (I was involved only as a writer by then) came up with the idea. It may have been Scott Taylor's suggestion (if I remember rightly he was story-editor at that time). Anyway, it was a great idea that had real resonance with the viewers.
Finally, did you have any favourite moments in the episode?
Well, the actual wedding itself, of course. I have to admit to having a tear in the eye as Charlene came down the aisle looking every bit the fairy-tale princess. The other moment I particularly enjoyed was when Mrs. Mangel accused Dan of trying to grope her when he was after an escaped white mouse that was under the table. Mrs. Mangel was always a joy!
The door to the old stone church opens, a haunting piano tune begins, and the bride, wearing a French chantilly lace gown walks in as 'The Wedding' begins..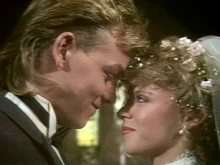 Scott and Charlene's wedding was the climax of a long-running courtship between the teenagers, which had begun just over a year before when Charlene first arrived on Ramsay Street. Thinking a burglar was trying to break into the Ramsay house, Scott Robinson raced to stop him, but was shocked when the 'burglar' fought back and punched him in the face. He was even more shocked when the culprit revealed herself to be Charlene, daughter of Madge Ramsay and old childhood friend of Scott's. Before long, the couple began dating, and experienced the usual ups and downs of all teenage trysts.. Scott wanted to have sex, but Charlene was reluctant. Then when Charlene consented, Scott changed his mind when he found out Charlene wasn't a virgin. Charlene cheated on Scott with Warren Murphy, Scott dumped her, Charlene moved out of her mum's house after a row and Scott saved her life when the caravan she was staying in at Lassiters exploded. Finally, they decided to move in together - but both the Robinsons and the Ramsays objected. Scott's father Jim, and Madge were particularly aghast at the idea, and refused to give the kids their permission. But undeterred, and desperately in love, Scott and Charlene went one step further - they got engaged. And although Jim was disgusted by his son's plans at first, he soon came round when Scott's gran Helen Daniels reminded him that he had fallen in love and married Scott's late mother at a similar age.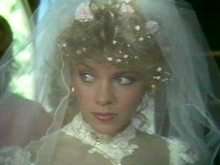 After a quick engagement, the day of the wedding arrived, and what a special day it was. Charlene arrived at the church on the arm of her big brother Henry, with bridesmaids Jane and Lucy following behind in their striking peach dresses. Scott, looking dapper in his grey coat tails, flanked by best man Mike Young and his older brother Paul, looked down the aisle in sheer delight as the love of his life made her way up to the altar. And all the neighbours - from Des and Daphne to Harold and Mrs.Mangel - looked on as the moment they - and all the viewers - had been waiting for finally arrived.

Scott and Charlene's wedding was a phenomenal success for Neighbours. It was recorded at the Neighbours studios in Nunawading and on location at the Holy Trinty Church in Doncaster in early 1987. The church scenes were filmed several times to capture the right mood, and correct lighting. The episode aired on Network Ten in Australia on 1 July 1987. It sent ratings through the roof, and even made the cover of TIME Australia. Kylie and Jason embarked on an intensive tour of Australia to publicise the wedding, even causing a stampede at a Sydney shopping mall in the process. On the day the wedding was set to air on Ten, Kylie and Jason appeared at Parramatta shopping centre to promote the event. As the two stars cut an exact replica of Scott and Charlene's wedding cake, pandemonium broke out among the 4000 fans who had turned out to catch a glimpse of the couple. Several fans were hurt and others fainted - and it even led to both Kylie and Jason pleading for calm. It was a remarkable demonstration of the impact the Scott and Charlene love story - and Neighbours - had made on the audience.
When the episode aired on this side of the world in 1988, Kylie and Jason had already launched themselves as pop stars and had achieved huge hits with songs such as 'I Should Be So Lucky' and 'Too Many Broken Hearts'. On top of this success was the burning question on everyone's lips of whether or not Kylie and Jason were an item off screen as well as on. Although they denied it whenever they were asked, the rumours persisted, and fans of the show desperately wanted it to be true - how could Scott and Charlene not be in love in the real world too? The rumours appeared to be confirmed when a tabloid newspaper published pictures of the pair on holiday together in Bali, but whenever they were asked on television shows or in newspaper interviews, they always denied they were more than 'just good friends'. It wasn't until years later that the pair confirmed that they had indeed been an item.
Regardless of whether or not Kylie and Jason were seeing each other off-screen, the publicity they generated for Neighbours was massive, and this all combined to ensure Neighbours' ratings soared by the time the wedding aired on BBC One. Everyone remembers the day of the wedding - whether it was rushing home from school or university, or sitting down after tea to watch that night's episode, one thing is certain - it remains an affectionate and widely remembered part of many an 80s childhood. The popularity of the episode was further confirmed by the success of the wedding theme, 'Suddenly' sung by Angry Anderson. The week after the wedding episode aired, 'Suddenly' entered the British Top Ten, and peaked at No.3. The record sold 250,000 copies and was still in the top ten that Christmas when Kylie and Jason hit the top spot themselves with their duet, 'Especially For You'. And remarkably, a copy of the wedding script signed by the episode's scriptwriter Ray Harding fetched a whopping £2,000 at a charity auction at Sotheby's in London.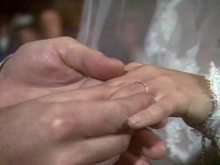 The wedding of Scott and Charlene has never been equalled since. It was a truly remarkable episode, and an enormous success story, at a very special moment in time. But for all the hype and hysteria that surrounded the wedding, it all seemed to pass the bride by... "I can't believe how big the wedding was," Kylie said in 1990. "For us, it was like another day's work."
With Thanks to Ray Harding.