.
Features > Esme Melville: A Tribute by Moe
Veteran actress Esme Melville, who has played the recurring role of Rose Belker on Neighbours since 2002, has passed away, aged 87 years. Esme had been ill for a short time, and died peacefully on 14th September.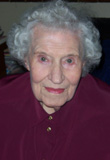 Born in 1918, Esme was one of the founders of the famous St. Martin's Theatre in Melbourne. She spent 12 years working in musical comedies after the end of the Second World War, and moved into television in the 1970s, signing with Crawford Productions. Here, Esme appeared on Matlock, Homicide, Division 4 and Consider Your Verdict. The revival of the Australian film industry in that decade saw Esme star in films such as Stork and Nimboola, and she returned to television in the 1980s, with guest roles on Prisoner, I Can Jump Puddles, Sons and Daughters and The Flying Doctors. And again in the 1990s and 2000s, Esme was still regularly appearing in the cream of Australian television, including The Secret Life Of Us, SeaChange, Stingers and Blue Heelers. She also appeared in several student films, independent short films, in-training videos and regularly did voice-over work. In 2003, Esme became widely known by young film fans as Mrs Jenkins in Crackerjack and that same year, won the best actress award at the Tropfest short-film festival for Forbidden.
Esme first appeared on Neighbours in 1986, shortly after the series debuted on Channel Ten. Her character, Mrs York, was a kindly old neighbour of the Ramsay Street residents, who was hiding the fact that she had fallen on hard times from her friends. Mrs York's pride meant she had to rely on stale food from Daphne at the Coffee Shop and her home was virtually empty, as Madge discovered when she called in on her. And in a poignant ending to the storyline, Mrs York died with her beloved dog Billy by her side just as she had begun to accept the help and support of her neighbours.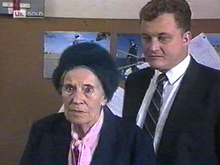 In the 1990s, Esme appeared as Jean Halliday and Moina Beresford, mother of Pam Willis. But it was for her role as Rose Belker in recent years that Neighbours fans grew to hold her in much affection. Described by Esme herself as ranging between being "a nutter, a hypocondriac, and a nuisance," Rose would regularly pop up in scenes at the surgery or hospital (she must have encountered almost every ailment there was). And her most dramatic moment occurred when she discovered the unconscious Darcy at the bottom of the hospital stairs in 2004.
Speaking to The Perfect Blend last November, Esme spoke of her fondness for the character of Rose Belker and revealed herself and Neighbours director Tony Osicka, had come up with the idea of Rose being hard of hearing. "Neighbours compares very well with other series I have worked on," Esme told us. "It is a great training ground for all of the young performers coming through, as it exudes a very warm and caring feeling."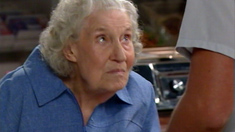 At 87, Esme slowed no signs of slowing down in her acting work and was performing right up to the end. She had just finished filming an episode of the Real Stories comedy series, a talk about her career at Chapel off Chapel, and the feature film Romulus, My Father, co-starring Eric Bana. Esme's final appearance on Neighbours as Rose was in some scenes in the General Store earlier this year when Ned Parker gave her a parking ticket. After Rose melted Ned's heart by telling him how bad her finances were, Ned finally saw the light after spending a few weeks being a nasty parking inspector and ripped up the ticket, before inviting Rose to join him for coffee and cake. "With a handsome young man? Ooh, it's just like the war!" Rose cheerfully declared.
Esme was remembered by her many friends at a memorial service at the Victorian College of the Arts, Federation Hall, Grant St, Southbank on Monday 2nd October at 3pm.
"She loved playing Rose Belker on Neighbours, from helping the evil Paul see the light... albiet briefly, thought she was being told she had "great breasts" to having a date with a "hot" spunk... cast and crew loved her. And the Neighbours runners would always find her standing outside her flat at least 10 minutes before scheduled "pick-up time" and she would refuse any help to get in or out of the car... she was very independent and would always say... "I can do it, I'm not helpless yet"... she had also just completed a movie on the Saturday before she passed on, plus she had another movie script on the table ready to go!
There is also a wonderful story of when she was in the WRANS during the war. She was driving one of the cars, and one day was driving a young Greek boy around chatting away... I think they even had fish and chips down by the water... he was telling her about this English girl he was in love with, but his family didnt approve. Esme told him to forget the family and marry the girl if he loved her - don't beat around the bush! That young man apparently was Prince Philip and he was talking about Queen Elizabeth... Es, needless to say didnt know who she was talking to!
She loved actors and crew and loved unconditionally working in this industry and she devoted her whole life to it... she mentored many people in the industry and on Monday they all came to pay their respects to this wonderful woman - she had done every television show, as well as many films and so much theatre - we couldn't begin to put it all together. She was an amazing woman who gave so much and never asked for anything in return. She deserves every accolade we can give her."
Jan Russ

Characters

Biography: Mrs York
The elderly Erinsborough lady who was too proud to accept help



Biography: Jean Halliday
The woman who almost got Wayne Duncan sent to prison



Biography: Moina Beresford
Pam Willis' mum, who arrived for a special occasion



Biography: Rose Belker
The dotty old lady who kept Erinsborough's medics busy



Interview

Interview: Esme Melville
In November 2005, Esme chatted to us about her life and career


Comment

Do I Know You From Somewhere?
A look back at Rose, and some of the other 'golden guests'