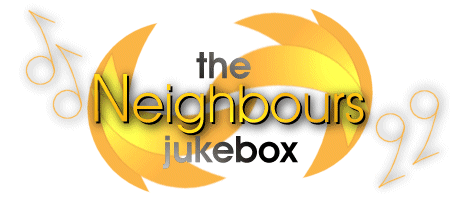 .
Interactive > The Neighbours Jukebox
The Neighbours Jukebox is a fortnightly feature on our sister site, the Neighbours Message Board. Every two weeks, we ask our readers choose the songs which reflect a character's personality and storylines and their playlist is added to this page.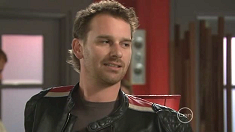 He Is Your Brother - Abba: For obvious reasons.
Motorcycle Emptiness - Manic Street Preachers: He worked for a touring motorcycle company.
The Girl Is Mine - Michael Jackson and Paul McCartney: He fought with Dan over Libby.
Naked - Louise Nurding : He was found half-naked in his first episode.
Mrs Robinson - Simon & Garfunkel: He enjoys flirting with Elle.

Thanks to: Smurfy, Malm and Declanlover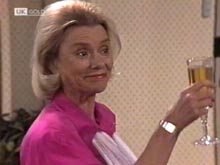 There's No-one Quite Like Grandma - St. Winifred's School Choir: For obvious reasons.
Darlin' - The Beach Boys: Her catchphrase (now adopted by her grandson, Paul).
Paintbox - Pink Floyd: She was a respected artist.
Drive - The Cars: And she ran Home James, a chauffeuring company.
Young at Heart - Frank Sinatra : She didn't behave like a conventional pensioner.

Thanks to: Smurfy and David1979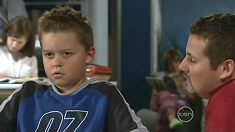 Trouble - Pink: He often gets into it.
Wild Child - Enya: He is one.
Bad Boy - The Beatles: He's one of those too.
The Thief - Can: He rebelled by stealing from people.
Bigmouth Strikes Again - The Smiths: He has a tendency to say the whole thing. A lot.

Thanks to: Malm, anfield and David1979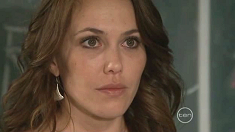 Headlines - The Spice Girls: Libby started out as a journalist.
Teach Your Children - Crosby, Stills, Nash & Young: Then she became a teacher...
When I Kissed the Teacher - ABBA : And had an affair with student Taj.
Don't Spook The Horse - Neil Young: Her husband Drew died after falling off a horse.
Bizarre Love Triangle - New Order: And she had one of these with Dan and Sam.

Thanks to: David1979 and Smurfy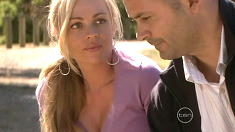 Maneater - Nelly Furtado: Because... she is one.
Forbidden Love - Madonna : She had an affair with nephew Riley.
Taste In Men - Placebo: And is in love with brother-in-law Steve.
Sisters Are Doing It For Themselves - Annie Lennox & Aretha Franklin: She was once close to sister Miranda.
Dumb Mistakes - Faker: And she has a tendency to do the wrong thing.

Thanks to: Edmundo, rebeccag, Grinch-Girl and Smurfy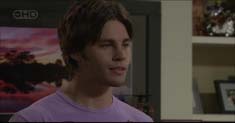 I Have A Dream - Westlife: He gave up law school to follow his music dream.
Rockstar - Nickelback: And formed his own band.
Somebody's Watching Me - Rockwell: And also found himself with a stalker in the shape of Donna.
The Bartender And The Thief: He soon found work at the bar, and ended up sleeping there too.
Mad About You - Belinda Carlisle: Then he developed a crush on new housemate Libby.

Thanks to: thewomblechick, David1979, Malm and rebeccag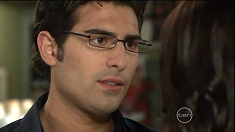 Bella Ciao - Italian partisan song: Marco's nickname for Carmella is 'Bella'.
It Wasn't His Child - Ken Dodd: He fell for Carmella, despite her being pregnant with Oliver's child.
Father Figure- George Michael: And became a stable influence for Chloe.
Jealous Guy - John Lennon: But he's struggled to cope with Oliver's continued presence.
Scenes From An Italian Restaurant - Billy Joel: He realised his dream of owning a restaurant, taking over the General Store.

Thanks to: Ramsay Street, rebeccag and Smurfy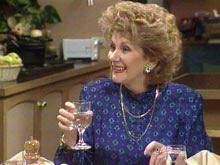 Roots - Bob Marley & The Wailers: Madge's family had lived in Erinsborough for a long time.
Love To Hate You - Erasure: Her infamous feud with Mrs Mangel.
Opposites Attract - Paula Abdul: Madge and Harold had a chalk and cheese relationship.
Electioneering - Radiohead: Madge was involved in local politics.
Gone Too Soon - Michael Jackson: She died far too young.

Thanks to: Malm, David1979 and Kate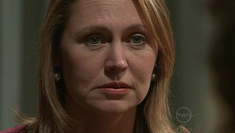 Mother - John Lennon: After realising that she couldn't have her own children, Miranda adopted Bridget and Riley.
Protection - Massive Attack: And now she'd do anything for both of her children.
Complete Control - The Clash: Event planner Miranda is something of a control freak.
Heaven Knows I'm Miserable Now - The Smiths: Soon after moving in, Bridget was run down and left in a coma.
Sorry Seems To Be The Hardest Word - Elton John: She struggled to forgive Susan for Bridget's accident.

Thanks to: david1979 and Malm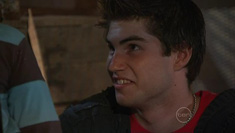 Banana Pancakes - Jack Johnson: Declan and Rebecca promise to make these for each other after they fall out.
How Do You Expect To Be Taken Seriously - Pet Shop Boys: Declan is constantly sarcastic.
The Race - Yello: He and Didge got involved in illegal drag races.
Dream Brother - Jeff Buckley: He thought he'd hit the jackpot when he discovered Oliver was loaded.
Runaway - The Corrs : He vanished after being wrongly accused of running down Bridget.

Thanks to: Ramsay Street, smurfy, Malm and AndyB2003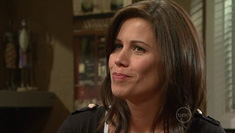 Faces - 2 Unlimited: Rebecca has a delightful array of expressions.
Go Away - Gloria Estefan: She wants Richard out of her life.
Hard Knock Life - Jay Z: She struggled to bring up Declan on her own.
Runaway - Del Shannon: She and Declan were forced to disappear whenever Richard found them.
Temporary Secretary - Paul McCartney: She worked as a legal secretary, then got sacked, then rehired.

Thanks to: Malm, david1979 and edmundo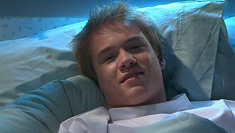 He Ain't Heavy, He's My Brother - The Hollies: He arrived to stay with big brother Frazer.
Water - Martika : He had a phobia of water.
Teenager In Love - Dion And The Belmonts: He fell for both Rachel and Carmella during his first six months in Erinsborough.
Crash - Gwen Stefani: He was in two car crashes in a matter of weeks.
I Said I Loved You... But I Lied - Michael Bolton: Carmella did just that.

Thanks to: Malm, david1979, smurfy and Mike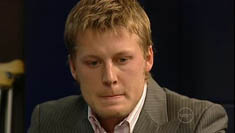 Erase/Replace - Foo Fighters: He turned up just as brother Will left town.
Baby You're A Rich Man - The Beatles: He inherited the Barnes hotel empire.
Heartbreaker - Mariah Carey: In just over six months, he managed to break Carmella and Elle's hearts.
Secret - Madonna: He then found out that Barnes employee Alan Napier was actually his grandfather.
Father Figure - George Michael : Then found out Carmella was pregnant with his child.

Thanks to: Malm, david1979 and edmundo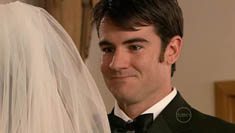 Gambling Man - Woody Guthrie: Professional gambler Frazer first appeared in 2006.
I'm Not The Man I Used To Be - Fine Young Cannibals: Having changed his name from George Brown as a teenager.
He Ain't Heavy...He's My Brother - The Hollies: And was soon followed by younger sibling, Ringo.
True Love - Elton John and Kiki Dee: Romance quickly blossomed with housemate Rosie.
Walking Back To Happiness - Helen Shapiro: And he overcame paralysis to walk down the aisle with her.

Thanks to: Malm, david1979 and AndyB2003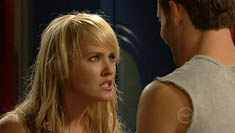 Teach Your Children - Crosby, Stills, Nash and Young: She's a teacher. With two degrees, no less.
Father Figure - George Michael: With an over-protective, police sergeant for a dad.
The Pretender - Foo Fighters: She pretended to be engaged to Frazer.
You're My Best Friend - Queen: She quickly developed a close friendship with Rosie.
Mary's Prayer - Danny Wilson: Crazed Mary Casey locked her up.

Thanks to: Malm, david1979 and Affirmicon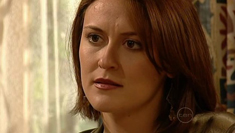 Gangsta's Paradise - Coolio: Lawyer Rosie came from the infamous Cammeniti clan.
Like A Virgin - Madonna: She arrived in Erinsborough a virgin.
The Right Man - Christina Aguilera: Before falling in love with housemate Frazer.
Will You Marry Me - Paula Abdul: Who she broke tradition to propose to.
I'll Stand By You - The Pretenders: And supported when he found himself paralysed.

Thanks to: Malm, david1979 and edmundo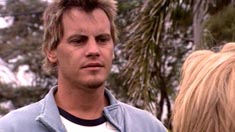 When Will I Be Famous? - Bros: ...remember his musical stage career ambitions?
Naive - The Kooks: He was naive to the point of stupid thinking Izzy was interested in him.
Pretty Vacant - The Sex Pistols: He's not known for his sharp mind.
Let's Get Physical - Olivia Newton-John: He recently became a personal trainer.
Girlfriend in a Coma - The Smiths: And new girlfriend Katya's shocking past was revealed when she was shot and left in a coma.

Thanks to: anfield, farscape and Malm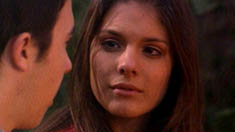 Papa Don't Preach - Madonna: She had a strict father in the form of Alex...
New Mama - Neil Young: ...who then died and left her and Zeke with stepmum, Susan.
You've Got To Hide Your Love Away - The Beatles: She had a secret relationship with older Stingray.
Shocked - Kylie Minogue: She received an electric shock from the sandwich toaster...
Love Hurts - The Everly Brothers : And her relationship with Stingray ended badly.

Thanks to: anfield and david1979
To view older Neighbours Jukebox entries, click here...