Channel Ten: 30/06/08, Five: 18/09/08
At Chloe's christening, Oliver tells Marco that just because he can't have kids, he's not taking his daughter and they fight. Marco tells Carmella that he loves her and proposes. Declan discovers Paul watching Elle and Rebecca from the bushes. On their way back to the picnic area, Karl and Susan get lost. The Ramsay Street residents at Marco's picnic decide to leave when they notice a large amount of smoke. Dan saws a tree and it begins to fall toward Callum, but Dan pushes him out of the way just in time, as the tree crashes down.
As the smoke grows, everyone quickly tries to move the tree off Dan's leg. Jay takes charge and tells the inexperienced firefighters to leave immediately, and that he, Ned, Steve and Nicola will stay behind to help Dan. Kirsten doesn't want to leave Ned, but he warns her to take Mickey and go, promising that he'll be fine.
The group who leave hurry toward the fire service vans. Steph runs around helping everyone get in, but runs back to Jay and the others, thinking that they'll need another pair of hands. They successfully manage to lift the tree off Dan's leg but Nicola insists on looking at his injuries before they lift him up.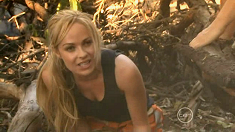 ..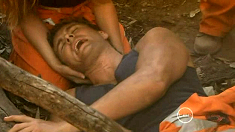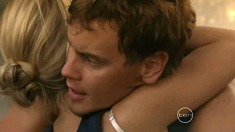 ..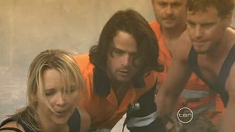 The fire trucks race toward the area, as everyone at the picnic tidies up. Rebecca is worried about Karl and Susan, but Oliver tells her that they can't stay where they are. Marco, Rebecca and Declan head off to the cars, but Oliver notices that the smoke is between them and the cars, so they should go to the lake. Marco and Oliver fight about where to go and Elle pressures them to make a decision.
Karl and Susan wade through the smoke, desperately trying to get a reception on the mobile phone. They make the decision to go to higher ground.
Marco and Oliver continue arguing. Eventually they decide that although the cars are their best option, they may be burned out by the time they get there, but the lake is a certainty, so they all head toward the lake.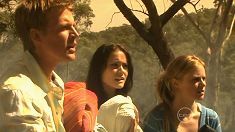 ..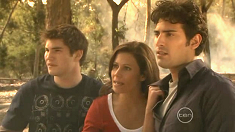 ..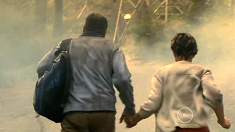 Karl gets gets a phone call from Oliver, who tells him that everyone is going to the lake. The call cuts off however and Karl and Susan have no idea how to get there. They continue to follow the track, heading into the smoke together.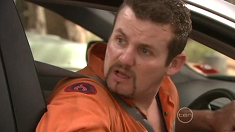 ..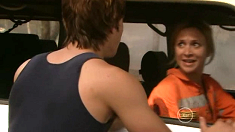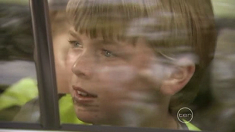 ..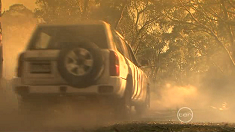 The fire service van reaches the car park and everyone gets into the cars. Kirsten helps Mickey into the back, putting on his seatbelt. She tells him that everything is going to be okay and they'll be fine. She kisses him, saying that she loves him, before running back into the van. She shouts to tell Toadie that she's going back and that she's not leaving Ned. Ty runs to try and get her to stop, but it's too late.
..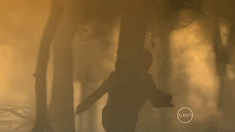 Kirsten drives straight back into the forest. She gets out of the van, coughing and screaming for Ned. She trips, but gets up and continues deeper into the smoke.
Marco, Carmella, Rebecca, Declan, Oliver and Chloe are still on their way to the lake. Carmella wants to stop for a break, and they realise that they aren't getting closer to the lake. Declan notices a brick building that they could take cover in and they all go towards it. Unbeknownst to them, they have forgotten the bag with Chloe's bottles.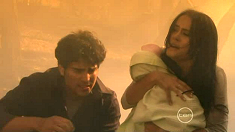 ..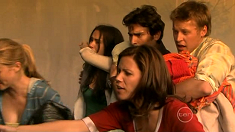 The fire continues to rage when they arrive at the building. It's locked, but Declan picks up a nearby rock and begins to hit the door, smashing the lock. They all go inside.
Elsewhere, Paul runs through the smoke, eventually noticing the fire service van. He calls around for the driver, but to no avail. As he gets in, he notices a collapsed figure in the distance - Kirsten. He shouts at her, but she doesn't respond or move. A small fire grows beside her and fiery branches fall on top of her. Still unresponsive, he gets in the van and drives off. Kirsten wearily watches him go, before passing out.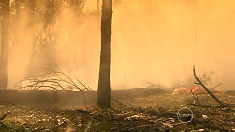 ..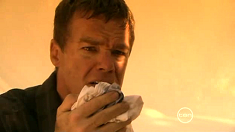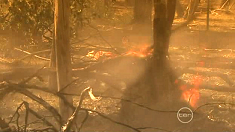 ..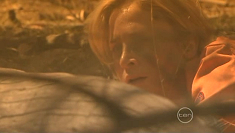 Realising that the fire is all around them, Karl and Susan take shelter in a ditch. They throw a blanket round themselves and declare their love for each other. Karl does his best to calm a worried Susan.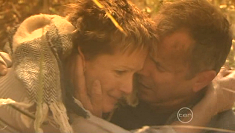 ..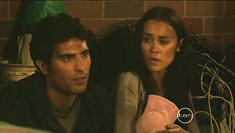 In the building, Oliver fails to get a call through to anyone but believes that, even though no one knows where they are, being under cover is their best chance of survival. Chloe cries and Carmella asks Rebecca to pass the bag with her bottles, but Marco suddenly remembers that they left it behind at the last stop. Rebecca gets a bottle of water, using it to wet Chloe's blanket so that she can suck on it.
Noticing the van driven by Paul passing by, Karl runs onto the track, flagging it down. Karl and Susan get in and they drive to safety.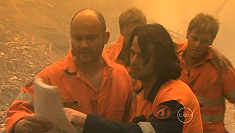 ..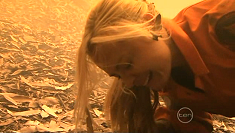 Jay, Dan, Steve, Ned, Steph and Nicola walk through the forest. Reading the map, Steve notices a scout camp and decide to take cover there. They all run as fast as they can, but Nicola slips and rolls down a hill. Not long after, Steve notices that Nicola is no longer behind them and heads back to find her.
Back in the building, Declan says that he's worried about Paul. Rebecca reassures him that he'll see him again, but Declan admits that Paul was out there, watching them at the picnic. Elle is worried that he could be out in the fire, but Rebecca tries to calm her, saying that it was a few hours ago and he could be home by now. Steph, Dan, Jay and Ned burst through the door and are instantly worried that Steve and Nicola haven't found their way there yet.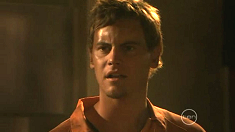 ..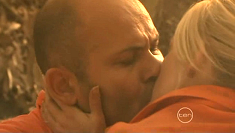 Steve runs through the bush, calling Nicola's name. He eventually find her, helping her to her feet. Hysterical, she kisses him, but he pulls away, asking her what's she doing. She tells him that she's sorry and that she was frightened, before running away with Steve close behind.
At the hospital, various people are being treated from the fire. Karl checks over Toadie and Callum to make sure they're alright. Callum runs and hugs Toadie. Mickey asks Paul if he has seen Kirsten. Paul doesn't reply and looks around, racked with guilt.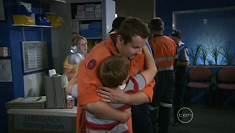 ..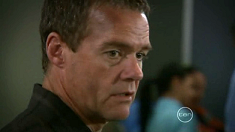 In the building, Jay gives the names of the survivors on his radio. Carmella and Rebecca try to get Chloe to suck the blanket, but Carmella realises that she has lost her engagement ring. Jay receives information that Kirsten went back to help their group, but loses reception. Ned is immediately worried, remembering that Mickey was with her. Desperate to find his family, Ned decides to go out and find her. Marco and Oliver want to go with him. Marco tells Carmella that Chloe needs her bottle, but she begs him not to go, saying that she lost her ring and she can't lose him too. He tells her that it's jut a ring, but he gets to spend the rest of his life with her and he's not missing out on that. The three men way their goodbyes and head out into the fire.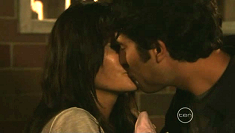 ..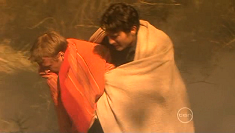 Outside, Oliver isn't able to stand the smoke and Marco begins to take him back. Ned won't listen and heads onward to try and find Kirsten.
In the building, Jay tries to make contact on his radio. There is a knock at the door, but the heat has caused the metal to expand and they struggle to open it. However they manage it and Steve and Nicola come in. Steve says that there is no way that anyone else is alive out there and is horrified to find out that Ned, Oliver, Marco and possibly Kirsten and Mickey are still outside.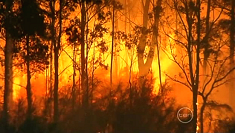 ..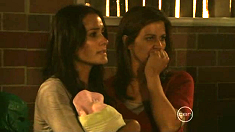 At Erinsborough Hospital. Toadie is feeling guilty that he wasn't able to stop Kirsten from going back. He asks Karl if there has been any more news and he tells him that they lost contact but as far as they can tell, the fire is heading towards them. Toadie calls Steph, leaving a voicemail message, telling her that he has so much he wants to say to her, but can't say it, so will have to wait until she gets back. Susan comforts him.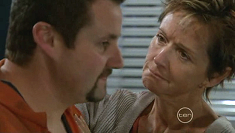 ..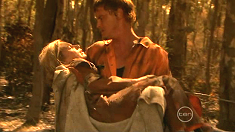 Ned finally finds Kirsten, but she is heavily hurt and in pain. He lifts her up and carries her away.
On their way back to the building, Marco tells Oliver to go ahead and he runs to get Chloe's bottles. As he stops, he finds Carmella's engagement ring.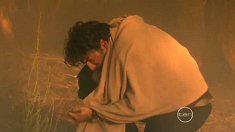 ..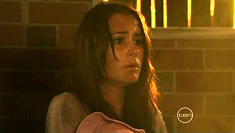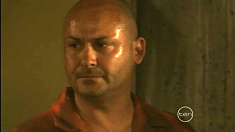 ..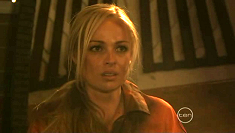 In the building, there is a knock at the door. Declan runs to open it, but burns his bands on the handle. Jay and Steve manage get the door open, but close it as soon as Oliver comes in. Jay tells him that they can't leave it open as the fire is just about on them. Carmella is extremely worried about Marco and Steve and Nicola are distraught when they hear that Ned went to find Kirsten alone.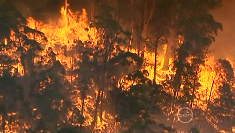 ..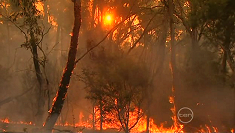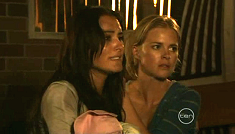 ..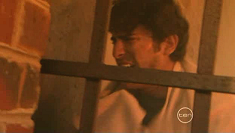 The fire is out of control, but Marco arrives, also burning his hands on the door. He shouts at them to open the door. Jay and Steve try their best, but the door is jammed. Carmella screams at them to open the door as Marco throws himself against it, desperate to force it open. As the fire comes closer and closer, there is a final groan then silence. Everyone takes cover as the fire passes over the building.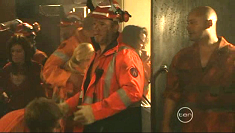 ..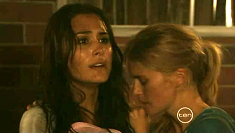 Later, after the fire has passed, Carmella wants Steve and Jay to try and open the door. But the door is opened from the outside by some firemen, who begin to usher them out. Carmella asks if they have seen Marco, but they tell her that there is no one out there. She demands that they need to look for him.
Cast: Stefan Dennis as Paul Robinson, Pippa Black as Elle Robinson, Brett Tucker as Daniel Fitzgerald, Jane Hall as Rebecca Napier, James Sorensen as Declan Napier, Ryan Moloney as Jarrod 'Toadfish' Rebecchi, Kym Valentine as Libby Kennedy, Alan Fletcher as Dr Karl Kennedy, Jackie Woodburne as Susan Kinski, Caitlin Stasey as Rachel Kinski, Carla Bonner as Stephanie Scully, Sam Clark as Ringo Brown, Steve Bastoni as Steve Parker, Daniel O'Connor as Ned Parker, Fletcher O'Leary as Mickey Gannon, Natalie Blair as Carmella Cammeniti, Sarah May as Chloe Cammeniti, Jesse Rosenfeld as Marco Silvani
Guest Cast: Dean Geyer as Ty Harper, Imogen Bailey as Nicola West, Nikola Dubois as Kirsten Gannon, Morgan Baker as Callum Jones, Charlie Clausen as Jay Duncan
Summary by Conor