Channel Ten: 08/08/08, Five: 30/10/08
Declan arrives at his surprise birthday party. Oliver and Carmella kiss. Rebecca tells Oliver that Carmella can't handle anything more than friends right now. Nicola kisses Steve in Declan's bedroom, unaware that Declan has seen them. Steve leaves the bedroom and is caught by Miranda. Didge asks Steve what's going on.
At the party, Paul offers Rebecca a drink but he just grabs his arm to look at his watch. She tells him that she's waiting for Oliver. They continue chatting and he asks Rebecca what she is doing later. She reveals that she's got a room at Lassiter's so that the kids can make as much noise as they like later. Paul offers to upgrade her room to one with a jacuzzi, asking her to come with him ad talk about it privately.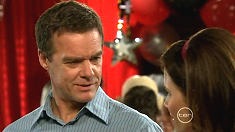 ..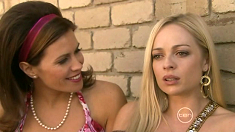 A they leave the house, they find Nicola crying outside. Rebecca comforts her, asking her what's happened. Nicola tells her that she's just had a fight with Miranda. Rebecca assures her that sisters always forgive each other in the end but is shocked when Nicola tells her that she kissed Steve. Nicola walks away and Paul tries to excuse her behaviour by saying that it was just a kiss. Appalled by his sympathy, she says that it's still cheating and didn't know why she expected him to understand. She goes to see Miranda.
At number 26, Miranda flings Steve's clothes across the room. Rebecca arrives, admitting that Nicola told her. Miranda says that she threw out Nicola's clothes too, so they can have a 'His' and 'Hers' pile. Rebecca thinks that she should set a match to them, if it makes her feel better. However, with Paul's infidelity, she didn't want him to know that she cared that much and believes that although forgiving them is possible, you can never forget. As Miranda continues looking at Steve's clothes, she begins to cry and Rebecca hugs her.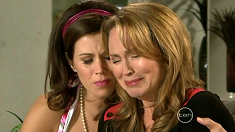 ..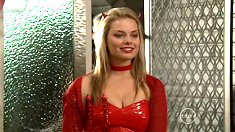 Back at the party, Rachel notices that Angus isn't enjoying himself and he says that he doesn't fit in. He doesn't have a problem with her friends, but they have a problem with him. She asks him to relax and says that, in time, they will get used to him as her boyfriend. Donna arrives in the exact same costume as Didge and introduces her date, Josh. Elle asks Ty if he has seen Oliver, but he hasn't.
..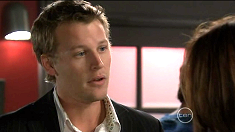 At Charlie's, Oliver is on his mobile. Rebecca arrives and briefly discusses the party with Steph. Finishing the call, Oliver tells his mother that he missed Declan's party because he has been on the phone negotiating a job in New York. He has been head-hunted by a hotel chain over there. He can be there to the middle of next week, but has to leaves immediately to discuss with with Sebastian in London. Rebecca is angry, not only at his decision to leave on his brother's birthday, but at his revelation that he wants to take Carmella and Chloe with him. She tells him to go and talk to her about it.
Outside number 24, Declan offers Bridget some hummingbird cake - her favourite. As she calms down, he tells her that he loves her and just didn't want her to see her dad like that, but it won't happen again. Didge says that she's been trying to work up the courage to talk to Miranda, but after they way she treated her, she could understand if she doesn't want to speak to her. Miranda walks out on the street and Didge goes to her, asking if she is alright. She tells Didge that it was nobody's fault and that Steve has just made a terrible mistake. They both want things to go back to the way they were.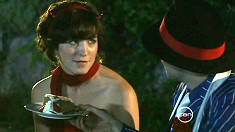 ..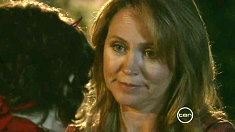 At number 32, Libby and Lucas are have Indian takeaway. She tells him that she's glad he called as although she was enjoying the party, there was a guy, who looked like he was going to make a move. He asks what she would have done if he didn't call. She truthfully replies that she doesn't know, but hearing Lucas' voice made everything a lot clearer. He takes her hand and tells her that he's glad too.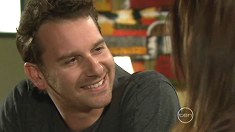 ..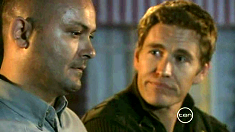 Outside number 32, Steve asks Dan if something good starts from something bad, is it still okay. Knowing that he's talking about Miranda, Dan tells him that he and Miranda look like a good thing to him. And 'hypothetically' if it works out, it doesn't matter where it starts from - many relationships have shaky beginnings and having work from the start may make things stronger. Steve tells Dan that he never though about it like that, but says that something happened a while back and now everything has changed. Dan believes that the past is the past and h shouldn't throw away everything he has now for something that happened years ago. Steve doesn't think he can trust her anymore and Dan reveals his two choices - decide to trust her or don't.
At The General Store, Carmella refuses to leave with Oliver, saying that she isn't ready to start again. She does want to be with Oliver, but is afraid that if she leaves, she'll lose all sense of everything that Marco meant to her. Oliver asks if he should stay or go and she tells him that it's his choice. She really wants his love and support, but can't be what he wants her to be right now.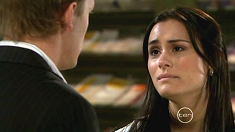 ..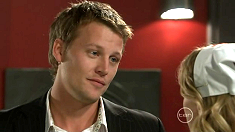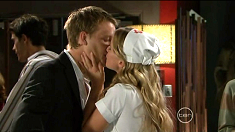 ..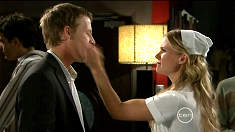 Back at Charlie's, Rebecca argues that just because Carmella isn't ready for a committed relationship doesn't mean he has to go to New York. Oliver thinks that by saying around, he'll just mess with his head and if he was somewhere closer, he wouldn't be able to stay away from her. Rebecca begins to cry, believing that she's going to lose him now that she's just found him. He promises to buy her a ticket to visit him. Before he leaves, she tells him that she has some farewells to make first, just as Elle enters. Elle notices Rebecca is upset and asks what's going on. Oliver admits that he's leaving for New York tonight. She tries to hold back he tears and he promises that he's not leaving because of her. She wants to give him something to remember her by and kisses him. As she pulls away, she slaps him across the face, wishing him a nice flight and storms out.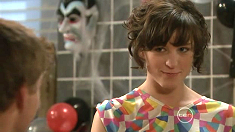 ..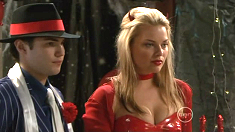 At number 24, Ty is performing. Sienna tries to stop two partygoers from making a mess, but Declan tells her that everything is under control and asks her not to tell Rebecca. Declan notices Josh telling Didge that she looked amazing in her devil costume. Declan tells Donna to take care of her boyfriend and she immediately goes over to interrupt them and begins flirting with Josh. Oliver arrives and want to speak to Declan in private.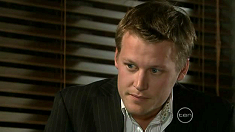 ..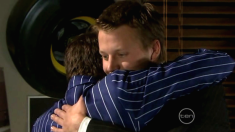 In Declan's bedroom, Oliver has told Declan about his departure, wishing that he had his brother's inner-strength as he was there for Rebecca before Oliver came along. Before he goes, he asks Declan to take care of Carmella and Chloe for him. He promises that he will. They hug.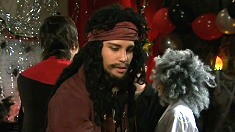 ..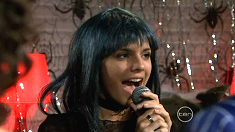 Later, Ty asks Rachel if she is ready to make 'sweet, sweet music' and Angus overreacts and begins threatening him. Rachel defends Ty and promises to make it up to Angus later. Ty and Rachel begin to perform 'Unforgettable'. As they sing...
Lucas and Libby do the dishes and begin kissing.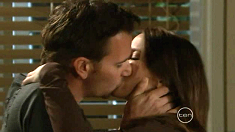 ..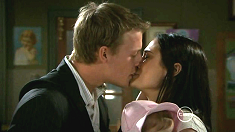 At The General Store, Oliver kisses his daughter and Carmella goodbye and leaves for the airport. Carmella begins to cry.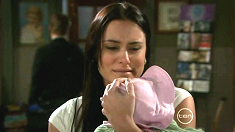 ..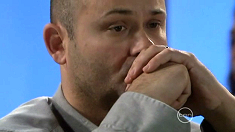 Steve sits alone at Charlie's and contemplates ringing home, but decides not to.
Dan walks past number 32 and stares.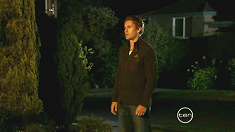 ..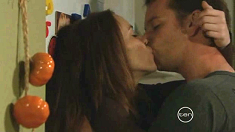 Inside, Lucas and Libby continue kissing passionately.
As the song ends, Rachel looks at Angus and sings 'You're unforgettable'. Everyone applauds them.
Steph arrives home and begs Dan not to go into the house, telling him that he's too late. Dan notices Lucas' motorbike and gets angry. Steph refuses to let him inside her house until he explains himself, but he says that if the owner of the motorbike is the man inside with Libby, then there will be trouble. He runs inside.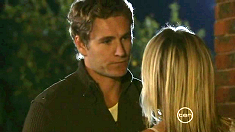 ..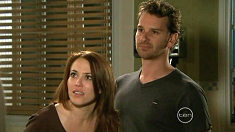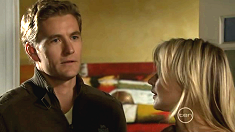 ..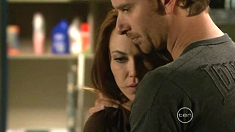 Inside, Dan and Steph interrupt Libby and Lucas in the kitchen. Libby is furious with him, but he tells her that Lucas is trouble. The two men almost begin fighting, but Libby order Dan out of the house. He leaves and Lucas hugs Libby.
Cast: Jane Hall as Rebecca Napier, James Sorensen as Declan Napier, Steve Bastoni as Steve Parker, Nikki Coghill as Miranda Parker, Eloise Mignon as Bridget 'Didge' Parker, Stefan Dennis as Paul Robinson, Pippa Black as Elle Robinson, Kym Valentine as Libby Kennedy, Caitlin Stasey as Rachel Kinski, Matthew Werkmeister as Zeke Kinski, David Hoflin as Oliver Barnes, Brett Tucker as Daniel 'Fitzy' Fitzgerald, Ryan Moloney as Jarrod 'Toadie' Rebecchi, Carla Bonner as Steph Scully, Sam Clark as Ringo Brown, Natalie Blair as Carmella Cammeniti, Sarah May as Chloe Cammeniti
Guest Cast: Imogen Bailey as Nicola West, Dean Geyer as Ty Harper, Margot Robbie as Donna Freedman, Scott Major as Lucas Fitzgerald, Jonathon Wood as Angus Henderson, Erin McNaught as Sienna Cammeniti, Liam Hemsworth as Josh Taylor
Trivia Notes
• Final appearance of David Hoflin as Oliver Barnes
• Oliver leaves to join a hotel chain in New York, but must discuss it with his brother, Sebastian, now living in London
• Didge likes hummingbird cake, but Declan prefers chocolate mud cake
• As well as 'Home', Steve's mobile contacts include Glen, Graham and James Walton
• The airing of this episode in Australia coincided with the Australian release of 'Unforgettable' in iTunes
Summary by Conor