.
Magic Moments > 2009 > Sunny's Arrival: Part One Episode 5663

Written by Katrina Foster, Directed by Hannah Hilliard, Produced by Neal Kingston
Channel Ten: 08/04/09, Five: 10/06/09
Ringo claims that he was driving during the accident in Adam's car. Ringo asking Elle not to pursue the story. Zeke overhears Ringo and Adam arguing, and realises Adam was driving. Cass accuses Paul of sending her vicious letters. Rebecca ends her engagement to Andrew. Andre Rieu plays, as Paul and Rebecca dance in the street. Nathan sacks Ringo, accusing him of ruining the football club's reputation.
Outside Pirate Net's studio, Melissa and Zeke are pondering over the graffiti-spraying culprit, after the outside door reads "Lost Boy Will Pay". Melissa wonders whether it is Zeke's "friend" Ringo, as a reaction to something Zeke said on air. However, Zeke is quick to deny it, as it is simply not Ringo's style. Melissa praises him for his great work on the station, but warns him to be wary of any future hate directed towards him like this. Zeke offers to clean the mess up, and they go inside to mix some more tracks.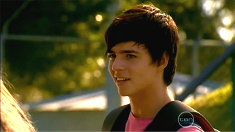 ..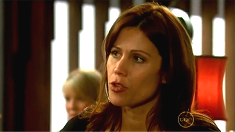 At Charlie's, Rebecca is busy tidying tables when Declan walks in to tell Rebecca that Andrew has applied for a teaching transfer, probably fuelled by Rebecca's lack of commitment to him, and her re-growing bond with Paul following Andre Rieu's appearance. Declan tries everything he can to make Rebecca see sense, and that Paul isn't worthy of loyalty, but she feels Declan is pressuring her too much, scared to admit a remaining underlying attraction to Paul. Declan storms out feeling helpless.
On the street, Declan is running with Steve, Dan and Lucas. Lucas and Declan notice Ringo's new car, on loan from the AFL club being towed away. As the truck begins to pull away, Ringo rushes outside after the truck, desperate to stop the driver. Zeke comes over, but Ringo refuses to listen to any of Zeke's patronising words, and shouts at him to stay quiet.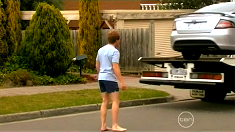 ..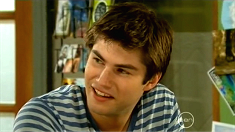 Declan, Lucas, Steve and Toadie are at Charlie's – Toadie is busy with the tomato sauce, and the lads discuss Andre Rieu's effect on the women of Erinsborough's romantic gestures. With Toadie about to scoff a sausage roll, Steve tells him that pastry indulgence isn't going to get him anywhere on the footie pitch. Toadie however, is more interested in the here and now and gets stuck in! Donna comes in, as Lucas asks Declan about Ringo, but Declan hardly seems bothered, considering Ringo's egotistical behaviour as the new AFL star. Declan goes over to talk to Donna, and asks about her mum, but she'd rather not waste any breath on her. Declan tells her that Rebecca and Andrew have separated, and pretty much blames it on Andre Rieu. Donna thinks his Declan's mother troubles are far less significant than her own, and suggests a mother swap! Laughing at the thought of it, Declan advises Donna that a healthy distraction is in order, and recommends organising a party for the new exchange student Sunny Lee.
At number 24, Cass receives an anonymous call, but with no voice at the other end. Freaked out, she shouts down the phone that she's not scared by them, and hangs up. Going to ring Donna, Cass pleads with her to come home.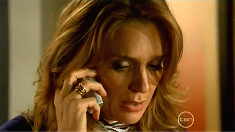 ..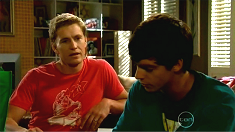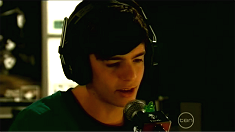 ..
Meanwhile at number 30, Susan has prepared a welcome package for Sunny Lee, and converses with Zeke over Ringo's misfortune. Dan and Libby come in prancing around – clearly, dancing with Andre Rieu has had at least some positive effect! Libby asks after Ringo, and Susan explains that Ringo's hardship is all but Adam Clarke's fault, and thinks 'Lost Boy' has some responsibility in it. Zeke looks on very concerned, knowing that Susan is standing right in front of 'Lost Boy'. Susan and Libby go off to prepare Sunny's room, and Dan sits down with Zeke to talk over Ringo.
Back at the radio station, Zeke puts in a little rant about Ringo's failure and loss of his AFL dream, and how it has all gone to his head. At number 30, Dan is listening in on the show, and gets Libby to hear it – she is adamant 'Lost Boy' has to reveal his true identity. Back at the radio station, Melissa pops in to tell Zeke that Ringo is waiting on the phone, to speak on-air. Zeke gives her the go-ahead to put him through. Ready and waiting is an angry, but smarmy Ringo on the phone, giving 'Lost Boy' some harsh words. Zeke, or 'Lost Boy' gives as good as he gets, and, as he asks Ringo if there's more to life than footie, a defeated Ringo doesn't answer, and realises just how much the AFL has taken over his life.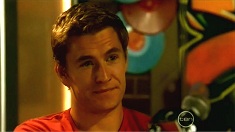 ..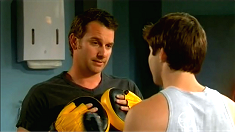 At home, Dan has heard enough, and goes to see Zeke to put a stop to the fighting, but going in with a softer approach, he tells Zeke that his recent actions have been nothing more than a copy of Ringo's, and is nothing more than a personality clash.
Over at the Dingoes gym, Toadie is putting every single grain of energy into a pretty weightless barbell, and trying all he can to lift, he tips head first over the bench! Declan is using Lucas as a human punch-bag for his boxing training, and, using so much force, he is using it as a way of releasing his anger over his mother's mess of a love life. Declan tells Lucas that he feels his mother always seems to attract the most untrustworthy of men.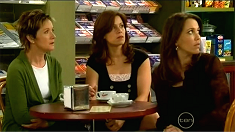 ..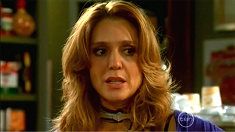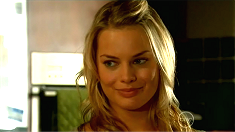 ..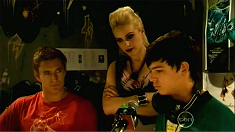 At Harold's, Libby and Susan are teasing Rebecca about her rekindling attraction towards Paul, but Rebecca denies any feelings for Paul are resurfacing, and explains that she is worried about Andrew following her slip of the tongue at Charlie's the day before. Just then, Donna comes in, bringing in a very wary Cass who is dithering over where to sit, feeling rather out of place. Cass whines about hating Erinsborough, and the unfriendly nature of its residents, but Donna completely disagrees. She tells Cass she will only continue to make enemies instead of friends, if she carries on living by her manipulative ways. Feeling anxious and slightly flustered about her scheming behaviour towards Paul, Donna tries to persuade Cass to apologise to everyone for her betrayal and deception. Desperate to run away, Cass attracts the others' attention, and feels compelled to own up. As she confesses, Rebecca reveals a slight smile, content that Cass is getting her just desserts! However, as Cass becomes more agitated, Rebecca and the others look on in surprise, as Cass urges whoever is stalking her to leave her be.
Back home, Donna comforts Cass over a cuppa, expressing how proud she is to know her mother has finally seen the error of her ways. Cass realises that if she continued, she would only alienate everyone further, and feels grateful for her daughter's support.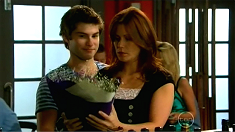 ..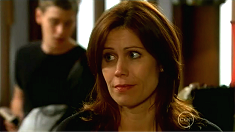 Meanwhile, at PirateNet, Melissa hands Zeke a drink, and Dan gets Zeke to put in a word over the air that he is all ears for Ringo, and waits for him to phone in.
Over at Charlie's, Declan sneaks up on Rebecca armed with a fine set of petals, and Rebecca proudly accepts, and hands Declan her apology, in the form of 'Death by Chocolate'! They sit down and reflect on everything, and Declan reveals he never really took to Andrew. Rebecca understands his reasons, and explains that, although there wasn't such a strong underlying bond as that of with Paul, a good male role model for Declan was what attracted her to Andrew from the beginning. Declan asks what Paul's love prospects are with her, but she tells him that Paul is one for the history books, leaving Declan very delighted!
..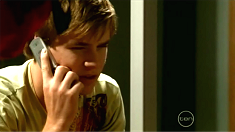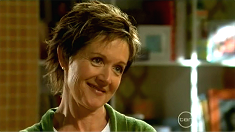 ..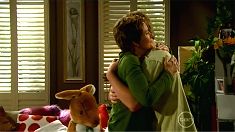 At PirateNet, Zeke is growing uncertain that Ringo will call back, but as Dan tells him not to give up hope just yet, Melissa gives him a signal that Ringo is ready and waiting on the line. Zeke cross-examines Ringo, who believes that there is nothing left for him now that he has lost his AFL tag, but Zeke interjects and claims that his foul mood is more of a sympathy vote. He warns Ringo that if he fails to regain his self-control, then he risks losing the respect of his friends for good. Ringo disappears off the air, feeling ashamed at how arrogantly he has treated his close friends.
Back at number 30, Susan is putting the finishing touches to the house before Sunny's arrival, and Ringo comes in with a giant toy kangaroo as a welcome present. Ringo apologises to Susan for his behaviour, and grabs hold of the kangaroo ready and waiting for its new owner!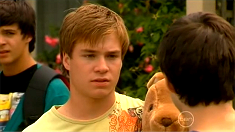 ..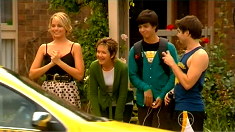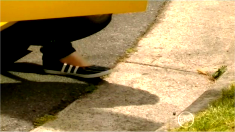 ..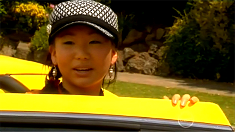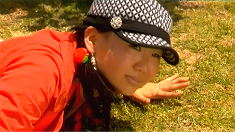 ..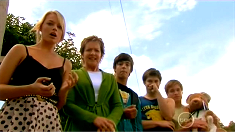 Outside, Donna is busy fixing her hair, and Susan comes out to compliment her taste in fashion. Donna comments on Susan's rather suitable, but 'understated' look, which makes her feel pretty confused and deflated! Zeke arrives from the studio, and notices 'Warny', the name Ringo has given the kangaroo. Declan runs by, "all sweaty" – Donna is far from happy, as she wants to make a great impression, but Declan is sure she can cope with a bit of sweaty skin! Donna gets all excited and gets everyone to greet Sunny, yet, just as Sunny steps out she trips over the kerb and falls flat on her face. She looks up at everyone, horrified by the first impression she's made.
Featured Regular Characters: Paul Robinson, Susan Kennedy, Zeke Kinski, Donna Freedman, Ringo Brown, Rebecca Napier, Declan Napier, Bridget Napier, Daniel Fitzgerald, Lucas Fitzgerald, Jarrod 'Toadfish' Rebecchi
Guest Cast: Tottie Goldsmith as Cassandra Freedman, Kaela Hilton as Melissa Evans, Hany Lee as Sunny Lee
Trivia Notes
• First appearance of Hany Lee as Korean exchange student Sunny Lee
• Hany Lee was cast after auditioning for an at-the-time undecided role as part of the Dolly Magazine Neighbours' Next Big Stars competition. Although Hany missed out on winning, and Chelsea Jones ended up cast as Tegan Freedman, producers were so impressed with Hany that they created the role of Sunny around her
Summary by Matt