.
Magic Moments > 2010 > Donna and Ringo's Wedding: Part Two Episode 5998

Written by Jane Allen, Directed by Tony Osicka, Produced by Neal Kingston
Channel Ten: 25/08/10, Five: 13/10/10
Andrew is shocked that Paul has made Declan the managing director of Lassiter's... Paul asks Andrew to spy on Declan and Diana... Paul assures Andrew that, when he dies, Andrew will be getting his share of Lassiter's... Donna asks Lucas for a lift to her wedding... Donna is late for the wedding... Lucas's ute is pulled over by the police...
The countdown reaches three - someone meets with Paul on the mezzanine at Lassiter's...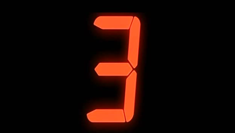 ..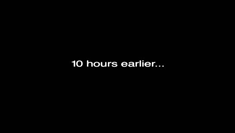 10 hours before Paul is pushed... At the wedding venue, everyone is gathered, but Donna still hasn't arrived. Natasha sees Andrew, calling him 'the bellboy', but Andrew says that things are different now, as he's single-handedly saved his father's career and reputation. Natasha says that Andrew's done things for Paul before and received no thanks for it, so why should this be any different. Meanwhile, a nervy Rebecca is looking over her shoulder at Paul, and Andrew goes to sit with his dad. Paul thanks him for everything he's done, saying that he's glad to have someone fighting his corner. The rest of the guests are wondering what's keeping Donna - Susan and Karl talk about their weddings, and how Susan was late for all of them, and Ringo thanks them for the brief distraction.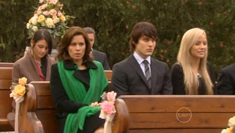 ..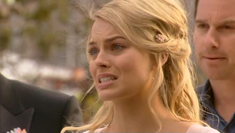 By the side of the road, Constable Davis is filling in some papers, and Donna goes over to him and says that the happiest day of her life is turning into a nightmare. He advises her not to obstruct him in the course of his duties, and explains that the problem isn't with Donna, but with Lucas, who is responsible for restraining the passengers in his vehicle. Another police car then arrives, and Constable Page gets out. She goes over to Constable Davis and says that she'll take things from here - she was at the station when the call came in, and she knows these people.
Everyone is still waiting for Donna, when a police car pulls up. Ringo is about to rush over, but Karl holds him back, and then Constable Page opens the door and Donna gets out. They all breathe a sigh of relief, as Donna walks down the aisle with Nick. She tells Ringo that the venue is perfect and the song is perfect - he explains that it was the song that Paul remembered from his brother's wedding, and he recorded his own version of it.
Donna then ab libs her vows: Ringo Brown, boy have you put up with a lot from me. But whatever crazy stuff's gone down, you've always hung in there with me. Nearly always. And when you didn't it was my fault anyway. Sorry, I didn't mean to say that. What I wanted to say is I choose you. For life. And it's the best decision I'll ever make, because you and me together, we're fantastic.
Ringo is amused that Donna has changed her vows at the last minute, and he starts his own: That is why I love you. You are so true to yourself, it is amazing. You always speak right from your heart. I know that, with you, I am a better person. Let's grow old and wrinkly together! As Karl gives the rings to Ringo, Rebecca looks back over her shoulder at Paul, and Libby fiddles with her own wedding ring, looking a little sad. Ringo and Donna are then pronounced husband and wife, and everyone claps.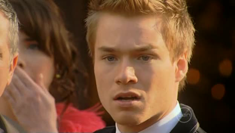 ..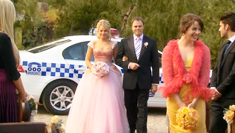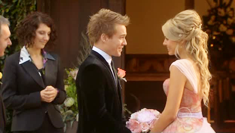 ..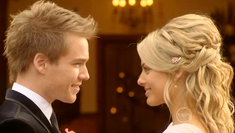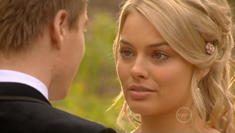 ..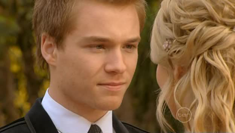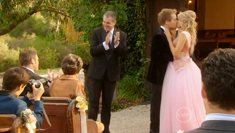 ..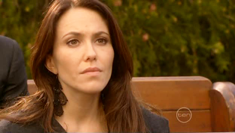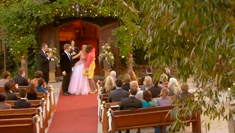 ..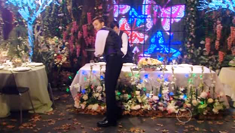 Paul shows Donna into the bar, which has been redecorated to look like an enchanted garden. Donna is overwhelmed and says that it's like a dream. Nick tells her that he and Ringo managed to get a look at her design book for inspiration. Andrew comes and asks for a word with Paul, as Ringo and Donna go over to the head table. Rebecca presents them with a custom cocktail - the Chugalero - and tells them that it's strong, so just to sip it. Libby calls over to Rebecca and hands her back a place setting, telling her that Doug's not coming. Libby pretends not to be too bothered about the oversight, and says to Susan that now she can have the chicken, the beef and double dessert.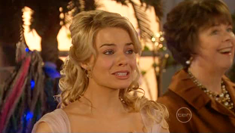 ..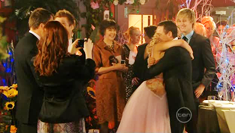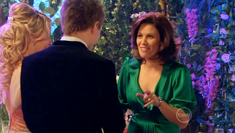 ..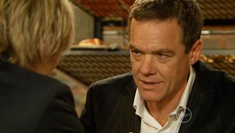 At Harold's, Andrew is telling Paul what a great job he did with the reception, but Paul tells him to stop schmoozing and just say what he wants. Andrew then says that he wants to leave school, to start training to take over from Declan. Paul isn't happy with the idea, and says that Andrew was just a spy, but he has no real business management experience. Andrew says that he's run successful dance parties, but Paul points out that he ended up on debt from the last one. Paul gets up to leave, saying that Andrew's track record in dealing with people doesn't exactly fill him with confidence. Paul isn't impressed with that remark, and Andrew says that Paul seems to give everyone a chance except him. Paul tells his son that being related to him doesn't automatically earn him a place in the company - he suggests that Andrew show some maturity if he wants to be considered, because all he sees right now is a spoilt brat looking for a handout.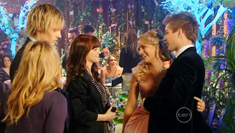 ..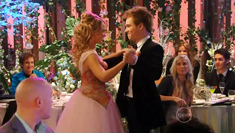 Later, Andrew walks back into the wedding reception. He goes over to Paul, who ignores him and goes to the head table, where he makes a speech welcoming everyone to the wedding. Ringo and Donna thank him, then they walk over to Andrew, Natasha and Summer, thanking them for coming. They go to mingle, and Summer goes to check out the gift table, as Natasha notices that Andrew is grumpy, realising that he still hasn't won his father's favour. She thinks that he's delusional, and he's just waiting around for his inheritance - Andrew comments that at least he can rely on that. Natasha suggests that maybe Declan will send Paul broke, or he'll make so much money that he'll end up in the will in place of Andrew.
DJ Zeke calls Ringo and Donna to the floor for their first dance. It all begins very traditionally, then becomes a bit more modern, and Prue is relieved that she doesn't have to join in. Zeke then calls all the single ladies down to the dancefloor, but only Libby gets up. Libby goes over to Lucas and asks if he's too ashamed to be seen with the only single woman at the party - he says that he doesn't dance, and he mentions that he and Michael had a competition to see who could pick up a single girl first. Libby is appalled, and it gets even worse when Lucas says that they cancelled the bet when they saw that Libby was the only one available. He thinks that he should shut up now, but Libby suggests that it's too late.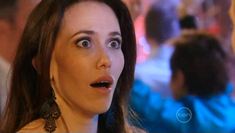 ..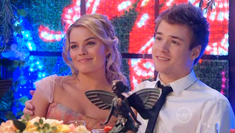 Later, Donna declares this to be the best party she's ever been to. Karl and Susan come over to check on the newlyweds, and Ringo thanks them for everything they've done. Meanwhile, Libby goes over to Lucas and starts teasing him about the bet with Michael. She then starts to flirt with him - he think she's just trying to embarrass him, and she ends up tipping her drink all over his shirt. He says that he probably deserved that, but Libby grabs some cake and smears it on his shirt, telling him that's what he really deserves.
Libby and Lucas arrive back at number 28, so she can wash his shirt and find something else for him to wear. She thinks about punishing him by making him wear Karl's golfing outfit, and tells him that it did her ego no good to hear that she wasn't worth competing over. She makes Lucas tell her that she was the hottest single at the wedding, and they have a moment, before Libby says that they need to hurry up and get back, before anyone notices they've gone. Lucas takes off his shirt, and they get closer, and kiss.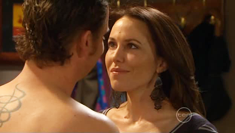 ..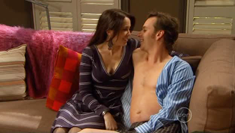 Libby and Lucas sit down on the couch after having sex, and they smile and say how unexpected it was, but vow never to do it again. Then they look at each other and start kissing again.
Back at the wedding reception, Summer takes Karl and Susan's photo, then Michael comes over and asks if they've seen Lucas. Karl says that he was talking to Libby, but they both seem to have disappeared. Susan thinks he's probably taken her off somewhere and is making her laugh, as he's been such a good friend to her lately. Rebecca comes and joins them, completely exhausted, but then Paul comes over and asks her to dance. She instead grabs Michael and takes him onto the dancefloor, and Paul is disgusted and walks off. Andrew follows him, but Tash appears, joking with Andrew that they could get married and share his inheritance. Andrew tells her to go away. He then takes out his phone and makes a call, asking for the number of Tim Collins & Associates.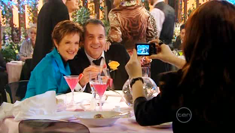 ..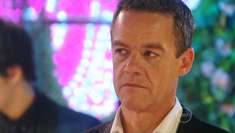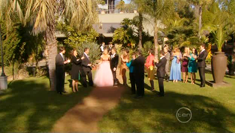 ..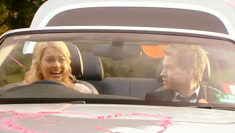 Outside, Karl makes a toast to Donna and Ringo as they head off on their honeymoon. Donna thanks everyone for coming, and Ringo thanks her for making him so happy. Zeke then drives up in a convertible, and Donna grabs the keys, saying that she's a better driver than Ringo. Kate wishes them luck, and everyone waves them off. Paul then takes a call from Tim Collins, and is furious to hear what Andrew has done.
Paul finds Andrew at Charlie's, and says that he's just had a call from Tim Collins, who claims that Andrew phoned him, wanting details about Paul's will. Paul believes that anyone with real business sense wouldn't have done something so stupid, but Andrew says that he was just protecting himself. Paul calls him a child, and Andrew again reminds him that he saved his entire business empire, but now he wishes that he hadn't. Paul tells him that he's going to have the will amended tomorrow, to remove Andrew.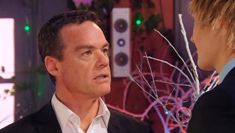 ..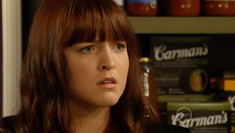 Andrew walks into Harold's, in a very bad mood, and Summer goes over to see what's wrong. Andrew doesn't walk to talk, but Summer forces him, and he explains that he did Paul a huge favour, and in return, Paul is cutting him out of the will. He says that he wishes Paul was dead, and walks out.
Featured Regular Characters: Rebecca Robinson, Paul Robinson, Andrew Robinson, Declan Napier, Kate Ramsay, Susan Kennedy, Karl Kennedy, Libby Kennedy, Donna Freedman, Ringo Brown, Zeke Kinski, Summer Hoyland, Natasha Williams, Michael Williams, Lucas Fitzgerald
Guest Cast: Penny Cook as Prue Brown, Brian Vriends as Leigh 'Nick' Nixon, Nick Riley as Constable Lee Davis, Laura Hill as Constable Simone Page, Antonia Vekic as Celebrant
Trivia Notes
• Sam Clark (Ringo) recorded a version of Suddenly, the song used at Scott and Charlene's 1987 wedding, which was played as Donna walks down the aisle, and as she and Ringo are giving their vows. Ringo tells Donna that Paul put him on to the song from Scott's wedding, and he recorded his own version of it
• Laura Hill makes her final appearance as Constable Simone Page, a recurring character since 2008

Summary by Steve