.
Magic Moments > 2013 > Toadie and Sonya's Wedding: Part Two Episode 6602

Written by Margaret Wilson, Directed by Laurence Wilson, Produced by Alan Hardy
Channel Eleven: 19/03/13, Five: 16/04/13
Rani agrees to try and make things work with her mum... Ajay tells Priya that he loves her... Mason agrees to rob Lassiter's if it means that Robbo will leave town... Toadie is convinced that the wedding is cursed, following disasters with the invitations, his back problems, the turtle tattoo, and then both Connor and Jade being unable to come...
At number 30, Toadie and Sonya are on the phone, relieved, they fall back on the sofa, catastrophe avoided. Vanessa is filling for Jade who can't make it and Lucas is Toadie's best man due to Connor being ill. Sonya wonders if it's weird using stand-ins on such an important day, but Toadie will just be happy to be married. Toadie is starting to feel a bit relieved and Sonya starts to mention about the honeymoon and all the nice things that they are going to get up to. Just then there's a knock at the door, it's Paul. He asks Toadie and Sonya if they want the good news or the bad news. He then proceeds to tell them that they've had a little mishap at Lassisters and there is raw sewage running through the centre of the ballroom, and it's taken out the kitchen aswell. Toadie and Sonya look shocked and Toadie asks Paul how they can have the reception there. Paul tells them to picture a marquee, flowers, sunshine and al-fresco dinning. Toadie replies "So you're talking a barbecue in a tent, in a car park." Paul then offers a gesture of good will – a suite for the day. Sonya tries to calm Toadie down as Paul leaves.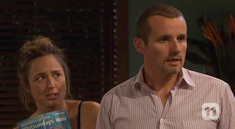 ..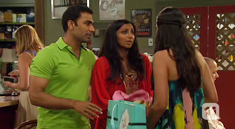 Ajay and Rani are in Harold's having breakfast. Priya walks in with what she thought was a wonderful dress for Rani to wear for the wedding but Rani is less than impressed, she hates it and throws a fit saying "Do you really expect me to wear this in public? It's horrible". Rani runs out of Harold's saying she will never wear it, as Priya shouts after her 'You will wear it out of respect for Sonya and Toadie.' Ajay and Priya look at each other with dismay.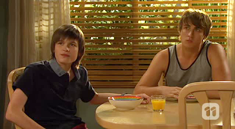 ..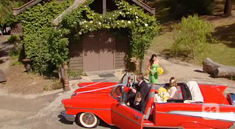 At number 32, The Turner children are in the kitchen. Mason walks in, and Amber offers her breakfast to him. Bailey chips in that Amber is sucking up to Mason about Robbo. Amber proceeds to tell them that Robbo is serious about turning his life around and she asks if Mason and Robbo can patch up their differences as she plans to tell their parents about Robbo. Mason tells Amber he will do it, Amber is shocked but happy and proceeds to hug Mason. Bailey isn't impressed that Robbo is back in favour with Mason.
At the chapel, Vanessa is waiting outside with flowers, as Sonya and Callum arrive in the wedding car. Inside the church Toadie is talking to Karl and Susan. Susan tells Toadie that Nell is fast asleep. Toadie goes over to sit next to Lucas, who hands Toadie a tissue as he is sweating on his forehead. Toadie jokes that 'he should be used to this by now' Lucas replies with "fourth time is a charm."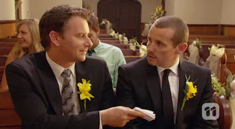 ..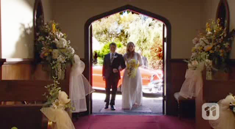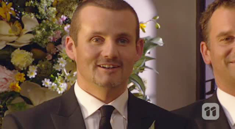 ..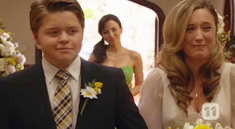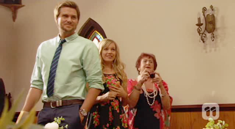 ..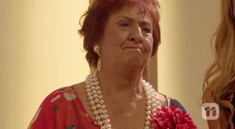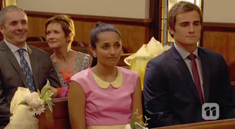 ..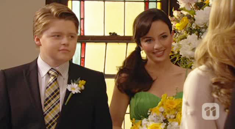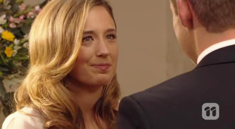 ..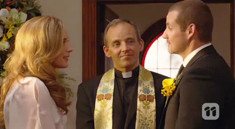 ..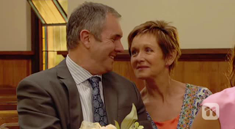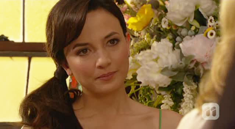 ..
The music starts to play, everyone stands up and the door opens. Callum and Sonya walk into the church, and Callum walks his mum down the aisle with Vanessa behind them. Toadie looks clearly delighted to see her. Toadie looks into Sonya's eyes and tells her that she looks beautiful, and the ceremony begins; the priest welcomes everyone to the wedding of Sonya and Jarrod. The priest asks who brings Sonya to be married to Jarrod, Callum proceeds to say 'I do' and high-fives Toadie. Toadie starts "there have been times in my life, where this love business was not for me, but then I met you and that was the day my life changed for the better. Today I get the wife, the family I've always dreamt of, Sonya you are the person that I am meant to spend my life with, you are my soulmate, you are my partner, you're my best friend, you're my love". Sonya continues, "When I came looking for Callum, I never thought I would find the person who would make me whole again, who would open my eyes up to the world, who would love me unconditionally, my love and my respect for you grows stronger every day, you are the breath within me, you're my everything."
Callum hands the rings over to Toadie, They make their vows and exchange rings in front of their friends and family. The priest joyously announces them as husband and wife, and the crowd erupts into applause. Sonya and Toadie have their first kiss as husband and wife.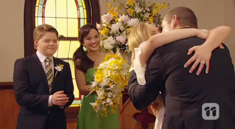 ..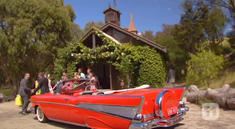 Everyone proceeds to leave the church and confetti is thrown at the new married couple.
Robbo and Mason are at Lassiter's lake finalising plans to rob the hotel, with the promise that Robbo will take the cash and will never see Mason, Amber or his family again.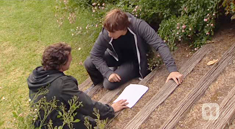 ..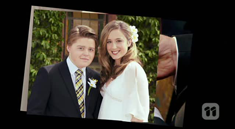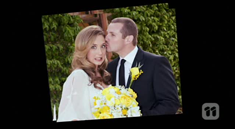 ..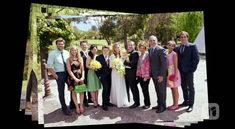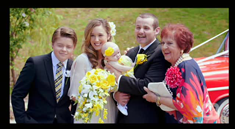 ..
Photographs are taken of the wedding party, before they all go back to Lassiter's for the reception.
Back at Lassiter's hotel, Sonya is trying to answer her phone to Toadie, but the reception is bad, so she walks around the corner and comes across two people with balaclavas on. Unaware it is Mason and Robbo, she overhears one of them mention that the security was not meant to be there. However, Sonya's phone starts to ring again, they look at her, Robbo who has taken his balaclava off shouts to run, but as Mason turns, Sonya sees the buckle on his belt.
Rather shaken by what she's seen, Sonya has to speak to the police. She gives them the little information she knows, with Paul annoyed at his guests being hassled by the poilce, and Sonya asks if she can go back to the reception.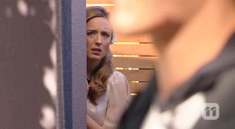 ..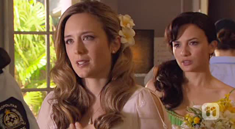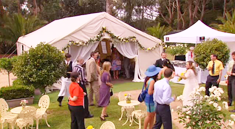 ..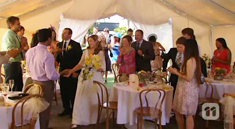 At the wedding reception, Kyle introduces them as Mr and Mrs Rebecchi and they are congratulated by their friends and family. Rhys then arrives and goes up to Kyle to give him the emails from family and friends to read out. Rhys decides that he's going to stick around for the reception. Kyle starts welcoming people to Toadie and Sonya's wedding and proceeds to start reading emails from people who couldn't be there. Toadie then gives his speech: "So, as you all know Sonya and my relationship hasn't been the most easy or straight forward but nah I love you... To my wife Sonya Rebecchi."
Sonya then gives her own speech: "Thank you for helping me find my happy ever after, my beautiful son Callum walking me down the aisle. Now we get to spend the rest of our lives together, really thank you, thank you, thank you."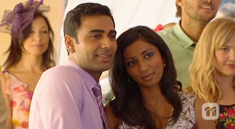 ..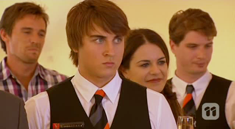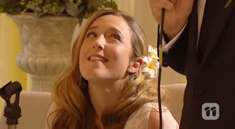 ..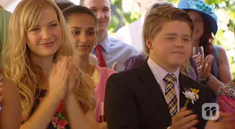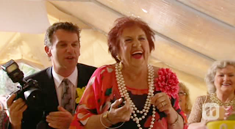 ..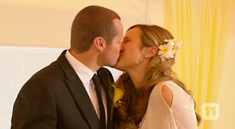 Everyone applauds, and Lucas proceeds to take photos of the happy couple, however, Angie gets in the way of Lucas with her own camera. Sonya and Toadie proceed to do their wedding dance, cut the wedding cake and kiss.
Outside the marquee, Callum sees Rani and asks her if she wants to dance. She agrees, and Callum tells her she looks beautiful today, but she thinks he's making fun of her hideous dress. Priya overhears the disagreement and goes over to Rani – Rani tells Priya that she looks hideous and it's all her fault, she tells Priya she hates her. Rani storms off and Priya goes back inside the marquee.
Meanwhile all the ladies are waiting for Sonya to throw the bouquet. As Sonya goes to put her drink down on a tray, she spots Mason's belt buckle, remembering it from the robbery earlier, and she's shocked. As everyone else goes outside, Rhys comes into the marquee to get a glass of champagne. Ajay leaves Priya with a kiss, telling her that he loves her, and she says that she's going to text Rani and try to convince her to come back to the reception.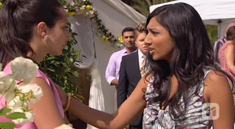 ..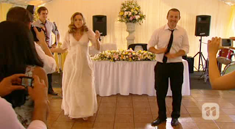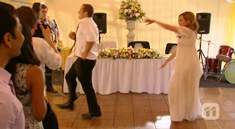 ..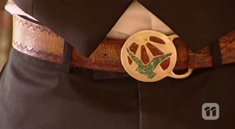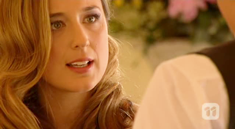 ..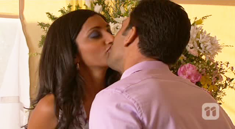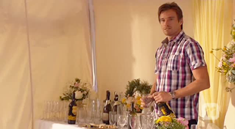 ..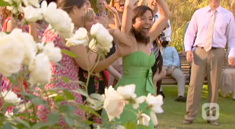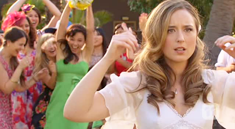 ..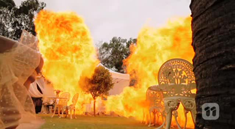 Outside the marquee, Sonya is preparing to throw the bouquet, as one of the waiters is changing the gas cylinder. As a shocked Sonya goes to throw the bouquet, a fire breaks out, and as a delighted Vanessa catches the bouquet, the entire marquee suddenly explodes...
Featured Regular Characters: Sonya Rebecchi, Toadfish Rebecchi, Callum Rebecchi, Karl Kennedy, Susan Kennedy, Matt Turner, Mason Turner, Amber Turner, Bailey Turner, Lucas Fitzgerald, Vanessa Villante, Georgia Brooks, Kyle Canning, Ajay Kapoor, Priya Kapoor, Rani Kapoor, Rhys Lawson, Paul Robinson
Guest Cast: Rhys Uhlich as Scotty Boland, Lesley Baker as Angie Rebecchi, Aaron Jakubenko as Robbo Slade, Gary Gartside as Minister David Fry
Trivia Notes
• Past characters Stonefish Rebecchi, Connor O'Neill and Jade Mitchell are mentioned
• The chapel Toadie and Sonya marry in is at the Inglewood Estate in Kangaroo Ground, Victoria
• In the UK, Channel Five, combined this and episode 6603 into an hour-long special entitled Neighbours The Explosion, which had a 10pm screening and won ratings of 1.22 million. Five made a few edits to the episodes, including changing some of the background music and adding in extra black and white flashbacks
Summary by Kyle