.
Magic Moments > 2014 > The Tornado: Part Two Episode 6962

Written by Nick King, Directed by Chris Langman, Produced by Jason Herbison
Channel Eleven: 02/09/14, Five: 16/09/14
Lauren confessing to Lou that whilst in Adelaide, she kissed Brad... Paul telling Amber that Daniel's tattoo was for an ex girlfriend that he wanted to spend the rest of his life with... Daniel and Amber heading out into the storm to take some photos, despite Bailey saying they must be crazy... Kyle telling Paul that a tornado is on the way and that he shouldn't go out and look for Daniel and Amber... Toadie discovering Georgia has run off into the storm to look for Bossy... Daniel and Amber arguing in the car, which gets spun out of control by the tornado...
The storm is intensifying as Lauren is trying to get in contact with Amber from Harold's. Lou calls through from the kitchen that Amber is sensible but Lauren wants to know why she isn't picking up her calls. Lou tells Lauren that it is called young love and says that he remembers it well.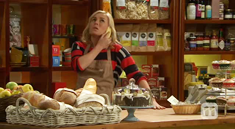 ..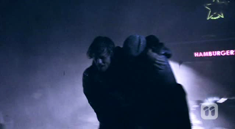 Meanwhile, Amber is screaming as the car continues to be battered by the storm. Daniel manages to force open the car door and he runs round the car, grabbing Amber. The two of them dash desperately through the storm trying to get to safety.
Lauren is pacing through Harold's wondering if something might have happened to Amber. Lou thinks Amber and Daniel might have gone back to Paul's penthouse and suggests the two of them are probably feasting on caviar at that moment. Lou tries to reassure Lauren, who is battling to shut the door, that the storm is causing problems with the phones and that it is the reason why Amber hasn't been in touch.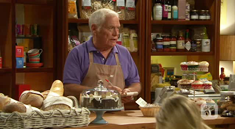 ..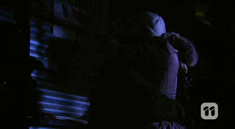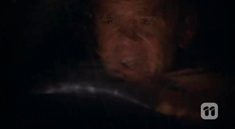 ..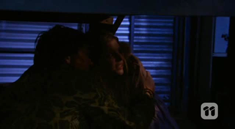 Lauren bursts into the Willis house, telling Bailey to stay put and to keep texting if he can. Brad comes through to the living area from the kitchen; Lauren apologises for just barging in. brad tells her not to worry and Lauren explains about the downed power line outside on the street. She explains that it came down on the car of the people who live at the corner but adds that it wasn't safe to get onto her own driveway. Lauren informs Brad that Bailey is ok, Matt is at work but that she still can't get hold of Amber. Brad tells Lauren that she is welcome to stay and Lauren interjects that she should apologise for Lou earlier on. brad wonders if he has done something wrong and Lauren confesses that she told Lou about the kiss in Adelaide. Brad asks Lauren why she would do that. Lauren explains that when she got back home she was upset and needed someone to talk to. She reassures Brad that Lou promised to keep quiet, although Brad points out that now Lou is giving him attitude. Lauren says that Lou wants them to come clean. Horrified, Brad wonders if Lauren thinks Lou is right: Lauren denies that she is, putting the kiss down to a moment of madness. Brad notices that Lauren is shivering and wraps her up in a blanket, Lauren thanking Brad as he does so.
Out in his car, Paul is leaving a message for Amber, telling her that he came out looking for her and Daniel to apologise. He says he is heading home and urges them to stay safe wherever they are. He drives off although, struggling to see in the rain, crashes into something, which can be seen beside the road. He drives on, convincing himself that the bump meant nothing. Paul stops driving outside the garage, and Amber looks out of the window, telling Daniel that she can see something. Suddenly, a big rubbish bin rolls heavily into Paul's car. Amber races off to check the landline and discovers that it is still dead. she shouts out to ask if there is any movement from the car but Daniel cannot see any at all. They decide they have to go and help and rush out into the storm. Over by the car, Amber screams that it is Paul and Daniel wrenches open the door, wanting to know if anyone else is in there. Daniel wakes Paul up, who groggily tells him that he sit something. Daniel tells Paul it's ok and that it was probably just a stick. He tells Paul that he is going to get him out of the car, Paul calling out in pain.
..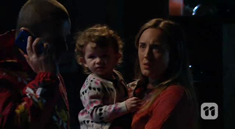 Susan is on the phone in Harold's, trying to find out when Karl will be finishing his shift. He replies that he won't be able to leave the hospital until things settle down. Karl promises not to try and drive home in the storm and Susan explains she will probably wait the storm out at Harold's as it is nice and dry there. Susan says she loves Karl, but the connection breaks up. Lou reassures Susan that Karl is safe and that she is too and heads off to fix them both something to eat.
Daniel and Amber lead Paul into the garage, Daniel calling out to Amber to try and locate the first aid kit. Paul says that his injuries are not that bad. They put Paul into a car and Amber says that they can't stay in the garage, due to the intensity of the storm. Daniel replies that they can't run either and are better off where they are. Daniel tells Amber how amazing she was out in the storm and Amber replies that they did it together. A worried Paul tells Daniel that he hit something outside and that he is concerned it was a person. Daniel tells him not to worry and once again, urges Paul to rest.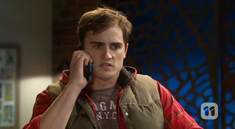 ..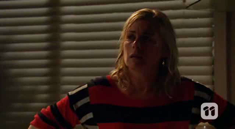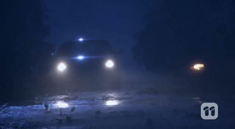 ..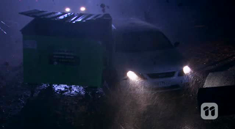 Sheila is desperately trying to find out about either Kyle or Georgia on her phone when a bedraggled Georgia comes in, carrying Bossy. Sheila asked what happened and Georgia indicates that she chased Bossy out into the storm. Sheila places a towel onto a chair and tells Georgia to put Bossy down on it. Sheila asks Georgia if she saw Kyle outside, simultaneously shouting at a batman to bring her a bigger towel. Georgia shakes her head and Sheila explains that Kyle went outside looking for Georgia and is now not answering his phone. Sheila stops Georgia running off after Kyle and tells Georgia to try and get in touch with Toadie and Sonya, because they are both worried sick about her. Sheila heads off to try Kyle again, but is unable to get hold of him, as his phone is ringing by itself by the side of the road out in the storm.
Toadie and Sonya are huddled inside Number 30, surrounded by drips coming in from various parts of the ceiling. They are wearing woolly hats and trying to reassure Nell. Sonya jokes that she always wanted a water bed and Toadie tries to sing to calm Nell, although Nell doesn't seem very impressed and begins crying. Sonya suggests that they should try and sleep instead, and the three of them huddle together.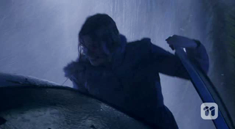 ..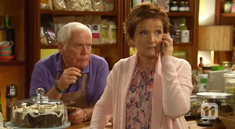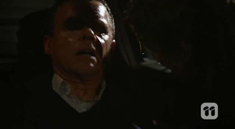 ..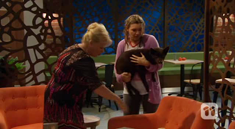 In the kitchen of Number 22, Brad reassures Lauren that Amber will call soon. A text comes through to Lauren from Paige, who says that she is with Brennan next door and is fine. Brad wonders if there is something going on between them and Lauren replies that she wouldn't be surprised. Lauren points out that they have chemistry and Brad wonders if Paige takes after him. Lauren replies that Paige doesn't get the smart mouth from her! Lauren adds that Paige has the same earthiness as Brad as he never let's anything get him down. Brad replies that Paige definitely has Lauren's artistic skills as well as her passion. Lauren replies that she doesn't qualify as passionate anymore, although Brad replies that she is, as when she cares about something, she doesn't let anything stop her. Lauren says that is true of Paige too, Brad describing Paige as a firebrand. Lauren thinks that despite all the torment, she and Brad did create someone incredible and Brad can't deny it. Lauren wonders how Lou is getting on in the storm.
Susan and Lou are eating in Harold's, Susan looking worried at the growing intensity of the storm. Lou comments that they are safe enough and doesn't see the point in following Susan's suggestion of taping the windows. Susan says that if it keeps up, they will have to stay over at Harold's. Lou jokes that many women would kill to be in Susan's position. Susan accepts that there are definitely worse people to be stuck with. Just then, there is a loud crash from outside. Susan wonders what the noise was and Lou gets up, commenting that Susan may have been right about the windows. As Lou gets to the window, the lights go off. Lou says he is ok and that it is probably just the trip switch. He goes over to the fuse box, still eating. Susan calls out, asking Lou whether he has a torch or a candle. Suddenly, a large section of ceiling falls in, Susan realising in horror that Lou has been knocked to the ground and frantically calling his name. Susan tries to free a choking Lou from beneath a beam but can't, telling him that it is too heavy. She races over to get her phone and dials an ambulance, urging Lou to hang on.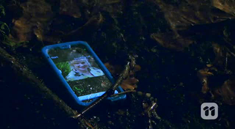 ..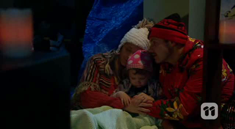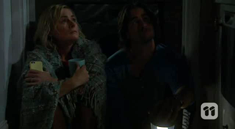 ..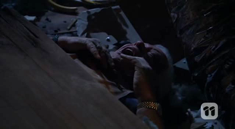 ..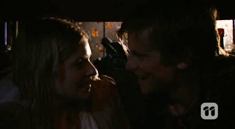 At number 32, Bailey still has his eyes glued to watching the weather radar on his computer. A loud crashing sound is heard in the garage as a shelving unit crashes to the floor. Paul screams out in agony and, having pulled Amber to safety under a workbench, Daniel asks Amber to marry him if they get out of the garage alive. She accepts.
Susan is on the phone to Karl, explaining that Lou is choking and that there is going to be a delay in the arrival of the ambulance. Karl asks how long it has been and Susan says she doesn't know but that it may have been two minutes. Karl asks Susan to try and get to Lou's back, between his shoulders, but Susan desperately says she can't get to Lou's back because he is trapped. Susan tells Karl the beam is too heavy to shift and says that Lou is turning blue. Karl replies there is nothing Susan can do: Susan cries out that there has to be something, refusing to let Lou die. Karl reckons there might be one thing but that it could be too late. Susan says she is prepared to try anything. Karl reminds Susan of the time he had to save Mal. In horror, Susan replies that she can't do it.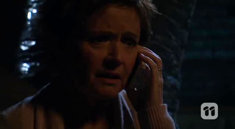 ..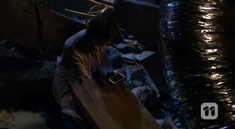 A few moments later, Karl is reminding Susan that if the procedure doesn't work it is not her fault. Susan urges Karl to hurry as Lou has already lost consciousness. Karl asks Susan to run her finger down Lou's throat and over his Adam's apple to where there is a small bump. Susan says there are lots and asks if it is hard or soft. Karl replies it is hard as it is a piece of cartilage. Karl tells Susan to make an incision between the two bumps about half an inch across. Susan calls out that she has done it and Karl instructs Susan to insert a biro, but no more than an inch. Susan does so as Karl instructs Susan to blow two quick breathes into it. Susan does so and Karl asks if Lou is now breathing. Susan cries out that she doesn't know.
Featured Regular Characters: Karl Kennedy, Susan Kennedy, Paul Robinson, Daniel Robinson, Lou Carpenter, Lauren Turner, Amber Turner, Brad Willis, Sheila Canning, Kyle Canning, Georgia Brooks, Sonya Rebecchi, Toadie Rebecchi
Guest Cast: Scarlett Anderson as Nell Rebecchi, Stephen Hawkins as Bar Man, Jamie McLeod as Lou Stand-In
Trivia Notes
• Past character Callum Rebecchi is mentioned

Summary by Alex