.
Magic Moments > 2014 > The Tornado: Part Three Episode 6963

Written by Brooke Wilson, Directed by Chris Langman, Produced by Jason Herbison
Channel Eleven: 03/09/14, Five: 17/09/14
Georgia and Bossy go missing in the storm, and Kyle goes out to look for them... Paul hits something in the storm while driving round looking for Daniel and Amber... Daniel asks Amber to marry him if they get out of the storm alive – and she agrees... Lauren apologises to Brad for telling Lou about their kiss in Adelaide... When Lou is trapped, choking under a roof beam at Harold's, Susan performs a tracheotomy...
Inside Harold's, Susan is pleading with Lou to breathe after the tracheotomy; a few moments later Lou splutters back to life. Karl congratulates Susan over the phone, warning her not to let Lou move, telling her that the ambulance is on its way. In the background, sirens are heard and Susan tells Karl that she can hear them. Just then Nate turns up and lifts the wooden beam from on top of Lou. The ambulance pulls up outside, and Susan reassures Lou that everything will be okay. Susan thanks Nate - he tells her that she saved Lou's life.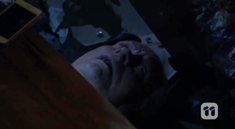 ..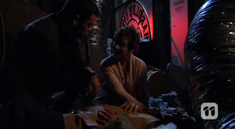 At the hospital, Lou is brought in by paramedics, with Nate and Susan following behind. As Lou is rushed into surgery, Karl tells Susan to make sure she gets herself checked out for any injuries. Susan's more concerned with what will happen to Lou, and looks a bit spaced out. Karl notices that Nate needs some medical attention, though he insists that he's fine, but Karl thinks that Nate's arm maybe strained from moving the beam, and a nurse takes Nate off to have a look at it. Karl tells Susan that what she did was incredible, and he suggests she call Lauren to tell her what's happened, as she'll want to be there now that the storm is easing. Karl again tells Susan to get herself checked out, and Susan agrees, as Karl rushes off to surgery. Susan then remains on her own, in shock.
Chris surveys the damage outside Grease Monkeys – the postbox has been blown through the window, and the Dial-A-Kyle sign is lying in the middle of the street. He walks past Paul's wrecked car and towards the garage, where he finds Amber, Daniel and Paul taking shelter. Chris asks them all if they are hurt, Amber and Daniel tell him they are fine but Paul's is in a lot of pain, and they explain how the skip hit his car. Paul's keen to get out of the garage, and as he leaves, Daniel and Amber smile at each other and hug. Chris wants to know why they're so happy. "We survived!" Amber happily announces and Daniel nods in agreement and comments that they've got so much to look forward to. They all rush off to take Paul to hospital.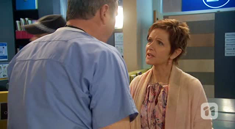 ..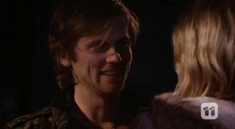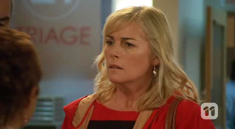 ..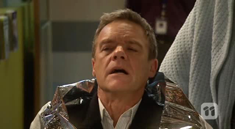 Back at the hospital, Susan is sitting around looking shocked, as Karl rushes out of surgery. He tells her that Lou will be okay – she's done an amazing job with the tracheotomy, and Susan is relieved. Karl asks if she's been checked out, but at that moment Lauren runs in, asking after her dad. Lauren's alarmed to hear he's been in surgery, and Susan takes her for a drink to explain what happened. Daniel then brings Paul into the ward in a wheelchair – Karl asks Paul what he has done. Paul thinks he's broken a rib, but Karl thinks he might have broken several. Karl tells him to sit tight as there's a queue for radiology, but is going to get him some pain relief. Paul says that he's also cracked his prosthetic leg, and Karl jokes that it's better than cracking the other one. Paul's keen to know whether any pedestrians have been brought into hospital – but when Daniel tries to tell Karl why Paul's asking, Paul cuts him off and makes an excuse claiming he is the mayor and comments that Erinsborough is a mess. Once Karl's gone, Daniel tells Paul that he should say something about having possibly hit someone, but Paul tells Daniel there's no point panicking. Amber enters, wrapped in a blanket, and explains about getting caught in the storm. Lauren tells to her about Lou getting trapped in the roof collapse, while Susan watches, still looking distressed. Lauren also mentions that Sheila and Georgia are beside themselves because Kyle's missing, having gone out in the storm. Paul and Daniel overhear this conversation, and Paul starts to worry that he might have hit Kyle. Daniel rushes back to make sure.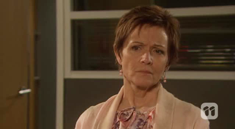 ..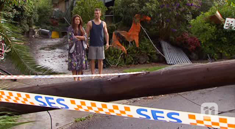 Later on, Susan is still sitting in the waiting room looking shell-shocked. Nate brings her a cup of tea, but she tells him she already has coffee. He tells her that tea can be quite calming when someone is in shock. "I'm not in shock!" Susan declares. Nate says "What you went through today, it was something that you should never have had to face. You were forced to be braver than most people will have to be in their whole lives. And this feeling – it's a natural reaction". Susan tells Nate in a defensive tone that she feels fine. Nate, not convinced, mentions to Susan that it might hit her later and that is fine but it's best that she is prepared. Nate offers to take Susan home to get some rest, but she insists she's not going anywhere until she knows that Lou's okay. Nate offers to stay with her, but Susan tells him Karl's here, and he should head home. She asks him to check the house for storm damage, and Nate goes reluctantly, but tells Susan to call if she needs him. Once he's gone, Susan looks panicked. Lauren comes in – Karl has just told her about the tracheotomy. Lauren asks why Susan didn't tell her that before. Susan explains that she didn't want to freak her out. Lauren thanks Susan for saving her dad's life and hugs him, but Susan is still looking distressed and tells Lauren that she's just glad he's OK.
The following morning, the iconic Ramsay Street sign is lying bent and filthy on the ground. There's debris and garden furniture scattered all across the street, and workmen arrive to begin the clean-up. In the middle of the street a car, which has been partly crushed by a fallen telegraph pole, is surrounded by safety barriers. Mark and Paige stand at the end of the driveway, observing the carnage. Mark says out loud "Woah! Guess the house inspection's off, then!"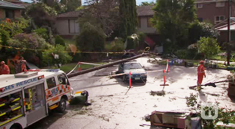 ..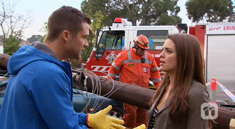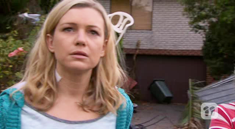 ..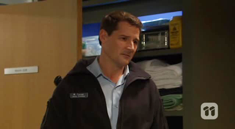 Later, the clean-up is continuing. Paige is on her phone to Lauren, who has just let her know about Lou, and she tells Mark what happened, wondering whether she should go and see him or not. Mark encourages Paige to go; Lou's her grandfather, and even though they haven't known each other long he's sure Lou and Lauren would appreciate her visit. Paige decides to go, and asks Mark if he wants to come - he decides it's a family thing and decides to stick around and help with the clean-up instead. Paige doesn't sound convinced by Mark's reason, but he insists that he'll be more use staying on Ramsay Street. Mark reassures Paige that he is really happy about them and Paige agrees. Sheila, Naomi, Georgia and Bossy have come out onto the street to survey the wreckage. Sheila asks Mark if he's seen Kyle anywhere, as he's been missing since last night and isn't answering his phone. Mark hasn't seen Kyle, but promises to let them know if he does, and suggests that Kyle probably took shelter and his phone went flat. Sheila doesn't seem convinced, and neither does Georgia. Mark reassures them and tells them not to stress, as a stressed Georgia heads off to find her fiance.
Back at the hospital, Lauren is explaining to a barely conscious Lou about the events of the previous night, telling him the blockage has been cleared from his throat and the incision from the tracheotomy will heal in time. Matt tells Lou that it's going to be tough for him to talk for the next few days so he has brought him something to make him feel more at home – the service bell from Harold's, so he can have the nurses at his beck and call! Lou smiles. Lauren tells her dad that she's so glad that he's OK. Karl comes in, telling Lauren and Matt that Lou needs rest. Lauren follows Karl out, but as Matt is leaving, a woozy Lou speaks suddenly, his eyes closed, thinking he's still talking to Lauren. "Adelaide… You made the right call… Don't worry. I won't tell Matt". Karl comes in again and insists Matt leave Lou in peace, before he can find out anything more.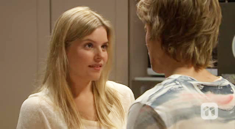 ..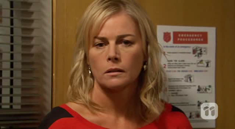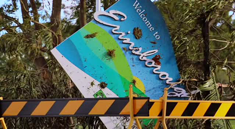 ..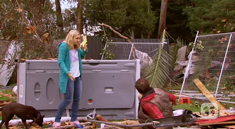 At number 32, Amber and Daniel hug at the news that Lou will be okay. Amber then asks if Daniel has been along Paul's driving route - he says that he did and he couldn't see anything, so doesn't think that Paul hit anyone in the car. The conversation changes to the previous night and Daniel mentions the 'pretty amazing thing that came out of last night'. Amber asks Daniel if he regrets asking her, and he asks why she would think that. Amber explains that she wanted to make sure that it wasn't some sort of spontaneous thing. Daniel declares to Amber that he wants to marry her and be with her for the rest of his life, he couldn't think of anything better. Daniel checks that Amber feels the same way, and she nods in agreement. Daniel happily tells Amber that all this means that they are engaged. Amber is happy but suggests to Daniel that they should just keep this between them for the moment until they find the right way to break the good news to people. Daniel agrees, and they kiss.
In the waiting room at the hospital, Lauren thanks Paige for coming, but tells her there's not a lot they can do right now, Paige suggests coming back later, and Lauren agrees. Lauren comments that she's pleased to see how much Paige cares for Lou. Paige informs Lauren that she was worried about her during the storm - Lauren explains she was taking shelter at Brad's house, and then questions Paige about her whereabouts during the storm, commenting that she looks exhausted. Paige explains that she didn't get as many hours as she normally would, but she must have drifted off at some point. Lauren tells Paige that she is going to check on Lou; Paige heads home - then Matt turns up. Matt relays what Lou said about Adelaide. Lauren acts all innocent, and claims she doesn't know what Lou could have been talking about, claiming he must just be mixed up because of all the medication. Lauren goes into Lou's room and looks guilty, while Matt looks suspiciously through the glass.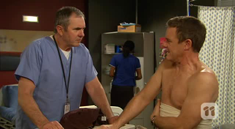 ..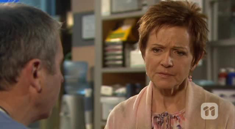 Georgia is chasing after Bossy, through a pile of debris, when they come across an overturned portable toilet – and hear shouting from inside! It's Kyle, who's been trapped in it all night. Georgia is relieved to see him, albeit slightly put off by the smell! Kyle explains he got caught short and nipped into the loo which was on a nearby building site – but it landed up here by the roadside. Georgia whispers "The tornado must have dumped you here. 'Dumped' being the appropriate word!" "Oh, haha! Have more fun at my expense!" is Kyle's reply, Kyle goes to kiss her, but Georgia is repulsed by the smell.
Back at the hospital, Paul is in one of the examination rooms with a dressing around abdomen. Daniel comes in, and tells him that Kyle has been found, so he didn't hit him after all. Paul's still worried he might have hit someone else, but Daniel assures him he checked the route and couldn't see anything – and there have been no hit-and-runs reported. Karl comes in, telling Paul he's OK apart from the cracked ribs and broken prosthetic. Karl informs Paul that he's ordered him another leg, but it'll take a few weeks. In the meantime he'll have to use his spare, which Paul is annoyed about! Karl goes to organise a wheelchair, as Paul continues to grumble - he explains to Daniel that he was out in the storm looking for him and Amber, to apologise for their argument yesterday. Daniel tells Paul that he didn't have to do that, it was just a silly argument. Paul says to Daniel "So that means you're not gonna move out?" Daniel tells Paul that he will have to try a lot harder than that if he wants to get rid of him, but does mentions to Paul that he would appreciate it if he didn't bring up his ex in front of Amber again. Paul apologises again, but continues complaining about his injuries. Daniel tells Paul that he should be doing cartwheels because he is alive. This leaves Paul looking pensive.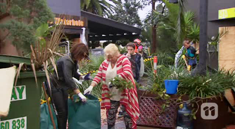 ..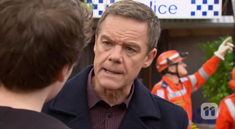 Susa is still in the waiting area, as Karl comes to join her – he admits that he's been thinking all night about how he could have lost her in the cave-in at Harold's, again telling her how brilliant she was with Lou. Susan plays it down, and asks if they can stop talking about it. As Karl holds her hand, he notices her wrist is swollen – she admits she hasn't had a check-up yet. When he asks how she hurt it, she recalls trying to lift the beam from Lou, and gets very upset. Susan's clearly traumatised, but Karl reassures her that everything is okay now.
At the Lassiter's Complex, Harold's Store is closed for repairs, surrounded by safety tape, while the windows on the police station, Rebecchi Law and the hotel are boarded up too. Debris and emergency vehicles are everywhere. Kyle, Chris, Sheila and Naomi are among the volunteers working on the clean-up. Paul walks out of the hotel, surveying the damage. Jayden Warley's friend Bryce barges past Sheila, and drops a drink can on the floor as he walks past Paul. Paul stops him and tells him to pick up his drink can. Bryce comments that there's junk everywhere, Paul gives Bryce his angriest stare and tells him to pick it up, as he is Mayor Paul Robinson. Bryce picks up the can and hurries off. Looking around at the wrecked complex, Paul appears to be having an epiphany – and smiles to himself.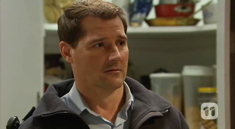 ..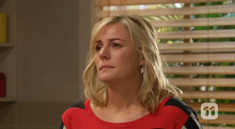 Lauren and Matt arrive back home. Lauren continues to act all innocent, but Matt can tell that she's hiding something. Matt tells Lauren that lying is only going to make it worse, Lauren asks Matt to drop it. However, he says that he needs to know what she's not telling him. Lauren claims it's nothing but Matt does not believe her and demands to know what happened in Adelaide. Eventually Lauren says to Matt… "I kissed him...I kissed Brad". Matt looks heartbroken.
Featured Regular Characters: Paul Robinson, Daniel Robinson, Matt Turner, Lauren Turner, Amber Turner, Sheila Canning, Naomi Canning, Kyle Canning, Chris Pappas, Georgia Brooks, Paige Smith, Mark Brennan, Lou Carpenter, Karl Kennedy, Susan Kennedy, Nate Kinski
Guest Cast: Keith Purcell as Bryce Bukowski
Summary by Kyle